We're practically obsessed with this limited edition Christmas must-have
Guest post from the beauty editor of Buro Singapore, who shares why this is her latest skincare obsession.
Disclaimer: As the beauty editor of Buro Singapore, I receive heaps of beauty products for review. So many parcels come through my desk on the daily that colleagues have to walk around a little mountain of makeup and skincare in order to be in arms' length from my person. Some have resorted to throwing packages meant for me across the room when they're not up for the hike; you can say it's our grown-up (and slightly reckless) version of 'Catch'. In fact, just as I completed typing the sentence prior to this one, a red paper bag appeared next to me. In it, I find no other than this Christmas must-have: The SK-II Facial Treatment Essence Limited Edition.
I often joke that I don't need a boyfriend. Certainly not when my Christmas wishlist will be without fail, fulfilled two whole months before 25 December, delivered right to my doorstep, stat. SK-II's Facial Treatment Essence is one item I keep a look out for whenever festive jingles start looping in malls, not least because I need my skin in tip top shape – clear and glowing – ahead of my back-to-back social engagements. Its one-of-a-kind designs are cult collectibles to beauty baes in the know. This year, my interest is piqued a little more than usual.
The new Limited Edition bottles come with stunning, fantastical pop-art inspired illustrations by Australian artist, Karan Singh, in three bold colourways – purple, red and blue. Taking Christmas gifting up a notch (alright, several notches) is the augmented reality kit which we received in our office. Words can hardly describe the experience as we were invited into #PiteraWonderland, except that the digital component further draws you into the wild whimsy splashed on the packaging. #bonus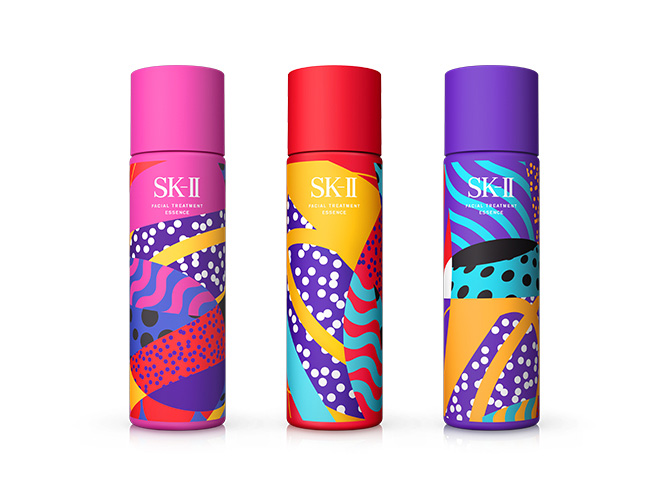 SK-II Facial Treatment Essence Limited Edition
Unless you've been living under a rock (and the quarters under said rock lacks internet connection) you're probably privy to the iconic SK-II Facial Treatment Essence and its reported miracles by now. But just in case a refresher course is due, the Facial Treatment Essence comprises of over 90% Pitera – a natural bio-ingredient of vitamins, amino acids and minerals – a formula unchanged since it first brewed in Japan over 35 years ago. Pitera, powered with some 50 micro-nutrients, is good to skin; among its powers, hydration boosting and wrinkle vanishing remains first class.
Read More: The new SK-II PITERA™ Essence Street Art Limited Edition is a bold, edgy rendition of the cult-favourite
Those new to the Facial Treatment Essence, there's no time like the present to grab one (or three for gifting) with that year-end bonus ka-ching, especially when the limited edition designs are sure to sell out sooner than you can say "skincare" ten times fast. You've been adequately warned.
SK-II Facial Treatment Essence Karan Limited Edition will be available from 1 November at all SK-II retailers, sold as part of any SK-II limited edition sets. Find out more about the festive limited edition sets here.