CAI MEI KHOO, EDITOR-IN-CHIEF
Shiseido Primience hair colouring @ A-Saloon, Empire Subang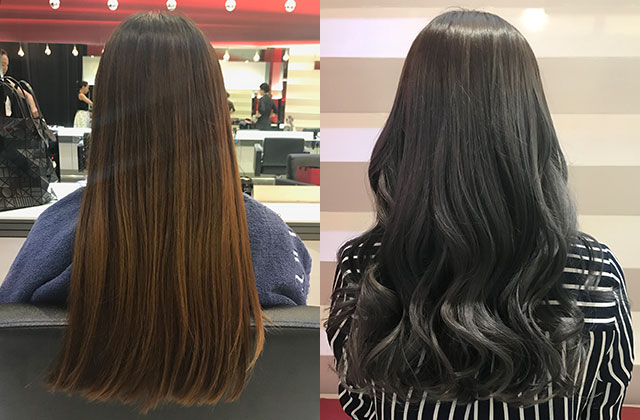 I chose a Lilac Grege colour (somewhere in the middle of the colour chart) as I wanted to try a cooler tone, and I thought the lilac-grey tone was something different. My hair was already dyed but it needed to be bleached twice for the desired colour to show. Post-bleach, my hair was towelled dry, then the colour was applied to it. I had asked my stylist to bleach just the bottom half my head as I wanted an ombré effect. What I thought was interesting is that the hair that was bleached turned lilac grey, while the top part of my head and bangs that were unbleached, turned a dark brown, even though the same hair dye was used.
My hair became fairly dry from the bleaching and my stylist recommended that I do hair treatments at home regularly. While I liked the outcome, unfortunately the colour really only lasted for just under two weeks before fading into a light ash blonde. Personally, I felt that the ombré effect could have been done a little better—given the different shades, the contrast looked a bit too stark, instead of a gradual colour change. But apart from that, the service was good, as were the products used (the salon uses Shiseido products). On a sidenote, I did incorporate a blue shampoo and conditioner from Joico in my hair routine to help reduce the brassiness in my hair colour.
GWEN ONG, DEPUTY EDITOR
Cut and curl @ Centro W Salon, The Gardens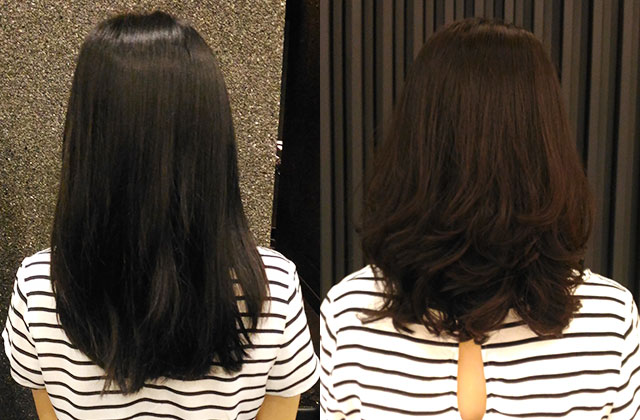 I've been contemplating a new hairstyle for a few months now. While my hair is healthy with nary a dye or perm job in many years, I was getting bored of the straight, volumeless look. So, I was estactic for the chance to visit Centro. My hairstylist of the day was Kevin Woo, the man with the golden scissors. We got to discussing about possible hairstyle and what would best suit me. I wanted something fuss free that will allow me to walk out the door every morning in a jiffy. So, we came to an agreement for a mid-length perm.
The makeover started with a hairwash and then Kevin sat down to trim and layer my hair—this ensures that my curls have more volume later. Next, my hair was curled with rollers and drenched in a chemical solution before being hooked up to a setting machine. I was positive they were going to beam me up to space here. Fifteen minutes later, the machine was put away and the rollers came off. My hair was given a rinse and then blow dry with Kevin showing me how to style my permed hair from now onwards.
I love the outcome, my curls turned out looking pretty natural and I've been receiving lots of compliments for it. Best of all, this hairstyle requires minimum styling effort. Using just a dollop of curling cream, I just need to blowdry by sectioning and twisting a few chunky strands of hair at a time— my hair is done in 10 minutes.
LOH WEI YEEN, FASHION & BEAUTY WRITER
Digital perm @ Shawn Cutler, Bangsar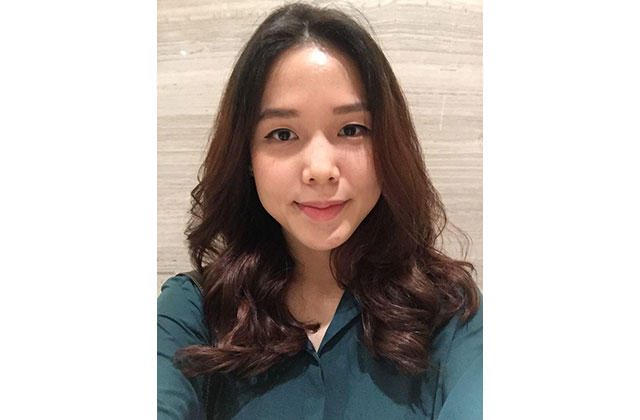 Upon getting seated on one of the cushy chairs at Shawn Cutler hair salon, I was given a quick explanation by co-founder Gibson Loong on what to expect from the digital perm that my hair will be subjected to. He quelled my doubts about perming my hair—the first thought when it comes to the word "perm" is always the short, ultra-curly hairdo that's a favourite of middle-aged ladies. But according to Gibson, the type of waves can be customised depending on what I want, be it tighter curls or looser waves.
I also learned from him that a digital perm is a process that thermally reconditions the texture of the hair, hence it is not recommended on hair that has been bleached as 1) that would damage the hair, and 2) the perm would not be obvious. After that run-through, my stylist Chris started trimming my hair so that the waves would frame my face nicely after the perm.
He then applied perm solution onto my tresses, later on curling and clipping it with rollers of the setting machine. After it was set, my hair was rinsed, shampooed and conditioned. After a thorough blow-dry, my new hairdo was unveiled—hello, amazing, natural-looking curls. The entire process didn't take too long (four hours) and I was really happy with the outcome. I also found that second-day hair works best with these waves, and that my hair's bounce and curl is still going strong even after a month. Definitely recommended if you're looking for added volume to your tresses, or if you're gunning for a low-maintenance 'do that's got the professionally-styled look.
ALYSSA LEE, EDITORIAL ASSISTANT
Bleach and dye @ Number 76, Publika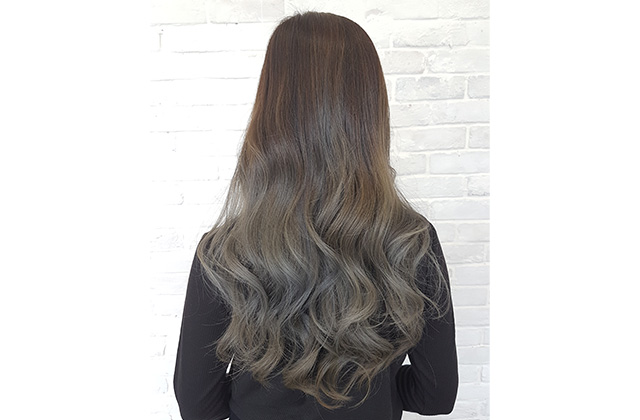 I went in prepared for straight-up platinum blonde locks. Thankfully, I also booked a session with the Director, Fung. One look at my hair and he told me that it can be bleached twice at most, which meant only a mid-tone colour could be achieved. As I opted for a silver-taupe ombré, bleach was only applied till mid-length—hence, no scalp-burning sensation. The whole bleach, dye and treatment process (which included a wash and blow-dry) only took a little over four hours. That's quite a feat since I have sat in salons for close to seven hours for less. The Milbon treatment recommended was not their signature nor most premium because that would compromise the colour of my freshly dyed hair. I really appreciated the professionalism and honesty.
Fung did not have the chirpiest countenance but in its place was an air of quiet confidence that I really appreciated in someone whose hands I entrust my hair to—especially for something as precarious as bleaching. He knew exactly what he was doing; rattling off colour-codes and specific mixing doses to his colleagues sans reference and the colour turned out beautifully. His technique in applying the bleaching solution was also flawless. Zero harsh lines and faultless blending made the gradation of my ombré a dream come true.
It's common for bleaching to completely damage hair but I was surprised that my hair did not feel brittle or look totally 'fried' even in the weeks that followed. Four use-at-home Milbon hair mask vials provided by the salon for weekly application and just extra hair care in general definitely helped in retaining the vitality of my tresses. The silver colour did not last long at all but I am told that silvery tones tend to fade quickly. Nevertheless, my hair has transitioned nicely into an array of lovely ashy colours since.
CHONG YI SUEN, DIGITAL DESIGNER
Schwarzkopf Professional Igora ColorWorx @ Studio87, Shah Alam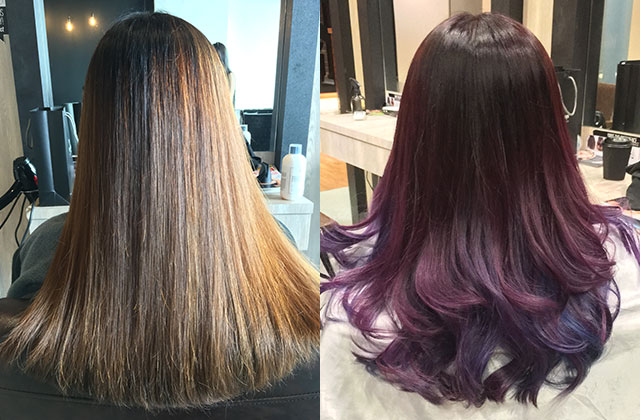 Trying out a bold hair colour has always been on my to-do list, (Fernanda Ly's signature pink hair is #goals) but the idea of bleaching my tresses multiple times always puts me off, not to mention—the horrible bleach-fail stories that I've read online. I went into Studio 87 with a nervous sense of anticipation. My stylist of the day, Director Wyn, started with bleaching the bottom half of my hair. Although I had no clue what colour he was about to give me ("for an element of surprise," he said), he did ask for my preference prior to that. He gave me a heads up that he'll be combining purple and blue shades from the Igora Colourworx range, so I can expect a total of three to four colours on my hair—talk about transforming into a unicorn!
After the long process of bleaching and colouring, a hair treatment called Fibreplex was recommended to strengthen my locks. I was told that the treatment will protect hair from breakage as it enhances the bonds in our hair fibres. I was also given a shampoo and Bond Booster from the same range to help lock in the fresh colour. The entire process took seven hours but it was worth it as I was really pleased with the end result. I was also delighted to find out that my hair wasn't as dry and frizzy as I'd imagined it would be.
I was told the colour will only last for 20 washes, but to my surprise, it gradually faded to a very lovely purple-blue ombre (which definitely lasted even after 20 washes)—which I liked even more than the initial colour. Overall, I was very satisfied with the outcome and would totally recommend this hair colour treatment at Studio87 for any unicorn-hair enthusiasts.
Related stories:
Guide to the best hair salons in town for a makeover
| | |
| --- | --- |
| SHARE THE STORY | |
| Explore More | |