12 years after its first store opened in 1 Utama in 2006, The Nail Parlour has since clinched the title of the country's largest nail salon chain. While Founder and CEO Lim May Shen is aware of the successes her brand has amassed along the way (what with a slew of awards and titles under the brand's belt), she acknowledges the importance of constantly innovating her products and services to appeal to both new and existing clientele. We queried the #BuroBossGirl on what are the keys to entrepreneurial success, her go-to beauty tips and her proudest accomplishments thus far.
What made you decide to open The Nail Parlour back in 2006?
Upon my return to KL, after having worked at BHP in Sydney, I realised there were no dedicated nail salons in the city and I was apprehensive about visiting salons without proper sanitisation procedures and consistent levels of service where I would feel comfortable having my nails done.
I realised the importance of having a complete peace-of-mind when it comes to personal beauty services and that there was a real need in the market for professionally-managed nail salons. Identifying this gap in the market, I set out to offer professional manicure and pedicure experiences with sanitisation procedures of the highest standard.
The Nail Parlour pioneered the concept of standalone nail salons. 12 years ago, there were no specialist nail salons and there weren't any salons that offered nail services and treatments in an environment that was not only design driven but also fun and relaxing to be in. Back in January 2006, The Nail Parlour first opened its doors in Petaling Jaya's 1 Utama Shopping Centre. Now, the brand has expanded across the Klang Valley with 12 stores in major shopping centres, making us the largest nail salon chain in the country.
What do you think it takes to become a successful entrepreneur?
Firstly, ensure that your product and/or service offer delivers real value. It must deliver results and offer perceivably better benefits than the competition. One of the biggest mistakes is to offer customers easily imitable or generic products or services.
Secondly, don't do everything yourself. Ensure that you have a great support system when you first start out. Find a group of people who believe in your vision and this team of people are those who will deliver your vision.
Thirdly, be willing to sacrifice more than what you've bargained for. You have to be prepared to give up time for yourself, time with your family and so much more. You have to ask yourself what you are willing to give up for your vision before starting your brand or label.
What are some of the important lessons you've learned when you first started The Nail Parlour?
One of the most challenging aspects in building the business was getting shopping malls to offer retail space to us. At the beginning, nobody had heard of us and it was very difficult to convince malls to recognise a home-grown brand.  Some did not even think it was necessary to have a nail salon in a mall!
We overcame this perception by inviting key managers of shopping centres to try our services and experience The Nail Parlour for themselves.  We had to prove to the management that The Nail Parlour could be a destination in itself. This taught me one of the most important lessons I hold onto till this day, which is to never give up if you believe in your vision.
With the increase in beauty salons now in Malaysia, how does The Nail Parlour remain competitive in the industry?
Our early success was based on the professionalism and technical skills of our staff, and by ensuring that every customer leaves The Nail Parlour with beautiful nails. We elevated the concept of your typical neighbourhood nail salon and turned it into a destination. Now The Nail Parlour's success is grounded in being an industry leader and innovator — continuously offering new services, products and experiences. Our service menu at The Nail Parlour's first store (in 1 Utama) has grown to be one of the most extensive in business. We pride ourselves in having introduced many firsts in the local nail industry, from male manicures and pedicures to incorporating fresh ingredients to provide a sensory experience. We're also the first to offer automated callus removal and the only salon in Malaysia to use both ultrasonic and steam machines to disinfect our tools.
We offer our customers three key values: assurance, confidence and fun. In any service transaction, the customer bears the risk of purchasing a substandard service. We give our customer the assurance and confidence that they can walk into any of our 12 salons and be sure that our service quality is top-notch and consistent across the board. They can be confident that all of our products from our files and buffers to our nail polishes are the best in the industry. (Fun fact: Our nail files and buffers are created exclusively for us in the United States and made for professional use.)
Of course, we try to keep the whole experience fun and indulgent by always changing our menu of limited edition services, including using a range of uniquely-scented products such as lavender or pomegranate and fig. Customers can also indulge in spa manicures and pedicures at Luxe by The Nail Parlour in KLCC and Mid Valley where they can be pampered with the full works: extra-long massages, TWG tea, Nespresso coffee and herbal heat packs.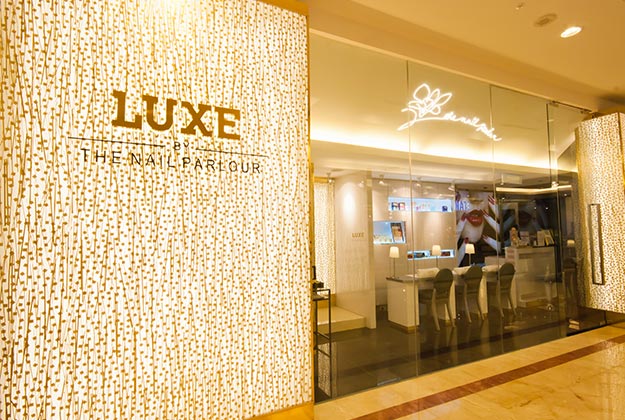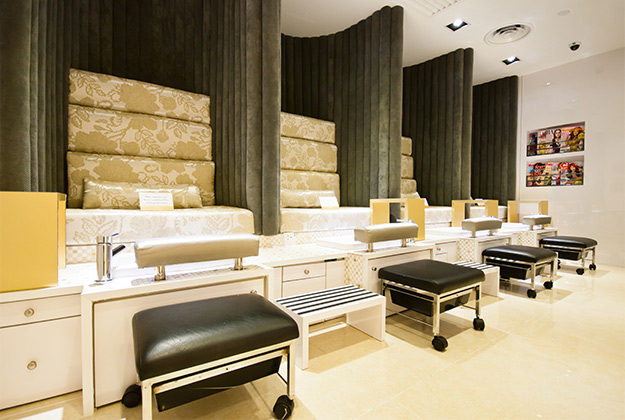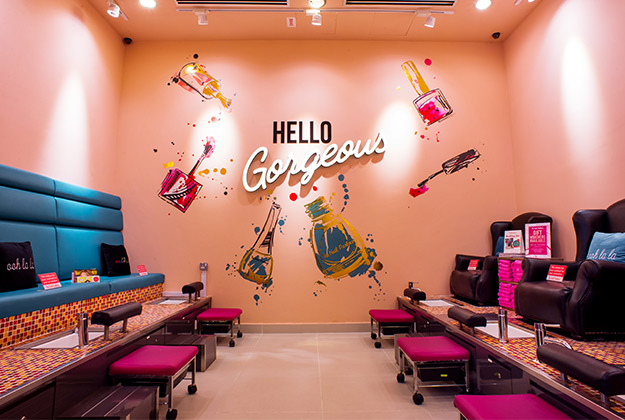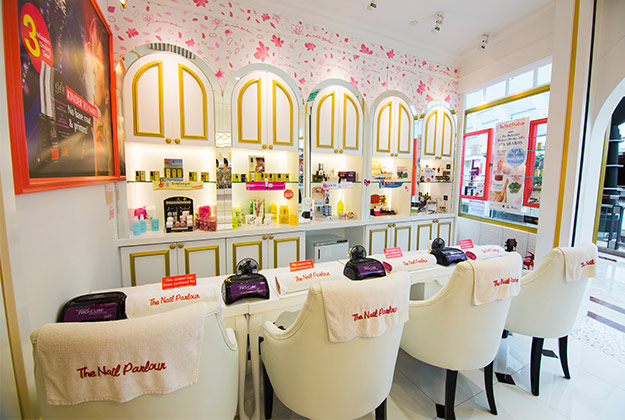 As a #BossGirl, what are you most proud of when it comes to your brand?
I am proud that the brand has become synonymous with manicure and pedicure services in Malaysia. Achieving brand awareness was one of our biggest challenges and one of my proudest moments was when the hoarding went up for the new shop lot at Suria KLCC.  That really defined and brought home to me that The Nail Parlour was taking up space side by side with international brands in an iconic Malaysian landmark, which was such an achievement for a local, home-grown brand.
I am also humbled and proud that we are the most awarded nail salon in the country. With over 62 service awards and 52 product awards to date, the tremendous support we've had from the media and the awards and accolades we've received is something I've very proud of.
Other business milestones include moving beyond the service side of the business to producing The Nail Parlour's own line of professional-standard nail and hand and foot care products (e.g. nail care kits, buffing kits, files, buffers, nail polishes and lotions). We are now able to offer our customers a full service, one-stop solution for all of their nail, hand and foot care needs.
I'm also very proud of The Nail Parlour's involvement in sponsoring and building an EPIC home last year for indigenous families in Serendah. It was an amazing experience for both myself and my team and it made us aware of how we can make a difference. How you can gauge a company's success is by how happy and engaged the staff are with the business — some of our employees have been with us from the start 12 years ago, and that I am very proud of and thankful for.
As a #BossGirl, how do you empower your employees?
Creating an environment of teamwork and shared purpose means that the team goes above and beyond when there is a common goal larger than themselves. I lead my team by making my employees accountable while also giving them the autonomy to carry out their own roles. Nurturing my team's creativity and innovation while providing them with clarity of our company's vision and mission also helps my team develop personally and professionally.
Also, having my sister on board means I have someone I can trust to bounce ideas off. Knowing that we always have each other's backs and are always united in our shared goals for the company means that I'm working with someone I can really open up to and can build on ideas with.
Who is your biggest motivation?
My family, my team and my commitment and sense of responsibility to deliver superlative service experiences to our customers are both my inspiration and drive. My family is a great motivational and grounding source for me. They are always my greatest supporters and cheerleaders!
Customers who tell us how much they love having their nails done with us, also keep motivating me to ensure The Nail Parlour continues to deliver superlative service experiences. The tremendous support we've had from the media and the awards and accolades we've received is a humbling validation of the connection The Nail Parlour has with our fans.
What do you think is the one thing that a woman should always do for herself?
A woman always needs to make time for herself. Women fill a multitude of roles and are such excellent multitaskers that they tend to want to do everything. Whether is time at the gym, the spa or even just meditating, it's important that women recharge themselves before being the pillars to loved ones in their lives.
What does an ideal day off look like to you?
An ideal day off is being at home with family and having time for a run. Home is my sanctuary and my idea of complete relaxation is when I zen out.
What is your personal mantra?
To always do my very best by my family and friends, my team and my customers, with integrity and with gratitude.
What are some of the more popular nail trends that you predict for 2018? 
For Autumn/Winter 2018, modern French manicures are trending such as the reverse French nails spotted at the Moschino show — two varnishes, a bright and pale pink shade, applied as a half moon manicure. Muted nude manicures with a pop of embellishment in the form of Swarovski crystals seen at Mulberry are a great way of updating a classic nude look with a luxe touch. Burgundy and deep reds are always a classic go-to style for the season as well.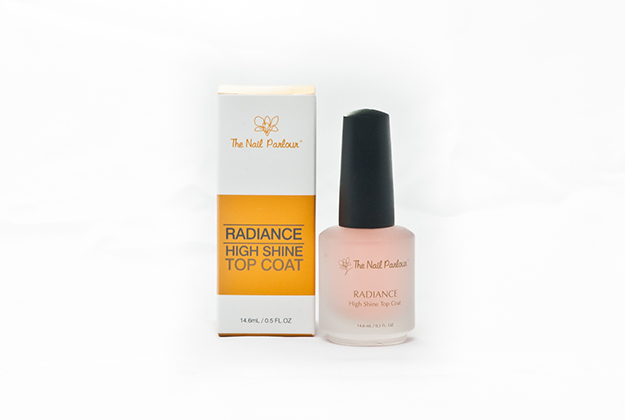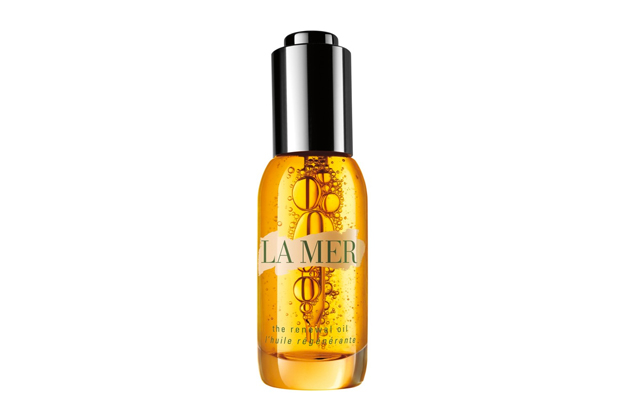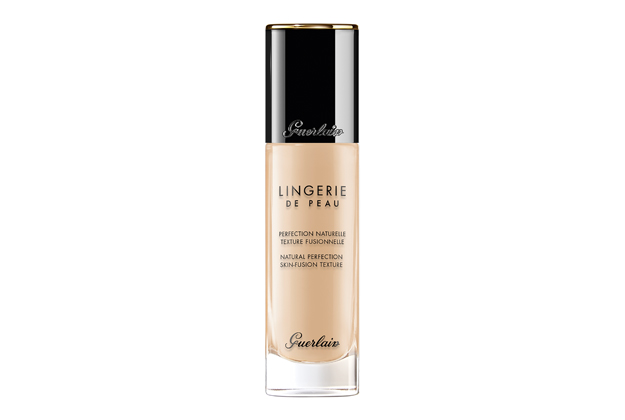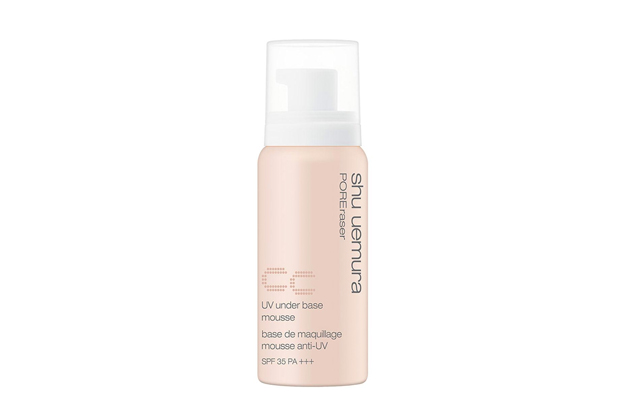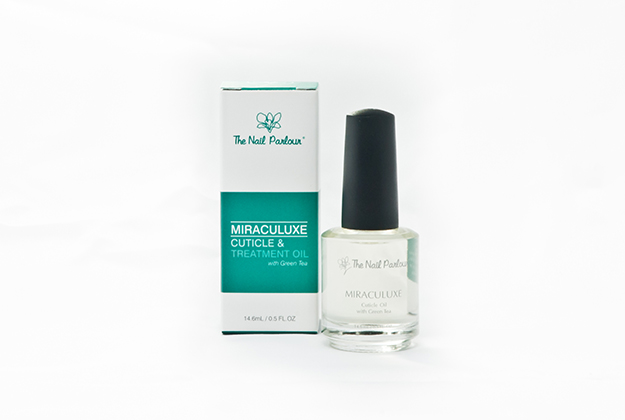 Please share with our readers some of your beauty tips.
I've found that the best way to extend a manicure is to apply a good quality, high shine topcoat the day after you get your nails done. For best results, apply a layer of top coat every two days after that. That doubles the duration of your manicure and keep your nails looking shiny and new. Using a cuticle oil every night also keeps nails and cuticles supple and moisturised and keeps hands looking groomed.
A good primer really helps makeup last. I have combination skin and have used Shu Uemura's Poreraser UV Under Base Mousse for years. It's fantastic for keeping makeup on all day and reducing shine. I like keeping makeup natural and I love Guerlain's Lingerie De Peau Natural Perfection Foundation for a super sheer, natural look.
I keep my skincare simple with just cleanser and moisturiser. I've found that the best skincare secrets are really plenty of sleep and water! When traveling, I use La Mer's The Renewal Oil to keep dryness at bay.
What is the best beauty advice you've received that's never really gone away?
My mother's advice to always wear sunscreen. I've been wearing sunscreen since I was 12 and my favourite is California Baby's Super Sensitive 50+ Sunscreen Lotion. I keep away from sunscreen that contains oxybenzone and this is one of the few that does not have this chemical filter.
What is your ultimate vision for The Nail Parlour Group?
My ultimate vision for The Nail Parlour is to become the leading nail salon and beauty services provider in Southeast Asia.
What are you most excited for The Nail Parlour next?
I'm most excited about bringing our concept to new markets and expanding The Nail Parlour within Malaysia and to other Asean countries, while also exploring other beauty service related businesses that leverage on our key strength of delivering service excellence.
Follow The Nail Parlour for more updates on Instagram, Facebook and its website. 
| | |
| --- | --- |
| SHARE THE STORY | |
| Explore More | |