Travel opens up the mind and heart to the wonders of the world. It is an adventure that enriches the soul and an experience that adds years to life. Just ask travel blogger, Rachelle Chu, who has made travelling her calling. The travel bug bit her when she was a kid growing up in a small town in Terengganu. Family trips to the big city like Kuala Lumpur got her excited about seeing the tall structures and bright lights. It is this same kid-like excitement that she gets every time she travels to a new destination today.
Her favourite place so far is Ladakh, India, in which she describes it as a piece of paradise on earth. She had the opportunity to experience what living high up in the Himalayas feels like. At 18,000 ft above sea level, she encountered her first ever high altitude sickness. Despite the treacherous road condition going up, she got to truly immerse herself in nature by sitting in a secluded temple on the hill overlooking the barren Himalayan mountain. With nothing but just the sound of the wind and prayer wheels ringing softly in the background as her companion, "I felt peace and calm, it was an experience that I've never felt anywhere else before."
Tools of the trade
As a travel blogger, Rachelle never leaves home without her trusty camera, tripod, water bottle, favourite skincare and beauty items. The Laneige Layering Cover Cushion is her go-to for travels. The 2-in-1 provides skin with a long-lasting makeup effect and also keeps it protected with SPF.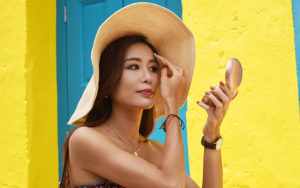 "I'm out in the sun all day, so it's important that my skin look fresh – and for my photos to come out on point," she quips.
Yes, a peek at her Instagram account tells of the beauty's storytelling and photography skills. Casual, real and effortless—this is what she wants to achieve with her visual travelogue. If you want to ace Insta-worthy shots like Rachelle, she shares some useful tips below:
Tip #1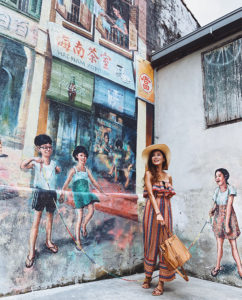 To take a good photo, avoid placing yourself at the corners or edges of the frame. This is not the ideal composition, and it will be harder to edit or adjust your picture ration for Instagram later. Try standing at the 2/3 mark or the middle of the frame instead.
Tip #2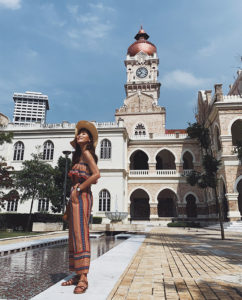 To make yourself look taller, keep the camera levelled to your height. Any higher and you will look short. But if you shoot from a lower angle, your legs will look that much longer. This also helps when you need to capture tall buildings and sceneries in your pictures.
Tip #3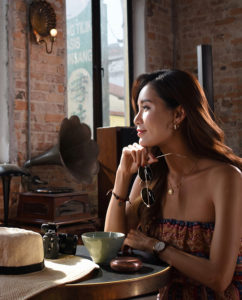 Always use a prop to look less awkward in photos. If you don't know what to do with your hands, hats and sunglasses are really useful. Keep repeating your actions while being photographed or pretend like it's a candid moment so you don't look stiff. Burst mode is your best friend.
Convenience on the go
Laneige Layering Cover Cushion combines a concealing base and a layering cover cushion. The former helps even out skin texture and brighten certain zones of the face while the latter gives skin a rose tone finish to accentuate your features. With the 12-hour anti-darkening and sweat-proof features, it is the perfect companion for those constantly on the go. Apply the Laneige Layering Cover Cushion to cover and conceal pigmentation, redness and yellowish tone with no fuss.
Also, the improved layering puff helps with a consistent even application while delivering moisture to the skin any time of the day. It contains French sparkling water, hydro ion mineral water and lychee fruit extract to keep skin moisturised and soothed, so you feel a cooling effect with each tap.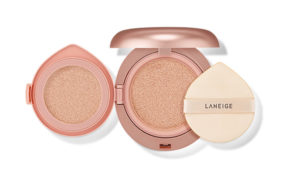 Laneige Layering Cover Cushion is priced at RM145 and is now available in stores and online. For more information, click here.
Credit:
Videography: Shepherd Pictures
Art direction: Chong Yi Suen
Text & Co-ordination: Gwen Ong
Makeup: Alicia Chan/Laneige
Hair: Bibian Leong
Assisted by: Angel Yau, Valerie Liew
Location: Jao Tim KL
| | |
| --- | --- |
| SHARE THE STORY | |
| Explore More | |