The aesthetics industry in Malaysia is dangerously under-regulated. As of this year, there are over 40,000 beauty salons operating across the country, but only 750 are LCP-certified (The Professional Diploma in Aesthetic Medicine). This statistic is worrying for a number of reasons—however, pushing the ethics of impersonating a medical professional aside, the fact is that there is a reason medics endure five years of training before they are allowed to treat patients.
Aesthetic procedures, however common, are ridden with risks: Cosmetic aspects aside, surgery and anesthetics are not simple procedures, and—if done wrong—can have serious or even fatal consequences.
Just in October, 23-year-old local model Coco Siew died just before her wedding during a liposuction procedure gone wrong at an unlicensed beauty salon in Cheras. The bride-to-be found the salon online, and went to get her procedure done with a friend. After receiving an anaesthetic injection in her arms, her heart rate dropped and she eventually began experiencing convulsions. She was immediately rushed to hospital where medics tried to resuscitate her to no avail. She died around 5pm later that day.
Only after her death did the owners of the salon admit that they were not a licensed clinic. "After our repeated questioning, the person in charge of the salon finally revealed that they were not licensed to conduct such medical procedures, but were licensed only for normal beauty treatments," said her brother, Xiao Mingan.
The ignorance surrounding the risks of aesthetic medicine runs deep, but one man is looking to change things for the better. Tom Goh is the Founder and Managing director of NextBeu—the first app in Southeast Asia that specialises in aesthetic treatments, working to bridge the gap between beauty seekers and licensed aesthetic doctors. In the app, users can get educated and find their next consultation all at once.
We had a chat with him to learn more about his project—here's what we found out.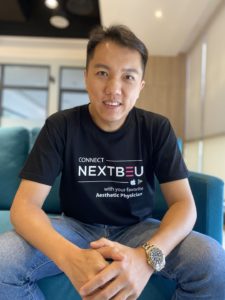 What exactly does the app offer?
"Apart from serving as an aesthetics encyclopaedia, the platform also connects beauty seekers to certified aesthetic clinics and physicians. The app also has a community section similar to social media platforms like Facebook and Instagram where users get to engage in aesthetic-related conversations, leave a note or post photos. The users may also rate each clinic or leave a review under their profile.
"Additionally, there's also a marketplace where users get to shop certified beauty products, collect points and redeem prizes.
"'Transparency, Consistency, & Professionalism' is our guiding philosophy to provide a safe and reliable aesthetic mobile encyclopedia. This app is designed to be easily navigated by people from all walks of life, guiding users through every step of their self-transformation journey. With NextBeu, we bring the power back into the hands of the people."
What inspired you to start NextBeu?
"There are too many uncertified beauty salons in the market offering treatments they are not licensed to perform. Although it may be much cheaper to seek treatments at a beauty salon, the lack of knowledge and the use of low-quality materials by errant beauty salons increases the risk of adverse complications.
"My team and I felt a need for an avenue to educate and send the right information to all the beauty seekers out there. Although they may easily search for such clinics on Google, there is no guarantee that the information you get is legitimate.
"Hence, with the mission to protect both the beauty seekers and the professionals, the NextBeu app is designed to offer extensive and transparent information about the aesthetic and beauty industry."
View this post on Instagram
Why is it dangerous if your aesthetician isn't certified?
"A tragedy happened in October—a 23-year-old bride-to-be died during a liposuction procedure in a beauty salon, which claimed to be a 'clinic'. The public should be educated on how to recognize certified doctors and clinics from an ocean of self-proclaimed 'clinics'.
"In cosmetic surgery, there are a variety of drugs being used and plenty of pharmacokinetics involved, with a lot of dangerous drug interactions (especially if you are taking other medications).
"If you are allergic to certain drugs—or even food, like eggs or soy—anaphylactic shock could be a problem, and it might actually kill you if no antidote is available at that moment. Doctors go through years of studies, research and practice to be prepared for complications or even avoid them in the first place. That is why cosmetic surgery is mostly safe when you consult a LCP-certified doctor, rather than a beautician in a beauty salon. Do not risk your life getting procedures done outside of a clinic or hospital."
What do you want potential clients to know before going into procedures?
"First, you need to know the right places to get the professional procedures. Safety should always be the first priority. Cosmetic surgery of any kind can be very risky without proper guidance or protocol, regardless of whether it is surgical or non-surgical.
"Next, you also need to understand that most of the procedures require strict protocols from a certified doctor. NextBeu has built transparency within the platform—doctors who are listed on the platform are required to disclose all their qualifications and certifications. It is compulsory, and all the data and information submitted is authenticated and verified by our professional team."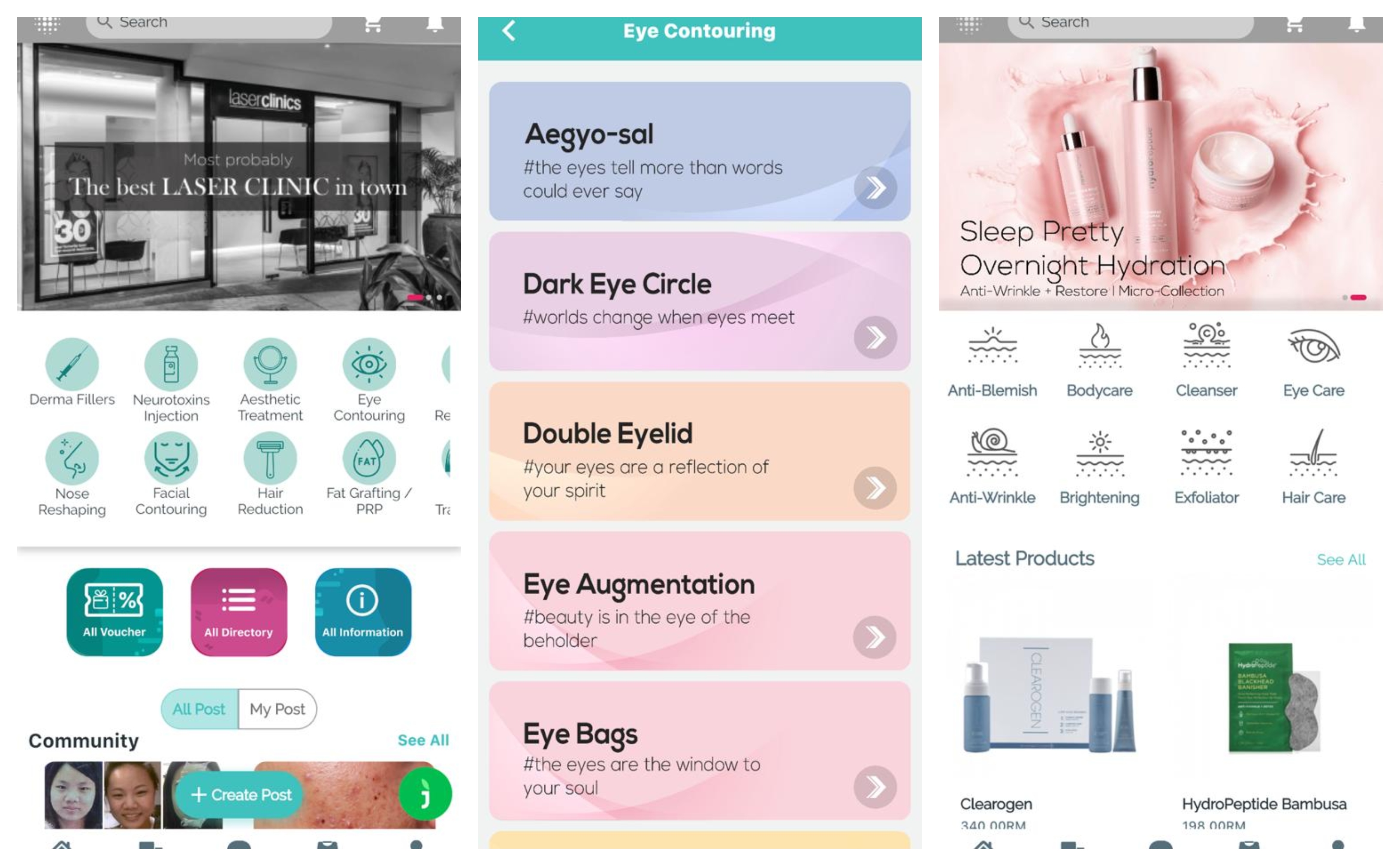 With regards to the education section of the app—what can users expect to find?
"Here is an example: If the patient is interested in double-eyelid treatments, the app will provide information about the procedure, precautions, expectations, downtime, complexity and all the probable questions one would have in mind.
"We have included all the necessary information in the app to help beauty seekers make the right decision about their treatments without the hassle of browsing through the internet to find an answer to their questions. We also have thorough information about the post-treatment expectations, should any complications arise."
Where do you see the app going in the future?
"The company aims to expand its operations to neighbouring countries over the next few years. For the first three years, we are going to expand our database and service to Singapore, Indonesia, Vietnam and the Philippines."
What challenges did you face when building the app?
"In terms of application of technology, there is still a wide gap when compared with countries like China, Korea and Japan. Other challenges include the lack of human resources, such as talents in data analysis, programming, and back-end support.
"Also, in the next few months, we will be targeting about 700 to 1,000 LCP-certified aesthetic doctors and physicians to get them on board the app. We also hope to have 100,000 users signed up over the next 12 months. The pace is fast, and we need to build a strong team to support the whole ecosystem."
This interview has been edited for clarity and length. Find out more about NextBeu here. For more beauty insiders, click here.
| | |
| --- | --- |
| SHARE THE STORY | |
| Explore More | |