The iconic Chanel No. 5 needs no introduction. One of the most famous fragrances in the world (created by a female couturier, no less) that's characterised for its signature jasmine and vanilla notes, Chanel No. 5 is renowned for more than just its unique olfactory composition. It has successfully stood the test of time, cementing its status as a classic in the world of perfumery—and as a requisite on the top shelves of power women across the globe.
This week marks an important milestone in Chanel No. 5's journey as it turns 100—the French house has unveiled a new chapter with a film campaign starring newly-appointed brand ambassador Marion Cotillard.
Directed by Johan Renck, the film sees Chanel No. 5 being taken over the moon (quite literally, as you can see in the video below) as Cotillard and Étoile dancer Jérémie Bélingard frolic in a modern saraband. Described as a "joyful love story' where two beings speak as equals, Cotillard waxes lyrical on the appeal behind this narrative.
"There is both a lightness and depth to it, ethereal and earthly. When the two characters begin to dance, two human forces unite. It is a lovely analogy for what we might feel when we are deeply in love. I find it quite beautiful to lead N°5 into this world."
Ahead, Cotillard elaborates on her relationship with Chanel No. 5, her fondest fragrance memories, and how she managed to pull off the dancing scenes (as a non-dancer!) while filming this campaign:
Can you tell us the story of the film?
"It is winter in Paris, near the Seine. It is nighttime, and a woman dressed in a long, black cape is walking on a snowy bridge, alone and confident, in a very mysterious atmosphere. She stops to gaze at the full moon that is glowing brightly in the sky.
"Suddenly, she finds herself on the moon, where a man is waiting for her. They will dance together and sweep each other away in a movement that is whimsical, funny and passionate all at once. Then, the woman appears once again on the bridge in Paris. She turns around and discovers by her side the man with whom she was dancing. They smile at each other. How did she bring him back to Earth with her? We end on this mystery."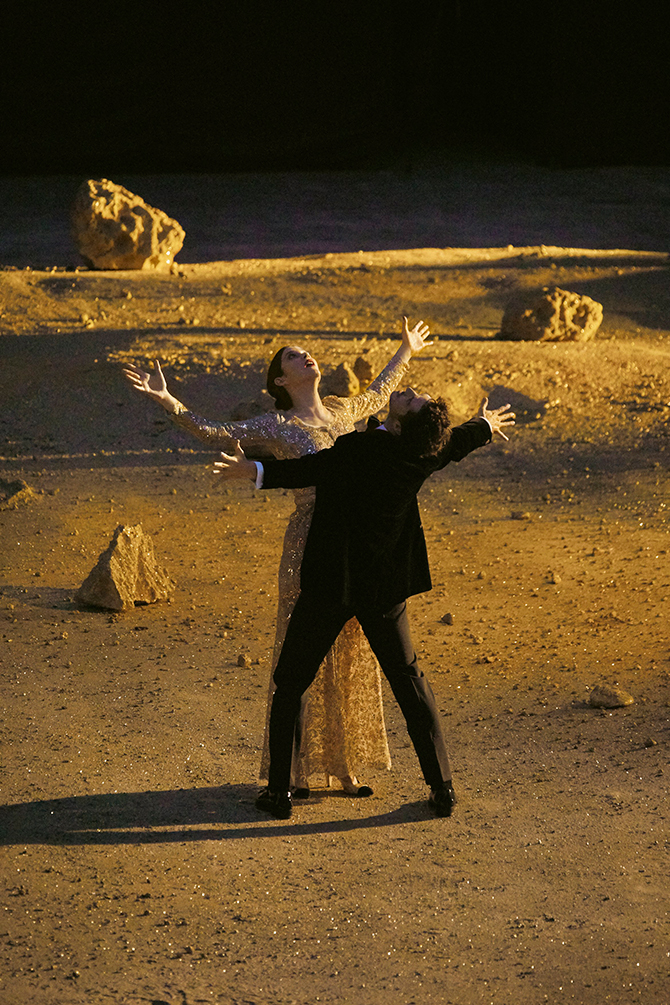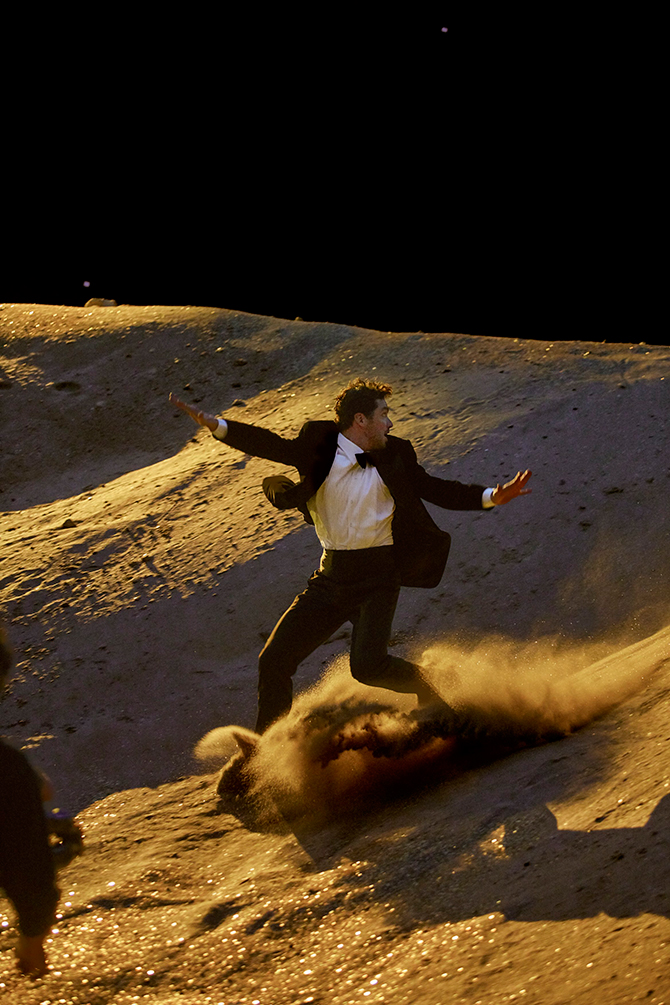 Do you feel similar to this woman in any way?
"She is a character who lives fully in the present. And that is something that I aspire to do. The woman in the film lives in the moment—without nostalgia for the past or fantasies about the future. I try to follow a path of joy, positivity and freedom. I don't know if I have gotten there yet, but I am working toward it. This female character seems to tell us that anything is possible, that our dreams can come true."
Would you also be willing to "unhook" the moon, to do the impossible?
"Unhook the moon, no! It is just fine where it is. (Laughs) Do anything to achieve my wildest dreams, yes! When I was a child, my mother always told me, "Everything is a gift." Today, I tell my children: "Dream big, because your dreams can come true." In the film, it is the female character who leads the dance. The fact that the boy is there on the bridge at the end of the film symbolises the powerful idea of the N°5 woman.
"Yes, the woman leads the dance. But it takes two to dance. We help each other, we practice with each other, we lead and then allow ourselves to be led, and all this while moving. It takes teamwork. For that matter, this idea is reflected in the film's theme song, 'Team' by Lorde. This is what I like about this woman's story. I like the idea of this relay between two beings. Here, it's a dance that is unlike any other. It is surprising, involved, sensual and funny. It expresses passion. Anything can happen in life, if you have passion."
"When I was a child, my mother always told me, 'Everything is a gift.' Today, I tell my children: 'Dream big, because your dreams can come true.'" – Marion Cotillard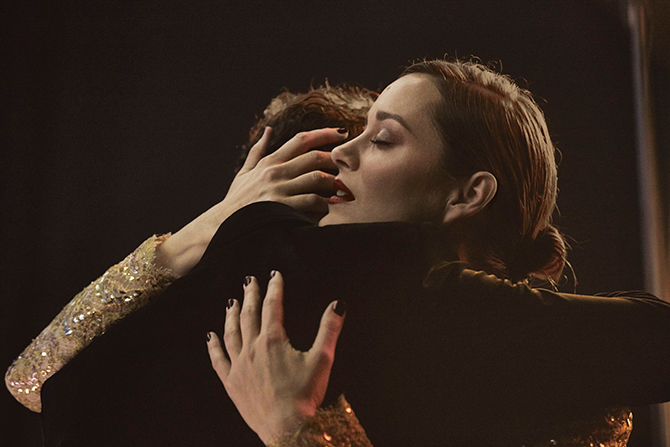 Were you nervous about filming the dance scene?
"Oh, yes! (Laughs) Because I'm not a dancer. So, I was anxious. We spent several days rehearsing before we started filming. I was lucky to have Jérémie Bélingard, an Étoile dancer, as a partner. I was quite starstruck, because he has led a remarkable career. He immediately drew me into the choreography. It was a marvellous experience.
"I was both intimidated and reassured by the idea of dancing with an Étoile dancer. I knew that he wouldn't let me fall, in both the literal and figurative sense. He is an extremely kind soul, who just radiates with this tremendous energy."
Is this dance a metaphor for a romantic relationship?
"The film portrays the connection between two human forces who come together for one dance, the length of a dream, in a very powerful moment. This dance reveals the numerous, multiple emotions that they experience. There is love, joy, mutual support… There is also seduction, because there are two bodies that recognise each other and are attracted to each other. I trust the viewers; each person will be able to relate it to his or her own vision of love."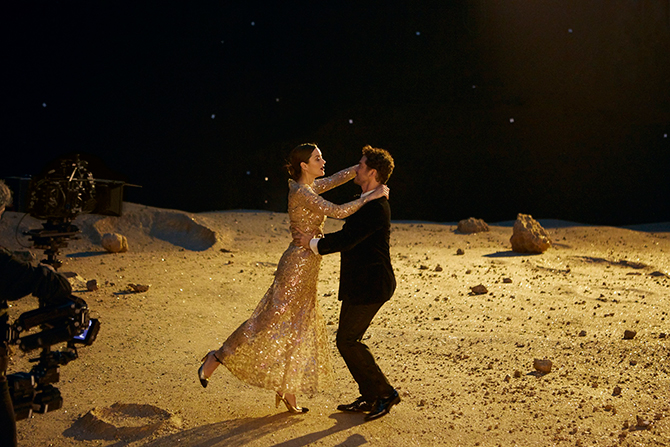 Can you tell us about the dress that you wore in the film?
"I dance in a gold dress that was entirely embroidered by hand in the ateliers of the Maison Lesage. It was inspired by a dress that Gabrielle Chanel once wore. It is truly sublime! It had already been reinterpreted by Karl Lagerfeld a few years ago. And Virginie Viard redesigned it again, specifically for the film shoot. It is a graceful gem that I was able to move in, dance in, run in… This dress represents movement and freedom. Very Chanel!"
What is your relationship with the Chanel N°5 fragrance?
"I felt an immediate connection with N°5. It is more than a fragrance; it's a work of art. Its composition is full of mystery. And its bottle was designed like a modernist painting. N°5 is now considered a classic, but it has retained its originality. That is what means to be an icon, the ability to stand the test of time. I therefore feel very lucky to help keep the story of this iconic fragrance alive."
What does the history of its creation inspire you?
"N°5 was the first fragrance created by a female couturier. And it sparked an olfactory revolution. Its creation tells the fate of an avant-garde woman who was ahead of her time. Gabrielle Chanel successfully created an olfactory revolution. She established herself in the world of perfumery, during a time when women had to fight just to exist, in a world run by men. That is something that deeply touches me."
Why are you fond of N°5?
"Wearing a fragrance is a very intimate gesture. A fragrance reveals something about the identity of the person who wears it. We enter, paradoxically, into the depth of a person's soul. N°5 doesn't have the same scent from one person's skin to another, and yet it is still recognisable. It's fascinating. It is a fragrance whose composition is so particular, so subtle, that it becomes different and unique on every woman."
What feminine personality traits do you associate with N°5?
"I would say that N°5 holds the idea of a feminine essence. Combined with the major challenge of pleasing yourself before anyone else. But it could just as well be worn by a man! Essentially, when I think of N°5, I think of a soul who is searching for freedom."
What are your first memories of Chanel fragrances?
"My first 'woman's' fragrance was given to me by my maternal grandmother. It was a Chanel fragrance. I remember how elegant the bottle was, and that I loved looking at it in my room. I was a teenager and it conjured up a world of elegance that filled me with dreams."
Can you talk to us about your relationship with Chanel?
"Early on in my career as an actress, the Chanel House has accompanied me during some very pivotal and important moments. This House has always fascinated me. Whether in the boutique on rue Cambon, in Gabrielle Chanel's apartment or in the Chanel Laboratory of Fragrance Creation and Development, I am amazed. When Thomas du Pré de Saint Maur—Chanel Head of Global Creative Resources Fragrance and Beauty—asked me to collaborate on N°5, I was very touched. It felt like a reunion."
And how did you feel to be back at Chanel?
"It is difficult to describe, because there is something so magical that only exists within this House. It has a gift for wonderment and thus a gift for filling us with wonder and awe. To arrive at such a beautiful House that is so full of history can be intimidating. But I immediately received a warm welcome. It is like a dream come true, one that I would not have dared to imagine."
For more fragrance stories, click here.
| | |
| --- | --- |
| SHARE THE STORY | |
| Explore More | |