Beauty
Model Nalisa Alia Amin on her radical hair transformation, complete AM/PM skincare routines and more
Always tempted to try on a statement-making hairdo but never really found the guts to do away with more than a couple of inches off your ends? Let professional model Nalisa Alia Amin teach you how.
From previously rooting for curly hair products to currently repping a platinum blonde buzzcut, the beauty and lifestyle influencer is proof that anyone can look and feel good—as long as you're armed with a healthy dose of positive body image.
Ahead, we quizzed Amin on how she maintains her glow, advice for curly-hair readers out there, and the importance of self-compassion:
You had full voluminous curls before your recent hair transformation—can you please share some advice for fellow curly-haired individuals?
"Know your curl type and hair porosity! After that you can work on hydration and see which products suit your curls and are able to lock in the moisture since curly hair tend to be on drier side (especially in a tropical climate).
"Even though the curly haircare selection in the market here is quite sad, some drugstore products are actually 2C–3C curl-friendly—if you know your hair well enough to decide what to use, that is!"
What prompted you to go for a buzzcut? What was the experience like?
"I had damaged my locks after going for my third round of bleach highlights—and I did this right after getting it sun-bleached from a week-long trip at the beach. As a result, my hair had become quite damaged.
"Then, during the MCO, I got bored and frustrated of my hair so I decided to just shave it off right after the MCO was lifted. I was really nervous at first, but then I felt excited when my hairdresser finally shaved it all off. (Thank God I have a decent-shaped head!)"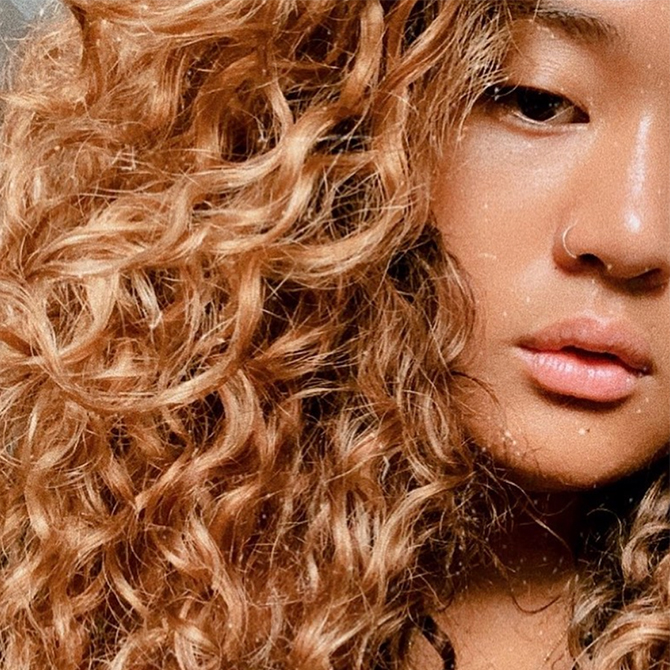 How has your haircare and styling routine changed since then?
"When I had my long curls, I had to clear out half a day or night to just treat, wash and style my hair as it can take up almost two hours for the full routine. Now, I just need less than five minutes to style my hair!"
Growing up, was your experience different from your peers when it comes to having a head full of curls?
"Definitely! Nobody around me had curly hair, not even my friends and family members. I'd felt ugly as I was teased at a lot in school, and I also felt lost because I had no help or knowledge in taking care of my curls.
"All my peers who had wavy or curly hair ended up getting their hair chemically straightened, and [I wanted to do it but] my mum refused to do the same to me. She said that one day I would learn how to appreciate my hair. It wasn't only after high school (and decent Internet connection!) when I learned everything I need to know about maintaining my curls from Youtube. In hindsight, I'm thankful that my mum made that decision for me."
What are your thoughts on Southeast Asian beauty standards in the industry? Is there enough representation, diversity and inclusivity?
"Southeast Asian beauty standards have always been very Eurocentric and whitewashed—and it still is. As much as I see brands and campaigns jumping on the diversity bandwagon (which is great), are these brands being consistently inclusive, and will they continue to do so in the future?
"I do see whitening and slimming products being sold like hot cakes, and a constant stream of these ads on billboards and online along with product endorsements by celebrities and influencers. Even though we've come a long way from a few years ago, I feel that we aren't doing enough because slim, fair and Eurocentric features are always placed on the forefront in most campaigns. I don't know how can we improve on expanding the beauty standards, but I think it's time for higher ups (with power) to step in and combat this if we want to see a drastic improvement."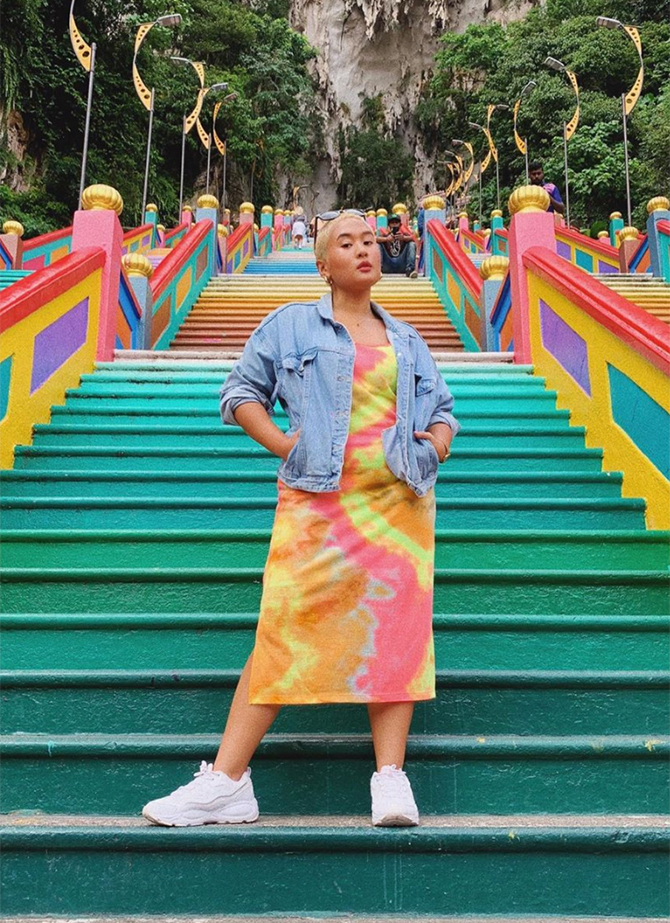 What is one advice you can give to someone who is struggling with body image?
"Be compassionate with our bodies. Our bodies are constantly changing and if we base our self-worth according to something temporal and ever-changing, we will never find peace. We don't have to love our bodies; we just need to stop hating it."
What are your go-to makeup brands that are inclusive?
"Fenty Beauty! I love Maybelline, Catrice and IN2IT for affordable makeup too. When it comes to local brands, it's hands down Velvet Vanity for me."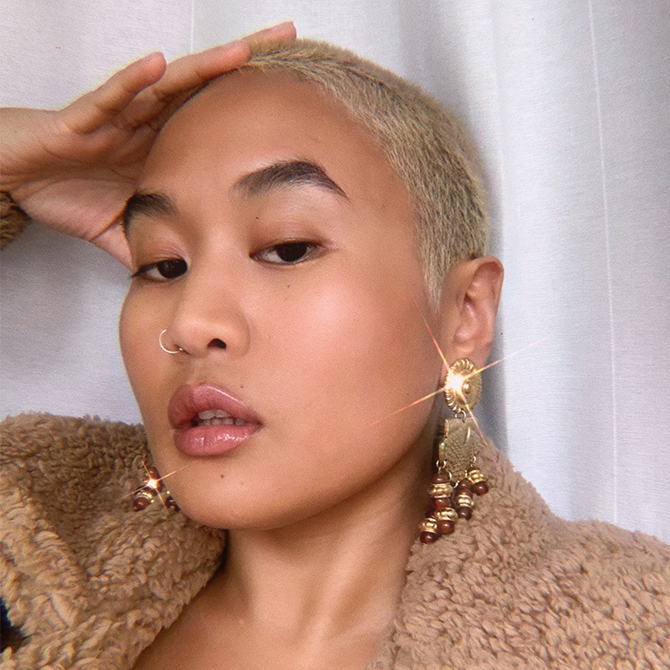 Your skin is goals! Please share your skincare routine with us.
"Thanks! Oh boy, this is going to be a long list. During day time, I'll usually focus on protecting my skin and keeping it hydrated so any gentle cleanser will do. I follow up with Klairs Supple Preparation Facial Toner, Agape ATP Hyaluronic Acid Serum, A'pieu Kalamansi Cream and Supergoop! Everyday Sunscreen SPF50.
"However, my night routine is more extensive because I use this time to treat my skin. I'll start with double-cleansing with an oil-cleanser by Missha and a gentle face cleanser; then I'll apply chemical exfoliant—either Krave Beauty Kale-lalu-yAHA or Coxrx BHA Blackhead Power Liquid, depending on how my skin is feeling.
"I like to use Coxrx Snail Mucin Essence, after which I'll pack on an anti-aging serum (currently using Dior Capture Youth Age-Defying Plump Filler Plumping Serum), followed by The Ordinary Retinol 1% in Squalane.
"The last step in my routine is always hydration—Pixi Beauty Rose Ceramide Cream combined with a couple of drops of Root Remedies Prickly Pear Dewy Hydrating Facial Oil. I typically resemble an oily egg at this point but my skin will look really plump and glowy the next morning!"
What are three products we can always find in your beauty bag?
"Fenty Beauty's Invisimatte Blotting Powder, the Gloss Bomb Universal Lip Luminizer, and their Match Stix Glow Skinstick in Purrrl. Can you tell I love Fenty Beauty?"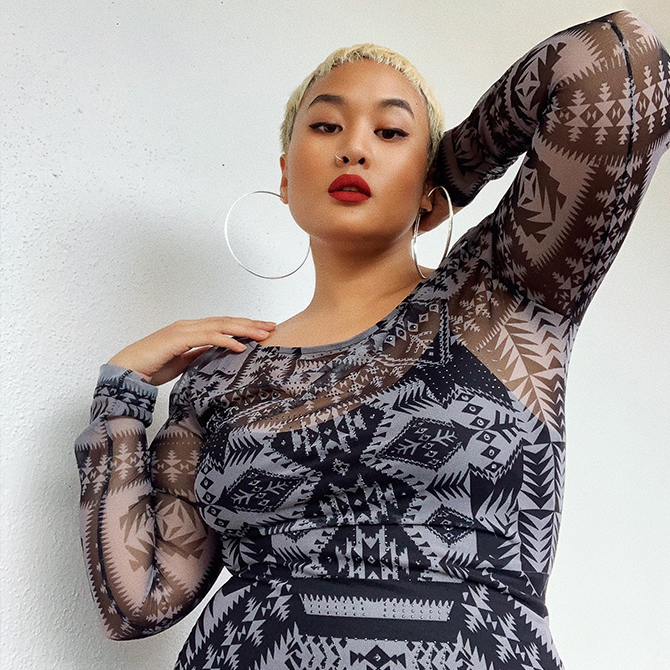 What is your makeup philosophy?
"Makeup should enhance and polish up your features, not hide it."
Current makeup products you're obsessed over, and why?
"I'm a highlighter and blush freak, and recently I just got this Holika Holika Nudrop Lumi Cheek in 01 Caramel Luster and it's a perfect 2-in-1 complexion product! I use this almost every day now."
Who inspires you when it comes to body positivity?
"Rihanna and Paloma Elsesser. I just love their unapologetic vibe and how they're not afraid to break out from the norm."
Follow Nalisa Alia Amin here on Instagram.
| | |
| --- | --- |
| SHARE THE STORY | |
| Explore More | |