Cai Mei Khoo, Editor-in-Chief: Gel mani and regular pedicure by Nails on Wheels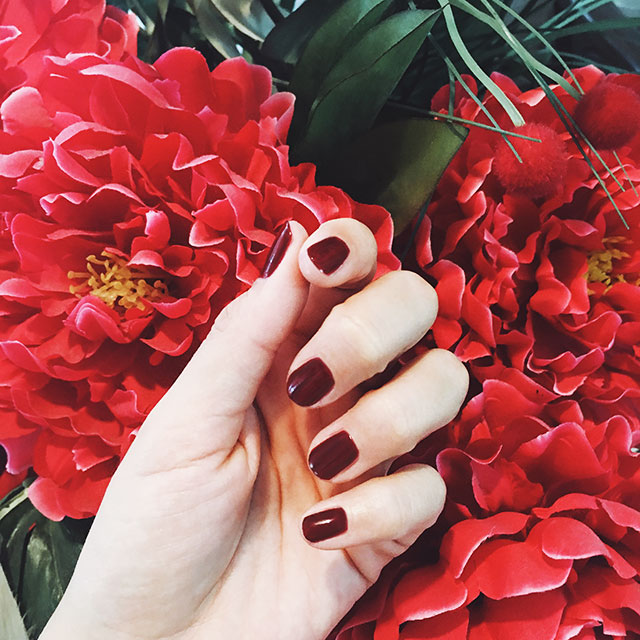 Being on-the-go constantly, it's sometimes difficult to find the time to get my nails done at a salon. Enter Nails on Wheels, a mobile nail service where manicurists will come to wherever you are, whether at home or at work. In between meetings at the office, I managed to squeeze in a gel manicure and normal pedicure — an office chair was converted into my personal nail station, complete with foot bath and portable UV lamp. I had two manicurists, doubling the efficiency — one carefully cutting my cuticles, while the other scrubbed my feet. I opted for a classic red shade for my fingernails, and a metallic grey for my toenails. My pedicure was perfectly fine but the colour on my fingernails were slightly uneven — a small matter I was happy to overlook given I saved on both time and effort from having to drive out and battle traffic to get to my regular nail salon. Definitely a service I'd recommend to those who are short on time — but more so for a simple manicure and pedicure, as the manicurists only do simple nail art services.
Gwen Ong, Deputy Editor: Deluxe Collagen manicure, Posh Nail Spa SS2, Petaling Jaya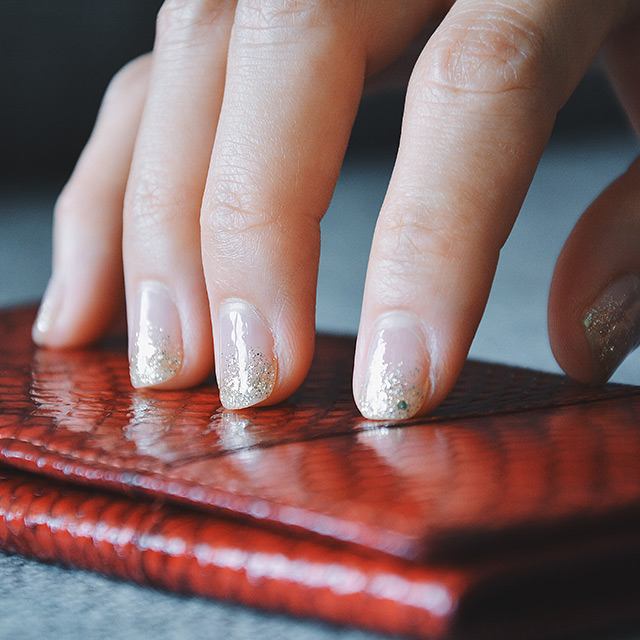 I'm a gel manicure virgin — don't judge but I just never gotten round to it. There's a first for everything and I can tell you this won't be my last. The Deluxe Collagen Manicure started off with the manicurist slipping my hands into a pair of treatment gloves that are preloaded with vitamin E and collagen-rich emulsion to moisturise the skin as well as prep the nails. After about five minutes, the tips of the gloves were peeled off for the manicure that included trimming and shaping of the nails and cleaning the cuticles. Next, the polish! I was enamoured by Claire Danes' Cinderella dress at the Met Gala earlier this year, so I knew I wanted glitter for the festive season. My manicurist did a good job — the design was understated yet pretty. Following this, she removed the gloves and massaged the rest of the collagen treatment into my hands. I got a gel pedicure as well in bright red — I do love Christmas! For my first gel manipedi, I was happy with the service offered but sitting on the bulky sofa for over an hour to get my nails done was admittedly a tad uncomfortable. Perhaps my lack of height had something to do with it. But two weeks in and my nails are still holding up against my clumsy nature — no better way to make it worth it!
Jasmine Leong, Senior Fashion Writer: Gel manicure and regular pedicure, WaXalon Luxe by the The Nail Parlour, Mid Valley Megamall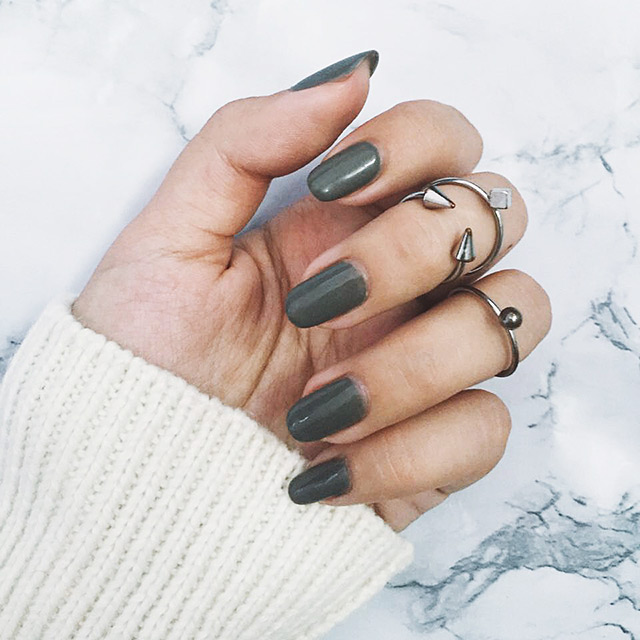 I always have my nails done in my neighbourhood, so when I was told that I would be paying WaXalon Luxe a visit, I was beyond ecstatic. Upon entering the parlour, I was welcomed into a small, private area—behind the golden curtains were comfortable (and sterilized!) seats and golden blankets, all fit for a princess. After making myself comfortable with a hot cup of green tea and warm herbed pads placed around my shoulders, manicurists, Cathy and Ana started on the Courtesan Della Passione manicure and Bellissima Dulce Sublime pedicure. Out of the many scent options, I picked cucumber and to my surprise, the pedicure sink was then filled with cucumber slices teamed with the natural essences of olive oil, honey and calendula extracts. After that, my hands and legs were lightly buffed with body scrub before they were wrapped in a rich cocoa and shea butter mask, and encased in heated gloves and booties. Cathy and Ana then gave my hands and legs a therapeutic massage. The manipedi session hadn't even started yet, and I already felt ultra pampered! I was slightly concerned about my split and broken nails but Cathy reassured me that they would go unnoticed after my manicure. True enough, the gel polish stayed beautifully and there was no sight of any flaws. I was slightly disappointed that they do not offer nail designs but with the quality service, I thoroughly enjoyed my experience at Waxalon Luxe, thanks to the manicurists' care and attention. I would definitely book an appointment for a manicure (and perhaps even, a waxing) session with my girl friends soon!
Loh Wei Yeen, Fashion & Beauty Writer: Gel manicure and regular pedicure, 176 Avenue, Bangsar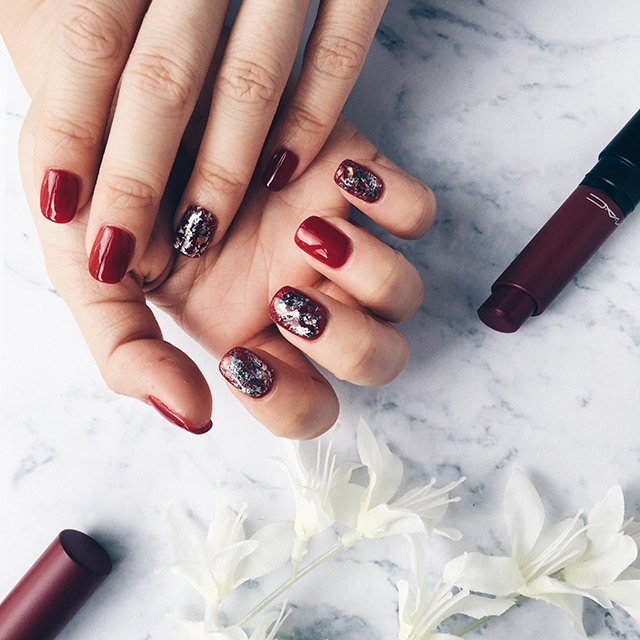 I rarely go for gel manicures as I find that it takes up too much of my time sitting around waiting for my nails to look pretty — you can tell that patience isn't my virtue. But 176 Avenue's gel manicure made it worth the wait for two good reasons: Firstly, my manicurist tried her best in ensuring I got the accurate nail look as depicted from the image I wanted to go for, and secondly, it lasted me a whopping four weeks without a scratch, cuff or chip in sight. Before I started the manipedi session, my hands and feet were given a thorough scrub down for good measure — cuticles were trimmed, nail beds were pushed, and nails were snipped off nicely. My choice was a deep red look peppered with metallic foil that would be perfect for the festive season, but along the way, there were a few hiccups including the foil-like elements' refusal to adhere onto my nails. But my manicurist was patient to boot, layering on nail lacquer while trying a few ways to ensure the metallic foil strips would stick onto my nails successfully. Her hard work finally paid off as the manicure looked superb at the end of the session — three long hours not gone to waste, after all! 176 Avenue is also a great place to drop by for a convenient head-to-toe primping session; you can get your eyelash extensions or haircut done while prepping your nails as well.
Rachel Au, Lifestyle Writer: Gel manicure and pedicure, Makeover Nail Salon, Bangsar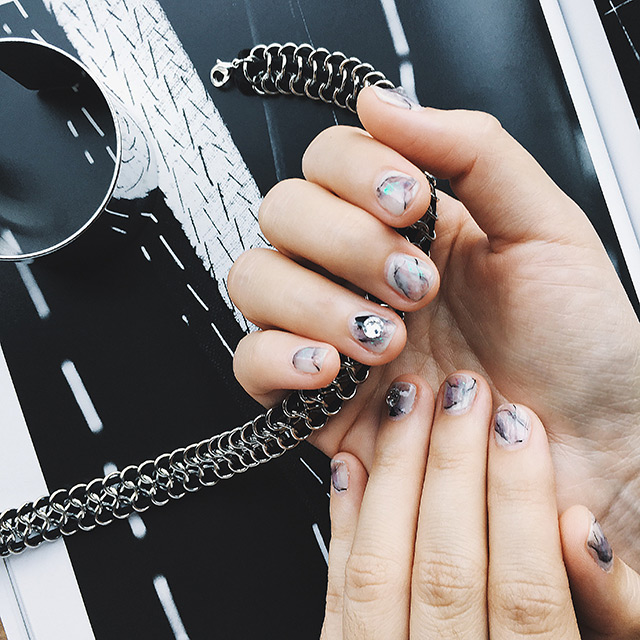 Believe it or not, I've yet to actually try gel manipedi (though it's been on my to-do list for the longest time) so it was such a great opportunity to try Makeover Nail Salon's service. There were plenty of gorgeous designs I saw from their Instagram account but there was one major worry: I have really short nails. When I got there, even Wai Wai, the designated manicurist, remarked its lack of length but she was quick to reassure me that there is still a variety of designs that will suit my nail shape. She recommended this one called 'Transparent Marble' which involved placing some holographic strips on the nail before painting some black and white strips to create the marble effect. For an extra glam factor, she added a few Swarovski crystals that were imported from Korea and I was mesmerised. At the end of it, it's not just about the expertise because although Wai Wai didn't ask, I felt like she could tell what design would suit my taste and style — and that literally helps to narrow down all the options I had in mind. I definitely can't wait to go back and try another gel manicure once I've got longer nails.
Related stories:
Where to go for a nail pampering session in time for Christmas