Aesop. Blue Chamomile. Masque. My four favourite key words in a sentence-in a single product even-have set up a wonderful premise for my first experience of the brand's latest skincare offering.
I appreciate the all-results, no-fuss naming of the Blue Chamomile Facial Hydrating Masque, which is spot on with its mission to intensely hydrate the skin with a soothing cocktail of botanicals. I had the privilege of testing this out firstly on my usual skin condition back home in KL, then on dry, fatigued, Winter-beaten skin in Sydney. It was definitely a nice change, being able to maintain well-hydrated and suppler skin despite the cold, crisp mornings.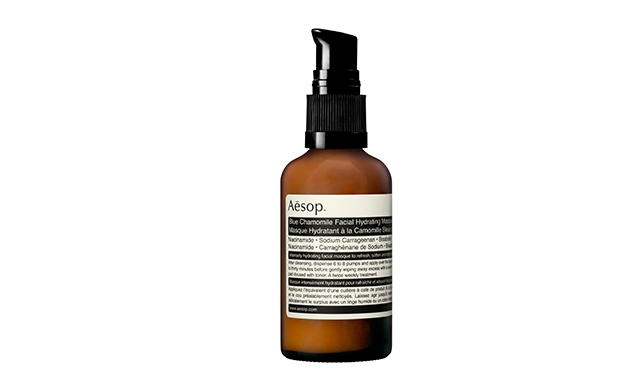 The Blue Chamomile in this masque balances and purifies the skin while an aromatherapeutic blend of Bisabolol and Ginger Root, as well as Rosemary Leaf and Lavender oils work a treat to calm and soothe the skin whilst giving your senses a rejuvenating boost. Also, you'll enjoy the masque's multi-level benefits, which go beyond the surface with its infusion of Sodium Carrageenan, which promote deep hydration by drawing moisture from the environment to your skin, while dramatically enhancing the skin's water retention skills.
And for time-poor individuals like myself, I recommend you apply this at least once or twice a week because it takes you literally under a minute each time! I apply an even layer over my face and neck and leave it on for 20-30 minutes before wiping off excess with a tissue or a damp cloth and head straight to bed. But because the texture – a lightweight emollient gel – feels so comfortable on my skin, I sometimes apply and leave it on overnight, especially on days where I feel my skin has taken more than a little beating. And frankly, with the usual stress, pollution, topped by the less than favourable haze situation we've been putting ourselves through recently, this is the least we can do for ourselves in the name of good skin!
Tip: To enjoy maximum results from your home-pampering session, exfoliate regularly with a deep-cleansing solution prior to applying the Blue Chamomile Facial Hydrating Masque.
Blue Chamomile Facial Hydrating Masque, RM170 for 60ml will be available at all Aesop signature stores Aesop Online from October 2015.
| | |
| --- | --- |
| SHARE THE STORY | |
| Explore More | |