If one could bottle the scent of joy—essentially what happiness smells like, you might find it in the form of Dior's latest fragrance, Joy By Dior. After two decades of careful construction, this olfactory composition took Dior Perfumer-Creator François Demachy precise technique and a lot time (an understatement, really) in developing the right fragrance expression. Joy By Dior is happiness embodied in a scent, coupled with a dash of French glamour and a nascent love for life.
"This perfume resembles certain pointillist paintings that are rich with a precise, yet not too obvious, technique. Each of us perceives light, without thinking about it, in our own way," said Demachy. "It is constructed in a similar manner thanks to multiple nuances and myriad facets, which lead to a crystal clear fragrance expression. It required a lot of time, development and abstraction, but in the end, it has an immediate and lively presence."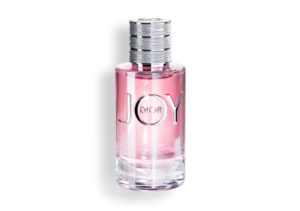 The first fragrance from Dior in20 years, Joy By Dior
While the jury is still out on this scent (we have yet to take a whiff), its notes sound like a heady combination of floral and citrus that's balanced with muskiness—unlike any of the fragrances from the house. Not to mention, Joy By Dior was crafted without conforming to the traditional three phases of a fragrance (top, heart, base). Zesty notes of bergamot and mandarin give a citrus opening that's refreshing, while rose (both in essence and absolute form) and jasmine allow for a vibrant touch. A smooth transition then takes place with creamy sandalwood, balanced with subtle hints of cedar and patchouli, and a powdery finish leaves a sensual signature thanks to musky notes.
Who better than the face of Dior, Jennifer Lawrence to represent this jubilant scent? Directed by American film director Francis Lawrence, the video and succession of images see the award-winning actress diving into a pool with reckless abandon, moving with palpable joie de vivre as her Dior baubles sparkle under the sunlight. Might we look and feel just as she does after a spritz of Joy By Dior? We can't wait to find out.
| | |
| --- | --- |
| SHARE THE STORY | |
| Explore More | |