You know it's that time of the month to get crackin' on your skincare routine when tiny bumps, occasional breakouts, and dull skin tone come to play. Apart from the usual physical exfoliators and oldie-but-goodie masks you've got in your stash, why not spice up your skincare regimen to a degree with these new (and unique) formulas?
From a mask that bubbles up on its own to a facial oil that transforms from black to clear, these new skincare essentials are what you need for a skin rejuvenating sesh (with triple the fun):
This dynamic (masking) duo: OMG! 2-in-1 Kit Detox Bubbling Microfibre Mask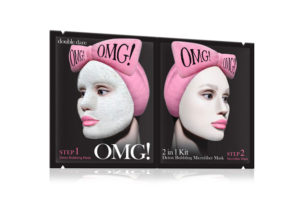 A two-in-one masking set that detoxes, exfoliates and nourishes the skin under 25 minutes? Talk about a time-saving skin saviour that you can't say no to for very obvious reasons—Double Dare's Detox Bubbling Microfibre Mask does all that while making sure you have a fair share of fun during your masking sesh. The Detox Bubbling Mask works to stimulate the deep cleansing process with carbonate bubbles, while the Microfibre Mask feeds skin with hydrolysed collagen and plant-based active ingredients.
"Perfect for weekend staycations (and those who are far too lazy to pack along separate exfoliators and jars of masks), this masking duo is pretty straightforward to use. The bubbling mask only requires three minutes to start bubbling up—at this point I started feeing a tingling sensation, and the Microfibre Mask works wonders in calming the skin down right after. It can get a little messy (with the bubbles and serum allover) but if you're all about radiant skin for the 'Gram, this one's made for you." – Loh Wei Yeen, Senior Beauty Writer
RM150 for 5 pieces (Available online here)
One-minute skin decongestant: OMG! Peeling Gel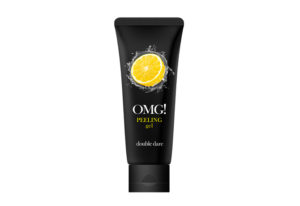 Peeling skincare is really the fastest way to get rid of impurities if you don't have time for a scrub-down. If you're perfectly fine with removing buildup and impurities from your skin right after cleansing your face in the shower, this lemon-scented peeling gel is a must-do. What's unique is the active ingredients (papaya fruit acid, lemon fruit extract, vitamin C & E) that tightens pores and brightens skin at the same time.
"Any beauty product that requires five minutes (or less) of my time is something I'd be raring to try. My shower/indulge-thyself routine just got a tad more efficient with this peeling gel. Its fragrance doesn't come off as artificial, although if you're a fan of sweetly-scented skincare, this might not be for you. I felt some pilling after 30 seconds of massaging this around my nose and chin area, and can I say that there is nothing as gratifying as literally seeing dead skin cells getting washed away?" – Loh Wei Yeen, Senior Beauty Writer
RM110 (Available online here)
Instant facial: Philosophy Renewed Hope in a Jar Peeling Mousse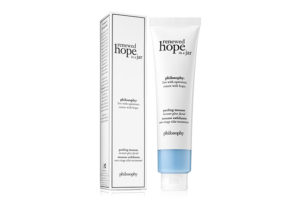 This new peeling mousse is basically self-care made too easy. We get it, 2019—and life—is in overdrive and we're 'too busy' to shake up our beauty routines to turn dull and flaky skin into fabulous. But this literally takes one minute. This double-duty exfoliator is infused with pineapple complex, witch hazel, dandelion root and other skin-loving ingredients to gently 'roll' away impurities, dirt and dead skin cells for an instantly brighter complexion.
"I've been 'peeling' three times a week now—heads up: you'll feel a slight sting initially, which is perfectly normal and just the enzymatic-based exfoliation doing its job. My skin feels cleaner and smoother afterwards (especially on my chin where congestion usually occurs). Also, my skincare and makeup work better on my skin now than they did a couple of weeks ago. Amazing what taking a short minute out for yourself can do for your skin (and your mind)—now back to the hustle!" – Terry Saw, Editor-in-Chief
RM145, 75ml (Available exclusively at sephora.my)
Colour-changing glow-getter: GlamGlow Starpotion Liquid Charcoal Clarifying Oil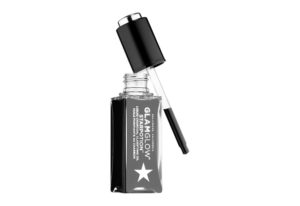 Just when you thought that facial oils are perhaps the least "fun" addition to your routine—because, really, it's oil for your skin, Glamglow one-ups the game with the new Liquid Charcoal Clarifying Oil. What it has it two types of charcoal, turmeric, aloe vera, vitamin C, salicylic acid and oleic acid-rich oils to clarify and protect skin from pollution. The black formula changes to a clear hue upon application, plus it's great to use for day and night.
"While this may straddle the line between gimmicky and actually-efficient, my skin can attest to the latter after using this for a few weeks now. I only need two drops (max) to sufficiently coat my entire face, and it's almost therapeutic to see the black fade into a clear texture upon massaging it into my skin. Sadly, the formula does leave some oily residue, but I'm all for waking up with hydrated, glowing skin, and this clarifying oil does just that."
– Loh Wei Yeen, Senior Beauty Writer
RM230, 30ml (Available at sephora.my)
| | |
| --- | --- |
| SHARE THE STORY | |
| Explore More | |