Beauty
Women in beauty: Glow Recipe's founder breaks down their best-selling products and deals some pro skincare and business tips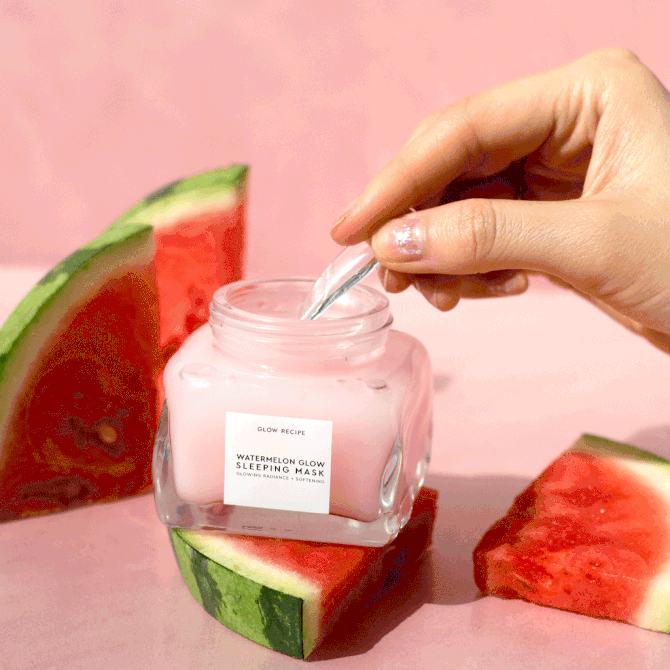 Just six years ago, Sarah Lee and Christine Chang left their cushy jobs as product formulators and marketing executives at L'Oreal to pursue the launch of their very own beauty brand. Glow Recipe began as a curation business that sought to bridge the gap between the Korean and American beauty markets, introducing the now-ubiquitous K-Beauty philosophy to the Western demographic.
Today, it has become one of the most popular skincare brands out there, with a keen cult following—and for good reason too. With over ten years of experience as product formulators and marketers, the fruit-filled skincare line is more than just eye (and skin) candy; it is a collection of effective, considered vanity staples.
From the texture of Glow Recipe's products to the individual ingredients and even the smell, each product is optimised for the perfect balance of efficacy, aesthetic, and convenience, to ensure a luxurious sensorial experience with every use. The only hitch—the brand hasn't been available in our corner of the world…until now.
We had the absolute pleasure of chatting with one of the brand's dynamic duo, Christine Chang, about the brand's launch in Malaysia and she ended up having some absolutely top-tier pointers to share with us. To get some pro-tips on your skincare routine and learn more about the cult-favourite brand that has hit our shelves, read on!
How did Glow Recipe come about?
View this post on Instagram
"It really felt like fate. I've known Sarah for over 15 years (I met her on my first day as an intern at L'Oreal in Korea), and back when K-beauty was relatively unknown in the US, we were the only two people in the L'Oreal New York offices who had experience with both the Korean and the US beauty cultures. That felt special and meaningful and we decided it was time to leverage that experience and give [starting a beauty brand] our best shot.
"Just to give you an understanding of the market in the US, at the time we started this business, skincare was not trending. People hated doing their skincare routine. It was something you had to slog through—most of the brands that were in focus were clinical brands that were a little more serious. [Skincare] wasn't really a ritual or anything that was really pampering or fun. In fact, I remember going on a business trip with one of my L'Oreal colleagues and she was shocked when she actually saw my skincare routine. All she did for skincare was splash her face with water, put on a moisturiser, and then go to bed. That's when I realised that there was a real opportunity here.
"After we made the decision, it all happened very fast—we quit our jobs (which our parents had a lot of things to say about at the time) and started Glow Recipe with just USD25,000 each of our savings. We flew to Korea right away and succeeded in getting eight brands on board without even a website. We talked through what our mission was: To create a platform for them.
"We eventually phased out of our curation business in 2019 as [the brand] was growing so much, but we actually helped to connect these businesses to different retailers in the US so they could continue growing the platform that they had grown here."
Glow Recipe products are formulated around fruit-derived antioxidants. How would you describe your formulation and marketing philosophy?
View this post on Instagram
"In the beauty industry, you kind of fall into this cycle of chasing the highest concentration of active ingredient as opposed to thinking about gentle, efficacious daily use. So, for us, it's really not about achieving a super high percentage of acid or retinol. It's about testing and optimising to reach something that is still gentle for all skin—including sensitive skin—while prioritising the sensorial experience. We believe that skincare should be the best part of your day, where you unwind and enjoy that ritual so part of that is us focusing on the beauty of certain textures—like how it feels when it wraps your face, and even down to the jars.
"The fruit antioxidants that we have chosen for our products are the same fruits we grew up using in our skincare routine. They're the same fruits we saw our mothers and grandmothers use (such as rubbing watermelon on their skin in the hot summer months in Korea), and we pair that with gentle, powerful actives.
"Each fruit serves a synergistic purpose for the active it is paired with. In our Plum Plump Hyaluronic Serum, plum is synergistic with hyaluronic acid because it helps to support that AHA production in the skin. In our Avocado Melt Retinol Eye Sleeping Mask, avocado works as a great buffer for retinol. Watermelon is a very soothing ingredient, which works as a great counterpart to the gentle dose of AHAs that we added into the formula for the resurfacing effect.
"It's that balance of hydration and exfoliation that we strive for throughout our products—not because we feel you have to over-exfoliate or resurface all the time for great skin, but because gentle exfoliation is an essential part of a healthy skincare routine. It's important for us to constantly ensure that if our products are used together, it is always the right amount of hydration and exfoliation coming together to both protect but also renew the skin."
How does Glow Recipe differ from the other K-beauty and Western beauty brands on the market?
View this post on Instagram
"I think that a really nice way to sum up the ethos of our brand is that it has married both traditions. There are all these great Korean holistic approaches to skincare that we grew up with and that we wanted to incorporate into our skincare experience. However, at the same time, when we saw that first wave of K-beauty coming to the US, we saw the trend of having a 10-step skincare routine was actually turning people off.
"We would walk into a Sephora and a beauty adviser would say 'I can't recommend this to my customers when I myself cannot handle a 15-step routine!'. That's when we knew then that we had to really myth bust to assure the public that it's not really about the steps—no one is really sitting there counting the number of steps in their routine—but also that there are a lot of innovative hybrid products that help you get your results faster. We wanted to combine that approach of the West's more practical skincare with Korea's holistic sensibility. I think we have created a brand that is neither US- nor Korea-based—it's really more of a hybrid."
Do you have any pro tips for applying skincare?
View this post on Instagram
Tip #1: Don't dry your face between skincare steps
"After cleansing, we suggest that you don't actually rub your face dry with a towel—pat your skin dry instead. The reason for this is that in your typical bathrooms, your towel hangs right next to your toilet. So, for hygiene issues, it's best to avoid using the towel on your face (unless you're washing it every day). It only takes a few more seconds to pat your skin dry with your hands and go on to your next step—besides, skincare actually works better when your skin is damp anyway, so this is a little technique of ours."
Tip #2: Start your routine with your eye cream
"Online, we see recommendations about using a serum before your eye cream. You can, but another one of our recommendations is that you actually start with the eye cream. This will allow you to buffer the delicate eye area with a product that's ophthalmologist-tested specifically for that area before moving on to serums and moisturisers that can have higher concentrations of actives."
Tip #3: Employ the 1 + 1 method when using a cleansing balm or oil
"Balms and oils don't work differently. Balms, like our Papaya Sorbet Enzyme Cleansing Balm, are just a solid oil. The difference is that using them is a more mess-free experience (oils tend to run down your hands and they can be a little more unwieldy to manage). That said, you can use either for the first step of your cleansing routine. There is a very specific technique we follow when using it (it's the 1 + 1 method).
"So, you massage the balm or oil into your skin for a full minute, and then you add a little water to emulsify it and continue massaging for another minute. It's really important to wet the skin and continue the massaging so that you're massaging and emulsifying at the same time. This will make sure that everything comes off when you rinse, and you'll find that your skin is not stripped and not dry afterwards and that it still has that barrier intact."
Tip #4: Look for retinol in your products
"Retinol is highly recommended for a broader age range than you'd think. We've seen people use our Avocado Retinol Mask as an acne treatment because retinol helps with skin cell turnover—this also makes it so effective for concerns like milia."
Tip #5: Ageing starts with your eyes, so you might want to think about investing in an eye cream
"If you're really young, you probably don't need an eye cream. That being said, your eye area is one of the first places you'll feel signs of ageing because the skin there is so much thinner [than the rest of your face] and it lacks as many oil glands.
"Plus, eye creams like ours with retinol are great for treating concerns in younger skin—retinol isn't only about anti-ageing. Around the eye area, it can really help with dark circles, milia, roughness, texture, and puffiness. Either way, I think prevention is always easier than the cure."
Tip #6: Find a way to incorporate enzymes into your cleansing routine
"Enzymes, unlike acids, actually target only the dead skin cells on your face. So, it really gets that dead weight off, which gives you that perfectly clean canvas and helps you to gently resurface without the irritation associated with acids or any harsh ingredients.
"Something like our Papaya Sorbet Enzyme Cleansing Balm is a beautiful way to start off your double cleanse routine—and the papaya antioxidants also help to brighten skin over time."
Tip #7: Avoid cosmetics that do not contain preservatives
"We think it's really important for brands to be responsible and not claim to be 'preservative free'. It's irresponsible because unless the product is something like an oil that has no water in it, all products need preservatives to be able to withstand fingers and touching and usage. It's just a normal part of the formulation process."
What products do you recommend as a starter kit?
View this post on Instagram
"For those of your starting off at glow, we recommend our "Pore Four" or "Glow Game Changers". This is the Watermelon Glow PHA+BHA Pore-Tight Toner, the Watermelon Glow Pink Juice Moisturiser, the Watermelon Glow Sleeping Mask, and the Avocado Melt Retinol Eye Sleeping Mask. These are awesome and are our best selling products. With this, you kind of have a comprehensive routine; you have the toning step, the moisturising step, the eye cream step and then a mask to rotate in and out of your routine."
It's so great to see women of colour in entrepreneurial positions, especially now that it's Women's Month. Do you have any advice for any women also looking to break into the entrepreneurial game?
View this post on Instagram
"Absolutely! When I started this business, I think there were a lot of doubters. People would ask 'why are you leaving a perfectly good career as an executive at L'Oreal to take this risk?', and my point of view was that—and this maybe doesn't apply to everyone—I had kind of built enough experience in the industry where I was just like 'what's the worst that could happen?'. I would do this business for one or two years, and if it didn't pan out I would just go back to another beauty company leveraging that creative experience and I would've lost one or two years, most. That risk was worth it for me.
"And I think it's important, in hindsight, how useful that experience at L'Oreal was. It really was an incredible training ground. I actually have friends at L'Oreal in Malaysia so I know that worldwide it's a pretty demanding environment, but I think it was an incredible training ground for everything that we went through while in the business. Gaining experience in a relevant industry before starting is really important; that network, that tribe of women and female founders that have supported us have been incredibly important as we've grown the business.
"I also think that the last point is to make sure that you have a point of difference. I think the beauty industry, in particular, is very saturated. So, if you don't have a clear philosophy or 'North Star' as to what you want to bring to your customers and the industry, it becomes very difficult. For us, we knew from the beginning of our business that this was the long game: To create our own product because we had done exactly that for a decade at L'Oreal. It was our expertise and our wheelhouse, and so we created each step of our business with that long-game in mind.
"Being Asian women in our positions in the beauty industry has been especially meaningful because we've been able to deploy our resources to organisations that support equality and combat racism, and through these acts—it's incredible to have been able to grow and run Glow Recipe the way we are today."
This interview has been edited for length and clarity. Find more beauty insiders here.
| | |
| --- | --- |
| SHARE THE STORY | |
| Explore More | |