What truly drives your thirst in life? If you haven't been asking yourself this question as of late, let Laneige steer you along the right direction with its new Thirst For Life campaign, with Korean actress Kim You Jung as the star of the narrative.
Break out of your comfort zone and seek out the unknown, whether it's soaking up an entirely new experience or basking in an environment that isn't part of your everyday routine. Laneige shows us that we all can live our best lives with an inspiring video campaign: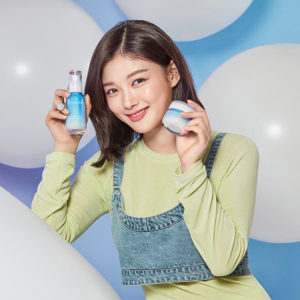 For the 20-year old actress and the face of Laneige, living in the moment is her thirst for life. But she's got a little help along the way—with two star products from Laneige's bestselling Water Bank range: the Hydro Essence and Hydro Cream, and we're all for it.
With one bottle sold every 17 seconds, Laneige Water Bank Hydro Essence is the brand's key product when it comes to quenching skin thirst. Backed with 26 years of research, this moisturising essence has Hydro-Lightening Technology to strengthen skin barrier and hydrate the skin. Coupled with the Water Bank Hydro Cream, days of dry, dehydrated skin will be a dilemma of the past—say hello to luminous, healthy skin in a heartbeat.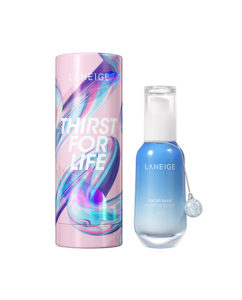 Laneige Thirst For Life Water Bank Essence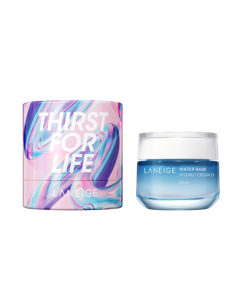 Laneige Thirst For Life Water Bank Cream
This year, Laneige Water Bank Hydro Essence and Hydro Cream have been reimagined with a limited-edition packaging designed by New York-based contemporary graphic designer and typographer Stefan Sagmeister in collaboration with American graphic designer Jessica Walsh. Spot the stunning, pastel-holographic design that's inspired by the concept of 'hydration'—don't miss out on the cute addition of a crystal ball on the neck of the Water Bank Hydro Essence bottle.
But what truly makes the Water Bank Hydro Essence and Cream a dynamic duo is the specific ingredients in the formulation—minerals extracted from vegetables that were carefully picked for its moisturising properties and safety on the skin. The essence and cream help activate the skin's NMF (Natural Moisturising Factors) to allow it to self-produce and sustain moisture, resulting in a luminous glow
In the spirit of chasing the #ThirstForLife, Laneige Malaysia is directing the spotlight on five Malaysian personalities who are absolute inspirations in their respective vocations:
Farah Ann, SEA Games Gold Medalist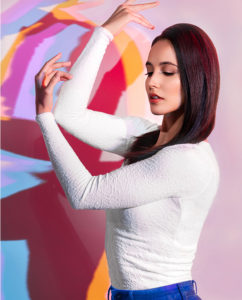 Laneige Farah Ann
For SEA Games gold medalist Farah Ann, one of the most challenging moments of her career was failing the bid to qualify for the 2016 Rio Olympics—by a mere 0.1 margin. But she didn't let that obstacle deter her, channelling her efforts to become the first Malaysian artistic woman gymnast and third Malaysian gymnast to qualify for the 2021 Olympics. "The road to what you thirst for is often marred with hardships and ups and downs. However, when you achieve what you thirst for you realise that every single step you've taken has been needed to gain what you've achieved."
Joey Leong, Malaysian Actress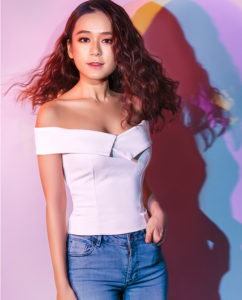 Actress Joey Leong has faced her fair share of hardships. The 25-year old actress sustained second-degree burns on both her legs when a set she was filming at caught fire, which resulted in a loss of ability to walk for a month. But she challenged herself to walk despite the pain, eventually succeeding and diving into lead actress roles in local films after a hiatus. "Sometimes, life gives us very sour lemons unexpectedly, but if we could hold on to the thirst, even if it's the simplest thirst, it will lead us to a bright future."
Marianne Tan, Actress and Illustrator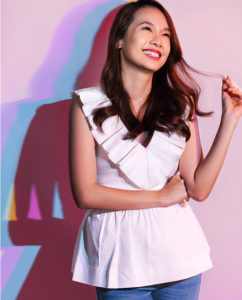 Actress and illustrator Marianne Tan realised that acting was her one true calling after taking up an opportunity from a close friend to star in a YouTube short film. This blessing in disguise landed her a lead role in Malaysian film Ola Bola in 2016, and Tan took up the role despite her parents' initial apprehension. "To be able to touch the audience with those roles is a bonus and it keeps that drive going. Be brave to take the first step to the unknown territory which is led by your thirst and curiosity. It could lead you to discover your vocation."
Phei Yong, YouTube Content Creator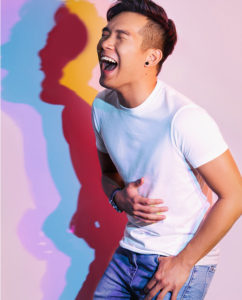 YouTube content creator Phei Yong auditioned for the "MYFM Be My Star DJ" contest on a whim when he was studying in university. He ultimately went on to become the male champion, discovering his passion for hosting and creating content. After launching his YouTube channel in 2017, he eventually turned his passion into a full-time career: "I often find myself thirsting for growth in my career development. Just like a duck, paddling and working very hard beneath the water while above the surface, it looks calm and unruffled. This is exactly what I thirst for. Only to continuously swim forward freely would bring happiness onshore."
Sheena Liam Zacharevic, Malaysian Model and 2014 Asia's Next Top Model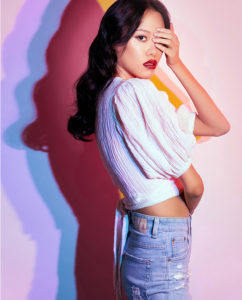 Joining Asia's Next Top Model in 2014 was no mean feat for Sheena Liam Zacharevic. Despite undergoing emotional stress throughout the competition, she emerged the winner after beating 16 other contestants. She has since represented Malaysia on the runways worldwide and has landed covers on a slew of international magazines: "Striving towards the same thirst in life even with small steps is important. Be confident and find the strength to learn from your mistakes. A positive mindset goes a long way."
What is your #ThirstForLife?
| | |
| --- | --- |
| SHARE THE STORY | |
| Explore More | |