The latest makeup lewk that's going viral on Instagram and TikTok is none other than the ultra-snatched, fox eye makeup look—think of it as the elongated version of your favourite cat eye, but lifted on the sides to give an illusion of a "pulled back" effect on the face and eyes.
Case in point: Bella Hadid and Kendall Jenner's subtly-lifted gazes that may or may not be entirely attributed to makeup.
But if you're inspired to take on this trend (and don't plan to get thread lifts anytime soon), read on for a complete guide by an expert on how you can do so. We got the 101 on the fox eye makeup look from professional makeup artist Cat Yong below:
1) Ensure your under eye area is well-concealed
Go in with a high-coverage concealer and foundation to prevent the appearance of dark shadows under your eyes.
Try: Shiseido Synchro Skin Self-Refreshing Liquid Concealer and Chanel Ultra Le Teint Flawless Finish Foundation
2) Start with your liner, but extend your wing
Begin by drawing your liner in the inner corners of your eyes, and then extending the flick out for a longer wing on the outer corners of your eyes. Don't forget to draw closely to your lash line to prevent gaps. You can also draw a pointy wing in the inner corner of the eyes for a sharp, cat-like effect.
"If you're not confident with using liquid eyeliner to create this look from scratch, it's best to use a pencil liner first, and then go over it with liquid eyeliner," says Cat.
3) Use earth-toned eyeshadows
You'll want to contour your eye shape with earthy tones (a mix of light and dark shadows), then use a deep brown eyeshadow to smoke out and follow the shape of your extended cat eye with an angled brush or a cotton bud.  "Blend the eyeshadow well from the upper lash line all the way to the lower lash lines as well," says Cat.
Don't forget to highlight your brow bone and the inner corners of your eyes to make your peepers pop.
Try: Tarte Toasted Eyeshadow Palette
4) Conceal – part II
Clean up all the excess eyeshadow fallout with a concealer instead of a makeup wipe or remover. This way, you can ensure that the lines are cleaner while keeping your existing makeup base on.
"Use a brush to apply concealer in an upwards motion from the lower outer corner of the eyes," says Cat.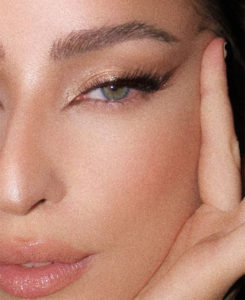 5) Bring your best lashes on
The real trick to acing this fox eye makeup look? Ensure your lashes flutter for days—the thicker and more voluminous, the better.
"Eyelashes and lots of mascara play a big part in this makeup look," says Cat. "You'll want to choose faux eyelashes that are shorter in the inner corners and longer on the outer corners. After sticking them on, layer on lots of mascara in a winged effect."
In case you're not sure how to create a winged lash look, this video will accurately show you how, but in a nutshell: hold the mascara brush diagonally across the lashes and drag it up and out for a dramatic effect. This also ensures that each lash is coated well with mascara.
Try: Diorshow Lash Extension Effect Volume Mascara
6) Pull your hair back
You'd be surprised to know how effective pulling your hair away from your face can do for this fox eye look. "Tie your hair up in a sleek, high ponytail helps as it 'pulls' your eyes upwards for a fox-eyed effect," says Cat.
Photo-ready tip: Not a fan of wearing your hair up and away from your face? Use your fingers to give your look an extra "lift"—place your fingertips by the temples and gently stretch your face upwards (like how celebs do it here, here and here). Easy breezy.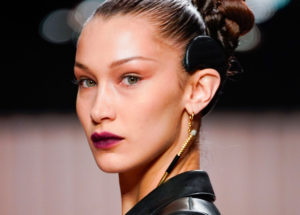 | | |
| --- | --- |
| SHARE THE STORY | |
| Explore More | |