FOREO UFO
RM1,251; available at Sephora
{insert gallery tpl="slide-freesize.tpl" id="[Стандартная без списка] FOREO" rid="6426″ order="a_tstamp"}
The Foreo UFO is a smart masking device that combines the efficacy of Korean sheet masks with technologies such as LED light therapy, thermotherapy and cryotherapy (basically warming and cooling functions), as well as T-Sonic pulsations for next level face mask treatment. What makes this unique from the rest of the mask treatments out there is that you only need 90 seconds to carry out the entire procedure, which makes it perfect for those who can't find 20-30 minutes in their busy schedules for a conventional sheet mask.
As far as "smart" devices go, this donut-sized device is leading the game—it comes paired with an app that gives verbal cues on the benefits delivered during the masking treatment, tracks mask usage and also allows for repeat of treatment. I used the Foreo UFO three to four times a week as there are different masks for day and night use. The "Make My Day" mask has red algae and hyaluronic acid to help protect the skin from the effects of pollution, and the device will allocate 30 seconds each for the red LED light, sonic pulsations, then the green LED light with gentler pulsations towards the end. For the evening, the "Call It a Night" mask has olive oil and red ginseng to revitalise the skin, with a combination of high-frequency pulsing and the red LED light to help with blood circulation.
I like that the entire process only takes 90 seconds—although, those who enjoy longer masking times or who want to relax with a face mask on might find this a bit too short, but that's where the 'repeat treatment' button comes in handy. I tend to mask in the bathroom so I found it a bit of a hassle (and mess) having to deal with the device and my phone when my hands were wet or when had mask essence on my fingers. But that said, a minute and a half for days when I need a skin pick-me-up? Yes please. — Cai Mei Khoo, Editor-in-Chief
SKIN INC. OPTIMIZER VOYAGE TRI-LIGHT
RM1,084; available at Sephora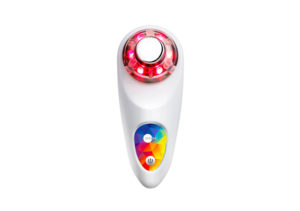 As the name suggests, the Skin Inc. Optimizer Voyage Tri-Light has three different light settings, allowing you to customise your own treatment to tackle different skin concerns: the red light increase collagen and elastin production as well as repair damaged skin cells to reduce fine lines; the yellow light revives dull skin for a brighter complexion; and the blue light address oily, congested and acne-ridden skin and calms inflammation. It harnesses the technology of LED Chromotherapy and low frequency stimulation to help gently regenerate skin cells, encourage circulation and enhance absorption of skincare products.
After two years of battling acne, I'm now at a relatively good place—while I'm left with pretty severe post-inflammatory hyperpigmentation and uneven skin texture, constant breakouts have been reduced to hormonal ones, so that's a start. To address this, I used the blue light (each light setting turns off automatically after 10 minutes, which is the recommended time for each use) on the Optimizer every night with a water-based mask, and massaged my skin in gentle circular motions. I occasionally slip in the yellow light setting if I feel like it. 10 minutes might seem like a long time to dedicate to one step of your skincare routine, but just do it as you're catching up on Netflix and the time will fly by.
The next morning, I noticed my hyperpigmentation was less red than usual, and over the course of two weeks, my skin appeared to be less oily during the day as well. There wasn't much improvement to my hormonal breakouts, however, but I'm quite intrigued to see if this will be a problem of the past with continual usage—it does seem as more of a long-term skincare investment after all. I did wish that it was rechargeable as opposed to running on AAA batteries though, but I suppose that's a minor gripe in light of the multi-benefits that you can reap from the device. — Tan Su Fen, Senior Writer
FOREO UFO MINI
Available at Sephora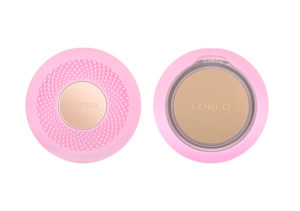 The Foreo UFO Mini is basically a fun-sized and affordable option if you are looking for a masking device to maximise the benefits of sheet masks. The UFO Mini carries the same technology as its predecessor, the UFO, including thermotherapy, T-sonic pulsations, and LED light therapy. The only function it does not have is cryotherapy (cooling) function.
As someone who luxuriates in masking rituals, the UFO Mini made me rethink the many ways I can indulge my skin when I don't have the time for down time. While it's almost ironic, given my love for lazy masking evenings, the device is a handy alternative on days when my skin needed a quick refresh, especially on mornings when I wake up looking like I haven't slept a wink.
As far as cons go, there were times when the device took a while (more than a minute) to pair with the Foreo app on my phone. Which begets my next point: Is an app really necessary for this device? Unless you are the sort who needs reminders on tracking your mask usage (nope, not me), then you might just find the app-pairing useful. That said, the UFO Mini is a pretty good deal if 1) you want to shave time off your beauty routine, and 2) if you'd like get the most out of sheet masks. — Loh Wei Yeen, Senior Fashion & Beauty Writer
NU SKIN AGELOC LUMISPA
RM1,144; available at nuskin.com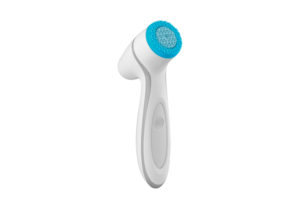 The Nu Skin Ageloc LumiSpa is a handheld facial cleansing device with a silicone treatment head, which is meant to deeply, yet gently cleanse skin of oil, dirt, makeup and more. The device promises brighter, softer, and smoother skin after two minutes, thanks to micropulse oscillation movement that combines deep cleansing with a gentle face massage at the same time.
I like that the bristles are made of silicone, which 1) is easy to clean and saves me the trouble of washing it thoroughly like I would for the usual brush heads in cleansing brushes, and 2) is gentler and less abrasive on the skin. The silicone head needs to be changed every three months, and can be removed from the device to wash. Throughout the two-minute session, the device will pause every 30 seconds to prompt me to move onto the next area of the face. I used it every night and I like its ease of use, and that it combines cleansing with massaging (the exfoliating option).
After consistently using this for about three weeks now, I noticed that my skin did seem brighter and softer, although I'm not so certain about the reduced appearance of pores. If you are looking to up your cleansing game without worrying about breaking out or irritating your skin, this is highly recommended. — Cai Mei Khoo, Editor-in-Chief
| | |
| --- | --- |
| SHARE THE STORY | |
| Explore More | |