We put our olfactory senses to the test with a new fragrance that got us wondering and wanting more
Life is made richer through our five senses. Our sense of smell, for example, is closely linked to our memory. Hence, certain scents can evoke emotions or bring to mind a different place in time.
In a simple yet fun challenge, we took a journey of the olfactory kind to test our sense of creativity. The task was simple – take a whiff and describe what fills our senses and inspires our feelings. The real challenge was to keep our emotions in check and not get carried away from the first spritz. How do you think we fared?
The Gabrielle Chanel is a tribute to the creator, Coco or Gabrielle Chanel, who remains one of the most stylish and enigmatic icons of our time. Over the years, Chanel has given us some of the most memorable fragrances to date including N°5 and Coco Mademoiselle, and the Gabrielle Chanel is set to follow suit. It marks the house's first fragrance pillar in 15 years.
Created by perfumer Olivier Polge, it is a combination of floral notes featuring ylang-ylang, jasmine, orange blossom and tuberose with the addition of white musk and sandalwood for a creamy finish. A hint of grapefruit, mandarin peel and blackcurrant gives it a fresh twist.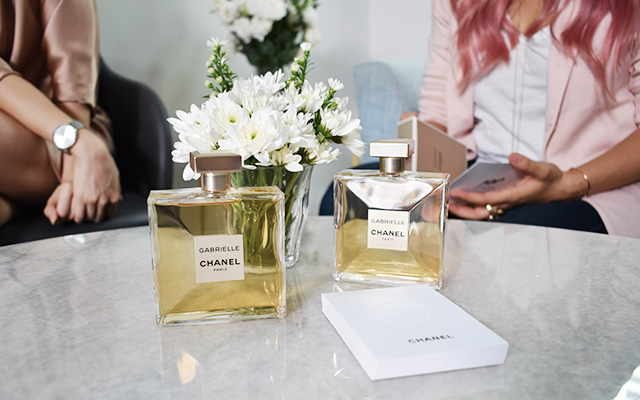 The elegant yet thin-walled bottle took the brand years to develop. It features the 'marloquette'—the slightly curved bottom inside fragrance bottle, that had been pushed outward and four lines converging to the middle, drawing attention to the square label. In every aspect, it's a perfect symmetry.
As a celebration of the new scent, Chanel has released a video campaign starring its ambassador, Kristen Stewart. In her latest role, we see the actress extricating herself from the confines of a cocoon and breaking into a liberating run. It's a celebration of modern femininity built on confidence, determination and independence. Catch the full film here.
Gabrielle Chanel will be available in stores from 1 September onwards.
Credits:

Videography: Octopost Studio

Hair: Cody Chua

Makeup: Shiyo Joo

Location: Kopenhagen Coffee
Related stories:
Chanel launches its first fragrance in 15 years, the Gabrielle Chanel
Editor's Diary: Chanel's Gabrielle Handbag at Paris Fashion Week