Beauty
Exclusive: Hyram addresses the allegations of white saviourism surrounding his skincare brand
"Ingredients don't lie, b*tch"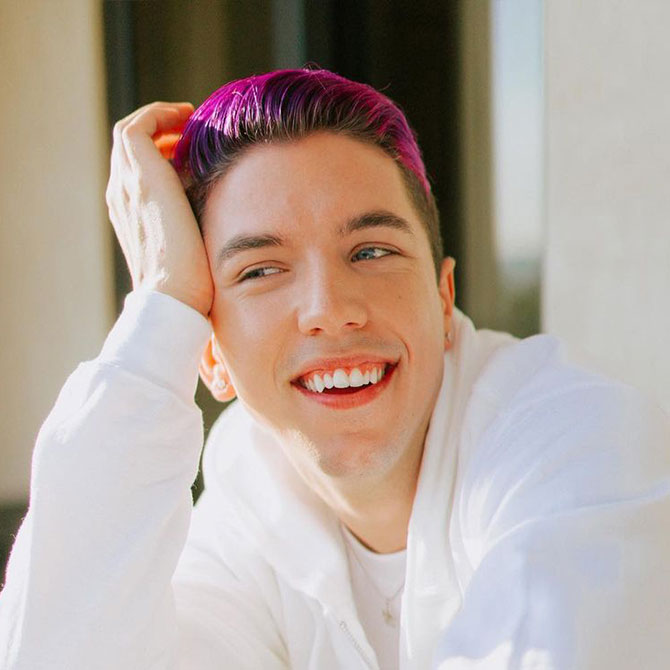 We sat down with Hyram, beauty-YouTuber-turned-entrepreneur, to learn more about his growing brand and its controversies—from greenwashing to white saviourism.
The rise in the popularity of skincare may be nothing new, but the almost cult-like fanfare surrounding it certainly is. While the so-called skincare fad was already picking up speed among the mass market in the last decade, the pandemic has served as a catalyst to its unprecedented growth. Now, in 2022, the industry is bigger than it has ever been, with a huge uptick in brand launches and sales serving as a telling marker. In addition, the online beauty community is bigger than ever, and it's only projected to grow.
With this in mind, it's no wonder that the last couple of years of Hyram Yarbro's life has been a whirlwind. The YouTuber started his skincare channel back in 2017 and was seemingly catapulted into stardom overnight in 2019, earning 600K followers in just four months. Now with 4.5M subscribers on Youtube and 6.4M followers on TikTok, his meteoric rise to fame has earned him an avid following, countless partnerships and his very own skincare brand.
We sat down with the self-proclaimed skincare specialist to cover everything from his introduction into the industry to his new brand and the controversies surrounding it. Ahead, find our full exclusive:
It seems such an odd question to ask when it's so synonymous with your brand, but how did you get into skincare in the first place?
"I first became interested in skincare when I started noticing a lot of premature ageing in my skin—I had deep-set lines all over my forehead and undereye areas, so my friends suggested I started using skincare (something I'm eternally grateful for). When I noticed the transformative results from the products I used, I became intrigued by how ingredients worked and how they helped repair my skin.
"My true passion for skincare, however, came when I started teaching others about what products to use and noticed their confidence improve—I was fascinated by how the power of skincare could completely revolutionise how people saw themselves! I began documenting my journey of learning about skincare on YouTube, and thanks to my followers and the dermatologists, chemists, and estheticians I learned from, I was able to create a platform that people could learn simplified skincare information from."
View this post on Instagram
As someone who has built their platform from the ground up in such a short span of time, how does it feel to have all of your efforts culminate into Selfless by Hyram?
"Truthfully, it has been chaotic in the best way possible. Growing online has been an exhilarating experience, but I wanted to leave my mark by building something that carried my personal mission of helping alleviate global issues far beyond the time when social media attention slows.
"I'm really proud of what our team has accomplished in such a short period of time, and I think it's a testament to the reality that when people work together towards a common goal, anything is possible!"
Why did you decide to launch your own brand in partnership with The Inkey List as opposed to creating a capsule or curation collection of Inkey List products?
"The primary intent in creating my own brand was to generate social change in a capacity that was completely new to the industry, and in my connection with the Inkey List, I felt a similar passion to do the same. Initially, I planned to launch this brand entirely on my own but lacked the resources and expertise to know which ingredient suppliers operate most sustainably, which manufacturers are most responsible, and more.
"The Inkey List has years of experience navigating the cosmetic space and were able to provide me with the resources needed to create a brand that sets a new standard for what is possible: combining skincare and social change. I'm eternally grateful to the incredible team at The Inkey List for making all of this possible."
The name "Selfless by Hyram" has garnered mixed criticism from fans. What is the actual story behind the name?
"I've always been inspired by the term 'Selfless' because, as humans, we are inherently selfish—something that can be good when it comes to things like self-care and self-improvement—but I noticed that within the cosmetics space there were a lot of opportunities to harness the success so prominent in the industry towards bigger social issues. I felt that the name 'Selfless' could be a great reminder that we can each work, using our individual power, to help better ourselves and the world. The term 'Selfless' on its own was too general of a name to use, so we finally settled on 'Selfless by Hyram'."
View this post on Instagram
Could you talk us through the thought process behind the packaging design?
"Every product purchased helps fight climate change or provide someone with a year's supply of drinking water. We wanted the packaging to give a subtle and soft reference to the cause it is paired with, both through primary packaging and secondary. We did this by creating a continuous scene illustration that either represented moving water and the source of where this may come from (linking to those products supporting Thirst Project) or a continuous scene straight from the rainforest itself (linking to those supporting Rainforest Trust).
"If you place the packs together, this scene continues across all front of packs, linking the products. The unisex palette of greens and blues creates a subtle gradient so the range flows together on shelves. Primary packs mirror the secondary by their specific Pantone, which again links back to the cause they are helping towards. Each secondary packaging displays the product type and usage, as well as all primary packaging displaying a sun or moon icon to give a straightforward and easy understanding of the product and how or when it should be used. The inside of the secondary packaging steps away from the product itself and instead, includes more information on each cause and how you're helping towards these by purchasing Selfless by Hyram."
What was it like formulating products for the first time?
"It was an absolutely incredible experience! Being able to be in the labs with our incredible team of chemists helped open my eyes to the complexities of the ingredients we used, as well as the true art involved in creating an elegant formula. Having primarily based my product recommendations on products that I had no part in developing, it was an amazing opportunity to be able to utilise the expertise of chemists to have full control over what the formula included and how it performed."
What sets Selfless by Hyram apart from the rest of the beauty brands on the market?
"I wanted to introduce products that spoke to the primary concerns of my audience and for my brand to encompass all of the requests, discourse, and improvements cited in my comment sections, but I also wanted to introduce a brand that prioritises social responsibility in a way that resonates with the increasing global awareness of younger generations. Young people are increasingly (and rightfully so) expecting more from brands, and I hoped that Selfless by Hyram could offer an opportunity to not only improve your skin but also help make the world a better place through the social impact of each product."
Selfless by Hyram's advertising has garnered criticism of white saviourism, particularly in the use of stock images and videos of the Global South for advertising. As someone who has taken a public stance against toxic humanitarianism, could you address this?
"Our first focus areas to help drive positive impact as a brand—environment and health—were based on what the UN identifies as the key sustainable development goals. When we were looking into charitable organisations to partner with within these focus areas, it was really important to us that we chose partners who had teams on the ground actively engaging with and building sustainable solutions with the local communities. That's why we chose Rainforest Trust and Thirst Project.
"When bringing to life the incredible work that these charities do in partnership with these local communities, we would have loved to have been there to engage and be part of this journey, however, due to COVID safety and restrictions, this was unfortunately not possible. Therefore, as an alternative, our partners shared some of their content with us to enable us to bring that good work to life. Our intent as a brand is to be the platform to support their work and help bring it to our community, sharing the stories of those involved. We completely take on board the feedback from our community and are always open to learning and improving how we communicate on these topics."
View this post on Instagram
Will proceeds from the brand work to provide aid to your local communities such as in Hawaii, Flint and on Native reservations as well as the international communities?
"As mentioned, our desire is to drive positive impact in both health and environment aligning with key UN sustainability goals. When it comes to selecting our next charity partners we will look to keep within these pillars to assess global options."
You mentioned in a video that Selfless by Hyram is carbon net neutral—what programmes are you and your team using to offset the brand's carbon emissions?
"We utilise a combination of efforts to both target and reduce the areas of our business where emissions are occurring, as well as investing into carbon removal programs to offset any processes where emissions are inevitable. We've committed to receiving and sharing our reports every six months that document where emissions are occurring the most and publish our progress for consumers to see. We recognise that no brand can leave zero trace, but we commit to continually reviewing our practices and updating on our progress."
As the face of the huge skincare movement seen in the last few years, what are some changes you have noticed within the community?
"I've noticed that as we move out of the pandemic, the perspective towards skincare has shifted from a more hyper-consumerist perspective to simplified routines that consumers know work for them (something I'm truthfully grateful for!). Additionally, more dermatologists are getting online recognition for their recommendations surrounding skin issues and solutions, and consumers are now—more than ever—critical and intentional about what they introduce into their routines. I believe the pandemic offered an opportunity for us to invest in our skincare routines, and now many people are content with the products that they use and the results they see with more simplified routines."
View this post on Instagram
What is your favourite thing about the beauty community and industry?
"I love that the beauty community is constantly evolving and increasingly paying more attention to the requests of consumers. People are becoming more educated about the formulas, ingredients, and products they use, and consequently expecting more from companies rather than solely relying on recommendations from sales associates or 'buying into the hype'. More brands are also listening to what consumers want. I think this relationship of accountability and awareness is something that is special!"
How would you suggest that the average person uses the five products in their routines?
"It completely depends on your skin and what you're looking to improve! The Centella and Green Tea Daily Gel Cleanser and the Niacinamide and Maracuja Moisturiser can be used both day and night, and are great matches for multiple skin types. The Salicylic Acid and Sea Kelp Pore Clearing and Oil Control Serum is a great daytime option for anyone struggling with oily skin, breakouts, or clogged pores, while the Retinol and Rainbow Algae Repair Serum is ideal for reducing the appearance of acne scarring, hyperpigmentation, and preventing premature ageing. Finally, the Mandelic Acid and Rice Bran Gentle Exfoliating Serum is amazing for dissolving the dead skin cells on your face to reveal glowy, clarified skin.
"I always recommend using one damage repairing product at a time, so keeping your routine condensed to a cleanser, serum, moisturiser, and sunscreen is a great way to keep your skin healthy, prevent long term damage, and avoid skin sensitivity!"
What does the future of Selfless by Hyram look like? Is there a sunscreen launch on the horizon?
"We're working on a few exciting new products at the moment, including a sunscreen, but most of all we're so excited about continuing our journey to drive positive social change with our community and through working with our incredible charity partners."
| | |
| --- | --- |
| SHARE THE STORY | |
| Explore More | |