You know big news are underway when the Clarins family is in town. Seated just behind Jenna Courtin-Clarins, ambassador and heiress to the French skincare brand, I watched her, glowing with pride, as her father, Dr. Olivier Courtin-Clarins took to the stage to deliver his keynote speech at the launch of the new Clarins V Shaping Facial Lift. I was in awe – not only was she actually paying attention, the only time she whipped out her phone was to take endless pictures of her father and live recording his speech and was all smiles while she was at it. Stories of the Clarins' family bond precede them, and I was lucky enough to score front row access to witness it for the very first time.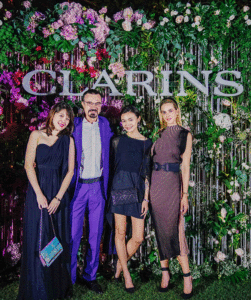 From left: Shannen Hugh, Dr. Olivier Courtin-Clarins, Terry Saw and Jenna Courtin-Clarins
My frow seat also came in handy for the unveiling of the new Clarins V Shaping Facial Lift (VSFL), the brand's iconic contouring serum, which was first launched in 1998 and has since gone on to be a global bestseller and the winner of 119 beauty awards.
Also making headlines is the fifth generation VSFL's new Global Skincare Ambassador, Zhong Chuxi. Before we reveal highlights from our quick chat with the Chinese beauty, here's how the new VSFL is rewriting the codes in facial contouring:
THE GRAVITY-DEFYING STAR INGREDIENT
This year, Clarins pushes the envelope just a little further with its contouring serum, taking on gravity as its biggest challenge for its new formula. After all, gravity is the biggest culprit when it comes to sagging facial contours and the loss of up to 70% in skin elasticity due to the decrease in collagen over time, caused by the impact of environmental aggressors. Enter the new VSFL.
Marie-Hélène Lair, Scientific Communications Director sums up the key takeaways for us after three painstaking years of R&D leading up to this major breakthrough:
Introducing the Agropyron
This plant is a fighter. Known to fight soil erosion, the plant's humble appearance (on the surface) doesn't do justice to its strengths (underground). Its superpowers lie in its unassuming network of up to 150 rhizomes that are not just capable of holding and supporting soil, but also keeping everything in place on dunes and hillsides – now, imagine all that power, but for your skin. Immediately.
Super-charged skin benefits
Besides instant skin lifting you can expect from the organic agropyron extract in the new VSFL, organic oat sugars, guarana, zerumbet ginger and horse chestnut escin also work together to reduce fatty tissues and puffiness whilst improving skin radiance. Also, the VSFL is infused with not one, but two types of hyaluronic acid. In short – this dramatically improves your skin's ability to restore and maintain intense hydration.
Results, results, results
The VSFL is also formulated to work on a two-pronged approach – instant results you can see (lifting, firming and brightness) and long-term results you'll love (a slimmer V silhouette and reduced puffiness). For better results, indulge in some self-care while applying the serum using the brand's signature Auto-Lifting massage, which was specifically developed using the brand's exclusive spa expertise.
Hold up: Everyone's V-shape is unique to their facial and bone structure, so manage expectations when it comes to your desired contour, and embrace the one that's unique to you.
BEAUTY CHATS WITH THE CLARINS LEADING LADIES
5 Things to know about Zhong Chuxi
A rising actress, Chuxi is also the first Chinese ambassador to join the Clarins family as its new Global Skincare Ambassador.
You may have seen her in Youth, a Chinese film, which earned her a Golden Horse Award for Best New Actor/Actress. You might have also spotted her in The Knight of Shadows: Between Yin and Yang alongside Jackie Chan earlier this year.
Top Clarins qualities she identifies with are the importance of family values, emphasis on the usage of natural ingredients only, and cultivating confidence in natural beauty.
Her best de-bloating trick is a glass of hot barley and lemon.
Her VSFL tip is to apply under her day or night cream, and re-apply a few times a day using the Auto-Lifting massage technique to boost circulation in her skin, especially during long hours of being on set.
7 Minutes with Jenna Courtins-Clarins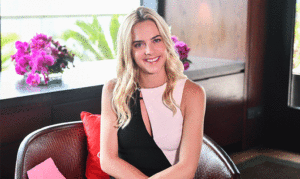 How has your role as the ambassador of the brand evolved over the years?
"I've been talking to women for a long time now, in a way I have grown with them, and the brand, and know what works. Women are super savvy and I love that I play a part in strengthening both the brand and women's trust in Clarins through education. Plus, I get to travel and meet so many customers, talk to countless beauty experts and journalists and hear all their wonderful stories, which is a very important part of my role in helping to improve the products and services we provide."
Your favourite beauty memory
"My grandfather (and founder of Clarins) had incredibly soft hands – he would always be applying some cream or the other on us as kids."
Best beauty lesson from your grandfather?
"Avoid the sun as much as possible, especially between 11am to 4pm, and always wear a hat outdoors – we know the importance of it now although we never listened then! Also, he always said cold showers are great to maintain the firmness of the skin."
Best lesson your learned working with your family
"Communication and honesty."
Travel-ready skin prep and tips
"I apply a generous layer of the Double Serum under my day cream to start. On the day of my travels, I'll also prep my skin with a VSFL facial treatment. I re-apply my skincare up to four times on a long-haul flight and keep to a salt-free and alcohol-free diet when I fly."
Life lessons from a Parisienne
Balance is key. "As any French would tell you, we love our red wine, bread and butter! I enjoy my treats but also take good care of myself. Besides good skincare, I do a lot of yoga, running, cycling and swimming."
Live intentionally. "We are a close-knit family and were brought up to work hard but also enjoy a good, authentic life, which maybe explains why I personally gravitate away from social media. I am very private, and I love be roam freely around Paris – this is my way of thriving in the family business that I absolutely love, whilst also being able to enjoy my privacy."
Step outside. "I don't like to be in front of the TV or on screens too much – people should not forget to take care of themselves – indulge in good food, use good skincare but also go outside, enjoy life a little!"
Clarins V Shaping Facial Lift, RM335 for 50ml is now available online and at all Clarins boutiques nationwide.
| | |
| --- | --- |
| SHARE THE STORY | |
| Explore More | |