Beauty
Charis Ow shares her bridal skincare routine, what NOT to do when planning a wedding, and more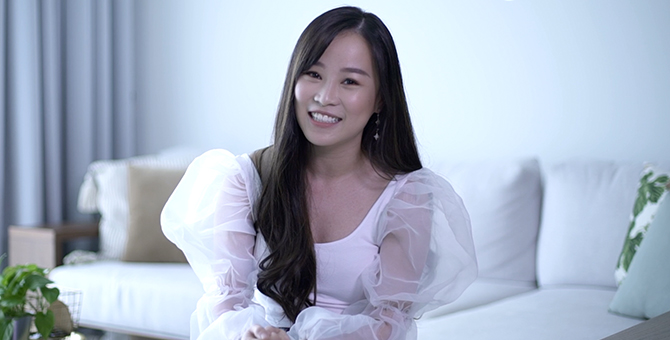 If there's one sentence that Charis Ow can use to describe her bridal beauty routine, it would be—what routine? The bubbly singer and beauty & lifestyle YouTuber isn't your conventional bride-to-be, with a laidback take on prepping for her nuptials while staying true to her everyday beauty ritual.
The former Disney host is getting hitched this April, and we thought who better to glean pre-wedding beauty tips on than Charis herself? Ahead, we had a chat with the social media personality on all things wedding-related, from her bridal skincare routine to the don't-dos while planning a wedding:
Pre-wedding skincare routine:
"Because of the nature of my job, I'm required to try a lot of skincare products. I've been changing it up recently. I know, I know—I'm risking my skin right now but so far it's been smooth-sailing. Here are my go-to products now that I'll be using till my wedding day:
"I've been using the Calendula cleanser by Kiehl's. It is soap-free and has worked for my skin for a while now. I exfoliate using Frank Body's Original Face Scrub. It was recommended by Veen Dee! She was gifted by the brand, but she is allergic to peanuts and so she couldn't use it, so she passed it to me—it's been really in giving me soft, smooth skin.
"I use YSL Beauty's toner and serum. If you have one product that you can only splurge on, get the new Night Reboot Serum. It has some sort of peeling effect on the skin, so if you use if every night, you should apply SPF the next morning. It has moonlight cactus and glycolic acid and I love what it does to my skin.
"For daytime, I use Innisfree's Green Tea Serum. I like mixing low-end and high-end products in my routine, and I am partial to Korean skincare. My absolute go-to moisturiser is Clinique's Moisture Surge. I just emptied one! My fiance, Daryll, is using the men's version and his skin has been in good condition since.
"I use Kiehl's AquaGel sunscreen for its glowy effect. I think my makeup adheres on my skin better after using this sunscreen. Also, I do mask on alternate nights—my favourites are Dr. Jart and CNP Laboratory sheet masks. Overnight masks are okay—I'm not a regular user but I do like to use wash-off masks with sheet masks. So after I apply my wash-off mask, I'll apply a sheet mask because I'm kiasu when it comes to getting that glow. The wash-off mask helps to remove dead skin cells and impurities, but for major hydration, a sheet mask is your go-to."
Skincare treatments:
"I do go for facials every month. My regular spot is Jia Clinic in Bangsar. The treatment I go for depends on what my skin needs most of the time, but it's typically these two: the regular sort (extraction, mask, remove impurities via a machine etc) and the other is CO2 laser. The latter is a little painful but I have a high pain tolerance, so I actually do it without numbing cream at times. I'm used to it! The sensation is kind of like little ant bites on the skin. I like this for a dewy glow."
Body care:
"I like Lush's Rub Rub Rub blue body scrub. I don't have a bath tub, but even if I actually had one, I doubt I'll be soaking in them all the time. That said, I do love relaxing in a tub on a getaway sometimes.
"I have been working out! I try to be fit—I ate a whole lasagne the other day, no thanks to my cravings. The other day I was craving hotpot, so as you can tell I'm not really on a wedding diet. (But at least my cravings are a one-time thing.)
"I have a membership on ClassPass but I haven't used it—I actually signed up for the 30-credits plan and I should probably be more regimented about it.
"I've also been running a lot in the gym. I try to clock in 5km on alternate days, but 5km is actually nothing for those who are regular runners. I also watch YouTube videos for strength training—I do squats too because once you run, you're gonna lose your butt and thigh muscles. Most of my strength training is done in the gym since I don't time to go for classes (maybe I really should!)"
Wedding hair and makeup look:
"What moodboard? What wedding look? (laughs) My hair and makeup look is pretty much whatever I feel like having on that day! I don't even have a Pinterest moodboard.
"When I pick a bridal hair and makeup artist, I do look at both the portfolio and how comfortable I am working with them. It's your biggest day and it's important to get to know each other and have one or two trial runs before that. My hairstylist has done my hair for my previous music videos, so I know how his work is. My go-to look would be Korean-inspired—classic and natural makeup and wavy hair. I'm more comfortable with that and I do wanna look like myself. If I try something that's out of my comfort zone on that day, I'd feel very conscious as well."
Wedding dress journey:
"I thought I was going to get a wedding dress off-the-rack, but because of my petite frame, it was a no-go. I was very sure about getting a dress from this particular designer, but during the fitting, it didn't look nice on me—although it did look nice in the pictures.
"Because I was so petite, it didn't flatter my figure at all. I had a mini breakdown then (this was three months before the wedding, earlier in January) and so I decided to customise my own wedding dress.
"Advice: Don't be like Charis—plan ahead of time. Before confirming with my current designer, I kept an eye out and considered rental gowns. But, it's not the best for petite brides, especially if you're petite around the bust area. I went to so many rental gown studios, and all had beautiful gowns but they don't cut/stitch it to really fit it superbly well on you.
"I had a revelation—they don't tailor it to the tee. So in the end I decided to make one from scratch.
"People always think that custom-made wedding dresses cost a bomb. But if you find the right designer, the price is almost the same as renting one. My designer is Lana, and she was featured in KL Fashion Week last year. They dressed me up for the front row and I quite like her modest-wear designs.
"When I approached her, she said, "Let's do it." She has done a few bridal gowns anyway. I actually gave her a few criteria—one of it was that I wanted pockets! But sadly, you can't have that with a mermaid-cut dress. I had thought that I'll be wearing a mermaid or trumpet-cut gown made of lace or tulle, but my current gown has completely deviated from the moodboard I had.
"I went to so many places and they had all of that same silhouette, so I wanted something that stood out and that is me. If I custom-made it, I had make it to the way I want it. Lana was very supportive and it felt right to work with them! It's nice that they have a similar taste to mine, and they are quite honest i.e. they told me not to use organza silk because it's expensive and too thin for the kind of dress that's structured (which is what I'm going for). So they recommended a cheaper material, which helped saved money on my end."
Advice for couples who are getting hitched:
"I got engaged last January and I kept thinking I had time [to plan]. When this January came, I was like OMG—I was actually thinking we still had time earlier last month!
"Yes, the wedding planning is important; but in the end, it's the marriage we should focus on. Your wedding is only a one-day thing. Tip: Don't overspend on your wedding. I have a coordinator for my big day, but I got all the vendors myself.
"Don't take a loan for your wedding. I've heard of couples finding themselves in debt from their grand weddings and it's just not worth it. This issue may cause a strain in your marriage instead as money is a major factor in any relationship.
"My fiancé and I had a couple of disagreements on the budget for this wedding. I had already set a budget—I've saved for a wedding anyway and I wanted him to match that budget as well. But his opinion was that we shouldn't be putting so much money on it. We have other commitments like a house and what if we want to start a family soon after? We had to go through a few rounds of discussions to agree on something attainable."
| | |
| --- | --- |
| SHARE THE STORY | |
| Explore More | |