While all eyes were on Princess Eugenie's breathtaking wedding look last weekend, what caught our attention was the low back neckline of her Peter Pilotto gown—showing a scar that extended from her neck to the middle of her shoulder blades. The gown was intentionally designed that way, with the princess citing: "I think you can change the way beauty is. You can show people your scars and I think it's really special to stand up for that." The scar was a result of an eight-hour corrective surgery for scoliosis when she was 12, and the princess has openly shared her story online in hopes of inspiring others with the same condition.
This #BodyPositivity move couldn't be lauded more at this day and age, with other influential celebrities and even brands taking on a stance to embrace the human body in its entirety—from H&M's decision earlier this year to opt out of airbrushing swimwear models' stretch marks, scars, blemishes and body hair, to Missguided's recent #InYourOwnSkin campaign that featured six women with different skin conditions (from a plus-sized albino model to a burn survivor)—because what better way to celebrate self-love than loving your flaws no matter the shape and form?
Below, take a cue from these celebrities who are proving that you, too, can wear your scars proudly without the need to conceal it:
KYLIE JENNER
The entrepreneur and reality TV star has a four-inch scar that runs across the side of her left thigh, a result from a freak accident that ensued from a hide-and-seek game when she was younger. "When I was about five, Kendall and I were playing hide and seek, and I hid inside this really tall, enclosed gate. After a while, when my sister didn't find me, I had to climb up on this sharp pole sticking out from the gate. I slipped, and the pole went into my leg. I tried pulling away to get the pole out, but it just tore through my whole leg," she explained in an interview. Not one to be shy about flauting her body, Jenner has proudly highlighted her scar on various occasions, even appearing on the cover of GQ with baby daddy Travis Scott with her scar on full display.
SARAH HYLAND
The Modern Family star isn't afraid to keep it real. This past July, Hyland showed off her bikini bod (spot her rock-solid abs) the best way possible—without Photoshopping her scars away. Her marks were resulted from a kidney transplant she underwent six years ago, a treatment required from her battle with kidney dysplasia. The star is candid about her health issues, including her fluctuating weight that garnered unnecessary flak from naysayers, and hair loss that culminated from the prescribed medication she was on.
PADMA LAKSHMI 
When the American author, TV host and actress was 14, she was involved in a serious car crash in Malibu that resulted in a shattered arm and fractured hip. But fortunately for Lakshmi, she regained the use of both her limbs—but not without a seven-inch-long scar on her right arm. "I love my scar. It is so much a part of me. I'm not sure I would remove it even if a doctor could wave a magic wand and delete it from my arm. The scar has singled me out and made me who I am," she says. Despite the extremity of her scar, the star chooses not to hide it with makeup, proudly repping it on national TV and magazine covers.
ARIEL WINTER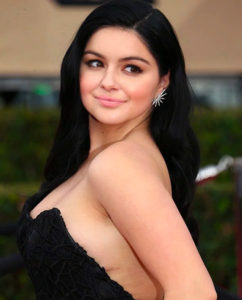 The Modern Family teen star struggled with new changes to her body upon puberty. At 17 years old, Winter made a conscious decision to undergo breast reduction surgery, choosing to scale down the size of her chest from a 32F to a 34D. Her size pre-surgery was not proportional to her petite frame, resulting in mental and physical stress for the young star—not to mention, a flood of hate from critics on how "sexualised" her image had become. Right after her surgery, Winter attended the SAG Awards in a black dress that showed off a peek of her scars from the surgery. On her Twitter, she reinforced her stance on body positivity: "Guys there is a reason I didn't make an effort to cover up my scars! They are part of me and I'm not ashamed of them at all. :)" and "Humbled by all the positive feedback about my scars. Embrace who you are, love every bit about you, because that is what makes you…well…you."
| | |
| --- | --- |
| SHARE THE STORY | |
| Explore More | |