New year, new headlines—the stars are back at it again with the shenanigans. From royal appointments to chaotic makeovers, there's a headline to please everyone.
Ahead, catch up on all of the biggest celebrity beauty headlines from this week (and find out which celebrity absolutely botched their new piercing)!
This week in Damehood
---
Pat McGrath becomes first makeup artist to receive recognition as Dame of the British Empire (DBE)
View this post on Instagram
You heard that right: Mother McGrath is now Dame Mother McGrath to you! The trailblazer has been included in the Queen of England's New Year Honors list for 2021, making her the first makeup artist to achieve this title.
In a statement, McGrath said: ""I am truly delighted and humbled to be given this wonderful honour. My mother's obsession with beauty and fashion ignited my passion for this amazing industry and I feel blessed to have the privilege of working with some of the most extraordinary people throughout my career."
"Colour across the spectrum is my life's work and inspiration and I celebrate individuality particularly with my brand Pat McGrath Labs, so I am especially honoured that this award is also for diversity," she continues. "I believe that with creativity and resilience there can be abundant possibilities and that is certainly true today with this award."
This week in makeovers
---
Tom Hanks gets a big hair makeover…
…and he hates it. The seasoned actor flaunted his new 'do on the Graham Norton Show (albeit quickly) and shocked us all with his shiny skull. In the clip, he explains exactly where his once-full head of hair has gone, and why:
"I am working on Baz Lurhmann's movie about Elvis Presley—Austin Butler is playing Elvis Presley—and here, let me show you the horrible haircut I have to have in order to portray Colonel Tom Parker," he said, unveiling his new look. "Can you see that? Look at that thing!"
The look we viewers got was brief but incriminating—Hanks' hair situation is that of the classic old-man: A fully shaved crown with grey tufts on the sides. After the big reveal, he then joked, "I just scared the children. I want to apologize for showing that."
Demi Lovato is in the process of a breakup overhaul
View this post on Instagram
In case you missed it: Lovato split with her fiancé Max Ehrich in late September of 2020, and has marked the occasion with a big makeover (as you do). The singer started big and bold with a brand new blonde pixie cut in mid-November and has most recently followed her efforts with a new nose piercing.
The new piercing was courtesy of Daniel Ruiz, also known unofficially as Lovato's 'piercing guy'. He was responsible for the matching Lovato/Lucy Hale ear piercings that cropped up last September, so it makes sense that the starlet would return to trusted hands.
This isn't the first time we've seen Lovato with a nose ring, though—the last time she sported a cute diamond stud was in 2012. However, by the looks of her recent Instagram Story, it seems that she's traded the stud for a trendy hoop this time around.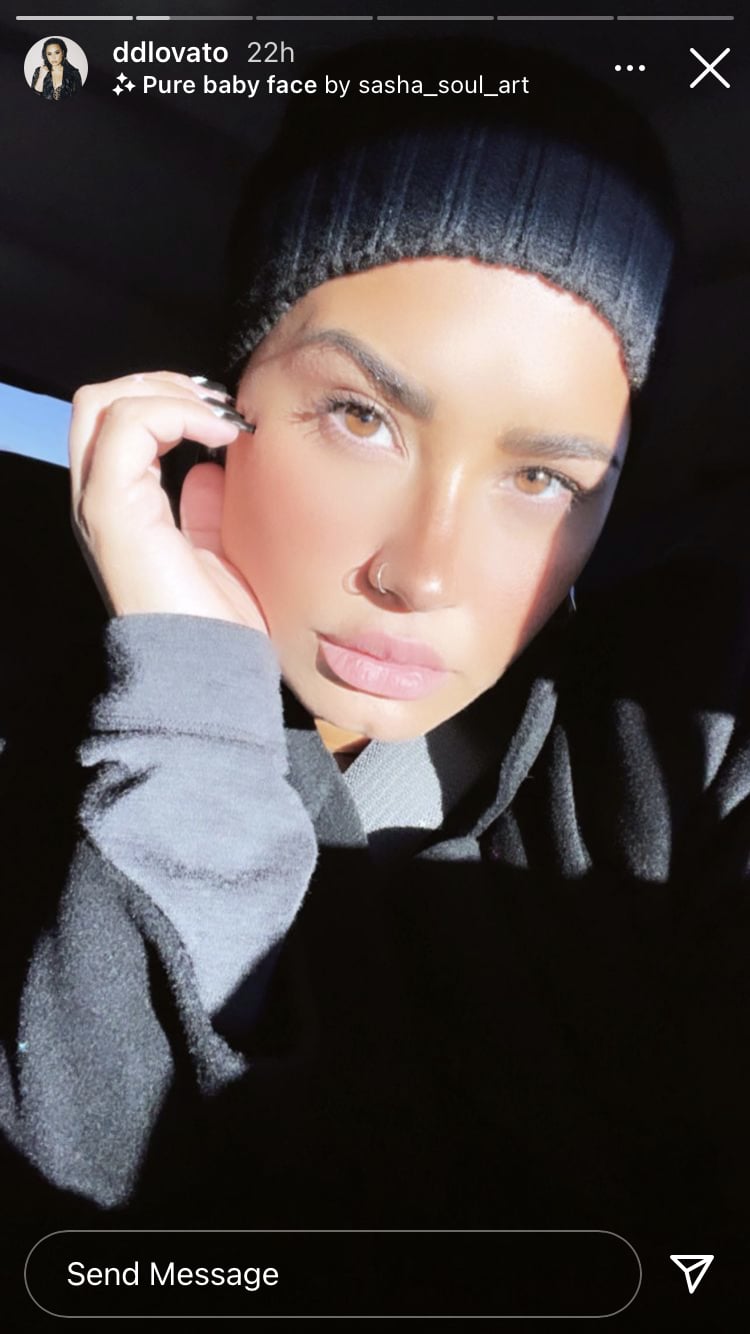 Bella Hadid goes ginger
View this post on Instagram
Ginger Spice vibes, anyone? The supermodel shared her new look on Instagram earlier this week and caught our eye. Though we're fairly certain it's a wig she's sporting as opposed to a dye job, we are very into this look. However, though the vibrant orange hue is a showstopper that works beautifully with her complexion, some commenters had other things on their mind.
In the photo, Hadid is treating her self to an au naturale snow cone à la New York City. All in all… gross. Instagram user @_sashafrancesca said it best in her comment on the post, which reads: "please no one lick new york snow, like ever". Especially not in a pandemic, please.
This week in makeovers-gone-wrong
---
Remember Billie Eilish's iconic mullet? That wasn't intentional.
READ: Shag-tastic: All the best celebrity mullets from this year
There's no doubt about it: 2020 was the year of the mullet. Unfortunately for some, however, hopping on the trend wasn't exactly a planned beauty statement. Billie Eilish cleared the air surrounding her polarising 'do from the 2019 LACMA Art + Film Gala.
According to Eilish, her big makeover was actually the result of a dye-job-gone-wrong, as opposed to a conscious choice. Indeed—her short, trendy layers were actually strategic pieces of hair that were burnt off in the dyeing process. She explains that she mistakenly placed her trust in the hands of an amateur stylist who was not quite as experienced with colour as they had claimed to be, which resulted in her hair 'falling out in chunks' for months after.
READ: How to apply hair colour on your own — 5 lessons I've learned from my DIY hair dye jobs
Chrissy Teigen's new nose ring didn't go as planned, either
So I did this today and it immediately fell out and healed the second she left because she did it wrong lmao pic.twitter.com/PnzjtzFcb5

— chrissy teigen (@chrissyteigen) December 29, 2020
| | |
| --- | --- |
| SHARE THE STORY | |
| Explore More | |