This isn't your run-of-the-mill beauty startup story. 10 years ago, Nancy Twine had a comfortable finance job in the heart of NYC, as a VP at Goldman Sachs. Beauty wasn't even an afterthought at this point. It wasn't until she suffered a profound personal loss that she realised she needed a big change.
"I needed to fill my life with work that fostered passion and positive energy," she explains. Expectedly, finance wasn't an environment she could achieve this in. Thus, Briogeo was born.
Though, that's not to say it was a walk in the park. When prompted to reflect on the challenges of making a big career switch, Twine mused that "one of the hardest choices you will make as an entrepreneur is deciding to take action to pursue your dreams."
Luckily, she has some wise words of advice for anyone else looking to do a similar jump: "I wouldn't be where I am without embracing and accepting failure, learning to be resilient, and leaning on my network. Seek out mentors and create your own personal board of directors. And make sure to pay it forward!"
But what exactly flipped the switch on Briogeo? How did she make the jump from Wall Street to Nordstrom? "I was inspired by my childhood family tradition of making natural beauty products from scratch, as well as the knowledge that making effective beauty products is possible without harsh or harmful ingredients."
She realised that "simple, pure, clean, fruit and plant-based ingredients can be made into products that are truly transformational for the hair, skin, and body". As a result, all Briogeo products are 90 per cent naturally-derived and formulated 6-free™—that means NO harsh sulfates, parabens, silicones, phthalates, artificial dyes, or DEA. However, it's important to keep in mind that not all synthetic ingredients are unsafe and not all natural ingredients are safe.
As for the remainder of non-natural ingredients, they are solely used to help stabilize the product and ensure that the formula remains consistent and effective during its shelf life period. Twine reiterates that "Briogeo thoroughly researches all ingredients we use, whether naturally-derived or synthetic, for efficacy, but most importantly, safety."
It's not just about the ingredients, though. Twine was looking to fill a huge gap in the beauty market with a brand that was not only natural, but inclusive too. She says "Briogeo was founded with diversity and inclusivity at the core. I struggled with my hair growing up because the products on the market were just not right for my hair texture."
That said, the products aren't just made for her—they're made for everyone. "I wanted Briogeo to be a clean, natural brand that offers solutions for every hair type, hair texture, hair need, ethnicity, background, and person." As a result, Briogeo's wide product range differs from the rest of the market in that they are divided by hair type rather than ethnicity—a radical move in the hair care game.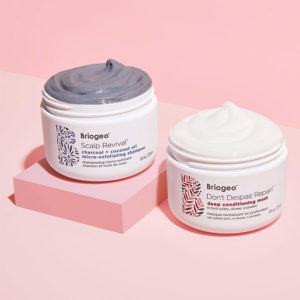 At this point, it's only natural that you'd probably want in on the Briogeo goodness. Conveniently, Twine has some truly useful recommendations for you first-timers out there. She recommends you invest in Briogeo's award-winning Scalp Revival™ Charcoal + Coconut Oil Micro-Exfoliating Scalp Scrub Shampoo, and either the Don't Despair, Repair!™ Deep Conditioning Mask or the Be Gentle, Be Kind Avocado + Kiwi Mega Moisture Mask.
The first of the lineup is all about scalp care. According to Twine, "Healthy hair is rooted in scalp care and also relies on an optimal balance of hydration and protein. I recommend detoxifying the hair and scalp weekly with the charcoal shampoo. It's an exfoliating, sulfate-free scalp scrub that lifts away impurities and buildup."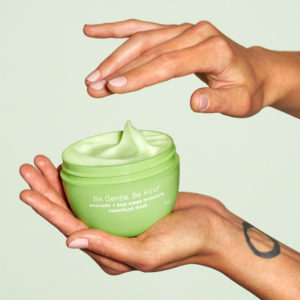 Next, the choice of conditioner fully depends on what your hair needs. For example, the Don't Despair, Repair!™ Deep Conditioning Mask is perfect for hair that needs equal help in the hydration and the strengthening departments. It's a "clinically-proven treatment that replenishes essential hair moisture, strengthens damaged hair and helps prevent future damage". On the other hand, the Be Gentle, Be Kind mask is for those of you who feel that "your hair has enough protein but could use extra moisture".
Since the launch of Briogeo, Twine has garnered impressive recognition as the youngest African-American woman to launch at Sephora; a title she holds with pride.
"It means everything to me. It's a constant reminder that the sky's the limit for women. Like any other female founder and CEO, I've faced obstacles and setbacks but I never let that stop me. I remained confident in my vision and always kept going. Being a woman is never the downfall, it's the icing on the cake!"
What's next for Briogeo then? According to Twine, the future of the brand is looking quite bright. Future plans are focused on "continuing to build the Briogeo brand presence in the US and abroad", "giving our clients the best and most innovative hair care formulas", and "creating great relationships with our clients and retailers". She's certainly excited for all of the incredible new innovation the brand has in the pipeline for next year and beyond, and so are we!
For more beauty insiders, click here.
| | |
| --- | --- |
| SHARE THE STORY | |
| Explore More | |