Beauty
Brand focus: Aromatica is the beauty brand that green juice girls have been waiting for
Au naturel K-beauty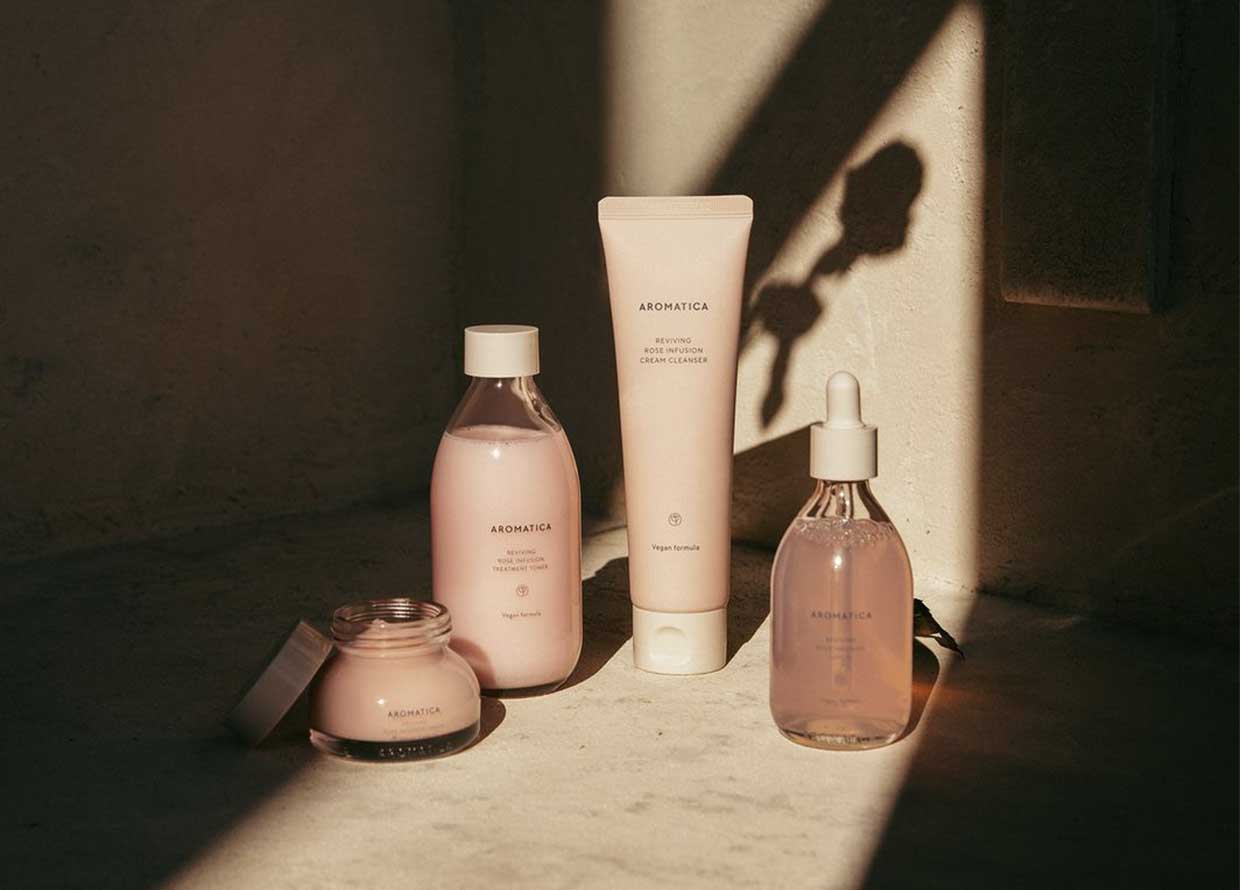 Aromatica is the latest beauty brand to land on our shores—and it's not your typical K-beauty brand.
Founded in 2004 by Jerry Kim, Aromatica is a beauty and wellness brand that is built on the philosophy of aromatherapy. Kim himself is an aromatherapist, and his belief in the healing and sense-soothing powers of essential oils has guided most of the brand's ethos—from its nature-first approach to formulations to its fully traceable mission towards sustainability.
What does this all mean, though? Ahead, we spoke to the founder to learn more about the origins of his cult-favourite brand, what actually makes a product sustainable and the perfect Aromatica ritual to soothe your soul and your senses. Read the full exclusive ahead:
View this post on Instagram
Could you delve into your brand story?
"I had opportunities to experience the local culture in Australia as my family was living there during my school years. At that time, I thought going to the hospital and getting prescriptions were the only things that I could do when I was sick. But I was surprised to find out that people were using natural organic herbal products or aromatherapy products to prevent or treat their illnesses, instead of antibiotics prescribed by the hospital. It was kind of a culture shock to me. Every family in Australia had a tea tree essential oil in their house, and they used it for wounds, insect bites, and itches. And they used eucalyptus essential oil to treat sinus infections. This is how I was introduced to aromatherapy and became so fascinated with essential oils and natural fragrances as well. From there, I decided to introduce the culture of aromatherapy and essential oils to the Korean market someday. After I left my corporate job a few years later, I launched the brand Aromatica in 2004, and now it has been 19 years already."
What makes a product sustainable? How do you ensure that Aromatica is certifiably sustainable and ethical?
"You may think that synthetic chemical ingredients give you immediate effects right away, but it's only a gimmick. In order to have fundamentally healthy skin, we need to use products made with reliable ingredients. That's why Aromatica sources the best natural organic ingredients directly from around the world. We produce safe and effective products that are essential oil-focused—harmful substances strictly excluded—with our own company's research institute technology. It is not common for cosmetic companies to operate their own factories, but operating our own factory makes it possible for us to directly examine whether the ingredients are GMO-free or non-nano, and free from animal-derived ingredients or toxic environmental substances.
"We directly purchase raw ingredients from the source and manufacture our products in our own factory; this is how we can thoroughly control the quality of products. Finally, we provide safe and good products to our customers. If we entrust the formulation to OEM manufacturers, it is difficult to trace the raw ingredients, from where they came from to how they were extracted. You cannot position a brand as vegan without knowing whether the raw ingredients were tested on animals or whether it's made from palm oil that destroyed forests. We believe that we can deliver the 'sincerity' of the company through Aromatica products. There is a nickname that customers have given for these efforts: 'A brand that you buy even before trying'. Producing good quality products is an area where Aromatica cannot compromise at all."
"Aromatica also launched refill pack products and refill stations to increase beauty packaging recycling. So, we've saved 25,000 pieces of new packaging with the refills. And we changed 97 per cent of the product packaging into 100 per cent recycled transparency PET, and 90 per cent recycled glass. Aromatica operates a smart factory with 20 per cent solar energy with a target of reaching 100 per cent renewable energy. We are trying to reduce carbon footprints by saving water and energy during the product manufacturing process. We also keep sustainability in mind and try to look for better ways to operate. We aim to be the pioneer of sustainable beauty and wellness brands by keeping communication with employees, customers, and partners transparent."
View this post on Instagram
What steps does Aromatica actually take to back up its mission of sustainable and ethical production?
"When choosing partners, Aromatica places a strong emphasis on sustainable management practices. We directly source 47 essential oils from a traditional essential oil manufacturer in France, bypassing fragrance suppliers. Our French ingredient partner is committed to sustainable management practices as a fair trade, renewable energy user, and socially responsible local business. For example, they recycle lavender residue into fertilizer for nearby almond and apricot fields, promoting sustainable production and coexistence with local farmers. In addition, at the Madagascar farm, they discover local small farmers and provide education on organic farming. Through producer education, they contribute to self-reliance, directly trade with small farmers, and contribute to improving their living standards. When selecting ingredients, we strictly verify the GMO-free, animal-derived status, Non-Nano checklist, and Palm RSPO (sustainably produced palm oil) criteria.
"For essential oils, we only handle pharmaceutical-grade, food-grade, and therapy-grade essential oils that meet European Pharmacopoeia (EUP), US Pharmacopoeia (USP), and other standards."
Is there an exact science to creating an aromatherapeutic product? What does the process of scent blending look like?
"Aromatica uses traditional extraction methods of aromatherapy that do not destroy the effectiveness of the plant ingredients. Instead of using purified water, the products use extracts to deliver the plant's natural energy deep into the skin. Aromatica extracts beneficial natural ingredients from medicinal plants such as decoctions and infusions and applies them to the products. A team of professional perfumers and aromatherapists blend top, heart, and bottom notes into the optimal formula so that customers can experience a holistic aromatherapy ritual. In particular, the Lavender and Patchouli Ritual Hair Oil launched in Sephora Malaysia harmonizes the lavender's herbaceous note with the citrus notes of bergamot and sweet orange, while the elegant ylang-ylang and rosewood give way to the earthy scent of patchouli, leaving a subtle afterglow while caring for damaged hair. You can experience the therapy of being in a purple lavender garden where the bright sun sets at home at any time."
View this post on Instagram
What does the "perfect" Aromatica ritual look like to you?
"Aromatica is a brand that leads people to create their own rituals. One of our mottoes is, 'balance of mind and body, so we encourage people to adopt a habit of mind and body through their own rituals at the end of every day. For those with a stressful lifestyle, I would suggest the Embrace Body Oil and the Dolphin Massager. Neroli from the body oil provides skin vitality and relieves anxiety for better quality sleep, and patchouli calms your mood with a grounding effect while strengthening immunity. Massaging the body oil into your skin with our Dolphin Massager is a great ritual to balance your mind and soothe tired muscles at the end of a stressful day."
Shop Aromatica's full hair and body care range here.
For more beauty insiders like this, click here.
| | |
| --- | --- |
| SHARE THE STORY | |
| Explore More | |