Beauty
The best movie makeovers of all time to inspire your personal rebranding
Movie magic
Image: The Princess Diaries (2001)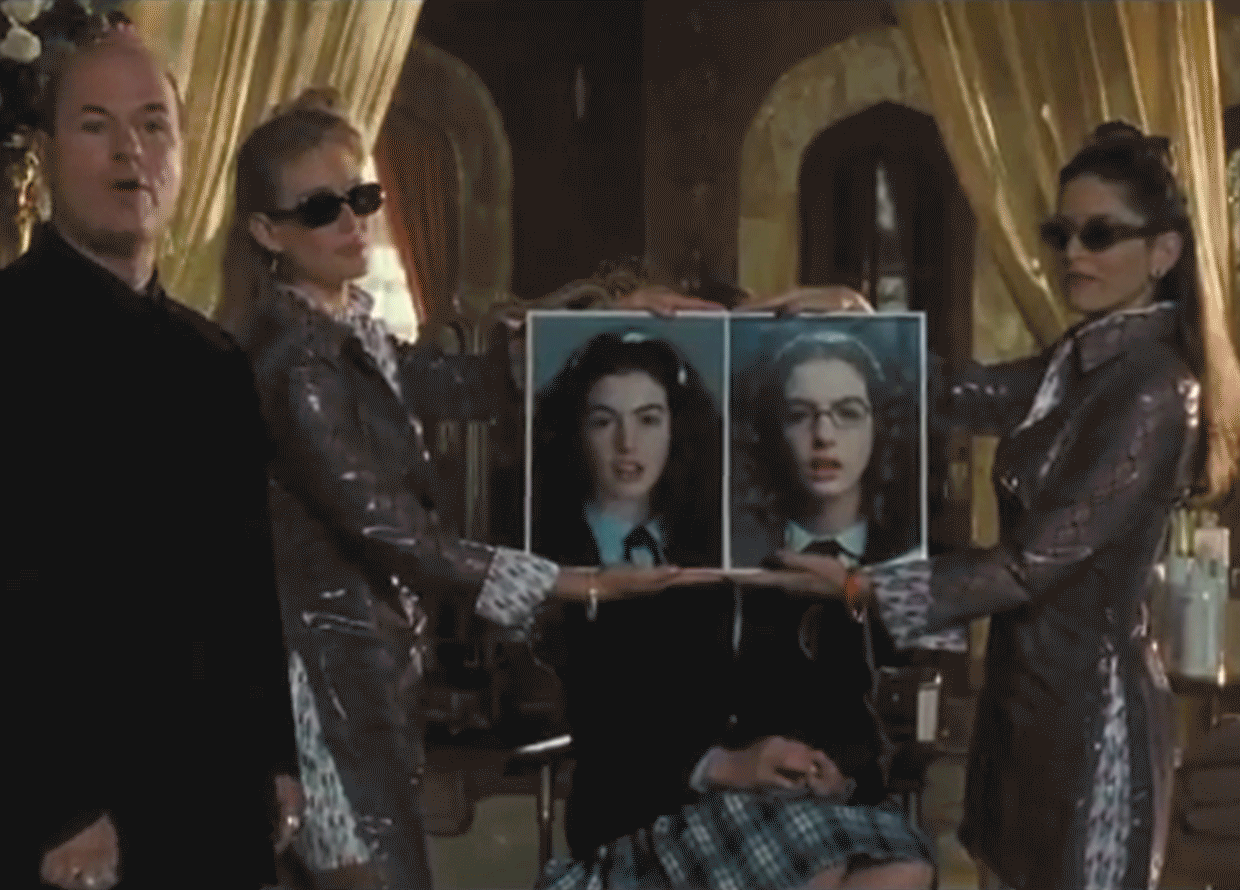 Nothing beats a good makeover montage, and these movies are the blueprint. Ahead, we've rounded up the best makeover scenes to ever hit the silver screen.
If there was one trope to rule Hollywood, it would be that of the makeover montage. Simple in concept but endless in potential, the makeover montage has served to entertain (and, occasionally, enrage) the earnest movie-goer for many, many years now.
While it may be true that the trope has time and time again only served to help our "frumpy" protagonist land the heartthrob, the makeover montage is also just a fun little silly bit that really doesn't have to be overanalysed. Ahead, we've rounded up some of our personal favourites, from She's The Man to Scott Pilgrim vs The World. Scroll down for the full list!
She's The Man
Objectively, Amanda Bynes looks nothing like her on-screen brother once the makeover is over, but the rest of the movie was worth suspending our beliefs for. Our favourite part is when Viola tries on seven fake moustaches and beards when Sebastian has absolutely zero facial hair!
She's All That
Ah yes, the movie where Laney Boggs is a total ick because she *checks notes* wears glasses and has paint on her clothes… right. This movie makeover is one of the OG iterations of this trope, but while the narrative is a little silly—come on, Rachel Leigh Cook could never be ugly in any sense of the word—the iconic bob Boggs gets in this makeover is still the blueprint for Pinterest girlies to this day.
Clueless
Another unrealistic makeover montage with so much heart that you overlook the glaring oversights (come on, there's no way you can wash out red dye in one afternoon!). Everything about it is great, from the rogue soda can being used as a curling rod to the look of sheer glee on Brittany Murphy's face once it's over.
The Princess Diaries
The sheer number of iconic one-liners that came out from this makeover has earned it a spot on this list. In fact, we're still on the search for the hair mask that turned Mia Thermopolis' wild, bushy locks into sleek strands.
The Twilight Saga: Breaking Dawn Part II
This is definitely one of the more extreme makeovers on this list, and while it doesn't quite involve hair rollers and makeup, it's still a worthy mention. Who knew that becoming a vampire plucked your brows and gave you falsies?
Scott Pilgrim vs The World
If you wanted to be a manic pixie dream girl as a teen in the Tumblr era, this one goes out to you personally. Knives Chau's mental breakdown is every single one of us trying to emulate Ramona Flowers, Summer Flynn or Clementine Kruczynski after watching the holy trinity of manic pixie must-sees.
Jawbreaker
This makeover is campy '90s glam at its finest. From the OTT transitions to the big reveal of the new-and-improved Fern walking down the school's hallway alongside her makers, it's iconic for a reason.
The House Bunny
Complete with campy, goofy transitions, it's a makeover for the ages. Granted, the girls eventually learn that they don't need to be dolled up to love themselves, which is nice, but watching them strut through their campus in a row sporting classic noughties looks is so stupidly delightful.
St Trinians
It's got drama, it's got silliness and it's got just the right amount of uncomfortably intense eye contact to make it a winner. Not to mention, the looks have aged surprisingly well for a '00s teen comedy.
Miss Congeniality
Was this movie sexist? Yes, but it was also really funny, so we're giving it a pass. This whole scene does so much for absolutely no reason and that's exactly what makes it so fun to watch. Plus, Sandra Bullock's impression of a woman who's just had a Brazilian wax is spot on.
Do Revenge
Do Revenge is the most recent movie to make it on this list, and that's because it took on the incredibly daunting task of reviving the dead genre of teen dramas in our modern year of 2022. As far as how it succeeded, we say it crushed it. This makeover montage serves to poke fun at the clichés of the trope while still delivering on the drama.
The Parent Trap
This is the makeover every '90s kid remembers, and it's also the most risky to replicate. There is no way that needle was adequately sterilised before Lindsay Lohan used it to pierce British Lindsay Lohan's ears!
For more beauty reads like this, click here.
| | |
| --- | --- |
| SHARE THE STORY | |
| Explore More | |