Beauty
Beauty buzz: Lizzo claps back at body shamers on TikTok, Cardi B's hair routine is a religious experience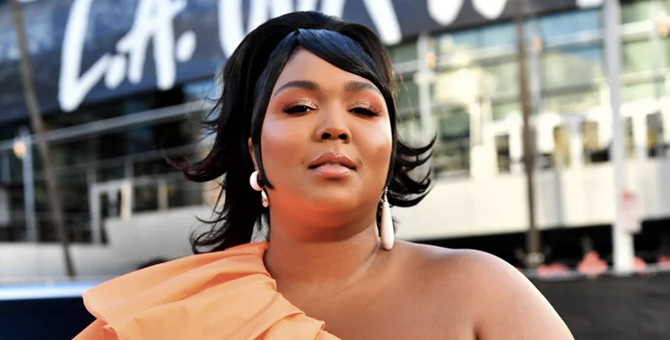 This week in hair
Cardi B's DIY hair mask is… interesting (and effective)
Cardi B has had an eventful quarantine, exploring the depths of DIY beauty. First came the unfortunate bikini wax, then came the hair removal cream debacle and now the rapper is back with her suspect DIY hair mask recipe. Found in the highlights of her Instagram stories, she takes us through the routine: first, she blends an avocado, argan oil, mayonnaise, honey, an egg, black castor oil and a banana (just cause) till the questionable mixture is smooth and lump-free because "It's really hard to take avocado off your head". Right. Either way, the after shot of her luscious, long hair (shown above) kinda makes us think that she may just be onto something. BRB–I'm gonna get my blender out…
Simone Biles' new haircut is making us jealous
The gold medalist gymnast posted a snap of her new 'do to Instagram a few days ago and, might we be as bold to say that we're jealous. It's nice to see her switch up her style after having had it in protective box braids for so long! Plus, it's giving us all hair salon FOMO, especially since it's been around 3 months since any of us got a haircut. Good thing the hair salons are finally open!
This week in makeup
This DIY moisturiser hack from TikTok is… actually legit
Your next favourite BB cream (or tinted moisturiser) is only one simple TikTok hack away–take your full coverage foundation and mix it in with a little moisturiser before applying it. Boom. Buildable coverage, instant dewy skin and, most importantly, super natural results!
Trans model Munroe Bergderf is the newest consultant on L'Oreal's UK Diversity and Inclusion Advisory Board
Just last week, in the wake of the BLM resurgence, the British model detailed her rough history with the beauty giant in a series of Instagram posts. She explains that in 2017, after speaking out against white supremacy and racism (a cause she continues to advocate for passionately as a black, trans activist) she was promptly let go from a campaign with the brand. However, it seems like the brand and the model are moving forward in a more positive direction, as they have appointed her as a consultant on their diversity board. Read her full statement above–it is a wonderful lesson in accountability and allyship.
This week in body positivity
Lizzo claps back at body shamers
Queen Lizzo shared a message for her body shamers: "Hey. So I've been working out consistently for the last 5 years, and it may come as a surprise for some of y'all, but I'm not working out to have your ideal body type. I'm working out to have my ideal body type," she says in a voiceover. "And you know what type that is? None of your f*cking business. Because I am beautiful, I am strong, I do my job, and I stay on my job."
"So next time you want to come to somebody and judge them, whether they drink kale smoothies or eat McDonald's or work out, or not work out, how about you look at your own f*cking self and worry about your own g*damn body, because health is not just determined on what you look like on the outside. Health is also what happens on the inside, and a lot of y'all need to do a f*cking cleanse for your insides. Namaste, have a great day!"
Inspirational. Iconic. Unmatched.
This week in nails
These Pride-themed nails celebrate the Black Lives Matter movement in the best way
June is nigh, which means that it's officially Pride Month for the LGBT community. However, with the recent resurgence in the BLM movement, it seems people are beginning to remember how Pride came about. Marsha P Johnson, a black, trans activist was a key player in the Stonewall protests and is largely attributed as the catalyst in the gay liberation movement. Consequently, nail technicians are honouring both her memory and the BLM movement in the best way they know how–nail art. Namely, this incredible set by Imarni Nails celebrates both Pride and BLM in the most beautiful way.
The stars sure are bright
Stars are on trend right now and we are all for it–it's fun, simple and looks a treat! Plus, the colour selection on this set gives us major Pride vibes.