Mandy Gioh doesn't believe in doing one thing for the rest of her life. And her passion for work is evident from the way she first introduces herself as a creative consultant, art director and set designer—who also happens to be a sucker for all things beauty.
We sat down with the 27-year old creative consultant to talk about her idea of today's #PowerWoman, how she gets her glow (you'll never guess) and her most memorable recent beauty splurge:
You wear so many creative hats, but what is your current profession?
"People have asked if I work for Jane Chuck, but I would say that I'm the head creative consultant for her beauty brand, Chuck's. I do still take on fashion projects as I like the creative freedom, but not so much on beauty projects from clients. I mostly do creative direction and set design.
"My work has appeared a lot on Chuck's and Zalora. Zalora's campaigns really helped put my name out there in the local industry. It was my first official job where I had creatively directed a campaign. Creative direction is quite visual-centric and it gives me an upper hand as you understand what's happening on set."
How do you get inspiration for what you do?
"I get inspiration from Instagram and Pinterest, but I also try to merge my personal ideas and experiences into my work. For example, the Valentine's Day video we did for Chuck's—it was unexpected for the brand but it was based on my personal experience. Not so much something I had went through, but that I had watched that movie a million times and it's my favourite scene in the entire movie. I told Jane I wanted to recreate it and she said 'go for it!'. For Zalora's Chinese New Year campaign, I asked myself: 'If you were to open a Chinese restaurant, how would you do it?' I thought along that perspective and then incorporated elements to make it more commercial."
But if you were to pick one thing you'd like to do forever, what would it be?
"I don't have a favourite expertise that I'd like to focus solely on right now. I know I'm not big on styling, as I have a consistent colour palette that I like to work with, and I don't like having constraints on that. But if you ask me whether I can only do one thing forever—I don't believe in that! [laughs] I'm currently into directing. I have this energy that's both good and challenging.
"I try to put myself in uncomfortable situations so I learn and push myself out of my comfort zone. Even with Chuck's, there were a lot of first-time experiences, but that's where you discover what you're good at. If you ask me this question five years later, maybe I can pick one thing that I'd like to do forever. But not now."
What is your definition of a power woman?
"I'd say a power woman is one that has her own voice and opinion. I don't think a job or specific profession can define that—as long as you have a voice in whatever environment you're in. And you must have integrity. Helping each other out is important too. The whole 'women supporting women' thing is a great idea, but can be quite meaningless in this industry. Sometimes, the slogan seems to be pretty superficial only, and women can get really catty and mean.
"I think it's important to focus on yourself and don't get carried away with what other people are doing or saying. Being a woman isn't about having a job—just finding a balance and a core that strengthens you from within. The pool of women creative directors in Malaysia is so so tiny. I always like to include a female director or creative director in my fashion projects, I feel it's important that a woman should be the one giving an opinion on how we should sell clothes for women."
Do you think 'feminism' is getting a bad rep (i.e. women bashing on men)? What is your idea of feminism?
"Everyone should support each other, no matter your gender, orientation, race. I think the feminist movement stemmed from socio-economic inequality, and it was to empower women and that actually helped. For me, it depends on how you see it. Feminism doesn't mean that women hate men; there's a deeper meaning to it. At times it sounds very propaganda-ish but it's so important to do what you preach—supporting each other and knowing what is right vs wrong."
Who is your muse?
"I'm not going to cite a celebrity or superstar because I don't actually know them, or their personal struggles. So I'm going to go with my mother. My mum is a very strong woman and I see a bit of myself in her. From her focus and drive in life, it's really priceless lessons that I am learning from her. She's a director in a development company, so she does a lot of interior design.
"I used to follow her to showrooms when I was younger, instead of spending family time in the mall on weekends. We didn't have Pinterest and Instagram back then, so you'd actually have to go to a real showroom to see what others are doing. I eventually realised that I wasn't ever going to move, despite going to so many showrooms! [laughs] But yeah, my mum is a big reason behind how I found my passion in spatial design."
What is your beauty philosophy like?
"I'm a sucker for beauty videos—I watch a lot of them, mostly skincare research videos on acids, brightening actives, the right way to use actives, etc. My beauty philosophy is to always educate yourself on what you're spending on. If you're spending RM500 on a small bottle of potent serum, you'd better know what it is in that bottle. You should also understand your skin type very well before starting on a routine.
"I used to have very bad acne when I was in college. I feel that it helps to understand what you are using, especially for younger girls who are starting out with their beauty routines. People get easily influenced by widely-promoted products, but it shouldn't be that way."
Walk us through your morning skincare routine.
"I learned this trick from beauty influencer Liah Yoo—don't wash your face with cleanser as you don't want to strip your natural oils. I use water to rinse my face, then I pat on Primera Miracle Seed Essence—it's my fourth bottle. It has a 93% lotus seed extract and a bunch of brightening actives. Then I use Laneige Cream Skin Refiner—I also swear by this (I'm on my third bottle now). I'm still looking for a good moisturiser, but I'll probably use all of Liah Yoo's recommendations!
"For sun protection, I was previously using Krave Beauty's Dragon Fruit Powerful Sun Essence, but now I'm using Banila Co Hello Sunny Essence Sun Stick and I like it so far—it's not overly oily and sinks into my skin well. I like Asian skincare for its gentle ingredients, but I do use Western brands for AHAs, BHAs and the like."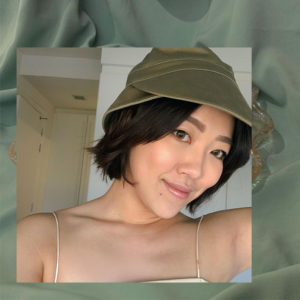 How about your evening routine?
"I use the Green Clean Makeup Removing Cleansing Balm from Farmacy Beauty (I can only get this from Singapore), followed by Indie Lee's cleanser. I was using the Krave Beauty Matcha Hemp cleanser but it's no longer allowed to be shipped to Malaysia for some reason. I use the same essence and toner from my morning routine. I'm currently trying to mask every night—I used to apply Chuck's Self-Love sheet mask twice a week, but I'm hoping to see a difference with my skin with this daily routine.
"After masking, I'll use the Skin Perfecting 8% AHA Gel Exfoliant by Paula's Choice. It's very gentle so it's great for everyday application. Sometimes I'll add niacinamide or vitamin B5 for brightening. Then, I'll use the Fresh Lotus Youth Preserve Moisturiser. I don't use eye creams (it doesn't work, in my opinion). One thing people assume about oils is that it clogs your pores but it really doesn't. I like Tamanu and rosehip oils (both Liah Yoo's recommendations). I also use La Mer's The Concentrate and The Renewal Oil—occasionally I'll swap my moisturiser for the latter at night."
What are your masking favourites?
"I occasionally use Fresh Purifying Mask to detox my skin. Besides Chuck's Self-Love sheet masks, I like Sisley's masks as well. I use them when I'm traveling and in the plane. I always wanted to try the Healing Earth Mask by Susanne Kaufman, but the price tag is holding me back (it's been in my Net-A-Porter wishlist forever!). I also really love the Biologique Recherche Lotion P50. I tried their facial recently and really liked the difference it made. Another splurge (mud mask again) of mine is the Omorovicza Deep Cleansing Mask. It isn't something I can use all the time, but I love it."
What are your guilty (beauty) pleasures?
"I love to buy and try new beauty products. I'm into haircare, skincare, makeup (depending), perfumes (occasionally). I don't like perfumes that have high alcohol content—it actually makes me gag. My new favourite is Le Labo Tubereuse 40. I'm not a fan of sweet scents, I'm more into essential oil scents, or natural fragrances. I also like Dr. Jart+ Ceramidin Oil Balm for the herbal-like scent.
"The last I remembered splurging on were Charlotte Tilbury's eyeshadow palette and Magic Cream Moisturiser. I admit, I fell for the marketing but I am still using both. Also Pat McGrath's foundation (it's okay, not a repurchase for me) and Chanel's hand cream because it made me feel so bougee."
Do you have a favourite haircare product?
"Hands down, Aveda. They really know what they're doing. I only buy Aveda Damage Remedy Daily Hair Repair. I have really thick hair so I can't use products that are too rich, it'll make my hair feel greasy and unwashed. Occasionally, I use hair oil to switch things up."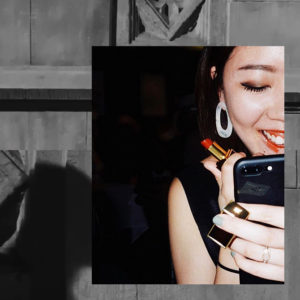 Are you the same with makeup as you are with skincare?
"It depends! I do buy a lot of makeup to try as well, but I always go back to my favouties. I bought Kosas Tinted Face Oil Foundation from Mecca in Australia and I can't wait to use it. I like the whole skincare-makeup hybrid trend. I don't use a lot of foundation, only It Cosmetics' CC+ Cream.
"My classics include Nars Concealer, Fenty Beauty Killawatt Highlighter that I also use as a blush, and MAC Cosmetics highlighter and liquid eyeliner. My eyebrows are still a work in progress because I'm always changing my hair colour. I recently did eyebrow embroidery and I like how convenient it is.
"I've stopped getting lash extensions—I'm kind of over the 'extra' look so I just use mascara for a more natural look. My favourite mascara is a drugstore brand because I like the bristle. I'm not good with eyeshadows—I've watched 10,000 makeup tutorials and I still don't know how to fill in and blend my crease (do I even have a crease?). Sometimes I use one shade allover my eyelid.
"Lipsticks wise, I only ever wear two colours (even though I buy a tonne of them to try sometimes). I love Fenty Beauty's Mattemoiselle Lipsticks and MAC Cosmetics Mocha Lipstick. I tend to avoid lipsticks that have a very strong scent."
Check out more #WomenEmpowerment stories here.
| | |
| --- | --- |
| SHARE THE STORY | |
| Explore More | |