This month, we're going back to the fundamentals by reinterpreting our makeup and skincare essentials. Whether it is prepping and priming the skin before your makeup to zeroing in on our go-to skincare/haircare products (which you can win here), January's all about hitting the beauty refresh with the new basics.
In our latest #BacktoBasics beauty tutorial, we demonstrate how you can apply foundation in less than five minutes. While foundation is a lifesaver for anyone who's got more dilemmas than just undereye circles, just remember that its main function is to even out your skin tone — not as means to conceal your problem areas i.e. scarring, dark spots etc. For those, concealer would work wonders for you without having to layer on copious amounts of foundation.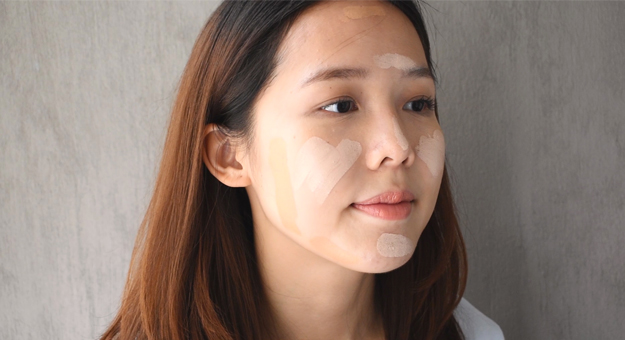 According to makeup artist Shiyo Jo, stick foundations are the simplest to start out with if you are a beginner in the beauty scene. Here are some tips on acing the base:
1. If you have dry skin, apply face oil before foundation to help in locking in the moisture. Use a foundation that leaves a glowing finish as those have a higher composition of oil.
2. If you have oily skin, go with a mattifying base/primer before a mattifying foundation. For a glowy effect, apply cream highlighter on the necessary areas.
3. For those who can't seem to get rid of a cakey effect after applying foundation, a BeautyBlender will help. Remember to blend your foundation very well and set it with powder right after.
4. Refrain from setting your foundation with excessive powder if you have dry skin. A tip is to only set your T-zone and the areas where you have applied concealer.
5. Those with oily skin can opt to use a sponge or puff to set the powder instead of a brush.
6. To get your exact foundation shade, try it on your jawline or chin, not the neck or face.
Extra tip: Apply highlighter in between your contoured areas (after contouring) for a more illuminated effect.
Below, watch how you can apply foundation under five minutes — all you need is two foundation sticks of different shades and a highlight/contour palette.
Credits:
Videography: Chong Yi Suen
Makeup: Shiyo Jo
Styling: Loh Wei Yeen
| | |
| --- | --- |
| SHARE THE STORY | |
| Explore More | |