Christine Nagel is a familiar name in the world of fragrances, but she has called Hermés Perfumes her home since 2016. Being the only in-house perfumer—and the brand's first female one, to boot!—Nagel is the nose behind many favourites such as Eau des Merveilles Bleue (2017), Galop d'Hermès (2016), and the more recent Twilly d'Hermès tribe. This particular trio of fragrances was created with young, vivacious women in mind—the kind that sees the joy in life and goes after it with grace and courage. Twilly Eau Ginger is the latest addition, and how would one set it apart from its older "sisters" and why "ginger"? In this exclusive interview with BURO, we go behind the fragrance with Christine Nagel.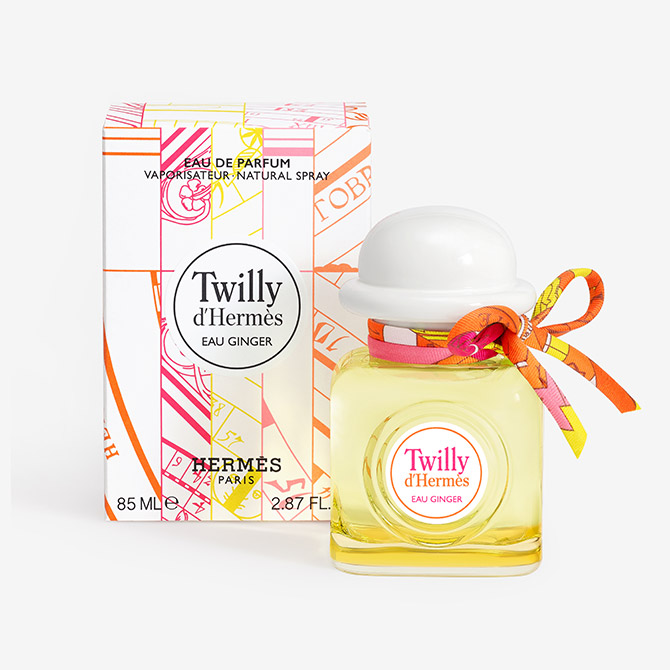 BURO: Twilly Eau Ginger is the third addition to the Twilly d'Hermès' tribe. We notice that ginger makes a return—what about the ingredient or the scent of ginger that attracted you to using it in a fragrance?
Christine Nagel: "It's true that I had this irrepressible feeling of not quite having finished with ginger. It is entirely typical of my creations that when I work on a material, I like to push back its limits, transform it and make it say the opposite of what is commonly accepted. I wanted to refashion it in a different style. This exercise can be compared to the work on the Brides de Gala scarf, the emblematic Hermès design that has been artistically reinterpreted since 1957.
"I retained its burning heat while softening the texture to make it convey something different. The ginger is unmistakeably feminine—it is more floral, joyful, elegant and immediate. I have drawn out its delicacy and subtlety, making it suppler and giving it a succulent character with a new fullness."
BURO: Speaking of this "Twilly d'Hermès' tribe", all three fragrances share spicy notes—is this the essence of "Twilly d'Hermès'" and if so, what is the reason behind it?
Christine Nagel: "These notes are the very essence of the personalities I portray in the Twilly odyssey. When I imagine Hermès girls having fun together, I see sparkling, radiant and generous young women whose bold ingenuity lights up everything in their path! I wanted to give carte blanche to this vibrant zest for life. Like its two predecessors, Twilly Eau Ginger was inspired by the young women of today—those creative and mischievous girls who embody femininity in the making and who love reinterpreting the rules. Twilly Eau Ginger is the dazzling facet of the Twilly spirit; it is the olfactory expression of a sunny, sparkling and joyful personality. Her companions find her raucous laughter contagious; her joy brightens their days."
View this post on Instagram
BURO: Twilly Eau Ginger comes during a time of uncertainty, instability and the feeling of "being stuck (at home)". Fragrances not only lift the mood but transports the wearer. So where does Twilly Eau Ginger take you, in your mind and senses?
Christine Nagel: "You're right. The evocative power of fragrance is unique. I've seen how perfume can make a lot of people feel alive by triggering emotions. We have a true duty as perfumers to continue telling stories, to offer travel in an immobile world, and to liberate the imagination when people are confined to their homes. Twilly Eau Ginger is a fragrance that sweeps me into a joyful dance of jubilation and bursts of laughter."
BURO: How, where and when to wear a fragrance is subjective to the wearer. But for you: How would you wear Twilly Eau Ginger, where would you wear it to, and when would you apply it on yourself?
Christine Nagel: "I don't wear perfume. My skin is my tool, my testing bench, because I test all my formulas on myself. I don't want to impair this precious tool by wearing fragrances. However, it's important to say that there are no rules and definitely no single or best way, time or place to wear perfume. Everyone can find what they need for a particular time of day or year, or in a personal or professional context. A fragrance appeals to us through how it resonates with our emotions, desires and fears. It is a mysterious and wonderful chemistry that largely depends on our olfactory memories. A scent moves us because we have smelled it before and because it takes its place in the world of scents that we create from the moment we are born. You only need to smell something to be overwhelmed by the emotion associated with it again."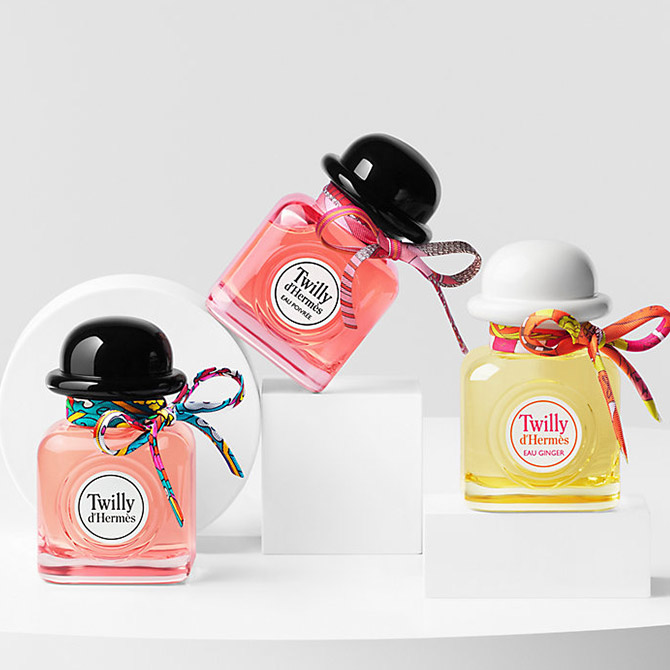 BURO: What was the process like for the creation of Twilly Eau Ginger?
Christine Nagel: "The process is always the same. It starts with the idea, which I assert as my own. Then it is given form, or rather is expressed in fragrance, before it is fine-tuned and given all the attention it needs. At each stage, I am incredibly lucky because I can take all the time I need, as the only pressure I have is the pressure I put on myself to deliver excellence. So I take my time, perfecting my formulas and finding the most comprehensive and virtuous raw materials, as I am keenly aware of the social and environmental implications of my choices."
BURO: Tell us about the inspiration behind the bottle.
Christine Nagel: "A fragrance bottle is a fascinating object. It is what replaces the fragrance when it is not there—that is to say, before and after. It must convey the sensation experienced when the scent is inhaled, while preserving the element of surprise. The perfect bottle is 'at one' with the fragrance; it gives it form and becomes inseparable from it in our memory. Twilly Eau Ginger breaks the rules, joyfully sweeping aside the Twilly codes with its square-cut lantern-shaped bottle and bowler-hat cap that is as radiantly white as the previous ones were black. The yellow-tinted glass gives the bottle a touch of sunny brightness."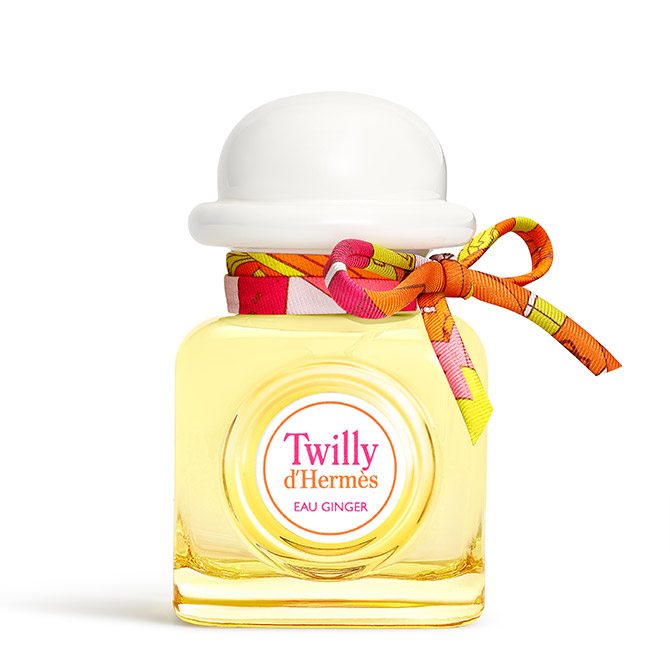 BURO: What is your favourite thing about being an in-house perfumer for Hermès?
Christine Nagel: "This may seem unbelievable to you, but everything about it makes me happy, every day! Hermès's values are full of humanity, freedom and diversity. They nourish my everyday work and that of my staff. Hermès gives its artisans and artists an enormous amount of freedom; they are the ones who set the tone. In other organisations, it is the marketing and strategy departments that call the shots. But here, we have no market research or focus groups. Instead, we forge our own convictions through sharing. And that's rather exciting. Hermès is a veritable treasure trove of riches. It offers a bottomless well of inspiring stories for each and every one of us."
Hermès Twilly Eau Ginger is available via hermes.com, selected Hermès stores and retail outlets. Find out more here.
| | |
| --- | --- |
| SHARE THE STORY | |
| Explore More | |