Beauty
Rituals founder Raymond Cloosterman on launching in Malaysia and how ethics fits into luxury beauty
Mindful beauty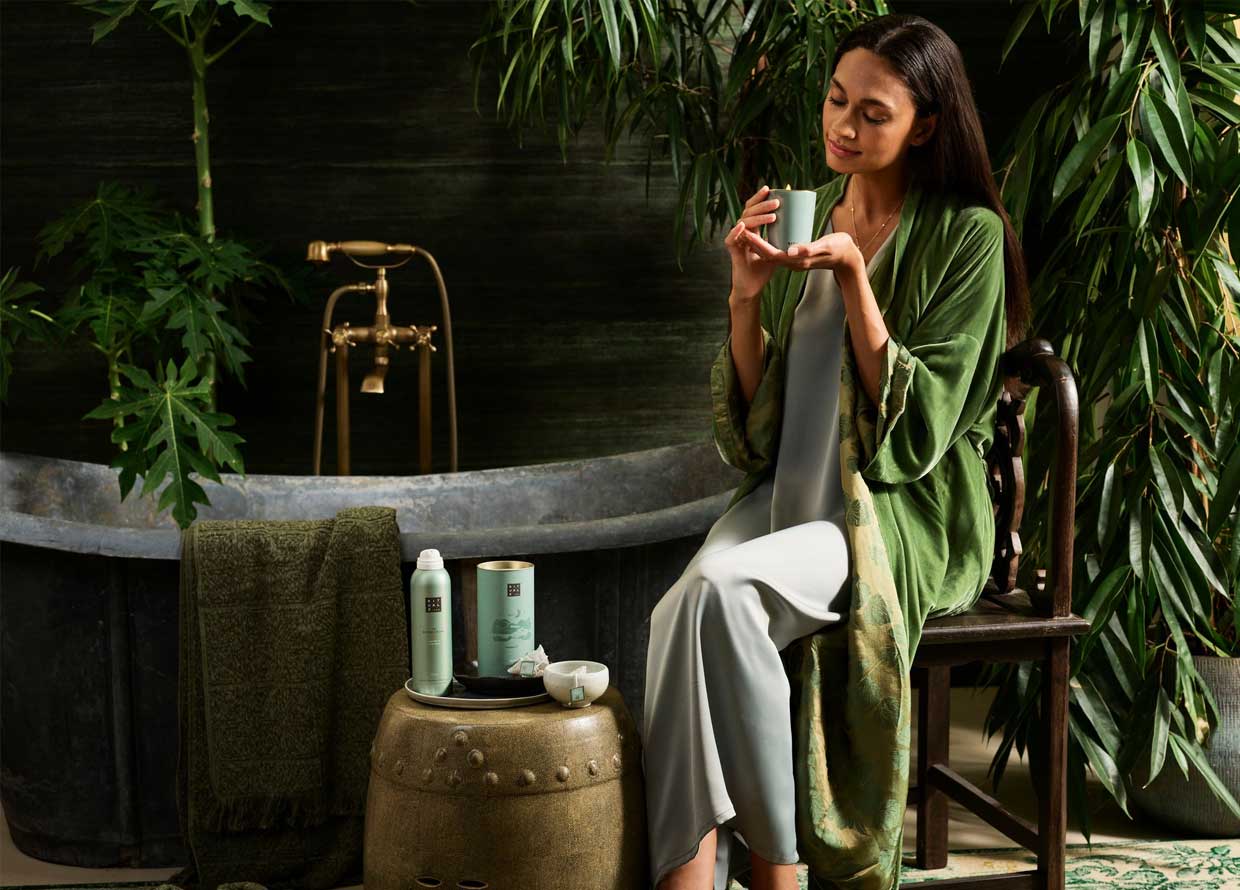 In light of Rituals Cosmetics' recent launch in Malaysia, we caught up with the beauty and wellness brand's founder to learn more about the brand.
In our digital world, it's a little too easy to live life on autopilot. It's almost expected—with ever-changing trends, fast-paced work and play environments and seemingly no time to think, the prospect of taking a breather seems almost foreign. Then, of course, 2020 happened—a worldwide pandemic that kept us all under lockdown. While it wasn't exactly a great time (quite the opposite, really), it did give our collective global community the time to rethink the way we were living. Self-care boomed in the two years of on-and-off lockdown, and while we're largely back to our pre-pandemic antics, it's safe to say we've all made a little more room for the little things. Now, we've got just the thing for your next "me-time" session: Rituals Cosmetics.
Launched in 2000 by founder Raymond Cloosterman, the brand has been built on the philosophy of mindfulness from the very beginning. In light of the opening of the Amsterdam-based brand's first-ever store in Malaysia and South East Asia, we spoke with Cloosterman to glean more about his wellness mission and insights on beauty ethics.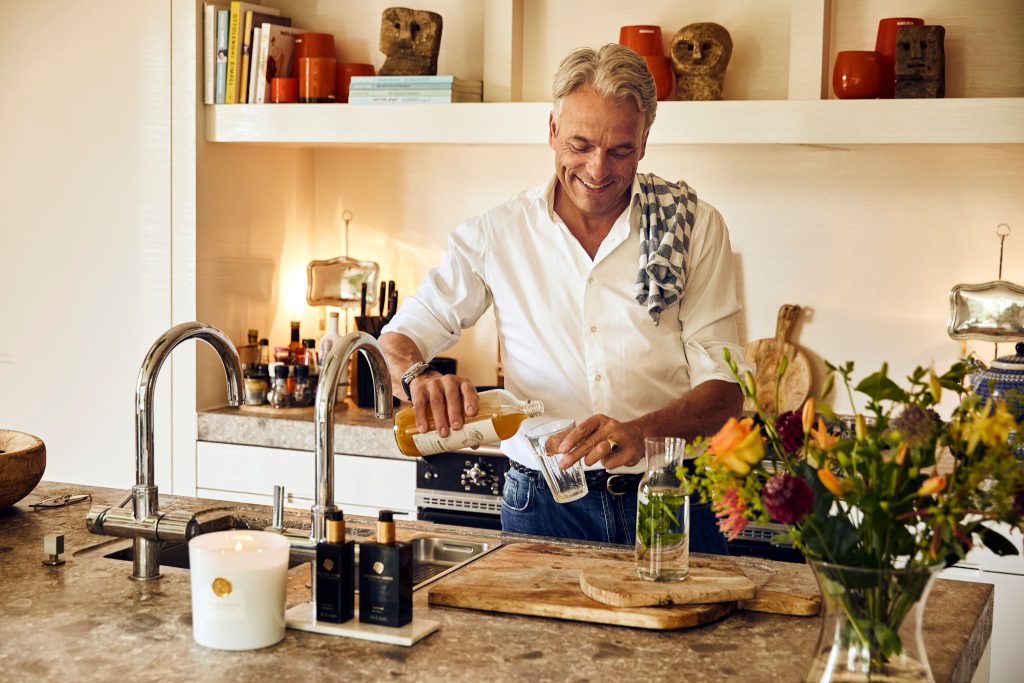 Could you delve into the brand story behind Rituals?
"In the year 2000, I had the opportunity to travel the world. I had the dream to create something completely different in the world of beauty. The different cultures I came across inspired me and I was truly impressed by the ancient traditions I had encountered in Asia. It was during that journey that I got the idea to start my own lifestyle brand with a new perspective on beauty.
"I then realised that, in the Western world, we are always striving for innovation and renewal without looking back at all the wisdom the past has brought forth. So, I decided to start Rituals Cosmetics, a brand anchored around the idea to change everyday routines into more meaningful moments, based on the insight that we are living life more and more on autopilot and people have forgotten to enjoy little things in life. Together with a creative team of professionals from around the world, including an anthropologist and leading perfumers from Paris, we started the mission to transform ordinary products like shower gels, shaving foams, and home products into a unique experience."
"When we launched the brand 20 years ago, the concept of mindfulness was not as well known as it is now, so it took us quite some time to get traction. In those days we did not have social media, so people had to discover our brand by word of mouth. It took us four years to get from one store to open a second store. Today, we're opening four new stores every week somewhere in the world. At the moment, Rituals is one of the fastest-growing well-being beauty brands in the world. We're operating almost a thousand stand-alone stores and also in luxury department stores and self-select stores."
Why is now the right time for Rituals to launch in Southeast Asia and specifically Malaysia?
"I'm very excited to launch in Southeast Asia—it truly marks a new milestone for Rituals. The company is extremely successful in Europe, but we are not there yet in terms of achieving global brand status. 
"We see a huge market opportunity in Southeast Asia and Malaysia in particular. The beauty and personal care industry in Malaysia is sizeable, fast-growing, diverse, and vibrant. Malaysia is an attractive market given the opportunity both among relatively young local consumers as well as being one of the top destinations among international travellers. The retail experience in Malaysia is second to none providing our brand the opportunity to offer the customer a best-in-class omnichannel experience with our unique store concept. Plus, we also observe a big trend in the increasing importance and focus on well-being and self-care in general, globally as well as in Malaysia specifically."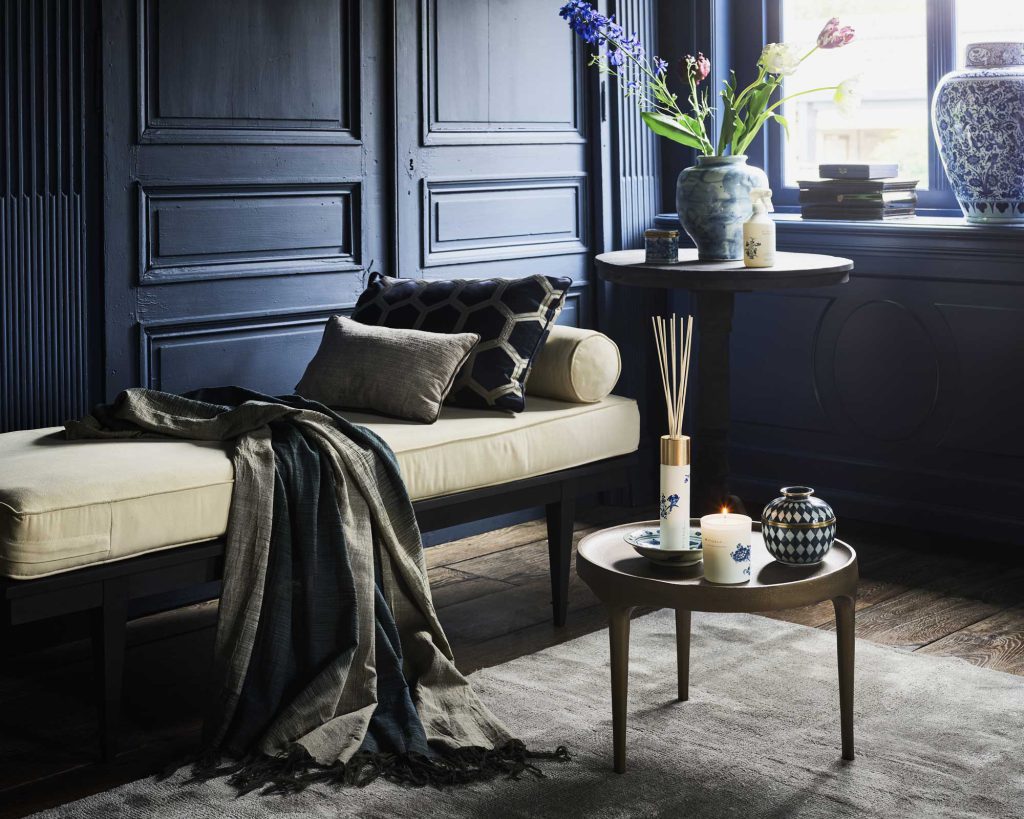 What are the three sustainability pillars of the Rituals brand?
"Sustainability is extremely important to Rituals as a company, but also to me personally. It is one of the most important pillars in our innovation process and we listen very carefully to our customers' requests and wishes. 
"We believe sustainability must be a 360º assessment, and that is why we're taking a holistic approach. We measure all our sustainability efforts through our 'Clean, Conscious and Caring' tool; a scientifically backed compass which measures all the impact we have through waste, water, CO2 and packaging and gives us guidance on how to improve each of our products (for more info, please see our sustainability report).
"At Rituals, our formulas are created with a great deal of attention. All our products are 'clean' to use, which means that their ingredients are mostly of natural origin. Every choice we make is a balance between achieving maximum product performance and minimising environmental impact."
"Over the past few years, we have re-developed hundreds of products by improving our formulas to help achieve our goal of sourcing over 90 per cent of our ingredients from natural origins and making sure each innovation follows the most sustainable path in its production process.
"Under 'Conscious' we focus on making sustainable choices for our packaging and in our business. Therefore, we aim to have zero waste by 2025, with the goal of all products being refillable, recyclable, or made from recycled material. Our long-term commitment is to reduce our greenhouse gas emissions per product by 50 per cent by 2030 compared to 2021, with the goal of achieving Net-Zero by 2050. 
"Then our last pillar is 'Caring', which is about supporting and developing programs that contribute to soulful societies. An example of this is that we are a proud supporter of Tiny Miracles, providing life-changing work to some of the most excluded communities in Mumbai, India, and empowering people to break their own poverty cycle and live truly independent and confident lives.
"These three points, together with making beautiful products, that is my life. Every day is an adventure, and I am far from finished. We believe that sustainability is never done. It's a constant journey to be better every day for people and the planet. That being said, it takes of course time to understand where your impact is as a business. "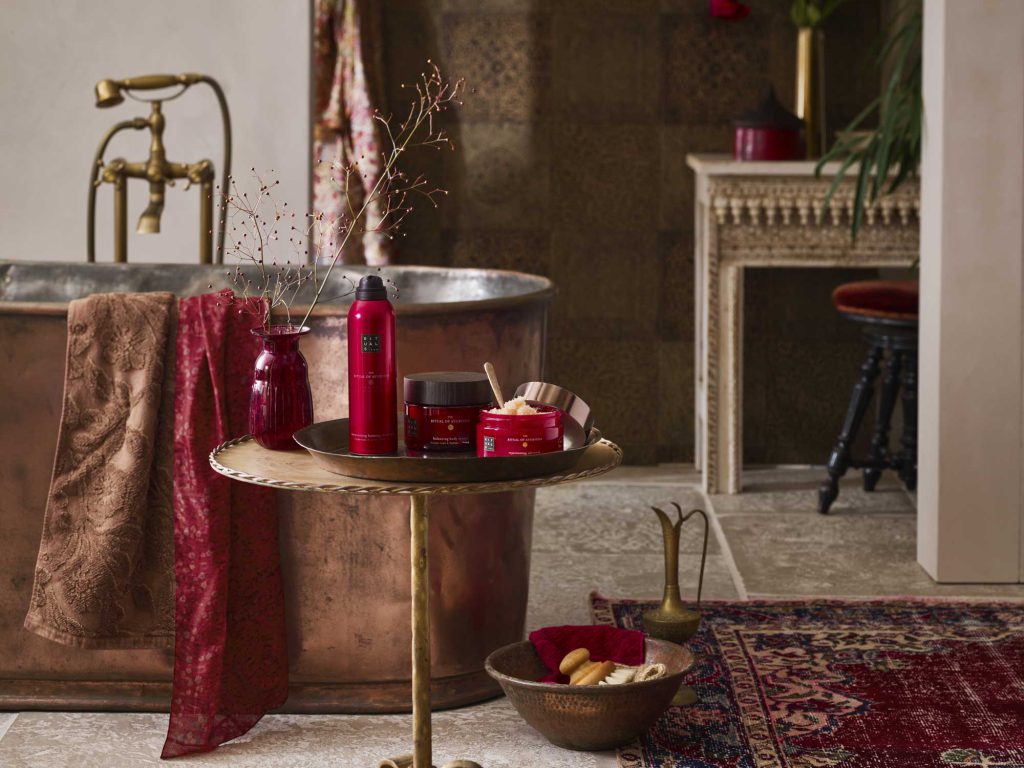 How can one make their beauty routine more sustainable? Do you have any tips from what to look out for in brands to personal steps individuals can take?
"Sometimes it's difficult for customers to make the right sustainable choice because there's so much out there. To help our customers make this decision, we encourage the option of buying a refill, as this definitely makes a difference in helping the environment. A refill has less impact on the environment and is easier to recycle than a new, regular product.
"I'm very proud that our refill range has been a great success, but also is only the start of moving to a real circular packaging system. With all the different shapes and sizes of our products, this is an ongoing project, and as part of the B Corp Beauty Coalition, we look forward to joining forces with like-minded companies so we can move the needle together and develop a circular system."
Rituals is a Certified B Corp as of January 2022—what does this mean and what steps were taken to achieve this certification?
"Being a certified B Corporation is very important to us. It is our passion to create beautiful and innovative products to help people discover and enjoy small moments of happiness. At the same time, we try to manage the paradox of creating luxury products while being conscious of the planet too. At Rituals, we always want our products to be as beautiful as possible, but at the same time, low on materials and recyclable. In order to realise this, it takes a lot of hard work and brainpower to think of sustainable solutions without losing our brand identity and luxury quality.
"It's indeed a very important milestone for us and we're very proud of it. We are one of the first global beauty brands to achieve the prestigious B Corp certification. We're also proud to be part of the B Corp Beauty Coalition. This is a group of 26 B Corp Certified beauty brands that cooperate to drive a more sustainable beauty industry. At Rituals, we've reached important improvements but also realise that big industry challenges can only be solved together. Therefore, we look forward to working with and learning from like-minded companies.
"At Rituals, we take a holistic approach to our business and how we operate. We are on a journey of continuous improvement as we seek sustainable well-being. We felt that the B Corp Certification is the only assessment that covers all sides of the business, from the way we treat our customers and employees to our decision-making processes and environmental considerations in product development. Achieving B Corp is a result of three years of incredibly hard work by all our teams and is truly a company-wide achievement.
"We started our journey by doing a pre-assessment, which helped us to better understand and identify the B Corp certification requirements, our baseline performance, and potential improvements. Next, we got all the involved departments together to define the next steps and appoint topic owners. The process of certification was rigorous and made us fine-tune and dig deeper over and over again. It acknowledges the work we've done so far, but also offers a framework for future improvements on our way to sustainable wellbeing."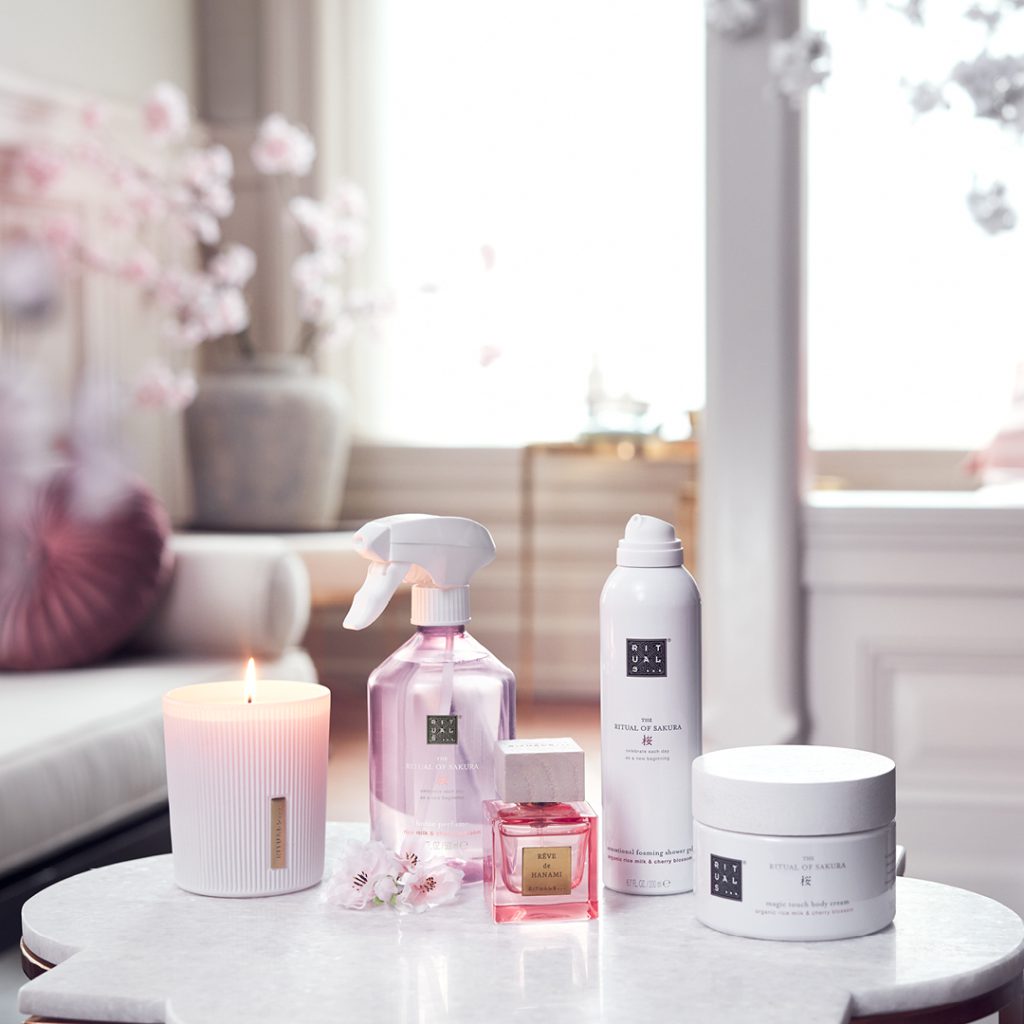 What are your must-have Ritual products for those new to the brand?
"The Ritual of Sakura is our best-selling collection because of its luxurious and wonderfully relaxing fragrance of rice milk and cherry blossom. For the optimal experience, go for the classic Rituals four-step routine. Experience the delicate softness of the cherry blossom on your skin as you massage in the Foaming Shower Gel. Next, get rid of the past and create space for a new beginning by renewing your skin with the Sugar Body Scrub. Then, savour the moment as a reminder of your new beginning while treating your skin with the Body Cream. And lastly, imagine sitting under the cherry blossom tree while the petals fall down around you and spray the Hair and Body Mist."
Where do sustainability and ethical production fit into the luxury beauty industry?
"Overall, people and businesses are working on going green, but you have to do it holistically; circularly. Natural ingredients are certainly important, but there is more to it than that. Such as transport, weight, and packaging. The beauty industry is highly competitive, and, as mentioned before its packaging is traditionally single-use. This is where the big challenge is.
"Managing the paradox of creating luxury products while being conscious of the planet too, has always been part of our journey. It is our passion to create beautiful and innovative products to help people discover and enjoy small moments of happiness. At Rituals, we always want our products to be as beautiful as possible, but at the same time, low on materials and recyclable. In order to realise this, it takes a lot of hard work and brainpower to think of sustainable solutions without losing our brand identity and luxury quality."
Where does the inspiration for a Rituals product begin?
"I get my inspiration from so many different cultures, meeting new people from all over the world. Sometimes a piece of art can inspire me or something I've seen in store. But most of my inspiration for Rituals collections, I get from the journeys I used to make to Asia, the Middle East, and other continents in the world. In terms of products and formulas, we always look at how we can help people to improve their well-being in body, mind and soul. So we ask ourselves: "What kind of product supports this?" We also take into consideration what specific products or ingredients are key to translating specific rituals and routines. We always look at a variety of ancient and time-tested rituals that give us inspiration for the creation of our products."
For more beauty reads, click here.
| | |
| --- | --- |
| SHARE THE STORY | |
| Explore More | |