It's been a while since our last #FitnessFriday episode—which incidentally was also a reformer class—and so, we were super excited when Body in Common reached out for a taste of what it has to offer. The studio itself is more than just the latest Pilates studio in town; it's also a wellness and physiotherapy centre. For those looking to strengthen and tone, there are the fitness classes. For those looking to improve their pain or injuries, there are the clinical classes. Whichever it is, rest assured that founder Natalie Tan (a registered physiotherapist and Pilates instructor with over ten years of experience in Australia) and her team will take good care of you.
For our session, we opted to try the Reformer Jump class, which uses the Pilates reformers with jump boards attached to it. It's a full-body workout, with a bit of cardio and whole lot of fun. Watch the video above to see what Reformer Jump looks like and read on for our testimonials. 
*
Wei Yeen Loh, Senior Beauty Writer
Pilates is one of those workouts that I love for a few reasons: making an effort doesn't necessarily mean working up a sweat, and the challenge is when you have to consciously activate your core muscles the right way throughout the entire class. Natalie's instructions were precise and helpful (I find that having an articulate instructor really helps with understanding each move concisely). It was my first time attempting cardio-based moves at a reformer Pilates class and it felt more like a fun jumping session rather than a workout. That said, my core did ache the next day—a small yet surprising feat as I was honestly (and initially) clueless about "have a small arch the size of a blueberry under your lower back" during class.
Rating: 5/5

Stephanie Boey, Fashion Writer
I've been to my fair share of reformer Pilates classes to know that I (unfortunately) do not work up a sweat as much as I would like to on the machine. So when I heard that Body in Common offered a heart-racing cardio workout with the Reformer Jump, I was excited…and frightened. Propelling yourself on a moving machine sounded daunting at first, but once I found my rhythm, I had a lot of fun. Natalie, founder and instructor at Body in Common is very clear and concise with the moves, and even demonstrates them prior to make sure you properly understand what your body should be doing. If I—a very awkward and uncoordinated person—could feel strong and graceful, literally anybody can do it. Also, it's a great alternative to a traditional cardio workout if you need to go easy on your joints.
Rating: 3/5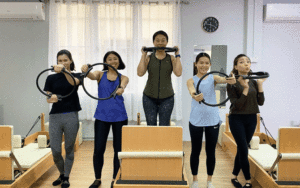 reformer jump body in common bangsar
Alyssa Lee, Special Projects Writer
Whoever called Pilates classes a sweat-free, lunch break workout will be in for quite a shock if they took this one. It's ironic: reformer machines that vaguely resemble medieval torture contraptions are actually pretty gentle; but add a harmless looking (cushioned) board at the foot bar and the intensity gets dialled right up. In place of the usual stretches and pulses, we found ourselves launching into what felt like mid-air while doing knee taps and splits. My weak knee did feel a little too much impact on landing but with a little correction from Natalie and some practice, the problem disappeared. It was exhilarating—where else can you get a good cardio workout while on your back. Never mind, don't answer that.
Rating: 4/5

Su Fen Tan, Contributor
I've only tried one reformer class (and loved it) before this, and that was enough to tell me that we were going to be in for a good old core workout. Starting off slow, Natalie made sure we were doing the basics right—really important in core-centric exercises so we are not compensating for the lack of targeted-muscle use with incorrect forms—before picking up the pace of the class to include more complicated jump combos toward the end of the class. Think core, coordination and cardio all at once. While ours was more of a taster class, I'd imagine the regular Reformer Jump classes to be faster paced and quite the sweat sesh. I thought it was great that Natalie took the time before the class to understand about any injuries we may have too, which allowed her to give us the heads up of any exercises we might want to avoid during the class.
Rating: 4.5/5

Body in Common is located on Jalan Maarof, Bangsar (same row as McDonald's). For more info, visit their website, Facebook and Instagram.
| | |
| --- | --- |
| SHARE THE STORY | |
| Explore More | |