With the holiday season upon us, there are probably two concerns you might have. One, unique gift ideas, and two, all that weight you will likely put on from the neverending feasts and get-togethers. Whichever your dilemma—if you're looking to start running or perhaps persuade someone else to join you, this roundup of running shoes from Asics, Reebok, Nike and Under Armour we recently reviewed might give you an idea of where to start.
Asics Gel-Kayano 25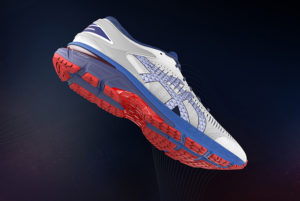 "When we talk about running shoes, the Asics Gel-Kayano is the OG that has won the hearts of many runners and remained a firm favourite among many throughout the years. In its 25th iteration, the Asics Gel-Kayano gets updated with new technology to reinforce the stability and protection feature when you hit the ground running. The Asics Gel-Kayano 25 is made to be lighter and more responsive, which will help make long-distance runs a better experience.
As I laced up the shoes for the first time, I noticed how solid this pair feels on my feet and perhaps, even a bit clunky. I'm more used to lightweight flexy shoes for my runs, hence this took a few laps to break into. The Asics Gel-Kayano 25 features the new FlyteFoam Lyte and FlyteFoam Propel technologies. The former is Asics' next generation of lightweight and responsive cushioning that has a midsole formula with reinforced, sustainable nanofibre compound. What this means is there's better high impact absorption and bounce back as you run. The latter's technology, on the other hand, is focused in the forefront of the shoes, giving more bounce back on a run and helps make the sole more flexible and durable.
The Asics Gel-Kayano 25 feels soft when put on yet firm when you run and thus, there's a comfortable snugness that keeps your foot in check throughout. The padded heel collar and cushy sock liner make the shoes one of the comfiest ones to clock in the kilometres. It also has a breathable upper with its two-layer jacquard mesh. But most importantly, what I noticed from my runs is how "springy" it feels and the roomy toe box allows for a more natural and smooth stride. While the Asics Gel-Kayano 25 is a responsive pair of stability shoe, it is not the lightest around thus short distance runners may feel put off by this. But this shouldn't deter you from training to run longer distances as the Asics Gel-Kayano 25 is made to be a smooth pair with long-haul comfort."
— Gwen Ong, Deputy Editor
Reebok Fusion Flexweave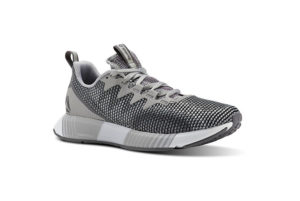 "The Reebok Fusion Flexweave is the first shoe from the brand to combine its proprietary Flexweave upper with the Floatride Foam technology. The result is a really lightweight performance shoe (it's lighter than my pair of UltraBoost X) with multi-dimensional cushioning alongside optimal structure and support, made for both mid-distance running and high-impact workouts. I put it to the test from the get-go, breaking it in with a 5km run—and it didn't disappoint. Perhaps due to the structure of the shoe, I found it slightly roomy around the forefoot area, but this was barely noticeable once I started my run thanks to the flexible yet solid support of the Flexweave upper.
With this being my first pair of Reeboks, I was particularly impressed by the Floatride Foam. It is soft, well-cushioned (read: comfy!), and impact-absorbing. It might not be as "bouncy" as some of the other soles out there, yet it still provides a responsive and stable ride. Meanwhile, the multi-patterned rubber outsole has been designed to maximise performance and traction, so you can clock in your miles and training with no slip whatsoever. If you are looking for a shoe for hitting the gym and mid-distance running, the Fusion Flexweave will serve you well—complete with style that won't lose you any street cred either."
— Su Fen Tan, Senior Writer
Under Armour Threadborne Blur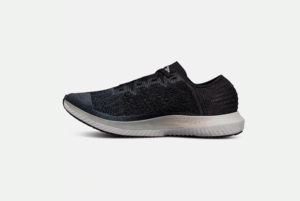 "Out of all the forms of exercises, running has always been a challenge for me—but one I hope to overcome and so, when I received the Under Armour Threadborne Blur to review, I had no excuse. First impressions: The Threadborne knit upper makes it ultra light and fits like a sock. In fact, almost every part of this pair of running shoes has been pieced together to be lightweight, whether it's the one-piece foam midsole or the blown rubber under the forefoot.
The feeling of all that lack of weight made it easy to sprint but the Under Armour Threadborne Blur was also very responsive with every step. Combine that with the high-abrasion rubber placed under the heel and I could barely feel ground contact, especially when running downhill. Best of all, because they fit so snugly around my feet, they were quite cushiony on the soles of my feet. My one complaint, however, is that the knit material from the heel collar did cause some friction around my ankles, making them slightly red. But it's not a permanent problem since I just had to wear higher socks the next time around. All in all, I'd say the Under Armour Threadborne Blur makes for a good pair of running shoes for beginners."
— Rachel Au, Lifestyle Editor
Nike Zoom Pegasus Turbo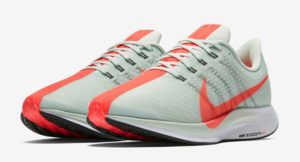 "For quite a while, my favourite running shoes from Nike were the Lunarepic Flyknits, and then came along the Nike Epic React Flyknits. I've had a pair of Nike Air Zoom Pegasus 32 but found them a bit too rigid and structured for my liking, having developed a preference for the hugged feel of the Flyknit. So when the Nike Zoom Pegasus Turbo launched, it wasn't actually something I was looking at, until I tried on a pair. Even when still encased within the box, it's noticeably light, to the point I thought the box was empty.
The Nike Zoom Pegasus Turbo are actually a huge step up from my old Pegasus 32. The latest addition to the Pegasus family, the shoe features what is Nike's lightest foam currently, the Nike ZoomX foam. It's this upgraded foam that allows an impressive 85% energy return, allowing for faster, more powerful runs. Designed based on direct feedback from elite runners, the Nike Zoom Pegasus Turbo is extremely lightweight—a single women's US8 shoe weighs just 195g, comfortable—the heel collar curves away from the Achilles tendon to prevent chaffing, and also looks pretty cool, so whether or not it's a gift for a serious runner, or a more athleisure type person, it's bound to be a win-win."
— Cai Mei Khoo, Editor-in-Chief
READ MORE: Tried and tested: Sweatproof and workout-proof eyeliners
| | |
| --- | --- |
| SHARE THE STORY | |
| Explore More | |