Quinoa started to gain popularity in the past few years even though it has been a staple food in Central America for centuries. Quinoa has earned itself the "superfood" title among other trendy health foods. Some of the health benefits that led to quinoa's rise to fame are its high protein and fibre content, its low calorie count, and its low glycemic index (a fancy way of saying that it prevents heart disease and diabetes).
This nutty grain — that some people would argue is actually a seed — is also a highly versatile ingredient for cooking. You can use it as a base ingredient (in substitute of rice) or even as a side. Some people use it to make vegetarian burger patties because it gives it a nice crunch. We make good use of quinoa with this recipe by using this healthy substitute for rice in its most tasty and sinful form. Who says healthy food can't have a naughty side?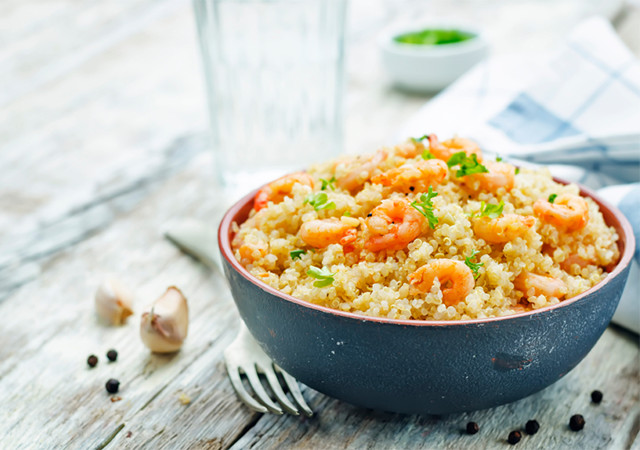 Quinoa and Shrimp Stir Fry
Ingredients:
220g shrimp

4 cups chilled quinoa, preferably cooked the night before

3 tablespoon butter

2 eggs, whisked

2 medium carrots, diced

1 small white onion, diced

3 cloves garlic, minced

3 scallions, thinly sliced

3-4 tablespoon soy sauce, to taste

2 teaspoon teriyaki sauce (optional)

1/2 teaspoon sesame oil

salt and pepper



Directions:
1. Heat 1/2 tablespoon of butter in wok until melted.



2. Add egg and cook until scrambled. Remove egg onto plate.
3. Add additional 1 tablespoon of butter into wok until melted. Then, add garlic, carrots, and onion. Saute for about 3 minutes. Add shrimp and saute for another 2 minutes. Season with salt and pepper to taste.
4. Increase heat to high and add remaining 1 1/2 tablespoon of butter. Stir until melted.
5. Immediately add quinoa, scallions, and sauces. Stir until combined.
6. Add in the eggs and stir to combine for another 3 minutes.
7. Add in sesame oil and stir to combine.
8. Remove from heat and serve.
| | |
| --- | --- |
| SHARE THE STORY | |
| Explore More | |