Sometimes trends leave a bad taste in the mouth; other times, it's slightly sweet with a bit of zing to it and the promise of great gut health. While the origins of kombucha are unknown (though Wikipedia states that it's possibly linked to China), it has easily become a popular drink over the years. So much so that more than a handful of Malaysian kombucha brands have popped up in the scene, and (no) thanks to the various versions of MCO, some have even learnt how to brew their own.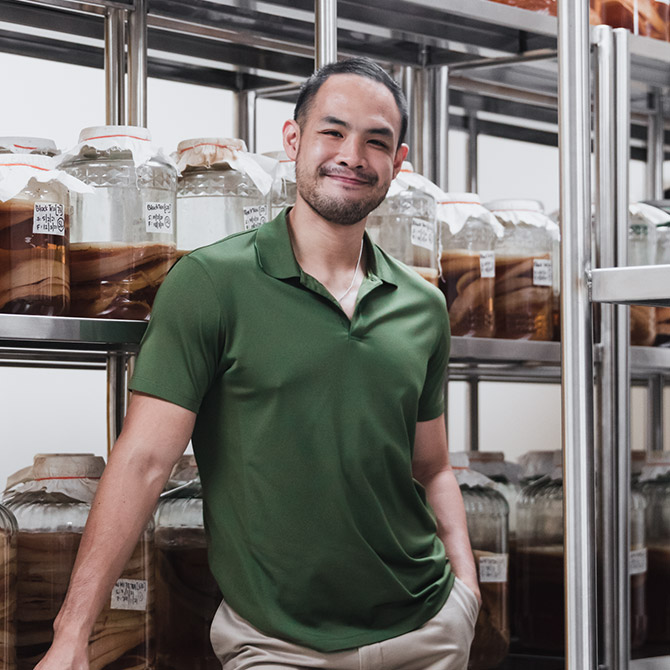 Some people were probably innocently introduced to it because of a friend or Instagram post's recommendation. For Jason Tan, it happened many years ago when he encountered "a health crisis" due to eczema. His brother gave him a culture of SCOBY (Symbiotic Colony of Bacteria and Yeast), and Tan started making small batches regularly for his own consumption. "Over several months, I noticed my symptoms had subsided, and a few weeks later, my skin improved," he tells us. This was the beginnings of his passion for kombucha, and during the oil and gas crisis in 2015/2016, he quit his job as a chemical engineer to establish Wild Kombucha.
"My purpose was to promote the benefits of kombucha and fermented foods to fight off against modern-day diseases by healing through the gut." — Jason Tan, founder of Wild Kombucha
Whether you're still hesitant about giving kombucha a try, or perhaps you're already a fan, there are a couple of interesting tidbits you should know about this popular fermented drink. And there's no better cultured person to share the details than Tan himself.
Psst… Read till the end to find out how you can win yourself a set of Wild Kombucha drinks.
HEALTH BENEFITS OF KOMBUCHA
1. Aids digestion
"The culture of the bacteria, enzymes and yeasts helps to break down the food we eat into more elemental forms so that the minerals and nutrients are easier for our bodies to absorb. In addition, the organic acids, which give kombucha its sour flavour, has properties that help rid of bad bacteria overgrowth. Thus, this helps regulate our bowel system and maintain good gut health, leading to fewer stomach problems such as bloating, diarrhoea, constipation and so on."
2. Detoxifies
"The organic acids in kombucha bind with various toxins in the liver for elimination through urine, enabling our body to function optimally. Amino acids assist this process as well by eliminating free radicals, which otherwise damage body tissues."
3. Supports the immune system
"During the fermentation process, the brew accumulates an increased level of B vitamins; the breakdown of polyphenols and vitamin C production from the tea leaves provide antioxidants that support the immune system to help fight off free radicals, suppresses cortisol and protects us against inflammatory diseases."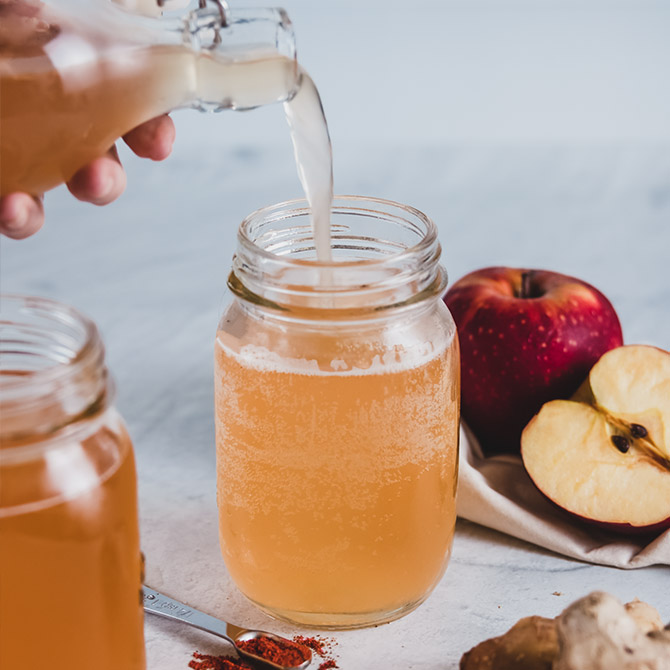 COMMON MISCONCEPTIONS ABOUT KOMBUCHA
Kombucha is a cure for anything – FALSE
"Kombucha is not a magic-bullet cure to any illnesses or diseases we might be experiencing. There is no scientific evidence that suggests daily consumption of kombucha will cure diabetes, cancer, AIDS, etc. It is brewed due to its potential improvement of overall health as it contains healthy bacteria and yeast, important B vitamins, and a variety of acids that help the body return to balance (homeostasis) through detoxification and improved digestion. Once the body is balanced, the immune system takes over to recover the body's natural healing ability."
You need to drink a lot of kombucha to experience the benefits – FALSE
"Drinking more kombucha doesn't equal getting more benefits. Instead, the rule of thumb is to consume kombucha in small amounts (e.g. 150ml – 250ml). Moderation is key. Consuming it every other day or incorporating it into your daily diet is a good way to experience the benefits. Most people have a glass with each meal. It helps with digestion and is a super easy way to get into the habit of including something fermented, natural and unpasteurised into your daily diet for overall health and wellbeing."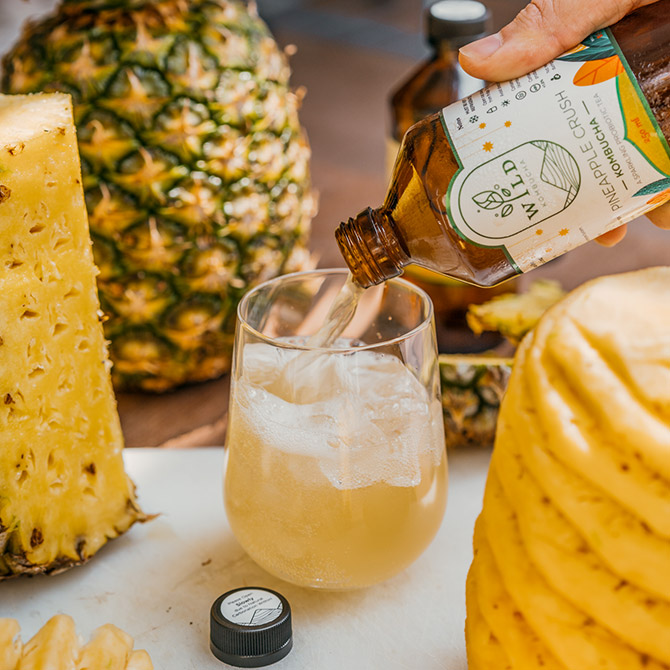 Kombucha is alcoholic – FALSE
"Kombucha is regarded for health, not intoxication and is similar to other fermented foods like kimchi, sauerkraut and yoghurt. The amount of alcohol present is very low (less than 0.5 per cent ABV) and is naturally produced due to the fermentation process. In short, the yeast consumes the sugars and releases ethanol (the alcoholic compound) as a fermentation by-product. It's similar to an over-ripened banana that has been left outside for long. At Wild Kombucha, we have tested our kombucha in the labs and found that the alcohol levels are much lesser than 0.5 per cent ABV). We are also now in the midst of applying for a Halal certification."
OTHER WAYS TO ENJOY KOMBUCHA
"There are many ways! For us, we've been high on kombucha floats lately as we explore different combinations of teas and ice creams. It's basically kombucha and ice cream—a more superior version of a soda float since it has the benefits of fermentation. If you want to keep it healthy, pair our Peach Blossoms Kombucha with raw, vegan vanilla ice cream—like the one by Calli Ice Cream. We've just collaborated with them and Qra for it.
"If ice cream doesn't tickle your fancy, then how about whisking in some quality matcha powder for a matcha kombucha? This is a great combo, too, as we did it with Oh Cha Matcha for their first anniversary. And if you're still looking to up the ante, there's always kombucha mixers after dark."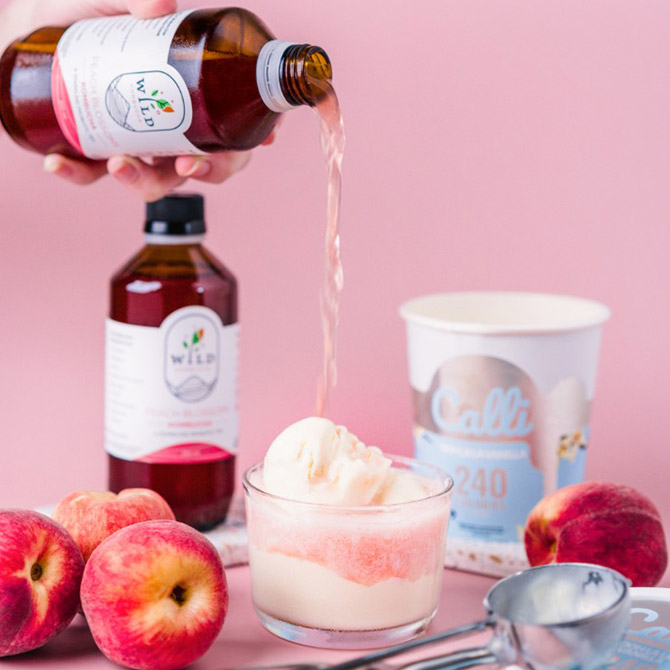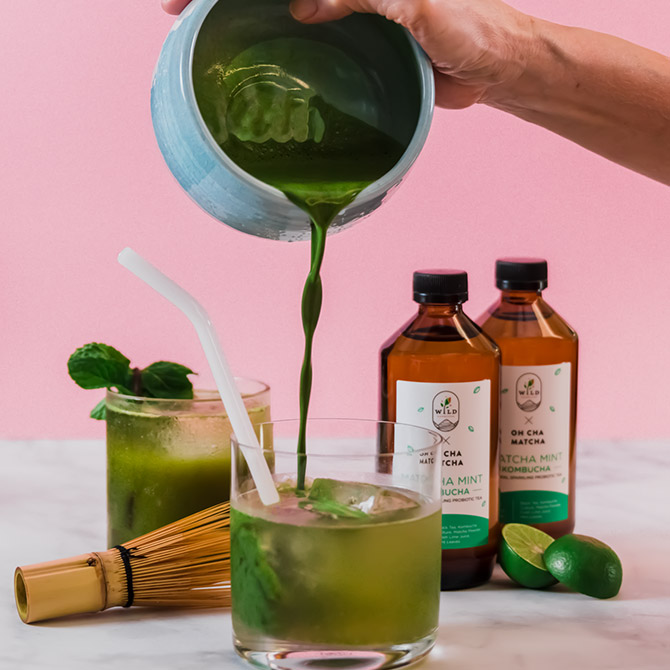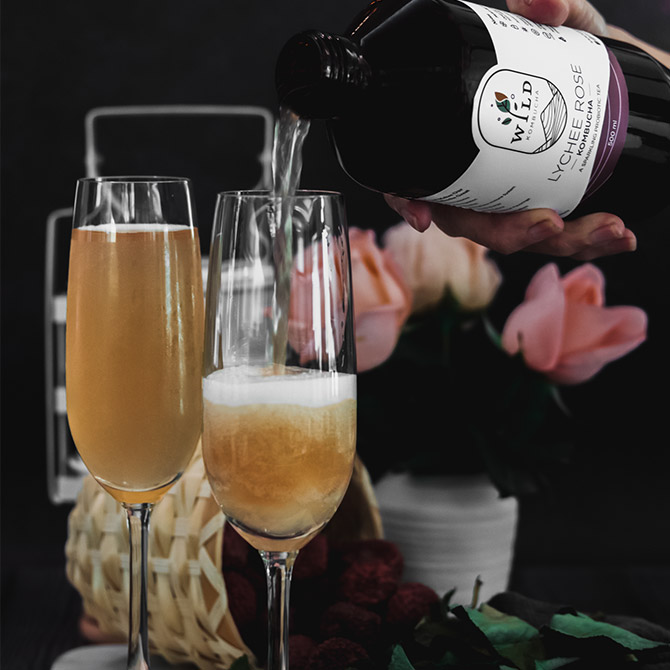 Clearly, Wild Kombucha has a great gut feeling on how far it can take its SCOBY culture. Tan's passion shines through as he tells us the various ways Wild Kombucha stands out in a growing market: Quality, wide range of flavours, joining festivities with seasonal flavours and being conscious of their environmental impact. With ten flavours in total (and more to come), the brand also offers different sizes for different occasions. "The small bottles (250ml) are for on-the-go people or new to kombucha, the medium bottles (500 ml) are for people who like to gift or share with friends and the large bottles (1,000ml) are for regular drinkers and large households. These bottles are accepted back by Wild Kombucha for re-use, and consumers get incentives such as recycling rebates for doing so. In addition, you can find their kombucha in kegs for draft on-tap at Qra to refill on the spot with their used bottles.
The pandemic, if anything, has at least spurred more people to be more conscious about their health. When asked if this has affected their business, Tan humbly admits that they've been fortunate to be able to operate as usual without a lot of disruptions from the on-again, off-again MCO. Pre-pandemic, 70 per cent of their revenue came from supplying to cafes, restaurants, gyms, etc. "However, when MCO was implemented, we pretty much saw a complete shift towards our online sales channel with no orders coming in from the retail side due to the no dine-in policy. Because everything was driven online or via social media during the lockdown, we were actively engaging in online campaigns and collaborations, such as partner giveaways, new flavour launches, a kimchi collaboration project and assembling/marketing our festive bundles. We even managed to move to a bigger space in the midst of CMCO!" says Tan.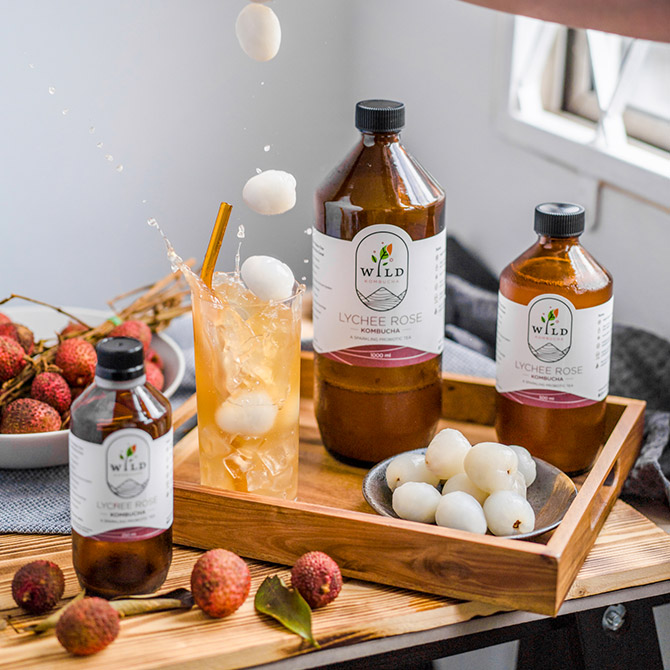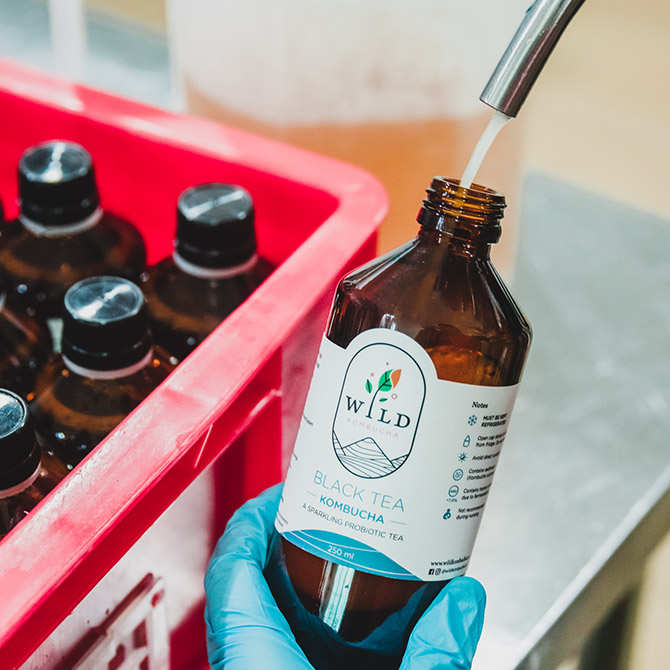 He adds, however, "Once MCO was lifted, distribution started to swing back to normal before the next MCO came around, but this time with the added blessing of new customers that became our regulars from previous MCOs. We have been pretty much riding on this roller coaster wave of uncertainty till today."
There are also plans for Wild Kombucha to expand to Penang, but in the meantime, some of you folks in the Klang Valley will be able to have a taste of their refreshing drinks. As part of our #BUROSupportLocal initiative, together with Wild Kombucha, we want to send some positivi-tea to 60 lucky readers.
#BUROGIVEAWAY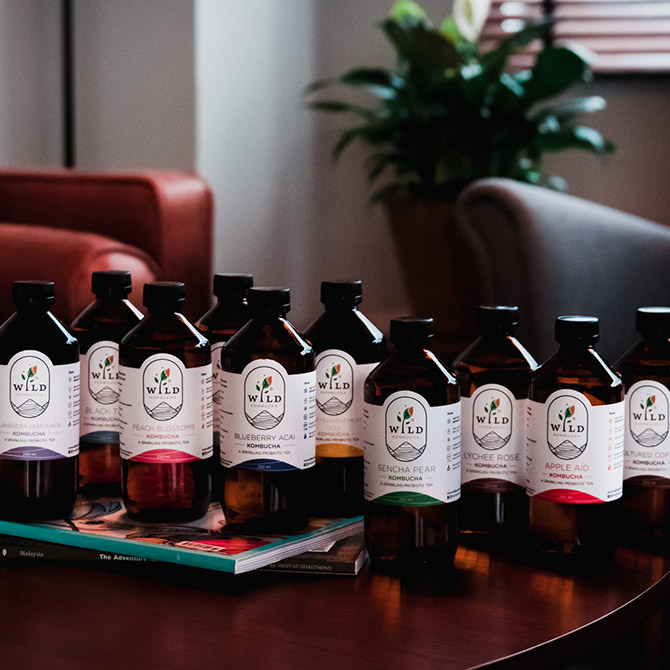 We're giving out sixty (60) Wild Kombucha sets! For your chance to win…
Follow BURO Malaysia and Wild Kombucha on Instagram
Submit your details in the form below
/ /
That's it, you're done. Good luck!
---
TERMS & CONDITIONS
The BURO x Wild Kombucha Giveaway runs from Wednesday, 16 June 2021 till Tuesday, 29 June 2021. Winners will be announced on Friday, 2 July , and will be contacted via email. Other terms and conditions apply*.
1. Employees of BURO Malaysia and its related corporations ("Indochine Media Ventures") or BURO Malaysia partners and/or sponsors for the giveaway (if applicable), and their immediate family members (including spouses, children, parents, brothers and sisters) are not eligible to participate in the giveaway.
2. The winners of this giveaway are chosen at random.
3. This giveaway is organised by BURO Malaysia (hereinafter referred to as the 'Organiser').
4. The prizes for this giveaway are neither exchangeable for cash nor transferable.
5. All persons ('Participants') taking part in this giveaway agree that these rules shall be binding on them, and that the entries in this giveaway, including their name and likeness, may be used without restriction in any future publicity material by the Organiser.
6. The Organiser reserves the right to amend these rules or terminate the giveaway at any time at its sole and absolute discretion. All decisions made by the Organiser under these rules shall be final and no discussion or correspondence will be entertained. The Organiser may, but is not required to, justify any decisions relating to this giveaway.
7. The Participant acknowledges that the interest and good reputation of the Organiser are of paramount importance. The Organiser reserves the right to disqualify a Participant from the giveaway, or to withdraw the prize if it is believed the Participant is in breach of its obligations under the rules. The Participants shall not by act or omission, directly or indirectly bring the Organiser into disrepute.
8. All entries are sent at the risk of the Participants and in the event that there are technical difficulties experienced arising out of the internet or from any associated equipment or internet security is compromised, the Organiser may at its sole and absolute discretion disqualify the entire entry and shall not accept any liability doing so.
9. Giveaway entries may only be submitted via the stated medium of communication.
10. This giveaway is open to anyone above 18 years old and within Klang Valley only.
11. Each entry must be completed in full. The Organiser reserves the right to disqualify any incomplete entries in its sole and absolute discretion.
12. Incomplete entries will be deemed void.
13. Winners will be notified via email.
14. Uses of 'aliases' shall be considered a form of deception and are prohibited.
15. The winner must produce their original IC / passport with legible IC / passport number in order to claim the prize. The winner may also be required to produce additional original proof of identity at the discretion of the Organiser.
16. All Prizes are accepted entirely at the risk of the winner, and the Organiser excludes all warranties in connection with the prize to the extent permitted by law.
17. All Participants release from, and indemnify the Organiser, its agencies, sponsors and representatives against, all liability, cost, loss or expense arising out of acceptance of any prize or participation in the giveaway including (but not limited to) personal injury and damage to property and whether direct or consequential, foreseeable, due to some negligent act or omission or otherwise.
18. All personal particulars furnished are meant for identification purposes and will not be sold or given to any third parties. In the case of giveaways, our partners may wish to offer you services which require your personal particulars. These specific requests will be expressly stated within relevant giveaways, with a choice to opt out.
19. Inability to contact the Lucky Winners by Tuesday, 6 July will result in disqualification and selection of an alternate winner.
20. Prizes are final; no cash equivalent or alternative prize will be given. Prizes are non-transferable, non-exchangeable and strictly not for resale. If the winner is found to be selling the prize(s), the Organiser reserves the right to demand the return of the prize.
| | |
| --- | --- |
| SHARE THE STORY | |
| Explore More | |