We worked our booty off for last month's episode of #FitnessFriday so this time, we decided to target a full-body exercise with the less conventional Jumping Fitness Malaysia. Trampoline workouts should be fun, right? It is but don't let it fool you — it can really make you break a sweat. As founder of Jumping Fitness Malaysia Ritchie Lee explained, it's a cardio workout that also trains (or rather, tests) your body's endurance, strength and balance. In fact, a NASA study says jumping on the trampoline for just 10 minutes is equivalent to a 30-minute run.
Watch the video below to see how we fared at Jumping Fitness Malaysia:
Gwen Ong, Deputy Editor
As a child, I've always wanted a trampoline. It was one of those toys that I imagine would bring me hours of mindless entertainment. Now fast forward to today, I was a little excited yet a little nervous for this month's #FitnessFriday. I guess when you were young, fear means nothing. But as an adult, you worry if you will be breaking your back just bouncing on the trampoline. Luckily for me, this was not the case at all. Jumping Fitness was a fun exercise that can be done with minimum damage — well, minus the sore thighs the day after. The class conducted by Ritchie was full of energy and even with my lack of coordination, I felt in control of my movements (most of the time). I enjoyed the adrenaline rush jumping, bouncing and moving on the mini trampoline — the kid in me is happy.
Rating: 4/5


Rachel Au, Senior Lifestyle Writer
The Instagram videos of Jumping Fitness Malaysia scared me even before attending the session because: 1) I have zero arm-leg coordination skills, and 2) I'm clumsy enough just walking on solid ground. True enough within the first 15 minutes of the class, I was called out for looking like Tweety bird and that's no exaggeration. I would bounce around three to four times and almost lose my balance (good thing there's a pole in front of me). I couldn't keep up with the moves and spent most of my time just jumping up and down on the trampoline (now that was fun). But Coach Ritchie didn't give up on me as a few times he would teach the moves again at a slower pace just so I could keep up (when the rest was ahead). Despite my inability to complete one song while pulling all the moves correctly, I did finish the class feeling like I gave my body the workout it deserves (as well as the rewarding not-so-healthy lunch after).
Rating: 3/5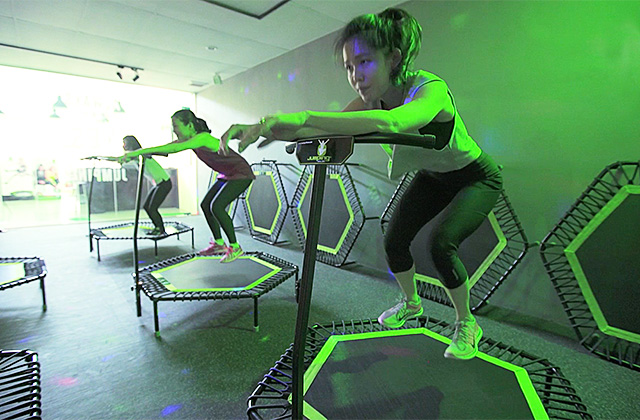 Loh Wei Yeen, Fashion & Beauty Writer
Source: https://www.buro247.my/lifestyle/health-fitness/fitnessfriday-bootybarre-at-activ-studio.html
Coordination has never been a strong suit of mine, and this month's #FitnessFriday certainly proved how limited my hand-eye (or more like limbs-eye) coordination skills are. To say that I was apprehensive after seeing the testimonial videos on the TV screen by the counter of Jumping Fitness is perhaps an understatement — despite my strategic spot beneath the AC, I could feel my palms sweating upon warming up on the trampoline. But Coach Ritchie was really helpful in making sure we understand the jumping jargons and moves, along with pointers on what we should/shouldn't do throughout the class. My legs for some reason didn't want to acquiesce to the intense rhythm of the music, so high (and fast) jumps were an impossible feat for me. But it was a great way to work up a sweat — I think I'd hit my cardio quota for the week with one session. This would appeal to anyone looking to work their core out while busting their best dance moves.
Rating: 4/5

Tan Su Fen, Writer
Me and cardio? Not the best of friends, so the idea of jumping constantly for 45 minutes didn't quite sit well with me. But I have to say, it turned out to be a pretty fun and well-paced class. Ritchie was a patient instructor, and gave us pointers throughout the class. It was harder than it looked though cos to reap the full benefits from the trampoline exercise, we had to learn to engage our core and keep it level while jumping — something I kept forgetting as I was so focused on being coordinated instead. If you're looking for a fun and dynamic workout to burn those extra calories, this is definitely a class to try.
Rating: 3.5/5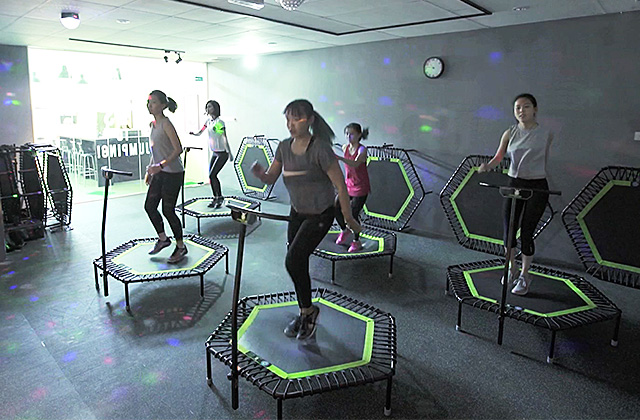 Yi Suen Chong, Digital Designer
Jumping Fitness is a workout that requires a lot of upper and lower body coordination. While I'd like to think I gracefully aced the workout, I did find it hard to follow the instructions, listen to the music/rhythm, and move my hands and legs to where they're supposed to go — all at the same time. If you have an old injury on your knee (like me), I'd advise to take it slow and pay extra attention when you land on the trampoline as it might strain it further. This was something Ritchie stressed about a lot throughout the workout, which shows his attentiveness as a coach. The last move of the workout was the killer part — stomping. What does he mean by 'use your core to jump'? I was so out of breath half way through that I couldn't be more grateful when the music ended and I stepped down from the trampoline. There, my cardio of the week is done and dusted.
Rating: 3.5/5

Jumping Fitness Malaysia is located at The [email protected] Jalil. Find out more on the website or Facebook page.
Related stories:
#FitnessFriday: Team tries a Wireless EMS workout at Be Urban Wellness
#FitnessFriday: Bridal Bootcamp at KOA Fitness
| | |
| --- | --- |
| SHARE THE STORY | |
| Explore More | |