It's been a while since we did anything barre-related so when we discovered Grace at boutique gym Thrive, it was an easy choice. Created by instructor Cassandra Ong — who started out as a ballet teacher — it was a 45-minute class where strength meets cardio in a series of ballet-inspired movements. Watch the video below and read on for our testimonials to see how glute it was.
Cai Mei Khoo, Editor-in-chief
When I heard that Grace is a ballet and contemporary dance-inspired cardio-based class, my immediate thought was that it would be similar to a barre workout. While some moves are similar, I would say that Grace is 'easier' and perhaps more beginner-friendly. The class is largely legs and glutes-focused, with some arms, and core workouts thrown in the mix. I typically favour HIIT-based workouts and thus found the moves in this class a bit too simple and not challenging enough to keep me motivated, but I would probably reconsider if they add an 'advanced' class — gotta work for that booty!
Rating: 3.5/5

Gwen Ong, Deputy Editor
My legs trembled in trepidation when I heard that we were doing a barre-inspired workout for this month's #FitnessFriday episode. Scenes from my previous barre class flashed before my eyes and I was reminded of how sore I was from all the leg work. I'm still building up my lower body strength, so I was worried I couldn't keep up at Thrive. But my fears were put to rest by Cassandra, who led us through the moves with gentle encouragement and clear instructions. The mix of floor exercises and ballet movements was easy to follow and gave us a good stretch. I still hate leg day but I'm glad to be one step closer to getting strong ballerina legs (or so I think).
Rating: 3.5/5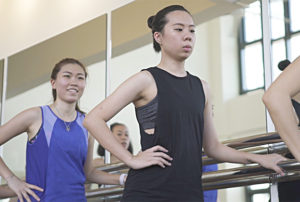 Rachel Au, Lifestyle Editor
Barre is intense but great for toning up the body, or so I heard. The latter was enough to put aside my fear of losing the ability to move my muscles post-workout. Surprisingly, Grace was barre-able. I sweated a lot, my heart was racing, and my endurance was tested. Fair warning: If you're into fast-paced heart-pumping workouts, this would be a breeze for you (as most of my colleagues here felt). For me, I think it's a great class to add between HIIT workouts to give the muscles a good stretch and help firm it up a little.
Rating: 3.5/5

Joan Kong, Senior Fashion Writer
At first, I actually felt quite relaxed about Grace. After all, how hard can a ballet-inspired workout be? While I was right to a certain extent, I definitely underestimated the endurance needed for it. The slow-mo plié squats were a killer to my glutes, and not to mention, the resistance band tricep extensions at the end gave the workout an exhilarating finish — to say the least. Cassandra was patient and approachable throughout the class, making it even more enjoyable. Although it's a slower paced exercise, I still managed to work up a good sweat (as the room wasn't air-conditioned and was a little stuffy). I'll be back to try out their Smash or Sweat classes.
Rating: 3.5/5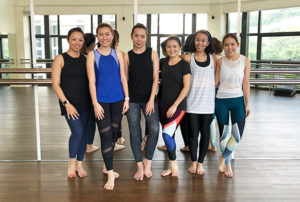 Stephanie Boey, Fashion Writer
I was arguably the most excited about joining this class as …
A) It was my first time working out with the team
B) I've secretly wanted to be a ballerina at certain points in my life
Barre is great for an exercise beginner like me — simple yet effective moves using your own body weight at a regular to moderate pace, on repetition. You'll learn the basic ballet positions while doing intense pulses (great for toning!). Pretending you're a prima ballerina for 45 minutes is definitely an alternative to those who aren't into intense cardio work. With my hands up in fifth position and toes pointed, I found strength in grace (pun purely unintentional, but it works).
Rating: 4/5

Wei Yeen Loh, Fashion & Beauty Writer
Prior to Grace, I was looking forward to that sore, knees-buckling feeling you'd get after an intense barre class (you know, after all that squatting and plié-ing.) But the session surprised me in a few ways: Firstly, it wasn't as challenging as the other barre-inspired classes that we've reviewed for #FitnessFridays. Secondly, Cassandra reminded me a lot of a ballet instructor in the sense that she really put the grace in Grace; so the moves for the class were as rhythmic as they were focused. In a nutshell, it didn't kick my butt as much as I would've thought. But I like that the class was well-paced—definitely one for beginners who are keen on toning/sculpting.
Rating: 4/5

Thrive is located at G-1-08, Plaza Arkadia @ Desa ParkCity. For more info, check out their website, Facebook and Instagram.
| | |
| --- | --- |
| SHARE THE STORY | |
| Explore More | |