After our last kickass #FitnessFriday session, the team decided to look for something less intense for this month's workout. Tucked away in a breezy corner of Jaya One, Cross Muay Thai looked like a pretty cool gym and some of the classes offered sounded less than average such as CrossFight, MaxOut, Body 360 and K-Blast. We opted for Body 360—"A non-impact, floor based class that uses hand weights and other studio equipment to condition and sculpt all body parts." Sounds easy? You'll think otherwise once you watch the video below.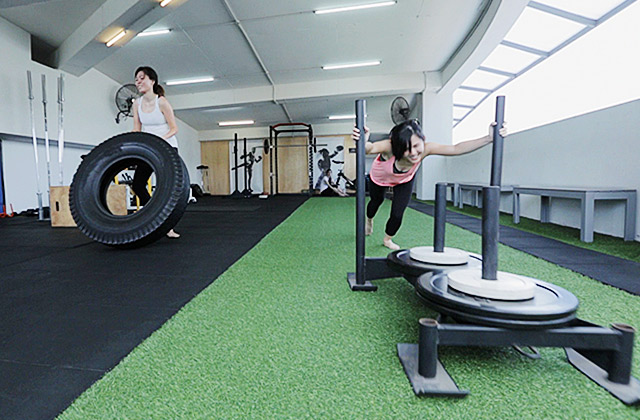 Wei Yeen Loh, Fashion and Beauty Writer
Despite how much I enjoy getting a kick out of strength-training classes, Cross Muay Thai's Body 360 really tested (and pushed) my limits. Obviously, I had underestimated the class description on the site, especially the part where it states that it's "a non-impact, floor based class." First thought: It doesn't sound that bad. How kick-butt can floor-based classes be? But nope, Coach Charmaine made sure we were up for the challenge with fast-paced high-energy moves involving weight sleds (a killer) and tire flips. There's no time to slack in this class, although you might spot me slacking (a lot) in between water breaks throughout the video. This one's for the adrenaline-fueled gym junkie who enjoys a switch in strength-conditioning exercises, and also for those who are looking to get their bikini bod ready for summer.
Rating: 4/5

Yi Suen Chong, Digital Designer
Body 360 is exactly like its name suggests; it had us working out our muscles from head to toe, and from start to finish. I was already out of breath during the first 8-minute Tabata session at the beginning—and that was just the warm up! After that, Coach Charmaine split us into two teams (high five, Rachel!) to do reps and compete against each other. After seeing many people do exercises where it involves flipping a tire, I've always wondered what it was like and I finally had the chance to try it and boy, it was tough! Overall, it was a fun and intense workout that's jam-packed with a lot of high intensity moves (like box jumps). It's perfect for fitness fans who enjoy giving themselves an extra hard push and loves a bit of competition. Oh, and did I mention that Rachel and I won by 0.5 points?
Rating: 4/5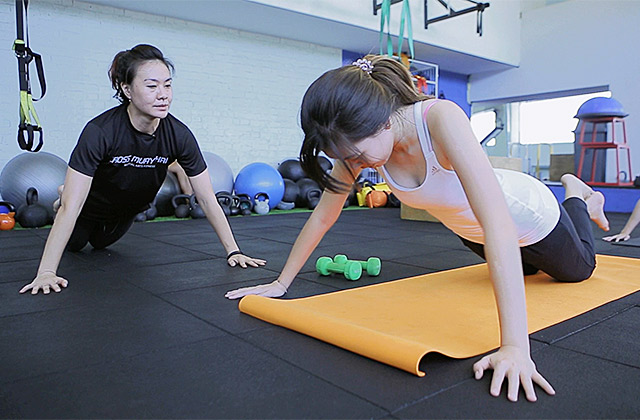 Rachel Au, Lifestyle Writer
When I first discovered Cross Muay Thai, I thought that their variety of classes sounded interesting—especially Body 360. Honestly, it wasn't what I expected (note to self: don't trust the description on the website); but I don't mean that in a bad way. The class was certainly different, if not, super intense and I wouldn't recommend it to beginners (like me). You'll need a lot of stamina and strength to keep up with the class and I was practically waving the white flag after the first eight-minute warm up session. Although immensely tiring, the tire flip and weight sleds were the highlights for me. I nicknamed it the Batman workout (you'll know what I mean if you've seen the recent movie). Overall, I do believe it's a great workout to tone your body but I think I'll need to work on my endurance levels first before trying this class again.
Rating: 3.5/5

Su Fen Tan, Editorial Assistant
Fast-paced from the start, I think Cross Muay Thai's Body 360 class got the better of me that day (as you can see in the video below). They really do mean it when the description says it is to "condition and sculpt all body parts". Coach Charmaine spared no time at all in whipping us into shape, starting us off with a Tabata session as warmup, followed by bouts of tire flipping, box jumps, sled training and the likes—pushing the sled wasn't much of a problem, but pulling it back? It really worked the lower body. Putting us into teams help create a little friendly competition, taking the fun factor up a notch and pushing us that much harder. Will I come back? Yes—but probably not before getting my stamina and endurance levels up so I can keep up better next time around.
Source:https://www.buro247.my/lifestyle/health-fitness/fitnessfriday-team-body-360-workout-cross-muay-tha.html
Rating: 4/5

Cross Muay Thai is located in Jaya One. Find out more about them here.
Related stories:
#FitnessFridays: Team workout at Fuel Athletics
#FitnessFridays: Team Xtend Barre workout at Urban Spring
| | |
| --- | --- |
| SHARE THE STORY | |
| Explore More | |