It has been a while since we took on a spin class, so for this episode of #FitnessFriday we decided to give HIIT2fit's Lean Ride a go. Run by two national triathlon athletes, HIIT2fit is a modern hybrid fitness studio that is ideal for those who want to get 'Lean' and 'Mean', which are essentially the two types of classes that are available at the gym: Lean being a high-energy indoor cycling workout, and Mean a cardio and strength circuit training session.
At HIIT2fit, all workouts are done with a live heart rate tracking system—a heart rate monitor is strapped on to analyse our heart rates, activity time and calories burned, allowing us to see how hard we're pushing ourselves and to optimise our workout efforts. Watch as we take on Lean Ride, joined by a number of adidas creators as we put the new Warp Knit collection by adidas to the test in a high-intensity, adrenaline-pumping class:
Gwen Ong, Deputy Editor
I've decided a couple of #FitnessFriday ago that spin class is not my thing. I don't enjoy pedalling like the ghost from my sedentary world is there to judge me. But by some sheer twisted luck, I found myself back at another spin class, again! This time, my legs begrudgingly trotted down the corridor of HIIT2fit for its Lean session. Honestly, I was worse for wear with lack of sleep and a day from hell. But no time to feel sorry for myself as we geared up in the latest adidas Warp Knit and mount ourselves on the bike with the instructor Chrissy at the helm to spur us on. Unlike previous workout sessions, this is the first time I was strapped up with a heart rate monitor for live tracking. It was a little unnerving to see my name up on the screen where my performance can and will be assessed. However, I can see why this is actually necessary, especially to see if you've pushed yourself enough and how far you can go to achieve the results you want at each class. I learned that the tracking helps to monitor your heart rate and how you can work out to the most optimum zone. If you're competitive, this is also one way to keep track of your 'frenemy'.
Rating: 3.5/5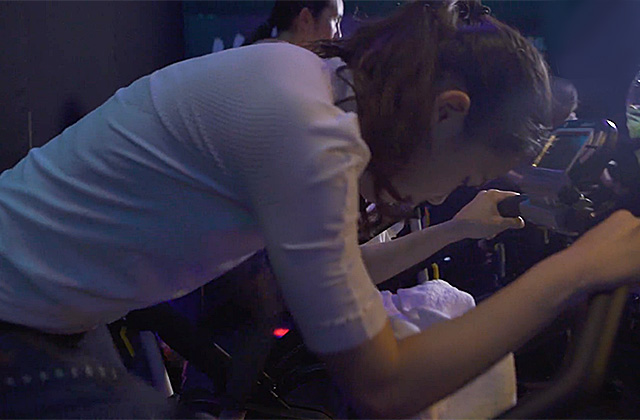 Loh Wei Yeen, Fashion & Beauty Writer
Spinning ranks high on my list of favourite group workouts, so I was quite stoked to try out the Lean Ride class with Chrissy. Prior to the class, we were strapped on with heart rate monitor bands that measure the intensity and effort we put into the workout. We could monitor our stats live on the scoreboard in class (which also means that if I were to slack, everyone's gonna notice.) But Chrissy was really motivating and enthusiastic during the class, incorporating moves that targeted the upper body and core. Also I was pretty glad to be geared in adidas' latest Warp Knit Tights—it provided a great fit and felt like second skin with zero chafing. Getting our overall performance results after the class made me want to push myself harder for the next one—definitely a good enough reason to come back to HIIT2fit.
Rating: 4.5/5

Tan Su Fen, Writer
Like the other spin sessions we've tried, Lean Ride at HIIT2fit was a fun, fast-paced and high-energy total-body workout. But unlike the other classes, we had a heart rate monitor band strapped on. Tracking the level of effort and intensity we're putting into the workout definitely motivates us to stay in the zone. I also learnt that constantly being in the red zone on the heart rate monitor isn't necessarily a great thing—one way of seeing it is that I'm working out at highest level of intensity, but the other reason for the high heart rate could be due to a lack of cardio fitness, which certainly seems to be the more plausible reason for my reading. Along with the push-ups and sprints on the bike were a couple of unfamiliar moves that really targeted the core and had me working extra hard to keep up, but Chrissy's encouragement and infectious energy kept us going. It's most certainly a workout that will have you working up a sweat—good thing we had the adidas Warp Knit gear on to keep us comfortable and cool throughout the ride. I loved the medium-compression fit on the tights, which feels and looks great.
Rating: 4.5/5

HIIT2fit is located at Publika. Find out more about them here.
Related stories:
#FitnessFriday: Team workout at Firestation.fit in Plaza Mont Kiara
#FitnessFriday: Team takes flight at Flycycle
| | |
| --- | --- |
| SHARE THE STORY | |
| Explore More | |