As one particular Trainor used to say, "It's all about that bass."
Sure, the 'Trainor' here hardly qualifies as one to take gym instructions from, but the spunky American singer, songwriter named Meghan has definitely worked out the desires of women (and quite likely, men) everywhere.
A good glute workout usually comes by way of tireless reps of squats and thrusts. BootyBarre targets the same area while chiselling the entire body through a graceful combination of pilates, dance and yoga that can be modified to any fitness level. Started by celebrity fitness trainer, Tracey Mallett, BootyBarre's perfect blend of strength, flexibility and cardiovascular exercise has taken the world by storm and is now taught in 25 different countries. A barre class is often intimidating to the uninitiated but we were assured a fun and energetic workout that could accommodate non-ballerinas and accomplished dancers alike, whether young or old. Basically, two left feet welcome!
So, to pump the bass up, for this month's #FitnessFriday the Buro 24/7 Malaysia team headed over to Activ Studio—based in a slightly less frantic part of Bangsar—to work on our arriéres and derrières.
Gwen Ong, Deputy Editor
Legwork will be the death of me! I've never liked leg days and this class confirmed my weak legs can't (or won't) take any badgering. Okay, maybe just a little. BootyBarre is one intense workout that looks easy but boy, did I work up a sweat! The exercise really stretches and pulls your calf, thigh and butt muscles. Like many young girls, I once dreamt of becoming a leaping and prancing swan but alas, I only have the gracefulness of a duck. This class actually gave me a chance to revisit and fulfil part of that dream. Sure, my legs couldn't lift high enough or go on pointe long enough but the workout was fun and York really pushes you to give it all you've got. I suppose that's important to build the discipline of a dancer. Half-way there!
Rating: 4/5

Loh Wei Yeen, Fashion & Beauty Writer
Barre and I have a love-hate relationship that I always tend to forget (the 'hate' part, mostly)-until I am attempting a relevé plié (with pulsing!), and my quads are practically quivering while my hamstrings burn. But anything for a tush that's perky to boot, right? What I liked about York's BootyBarre class is that she incorporates pelvic exercises to ensure that we are activating the right muscles, because I always forget to squeeze my glutes when I squat. The moves she made us do also worked out our core and improved our posture-something duly needed to fix my terrible habit of slouching. Just a heads-up that after the umpteenth time of curtsy lunging and ball-squeeze squatting, you're going to not be able to sit or walk comfortably for a long/continuous period of time the next day. Definitely recommended if you're aiming to land yourself a booty that's bangin' the quick way.
Rating: 4/5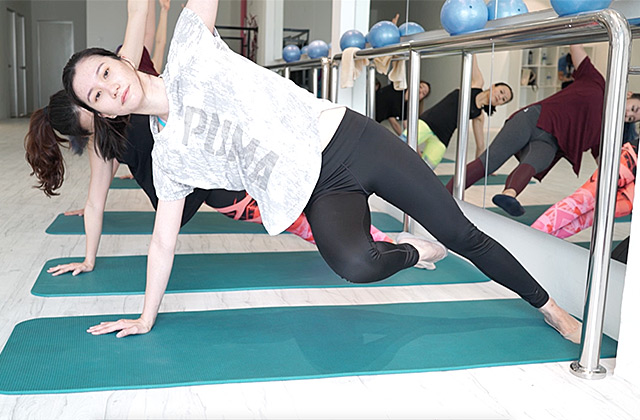 Tan Su Fen, Writer
Burn, thighs, burn—that is essentially what you're in for when you sign up for a BootyBarre session at Activ Studio. But hey, no pain, no gain, right? Be prepared to be well-acquainted with squats and pliés, but in a variation of combinations and exercises that aim to help strengthen, stretch and tone—all to upbeat music which definitely helped keep us going. I also loved how York kept the energy levels at a high from the start to the end, giving us that extra motivation and push whenever we felt like giving up. If you're looking for a workout that really works the lower body (and those buns, of course), this is it.
Rating: 4/5

Alyssa Lee, Editorial Assistant
Gwen has referenced the swan-duck paradigm but I relate much more to a different farmyard fowl. Chicken feet: a delicacy in dim sum spreads but an annoyance at the barre. My knobby knees and lazy muscles were violently trembling by the time we were midway through our tiptoed pliés and side kicks. That aside, the class' moderate pace meant I could keep up despite my lack of stamina. Its ballet roots also emphasised good posture, which meant good form, minimal injuries and maximum effect. A class is only as good as its instructor; and York was fantastic. She had great energy without being overbearing and was well-attuned to each of her students. Needless to say, stairs were torture in the following couple of days. But, I like to give myself props every time I don't chicken out of a work out. Hence, no chicken emoji—instead, a chick (i.e. an attractive female in Urban English) to symbolise my #bodygoals.
Rating: 4/5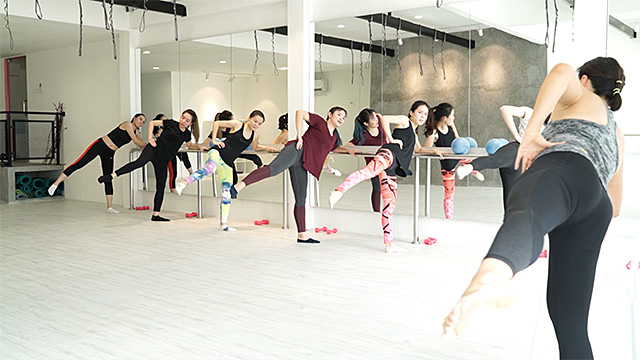 Jasmine Yeap, Marketing & Communications Executive
I've been interested to take part in a class at Activ Studio as I've heard a lot about their unique workouts. After the BootyBarre class, I felt super motivated—it is indeed unique and worth trying out. It had me reminiscing about the contemporary dance classes I did when I was younger. Such a great combination of working out and dancing! I also realised that I'm not really as graceful as I thought—I should work on! The instructor was lovely, and even though the exercises we did seemed simple, it was secretly deadly. I've never felt my booty or legs being worked out in this way in a really long time. I thought that the location of the gym in the heart of Bangsar is great and pretty convenient. With the many malls nearby, it's the perfect place to be during the weekends. The gym is small but intimate. I'll definitely be bringing my girlfriends to Activ Studio with me from now on!
Rating: 4.5/5

Yi Suen Chong, Digital Designer
To be honest, I've never been a huge fan of Barre; even less so after our first Barre workout last year. How should I put it? The gracefulness and elegance of a dancer was never in me, and whenever I plié on tippy toes, I feel I'd fall to the ground from all the shaking my lower body goes through. But to my surprise, I actually had quite a lot of fun during our BootyBarre session at Activ Studio. As the name of the class suggests, most of the workouts are targeted to our glutes. The movements may look simple but boy, the burn I felt during the workout was no joke. Muscles that I didn't even know existed ended up so sore the next day! Not really sure if it was an illusion but I felt as though my glutes are now firmer. Despite feeling like a potato during the class, I'm already planning my next visit. Which girl doesn't like gains at the right places?
Rating: 4/5

The BootyBarre class is but one of many exciting classes offered at Activ Studio. Find out more on the website or Facebook page.
Related stories:
#FitnessFridays: Team Xtend Barre workout at Urban Spring
#FitnessFriday: Bridal Bootcamp at KOA Fitness
#FitnessFriday: Team tries UFO and Superfunctional at EOS Wellness
| | |
| --- | --- |
| SHARE THE STORY | |
| Explore More | |