Watches + Jewellery
Maximilian Büsser of MB&F reveals the brand's 10th anniversary timepiece
Get your heart racing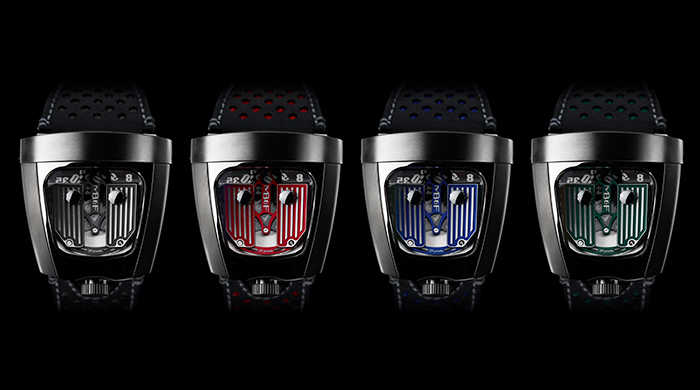 "I believe that all children are super creative, but then 95 percent of them grow up to become boring adults. What happened?" asks Maximilian Büsser, founder of the watch brand, MB&F. "The world tells you to think practically, to be realistic, and then one day you buy into it," I offer in response.
"That's a big part of it," Büsser retorts. "The other big part I discovered in a great TED Talk from Sir Ted Robertson; that children are creative because they're not scared of being wrong. Our parents, professors and bosses are always telling us to be right. So everything conspires to make us scared. And if you're scared of being wrong, you're not going to create."
IF YOU'RE SCARED OF BEING WRONG, YOU'RE NOT GOING TO CREATE
Ironically, or maybe rather poetically so, we're talking about creativity while seated in a non-descript boardroom on the eleventh floor of a homogenous office building in the heart of Singapore's bustling Orchard Road. And on the table, placed on a tray and hidden teasingly under a piece of cloth, is Büsser's latest creation to commemorate the tenth anniversary of his horological company, MB&F.
"For my anniversary, it was really important to go back to that child, to the child that I still am," he says. "Most brands will always, for their jubilee watch, do the most complicated, most expensive piece. But we did something else."
He brings the tray and, finally, lifts the veil. "This is HMX. The 'X' is the Roman numeral for ten," he explains. At first glance, it looks like the HM5 timepiece that Büsser released just last year. "It's inspired by my childhood and how I wanted to be a car designer from the ages of four to 18," he says. "I took the concept that we inaugurated for HM5 – the idea of a car engine – but there's not one component in HMX which is the same. Everything was recreated."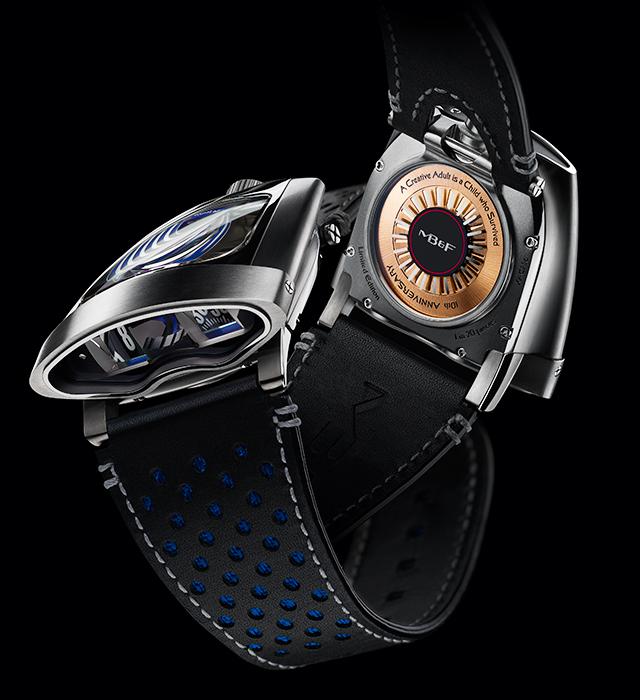 Instead of a black CarbonMacrolon casing that was used for the HM5, the HMX glints in a titanium and stainless steel case finished with a curved sapphire crystal top. "As you can see, there is a real organic feel to it," explains Büsser. "With the crystal top you can see the whole system with the two discs, which have this incredible legibility. It allows the light to stream in and creates an impression that there is an electrical bulb in the movement."
He flips the watch over. "The back of the piece is a full 22-karat gold automatic rotor, and we engineered the movement completely to look like an engine and to work like an engine." He flips the watch back and points to the 'engine' of the watch through the crystal top: "The 'oil caps' are actually functional; the watchmaker unscrews each of them and actually puts oil in them. They're the lubricating system for the two rubies which are the system of the jumping hour and minute display."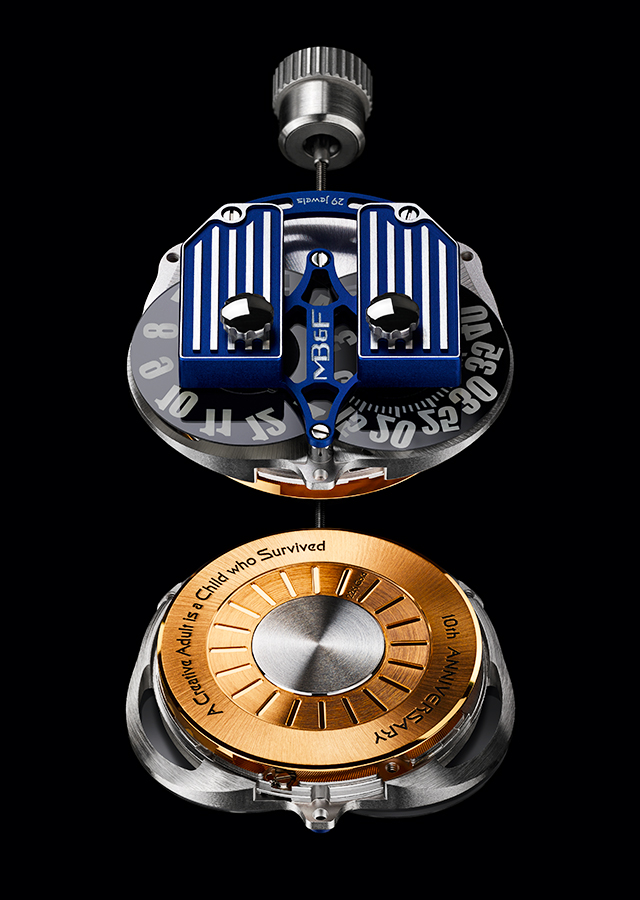 Holding the timepiece in hand, there is a polished sexiness to the HMX. Featuring a 42-hour power reserve and water resistance to 30 metres, this kinetic piece of art is made even more covetable with the option of four colourways: British Racing Green, Bugatti Blue, Ferrari Red and Lotus Black. However, with only 20 pieces created in each colour and a price point that's a fraction of other MB&F timepieces, the HMX is all but sold out.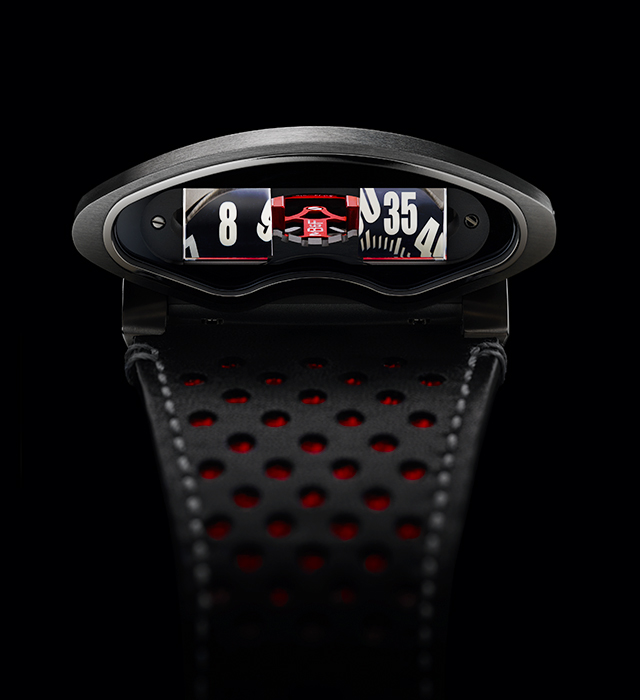 "What's insane is that they were all pre-sold before anybody's seen it," reveals Büsser. "That's never happened to me, and I don't think it's happened in the industry before either. It was the buzz that MB&F was going to do a cool piece, at an insane price, and for one-time only."
But why cut margins when he could have easily charged double and still sell out? "I wanted to give back to all my retail partners and clients who have bought our pieces and enabled us to create for the last ten years," he confesses. "It's much cheaper than my other pieces, but it's made with the exact same level of quality and innovation as all the others. We sacrificed all our margins for HMX. And because we're a breakeven company – we've never made profit, we always reinvest everything – when you don't make margins, you're actually costing the company. The product is losing money because you need a margin to covering the structure, and the R&D, and the employees."
The reasoning sounds dubious: Make watches that lose money in order to give back. Surely this is all marketing talk and costs are still being covered? Surely he has to still look after the bottom line? Büsser assures me otherwise: "I design and do things that make my adrenaline spike, that makes my heart beat faster, and puts a smile on my face. I'm exactly like a kid. No boundaries and no financial or commercial thoughts about it. I don't care what people think. I know why I'm doing it, and those who are important will know. As a creator, life is better this way."
| | |
| --- | --- |
| SHARE THE STORY | |
| Explore More | |