There are movies with gorgeous scenery—and there are those where stunning jewellery steals the show, co-starring alongside screen legends and becoming as well known as the actresses who wear them. Below, get to know 10 of the most expensive and exquisite jewellery ever seen in movies.
Heart of the Ocean Necklace
Movie: Titanic
Worn by: Rose DeWitt Bukater (Kate Winslet)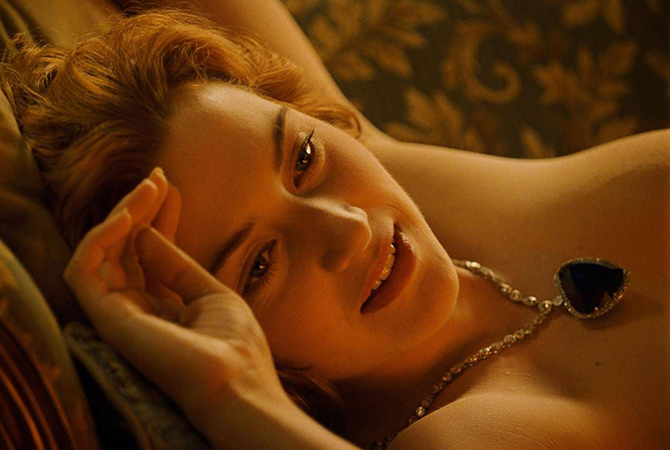 ​​The Heart of the Ocean necklace, seen in Titanic, steals the show with its iconic 56-carat heart-shaped blue diamond. Worn by Kate Winslet's character, Rose, it's unfortunately fictitious but inspired by a real gem. The 45.52-carat Hope Diamond (45.52-carat), extracted from India in the 17th century, is considered one of the world's most valuable diamonds.
While the actual necklaces used in the movie were entirely made of cubic zirconia—a far less valuable diamond substitute—a Heart of the Ocean necklace with precious gems was eventually commissioned. Crafted by Asprey & Garrard (now the House of Garrard), the piece included a 171-carat heart-shaped Ceylon sapphire surrounded by 103 diamonds. It was valued at up to $20 million and worn by Celine Dion at the 1998 Oscars.
Isadora Yellow Diamond Necklace
Movie: How to Lose a Guy in 10 Days
Worn by: Andie Anderson (Kate Hudson)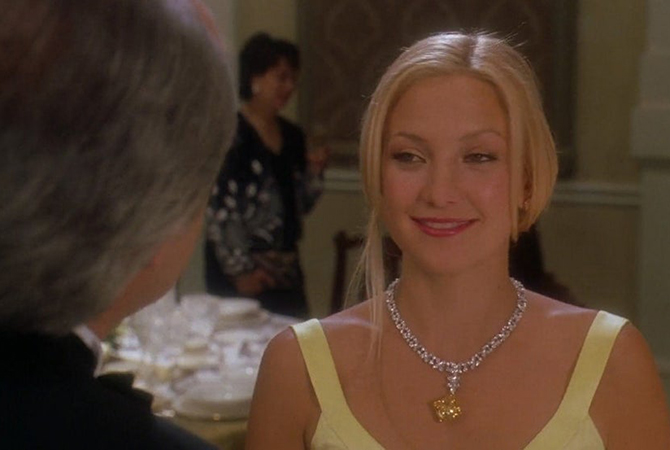 In How to Lose a Guy in 10 Days, Kate Hudson plays Andie Anderson, a magazine writer who dons a stunning yellow diamond necklace at a gala to promote a jewellery brand. The necklace is actually a real piece of jewellery by Harry Winston, boasting an impressive 84-carat yellow diamond pendant called the 'Isadora' (in honour of dancer Isadora Duncan) worth between $5 million to $6 million. The necklace was so well-recieved, it sold shortly after filming to an undisclosed customer.
Satine Necklace
Movie: Moulin Rouge
Worn by: Satine (Nicole Kidman)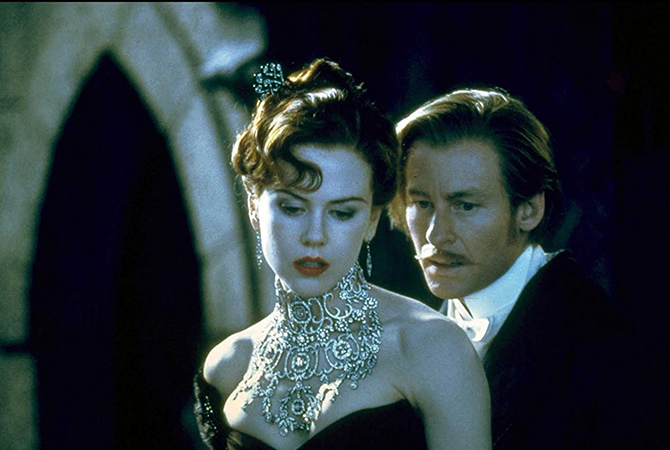 Named after Nicole Kidman's character in the movie, the Satine necklace also comes to personify the doom and possession of the courtesan who is also known as the 'Sparkling Diamond'. As captivating and breathtaking as the character, this 18-carat white gold masterpiece is set with 1,308 dazzling diamonds totaling 134 carats. In fact, the largest single gem is a dramatic five-carat emerald-cut diamond. Designer Stefano Canturi found his greatest inspiration from the Louis XVIl open lacework motif and sought to embody the period's extravagance. Hence, the clasp of this necklace is adorned with a 2.5-carat cabochon-cut Sri Lankan blue sapphire.
Worth an estimated $1 million, the film crew decided to use a replica of the necklace, made of silver and crystals, and with a magnetic clasp, for an intense scene where the necklace is ripped off of Kidman's neck.
Toussaint Necklace
Movie: Ocean's 8
Worn by: Daphne Kluger (Anne Hathaway)
Central to the Ocean's 8 plot is the Toussaint Necklace, where the plan is for Anne Hathaway's Daphne Kluger to wear it to the Met Gala, where it would be stolen from her. ​In the movie, it's worth $150 million dollars but you'd be disappointed if you were hoping to purchase it for your collection.
The original Toussaint Necklace was created in 1931, having been designed by Jacques Cartier for the Maharaja of Nawanagar. Featuring the 136.25-carat 'Queen of Holland' diamond, the original was said to have a cascade of blue-white diamonds. It was eventually dismantled and its diamonds used to create other pieces.
The necklace in the movie is a replica made by Cartier ​​out of zirconium oxides and white gold. The piece took approximately eight weeks to craft in the maison's Paris workshop, with historical photographs and archival drawings referred to in order to have it closely resemble the original.
Tiffany Diamond Necklace
Movie: Death on the Nile
Worn by: Linnet Doyle (Gal Gadot)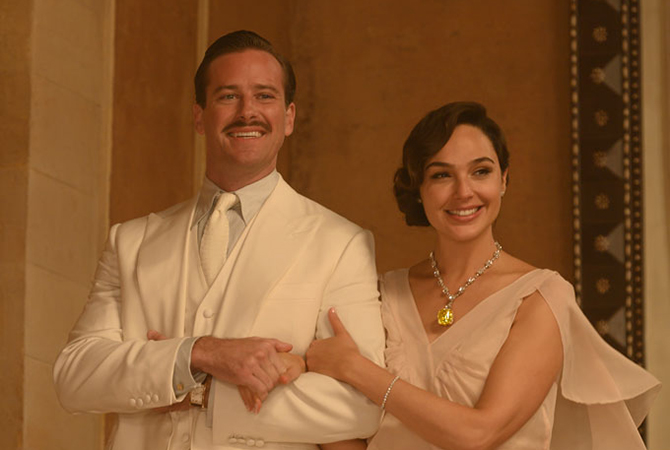 The jaw-dropping 128.54-carat yellow Tiffany Diamond is a pop-culture legend in its own right. It's been featured in Breakfast at Tiffany's, in addition to being worn by luminaries such as Audrey Hepburn, Lady Gaga (who donned it to the 2019 Oscars), and Beyoncé.
Its most recent iteration is the Tiffany Diamond 175th Anniversary Necklace, crafted in 2012. On-screen, the necklace most recently made an appearance in the new production of Death on the Nile, where Linnet Ridgeway Doyle (played by Gal Gadot) receives it as a wedding present from her husband Simon (Armie Hammer). This iconic diamond is so priceless, Tiffany & Co. made various replicas of it for the film for security reasons.
Discovered in 1877 in South Africa, the diamond was purchased by founder Charles Lewis Tiffany for $18,000, who gave it his name and decided to never sell the extraordinary gem. Instead, it's on public display in Tiffany & Co.'s New York flagship boutique, where it stands as a symbol of the brand's excellence in diamonds.
Camelia Poudré Necklace
Movie: Anna Karenina
Worn by: Anna Karenina (Keira Knightley)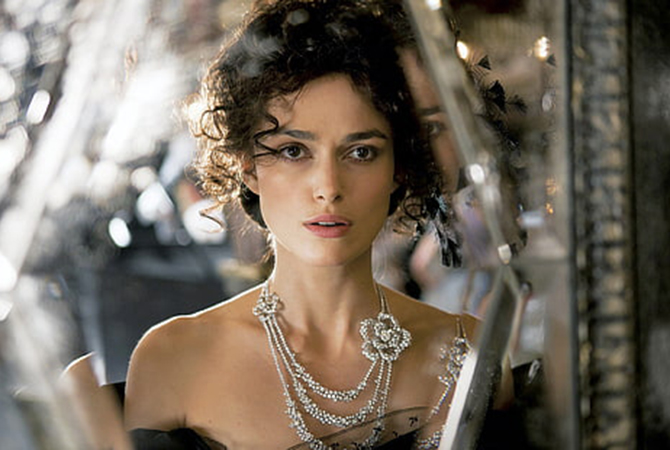 Befitting a movie about a fictitious Russian aristocrat who is highly conscious of her appearance, several stunning pieces of jewellery from Chanel's Haute Joaillerie collection make an appearance. More precisely, you'll spot two necklaces, bracelets, a brooch, an engagement ring, and several sets of earrings. All were fashioned in 18-carat white gold with diamonds and pearls.
The most memorable and expensive piece is the $2 million Camelia Poudré diamond necklace, an asymmetrical necklace with the maison's signature camellias (Coco Chanel's favourite flower) on both sides. It's said that the jewellery was made especially for the movie, as actress Keira Knightley, who portrays Anna Karenina in the movie, is a long-time friend of the brand.
Diamond Choker
Movie: The Tourist
Worn by: Elise Clifton-Ward (Angelina Jolie)
An unforgettable moment in The Tourist is when Angelina Jolie's Elise Clifton-Ward appears on-screen in an understated black dress accentuated with a dazzling diamond choker necklace. There is an unexpected fact: it turned out that the jewellery was an old tiara before. But Its exquisite beauty can be credited to jeweller Robert Prokop, who remade the necklace from an old tiara. It would go on to become part of Jolie's charity jewellery collection, with proceeds from the sale going to the Education Partnership for Children of Conflict.
Bvlgari Necklace
Movie: House of Gucci
Worn by: Patrizia Reggiani (Lady Gaga)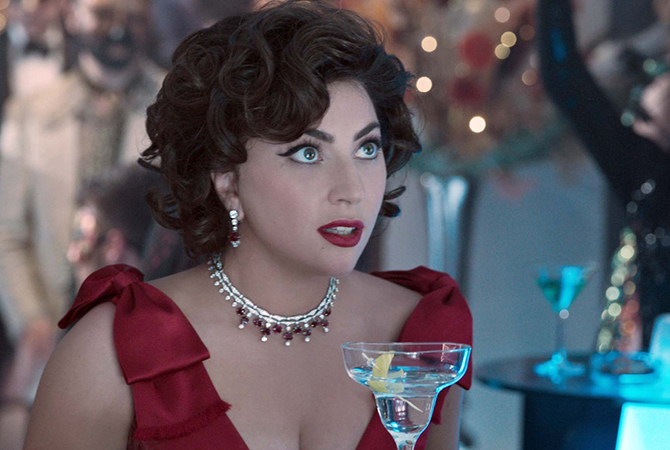 Much like the fashion in House of Gucci, the jewellery in the movie is eye-catching and very stylish. Playing controversial socialite Patrizia Reggiani, the actress appears in one scene dressed in a sizzling red dress with a plunging neckline—showing off a necklace from the Bvlgari Magnifica collection featuring 11 oval rubies and diamonds, paired with a pair of matching ruby and diamond earrings set in platinum.
In another scene, she wears a showstopping collar necklace from 1991, set with sugarloaf-cut stones in multiple colours. This fabulous piece is one of Bvlgari's most iconic heritage jewellery pieces, once famously owned by Princess Yasmin Aga Khan. It's styled in the scene with matching Bvlgari heritage earrings, produced just two years after the necklace, as well as two bracelets from the maison's signature Tubogas collection.
Sunny Side of Life Rose Gold Necklace
Movie: The 355
Worn by: Marie Schmidt (Diane Kruger)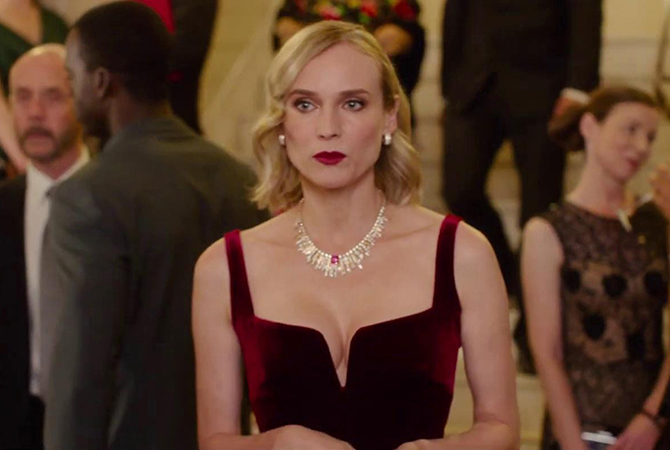 The quintet of multicultural spies in The 355 are ever-glamourous and well-dressed, with expensive and exquisite jewels to complement their outfits. To take on an opulent auction house in Shanghai, German intelligence agent Marie, who is played by Diane Kruger, wears Piaget's Sunny Side of Life rose gold necklace valued at $770,000.
The necklace is made of 18-karat rose gold with intricate Palace Decor engraving, set with a beautiful and rare 8.2-carat cushion-cut pink spinel, It's also adorned with 52 marquise-cut diamonds approximating 13.4 carats, and another incredible 254 brilliant-cut diamonds estimated to be around 19.5 carats.
Three-strand Diamond Necklace
Movie: Grace of Monaco
Worn by: Princess Grace Kelly (Nicole Kidman)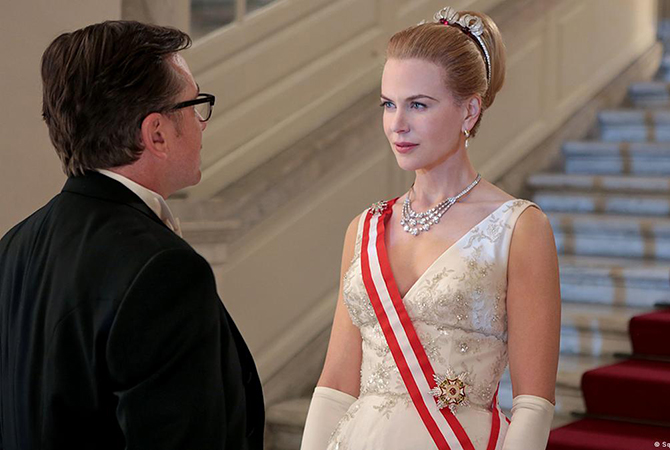 As you'd expect from a biopic about Princess Grace Kelly of Monaco, the film features many breathtaking jewels and gems. These are exact copies of Grace Kelly's signature 1950s Cartier jewellery, of which the most expensive is a 1955 necklace consisting of three diamond strands. It was given to the former Hollywood actress on the occasion of her marriage, along with a diamond and ruby tiara. The necklace's value is estimated to be around $400,000 to $600,000.
Click here for more stories and updates on high jewellery.
| | |
| --- | --- |
| SHARE THE STORY | |
| Explore More | |