Traditionally, buying an engagement ring has always been an in-store and in-person experience, but with the industry evolving and the shift in consumer behaviour, more retailers have been appearing online, with Zcova being one of them. The Malaysian online jeweller has been shaking up the industry ever since its establishment five years ago, and the co-founders of the brand—brothers Low Ziwei and Low Ziyin—pride themselves on being able to offer dual-certified diamonds at a near-wholesale price to their customers.
While we all know diamonds and the 4Cs, there's definitely more to them than meets the eye. We sat down with Ziyin and Ziwei who both gave us more insight into their brand, and diamonds as a whole:
How did the brand start?
Ziwei: Ziyin was working in Lebanon as a gemologist, appraiser, and jewellery designer, but due to its close proximity to Syria, my parents were concerned with his safety, which is why I thought of starting a business together. At that time, I proposed to my then-girlfriend not too long ago, and I remember asking him how much the diamond (that I bought from a renowned brand) cost in the real market. I was very surprised with his answer—I easily paid 50 to 60 per cent more.
He then told me about this online diamond jeweller in the U.S. called Blue Nile that offers high-quality diamonds at a very competitive price point, and their revenue a year? 600 to 700 million USD, which really intrigued me. With the aim to educate our local consumers about diamonds and buying them online, that's how Zcova started.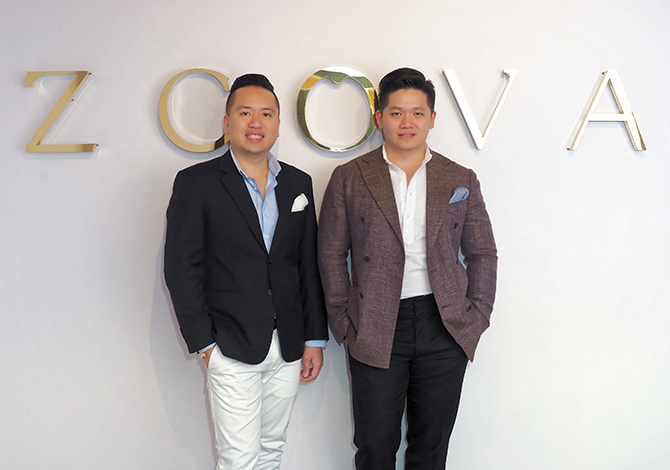 Where do you source your diamonds from?
Ziwei: All our diamonds come from India, Hong Kong, or Israel. Around 90 per cent of the diamonds in this world come from India, as it's the biggest diamond manufacturer in the world. But if you talk about commercial mines, it's in Russia and Canada. Africa has the purest mines, but they only mine big and rare diamonds.
Walk us through the process of purchasing a diamond ring from Zcova.
Ziwei: First, set a price range you're comfortable with. Then, see what kind of diamond shape you're looking for, be it a round or a fancy shape. From there, know your priority—whether it's the size or the quality of the diamond. By quality, we mean colour and clarity. We'll select a diamond for you based on your budget and your priority, and once you're satisfied with it we'll move on to the ring design. You have the option to choose it from our existing catalogue or to customise it, which we'll then provide you with a 3D-printed ring. If you're happy with it, we'll start production.
Tell us more about the new Lumos by Zcova collection.
Ziwei: The Lumos by Zcova collection is all GemEx-certified diamonds. GemEx is one of the two companies in the world that has the technology to certify or measure how shiny a diamond is, and we're the only brand in Malaysia and Singapore to hold the license. So you no longer need to guess how shiny your diamond is—it's not a perceived assessment, it's guaranteed.
Ziyin: If it doesn't measure very high in brilliance, GemEx won't release the certificate, so it's a form of money-back guarantee for customers.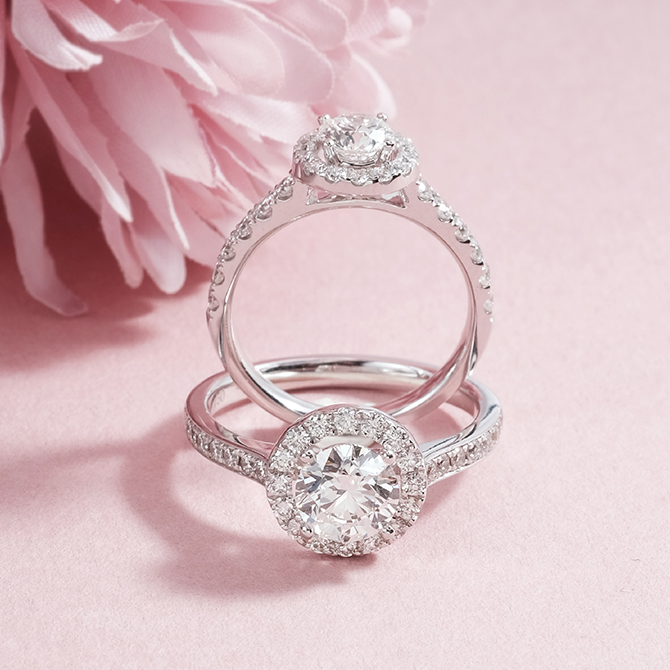 Any plans on venturing into gemstones?
Ziyin: We actually have a lot of sources for gemstones, but we only offer them to customers who request them. When it comes to the big three—emerald, ruby, and sapphire—they all come with certificates from three different laboratories. If it's worth certifying, it'll probably cost around six figures, which is the kind we usually source. Customers don't understand that gemstones from different regions have different pricing and colour. For instance, ruby—the most sought-after is the Burmese Ruby which is bright red, whereas if you go for African Mozambique Ruby, the red is slightly darker, almost maroon-like. Sri Lankan Ruby is light. It's very hard for us to sell online because there are a lot of variations, and we cannot guarantee a customer's specific request.
What's the most complex design you've ever done?
Ziyin: Our collection for Khoon Hooi, for sure. It's very, very complicated. We don't have a 3D printer at that time, so everything was done by hand, from the carving to the intricate designs. The chrysanthemum and peony pieces were the most difficult to make—they took me a couple of months just to make sure they come out nicely.
What's your biggest achievement so far?
Ziwei: The fact that we're able to educate the community to understand that buying diamonds online is normal. When we first started out, even our parents said selling a RM20-30k item online won't work—everyone was sceptical. Three years ago we had to convince customers to buy diamonds from us, but now, people come to find us, and it's mainly through word of mouth.
What's next for the brand?
Ziwei: We're planning on expanding our presence in Southeast Asia—mainly in the Philippines, Indonesia, and Thailand.
The burning questions about buying diamonds online:
Is it safe to buy diamonds online?
Ziwei: Buying diamonds online is actually the safest thing to do. Our supplier is one of the top 10 biggest diamond suppliers in the world, and they supply some of the most renowned jewellery brands. The stones you see on our website are the supplier's inventory.
How would I know if it's a good diamond if I only look at it online?
Ziyin: Then the question comes—will you be able to tell the difference if you see it in person? Online actually gives you a better look as we have a 360-degree view of a diamond and it's 10 times magnified, which means you can see any imperfections clearer. GIA gemologists and many retailers, including us, buy diamonds online, and looking at the actual diamond isn't the best way to determine the quality.
How will I know if the diamond I got is really the one I purchased?
Ziwei: All GIA diamonds have a number encrypted into the girdle of the diamond. It's as thin as a strand of human hair, and when you purchase it from us we'll send you a video of this encryption.
Can I see the process?
Ziwei: We're the only company that does a three-point check. After confirming your purchase with us, you'll be able to see when the diamond arrives in our store, when the diamond goes into production, and when is the diamond delivered to you.
Are you relying on shipping services for such an expensive product?
Ziwei: All of our products are insured, from the day you buy them until they reach you. For local purchases, it's insured by Liberty Insurance. International-wise, we use Malca-Amit—they specialise in delivering high-value items, from transporting 10 metric ton gold bars from Singapore to Hong Kong to handling deliveries from all over the world for a Christie's Auction in London.
Tips on buying an engagement ring:
What are some of the things a guy should take note of when it comes to buying an engagement ring?
Ziwei: When it comes to buying engagement rings, it's a very vulnerable moment for the guys—they often have no idea what they're buying and it's the best time for a salesperson to upsell them.
The most important thing is to know and stick to his budget—you can always adjust the 4Cs to match that. Secondly, the carat size, and then the cut. Often times we meet customers who look for colour and clarity first—a higher-end clarity equals a very brilliant diamond. But they don't know that the gem needs light to shine, which is where the cut comes in. Without a nice cut, even the best colour grade might look dull and dark. And to be honest, do girls really care about colour and clarity? The first thing they usually ask is how big the stone is and its shape.
Ziyin: We always remind them that the engagement is only a small part of your worries. The main focus is the wedding.
Colour vs. clarity. Which is more important?
Ziyin: Colour. Clarity is the least important. Clarity is the impurities of the diamond—what you see on screen is 10 to 20 times magnified, but when you look at it with your naked eyes, you won't be able to see it. Colour-wise, you'll still be able to see any yellow tint. The best way to look at it is from the bottom of the diamond where it has the least facet.
How do I get my girlfriend's accurate ring size without her knowing?
Ziyin: If she wears jewellery then that's best—just send it to us and we'll measure it for you. If she doesn't have any, we always ask them to tell us how tall she is. We can estimate the ring sizes by height, and that's always fairly accurate.
Diamonds are forever, but are they worth the investment?
Ziwei: Yes. Diamond is a very good investment asset because it will retain its value and not fluctuate too much. Unlike gold, which depends on the economy, diamonds' price has always been very stable. But of course, it depends on your purchase price. If you buy it at a near-market price, it takes you lesser time to recoup.
Thoughts on lab-grown diamonds?
Ziyin: Ah, the great debate (laughs). To us, diamonds are a type of natural resource found on the land, which is owned by the country. The big question is: Would you want to enrich a private company or a country by helping to grow their GDP? So it depends on how you want to see it. Aside from that, to produce one lab-grown diamond, the energy used can mine three diamonds.
For more info or to see their inventory of diamonds, check out Zcova via their website, Facebook and Instagram.
| | |
| --- | --- |
| SHARE THE STORY | |
| Explore More | |