Watches + Jewellery
Buro 24/7 Exclusive: An interview with Chopard's Caroline Scheufele
Dancing diamonds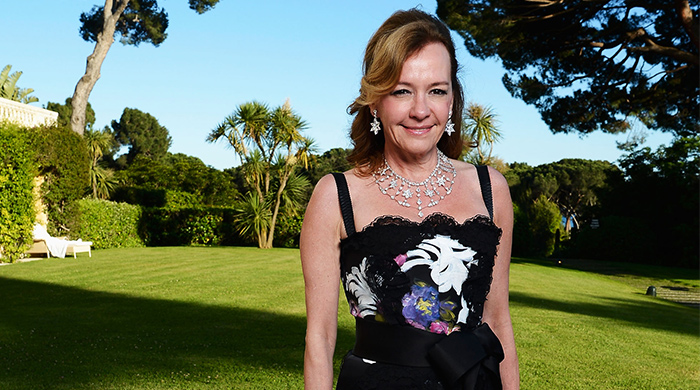 In the 1970s, Chopard designer Ronald Kurowski was enamoured with the glistening minute water droplets that he spotted at a waterfall in Germany's Black Forest. The way the droplets reflected and dispersed the sunlight had culminated in a multicoloured arc that sparkled like a rainbow. Inspired by that sight, he brought forth that idea in the form of a dazzling aray of loose diamonds that can move freely, henceforth conceiving Chopard's iconic Happy Diamonds watches range.
This year, the Happy Diamonds range celebrates its 40th anniversary with a limited-edition timepiece that sports free-floating prong-set diamonds with a white mother-of-pearl dial. We had a chat with Chopard's Co-President and Artistic Director, Caroline Scheufele, on what makes Happy Diamonds appealing to the clientele of today along with what constitutes a timeless watches and jewellery collection:
How do you constantly reinvent the Happy Diamonds range while keeping it contemporary and appealing to the generation of today?
Being a woman, I can easily capture all feelings and requests of women and of course, my business trips all year long inspire me a lot. I meet many different women with great styles that can influence my collections.
What is your favourite piece under the Happy Diamonds range?
It is a difficult question, but it's the 40th Anniversary of the Happy Diamonds concept this year and I have been loving our new cushion shaped Happy Diamonds watch. It's lovely with the mother-of-pearl dial and diamonds with a bold and chunky shape. And with the new prong setting for the floating diamonds, they are even freer and happier.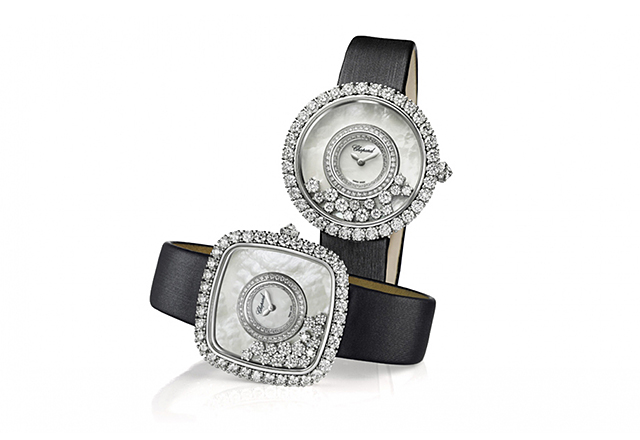 How do you think Happy Diamonds have evolved from its inception 40 years ago?
Chopard designs are always very creative and we craft "objects of desire". I expect from my team to always push the boundaries of creativity and technique, using for instance new setting processes. This year, as we celebrate the 40th Anniversary of this collection, we reimagined a new interpretation called Happy Dreams that features mother-of-pearl background, displaying a new moving diamonds in a new 'prong' setting, a new technique that reveals the diamond in all of its pristine clarity.
How do you think the client demographic for Happy Diamonds has evolved from the inception of the collection until now?
The Happy Diamonds concept was initially embodied in a men's timepiece I reused this concept for my first jewellery design, an articulated clown with diamonds and precious stones in its belly. It encountered a lot of success and was developed into our iconic ladies' collection. Since then, many interpretations of the original concept have been introduced. Happy Diamonds became throughout the years an icon for ladies with a playful mind. Our little heart pendant can be a first piece of jewellery for a teenager, and some bolder pieces, set with diamonds can appeal to ladies.
What do you think has attributed to the success of this collection?
It is such a unique concept that has become an icon and the watch DNA of the collection as Happy Diamonds is recognizable whether it is Happy Sport or the classic Happy Diamond watches or jewellery. Each piece of this collection offers infinite variations; from classic to more daring designs. The large selection gives the customers the possibility to be creative and free!
A few exquisite forms have been designed under this line—how do you choose and decide upon newer shapes and elements?
It depends on my inspirations of the moment; the clown, because I have always loved the circus, the ladybird because it brings good luck.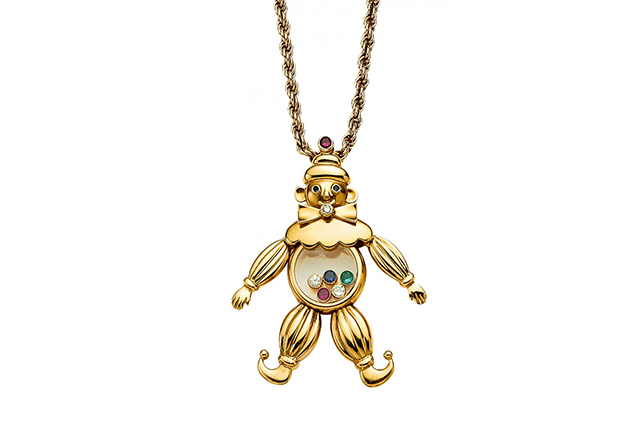 What can we expect from the Happy Diamonds collection in the near future?
I have a few ideas, but you will have to wait to discover them!
Generally, what do you think the customer of today wants to see in a watch and jewellery brand like Chopard?
Our clients are looking for excellence in both quality and design, and they want to be surprised, dazzled by the new pieces.
What do you think makes a watch and jewellery collection a classic and timeless one that remains relevant through the years?
A classic and timeless piece must have a unique and timeless design and an exceptional quality.
Related stories:
Chopard L.U.C XP Skeletec bares its bones with an ultra-thin movement
Chopard unveils its 2016 Red Carpet Collection – and it's a sight to behold
| | |
| --- | --- |
| SHARE THE STORY | |
| Explore More | |