Uncategorized
#MCODiaries: Actor Lawrence Wong on his life in lockdown, and his 'Friend of the Brand' journey with Montblanc so far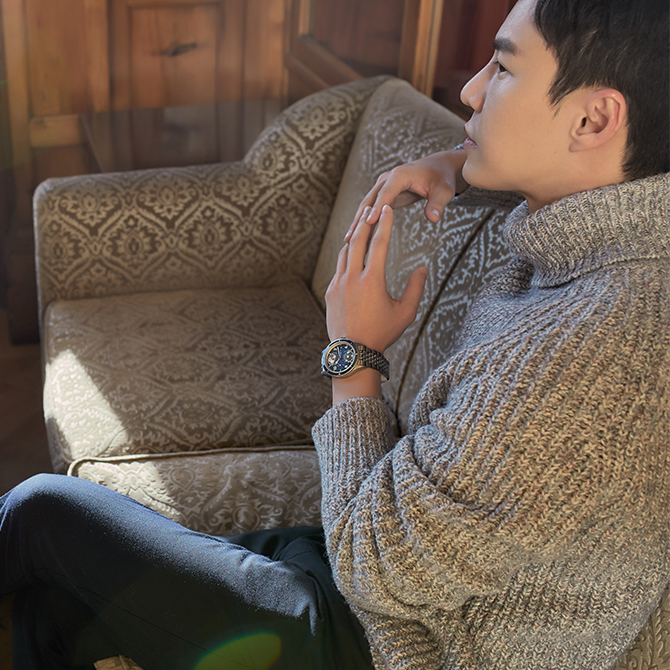 Having acted in dramas in Malaysia, Singapore, and Thailand, Lawrence Wong was catapulted into the international spotlight ever since he starred in the popular 2018 Chinese drama, Story of Yanxi Palace. It didn't take too long for Montblanc to officially tap him as its first 'Friend of the Brand' in Malaysia, and almost two years on, the actor, who is currently promoting Girlfriend—his first Chinese drama as the male lead—has collaborated with the brand on numerous memorable projects. Most recently? A trip to St. Moritz, Switzerland for a special shoot featuring the new novelty in the Montblanc 1858 family.
As Lawrence is currently under the circuit breaker lockdown at home in Singapore, we got in touch with the actor who lets us in on what he's been up to, and his thoughts on his journey with Montblanc so far.
How are you doing during this circuit breaker period in Singapore?
I'm good! I've been self-recording a lot of interactive contents and interviews for various media in Southeast Asia and China to promote my latest series that's currently airing. Otherwise, I'll just spend my time reading or preparing for my next role, as well as getting a good rest!
What's your daily routine like?
I usually wake up at around 8 or 9am, and I'll have my usual dose of vitamins and supplements before I check my phone for about an hour. Then I'll read my scripts for the next project or do some home workout until lunchtime.
After lunch I'll start recording the various interviews and video clips for media, and that can easily take me all the way 'til the evening—trust me, there's a lot! This is then followed by dinner while I watch some TV, before catching up on my readings and get ready for bed.
You've been Montblanc's Friend of the Brand for almost two years now. How has the experience been like so far?
It's been such an amazing and magical journey with Montblanc. Looking back, I can't believe how far I've come along with the Maison. We have both evolved and withstood industry changes, market shifts, and even dealt with the current situation! And that is something I can resonate strongly with the brand. Our resilience.
What is it about Montblanc's aesthetic that resonates with you the most?
I always embrace challenges and the unexpected, and I constantly push myself into the unknown in order to leave a mark. Similarly, Montblanc has also been a Maison that has continuously pushed the boundaries to achieve new heights.
We love the images of you featuring the Montblanc 1858 Geosphere. Where was it shot at, and can you tell us more about it?
The shoot was conducted at St. Moritz, Switzerland back in February. I'm glad to have a breather riding onto this trip with Montblanc right after I wrapped up my hectic filming schedule. I had the chance to spend three days in nature and explored the distinctive sights the area has to offer.
I took a two-hour hike to conquer the Morteratsch Glacier and also had the chance to discover the scenic view of Pontresina ice waterfall. I was also impressed by the natural surroundings at Muottas Muragl that gave me a sense of tranquility. That was actually my very last trip before things came to a halt, and I'm glad that I got the chance to unwind at such a beautiful destination. The trip has taught me to cherish every moment at every stage of my life. After all, life can only be understood backwards; but we must be live forward!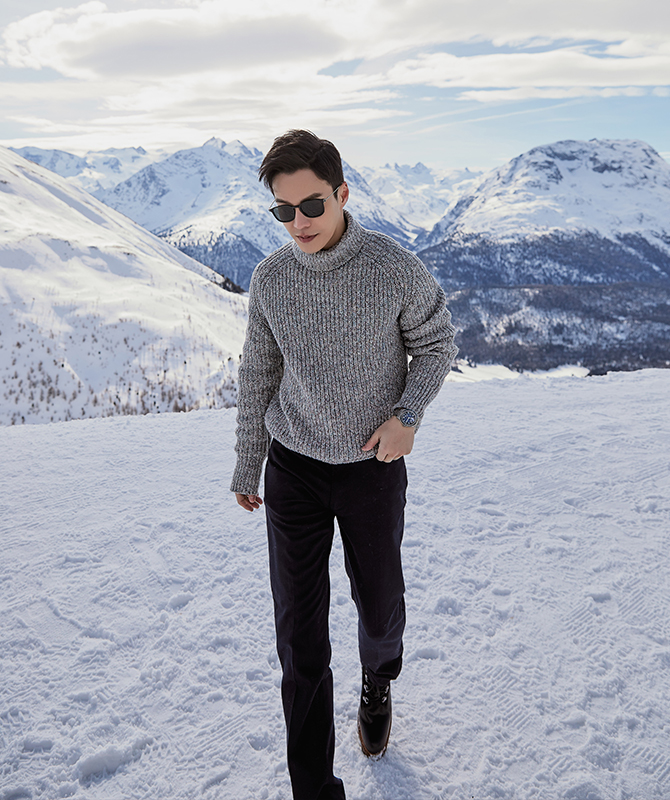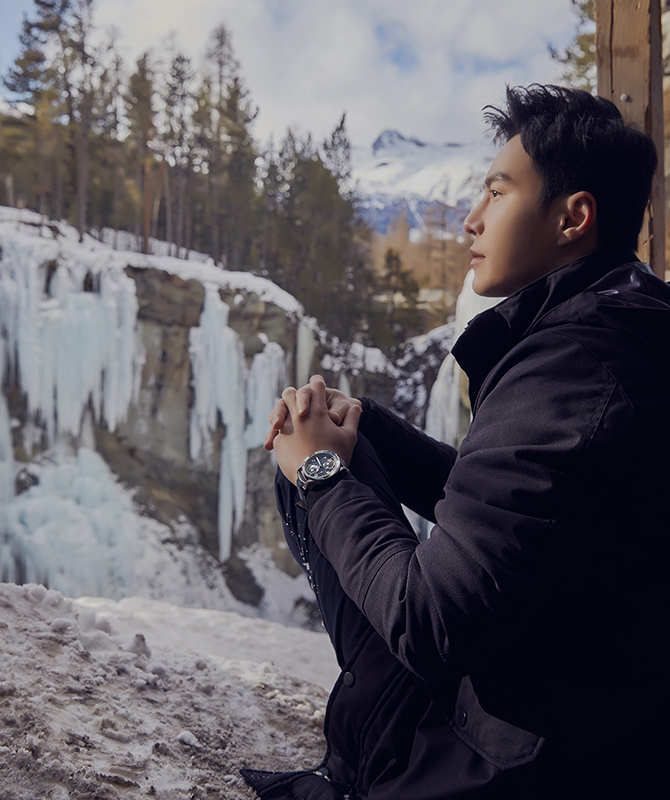 What are some of your favourite details of the watch?
As a frequent traveler, its unique feature of the Northern and Southern Hemispheres that complete one rotation every 24 hours is what I appreciate the most. My other favourite elements include the durable grade 5 titanium case and the new bi-metal bracelet. Even with all these details, the watch is light and sits comfortably on my wrist!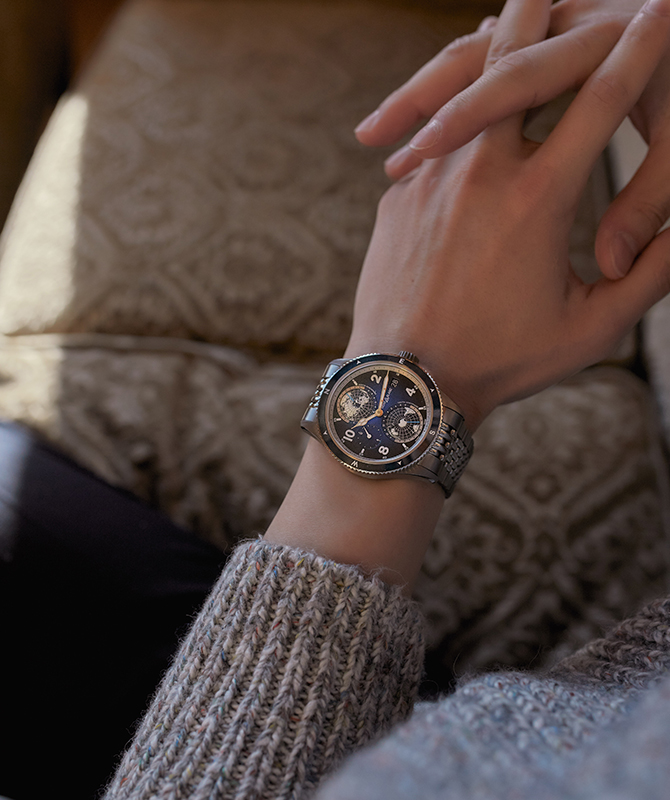 What are your thoughts on watches as an investment piece?
Beyond the monetary investment, there's that sense of appreciation and pleasure of ownership. A fine watch is a masterpiece from pairing top-notch quality with exceptional craftsmanship—it withstands the test of time.
On top of that, besides complementing the lifestyle and the needs of its owner, every watch has a story to tell, and these are the emotional connection it has to offer. This is especially true for vintage pieces and limited editions, and I have one from the Montblanc 1858 collection. It's a statement piece that subtly exudes the wearer's personality as well.
How do you describe your personal style?
My style is simple, clean and timeless with a touch of edge.
Aside from watches, what are your must-have fashion items in your wardrobe?
White T-shirts—short sleeve or long sleeve, you name it, I need it. Also, caps! It's been so long since I last styled my own hair as I'm almost always working and I leave it to the professionals to make me look good. When I'm not working, caps are my saviour.
Describe your typical stay-at-home outfit.
T-shirts and boxers! (laughs)
What do you have lined up after the circuit breaker is over?
I'll be shooting a brand new series about ghosts and I'm acting as a research student who can see spirits. He's kind-hearted and full of love, and he finds himself helping them to fulfill incomplete tasks so that they can move on to the afterlife. I also have another two series which will be aired this year. They are One Boat One World and Love and Passion.
Also read: #MCODiaries: Model Janice Low's dramatic trip back from Singapore, and her hotel quarantine life
| | |
| --- | --- |
| SHARE THE STORY | |
| Explore More | |