It's impossible to talk about notable watchmakers in the industry without mentioning Kurt Klaus, the influential master watchmaker behind the crown-operated perpetual calendar system that launched IWC Schaffhausen to its pinnacle in the mid-1980s. Having spent more than five decades at the brand, Klaus first joined the company at 21 years old, fresh out of the Solothurn Watchmaking school. The storied watchmaker has racked up a list of innovations under his name at IWC, from the iconic Da Vinci Perpetual Calendar to the Grande Complication 3770 (a grand complication watch incorporating his perpetual calendar). After retiring as the head of development & construction in 1999 (at the age of 65), Klaus is now the global brand ambassador for IWC, traipsing the globe to share his passion and education of watchmaking with fellow watch lovers.
Recently at IWC's 150th anniversary exhibition, the Swiss legend gave his insight on the success of IWC throughout the years along with his favourite part about the job:
What has contributed to IWC's success so far?
During these 150 years, I see it in two parts. After founding IWC by F. A. Jones, the 100 years after that were a big success. IWC has always produced pocket watches and wristwatches in high quality — this was Jones' idea from the start, to create the best timepieces. We had the best accuracy (two to four seconds a day difference), but this was nothing compared to quartz watches that were introduced to the market later on.
IWC never made any complications at that time, and only pocket/wristwatches in recent times. So I thought we should make something fascinating. I started slowly initially, but at that time, it was not good to create something special. But the management said, "Let's make an experiment." So we made limited-edition pocket watches and called it a moonphase watch, and we presented it at the watch fair to see if there were any interest from buyers. It was a wonderful success. Of course, it was only the beginning. 100 pieces for a watch factory is nothing, but I was allowed to continue to make more — a nice indication, a zodiac watch, etc. Then one day my sales director came to me and said, "The trend for pocket watches is over." Now it is wrist watches — and that was the beginning of the Da Vinci Perpetual Calendar.
For me I was very happy to have this task. I was working five years to realise it and it was wonderful to see its success. I never was a watchmaker for the haute horlogerie, but to make a calendar for industrial production — this was never done before. Every perpetual calendar before was a piece of art. Our competitors weren't happy, naturally, because in April 1985 we presented the Da Vinci Perpetual, and in August, we delivered the first batch. In November, the first 500 Perpetual Calendars were sold. And later, after two years, we got a production of 2,000 Perpetual Calendars in one year. It was well-received for good reason: It is easy to use, and it's 10,000 Euros less than our competitors. IWC is often touted the engineer of the watch industry, and this is something I think is true.
When you worked on the Da Vinci, what were some of the challenges you faced?
As a one-man team at that time, it was impossible for me to create a completely new movement with a perpetual calendar. The idea was to use an existing movement we had in our collection and set atop a calendar mechanism. It was easier for me to manage this within five years. Another challenge was to figure out which basic movement I can use. We had no more movements in production at that time — it completely stopped during The Quartz Crisis. But at this time we had a new CEO (Günter Blümlein), and I told him my idea and as an engineer himself, he understood what I meant, despite not being able to help me.
There were wristwatches with perpetual calendars but not with a chronograph. We had more than competitors had, and at the time of 1985, we decided to combine the existing perpetual calendar and chronograph with a minute repeater. It was the most complicated wristwatch in the market. The next challenge was to make the parts. I made all the prototypes myself — this was the biggest challenge actually. Then computers came along. I got my first computer in 1988. Back then I heard that there was a new system called CAD (computer-assisted design), and thought "I must have it!" But at the end of the day, it was still challenging to produce the parts. Then I had my first computer milling machine. The program on the computer could produce the parts and it was an electric wire cutting machine. The next step was to get online (connecting my computer and the machine.)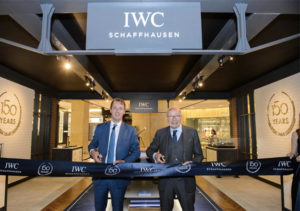 You've been at IWC for many decades. Which timepieces do you have a soft spot for?
I like my Da Vinci, of course. It was the first real complication I had and it was the beginning of the success at IWC after 1985. For this reason, it has always been part of my life. When people talk about me, there's always the relation. But, I made many other products. In the 1980s, I worked with famous watchmaker Giulio Papi — a great guy with many fantastic ideas. He loved working with computers and he had the best ideas. After four years we launched the Grande Complication. I got a bigger team after that, although Giulio was not employed by IWC. One favourite highlight of mine is the Tourbillon. When I developed the automatic movement for the Portuguese, I wondered what I can do more with this movement. I reconstructed the Da Vinci Calendar to make it bigger with the same functions, but on the 38mm. And this was then the Portuguese Perpetual Calendar. Later, I wanted to make it something more. I placed the balance wheel on the right place and I left it and it became the Tourbillon. Today, the normal watch movements are more accurate than a Tourbillon, but it is a question of the beauty.
This combination of engineering and beauty has contributed to the success of IWC. Every new piece I made, I loved. I was working 10 years after retirement, working alongside young engineers and it was a good time. We had very good relationships and I accepted their new technologies from their schools. They accepted all of what I did before as well. This was a very good combination — the haute experience with new technology. Now I can see what they're doing and go, "Ah, it is built from something I have created previously!"
What is your favourite part about being the global brand ambassador of IWC?
The most important thing for me is to be in contact with many people, from journalists in Japan and South America to the consumers of IWC. We have many good friends of the brand. It was so lovely on the first evening during the opening of the exhibition, when so many people came up and told me, "It is good to see you again, we last met 10 years ago in Singapore!" I  also like China — the country, the people, I like it all. I have no favourite country though; I cannot compare China with another country like Argentina because it is so different.
| | |
| --- | --- |
| SHARE THE STORY | |
| Explore More | |