In 2004, Hong Kong actress Maggie Cheong turned heads as she picked up her Best Actress Award at Cannes Film Festival wearing one of Qeelin's first jewellery creations—a single statement Wulu earring. The Chinese gourd motif, an auspicious Chinese emblem, will go on to become one of Qeelin's iconic collections, winning hearts the world over with its contemporary lines and distinctive shape.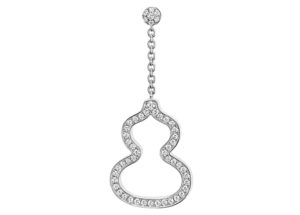 The iconic Wulu Earring in 18K white gold
Now you can admire the Wulu and its many iterations in person at the new Qeelin boutique in Suria KLCC, where you'll also find the fine jewellery house's other creations, all of which reflects its unique DNA that takes inspiration from traditional Chinese symbolism.
"I am inspired by Chinese culture, and I aspire to make it more accessible with playful and modern nuances," Dennis Chan, founder and creative director of Qeelin, tells Buro Malaysia during his recent trip to Kuala Lumpur for the launch of the store. "Take the Wulu for example. The idea was to transform something traditional with a modern touch. Some people might recognise the Wulu and its symbolism, but others who don't are still attracted to the design itself. It can resonate with anyone."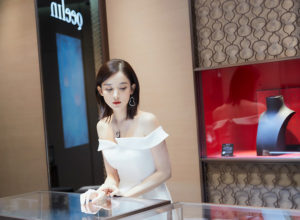 Brand ambassador Nazha graces the boutique launch dressed in Qeelin's siganture pieces
How does he keep a design like the Wulu, which has been with the brand since the beginning, fresh and current through the years? Turns out, Chan's head is always bubbling with new designs and ideas. This year sees the Wulu pendant take on street-cred material with the pairing of denim alongside white gold and diamonds. Meanwhile, those who prefer wearing the good luck charm on their wrist can also opt for the jewelled Wulu buckle that comes with a variety of interchangeable bracelets, allowing you to switch between straps in denim, leather and even rose gold diamond as you desire.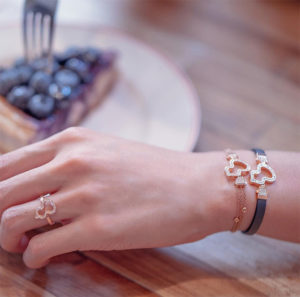 The many facets of Wulu
Another design that is unmistakably Qeelin's is Bo Bo, a beloved symbol of peace in the form of the panda. Crafted in 18K gold and precious gemstones, Bo Bo shows off the brand's playful side with its mobile limbs (yes, it moves!) and optional accessories. "Qeelin is not just about design, but also emotion," says Chan. "As a result of our craftsmanship and attention to detail, you'll find many well-articulated elements in our creations, and every jewel is playful—like Bo Bo, you can even change his outfits."
Chan shared further: "As a Hong Konger who grew up in the UK, I've experienced many wondrous cultural exchanges. Malaysia, like Hong Kong, is a magnificent land of plenty with a rich cultural heritage. I think Malaysia is full of promise, inviting curiosity and innovation on one hand, while respecting tradition and heritage on the other. And that's exactly what Qeelin is about."
The Qeelin flagship boutique is located at Lot G29A, Level Ground in Suria KLCC. 
| | |
| --- | --- |
| SHARE THE STORY | |
| Explore More | |