Bella Hadid needs no introduction. Having secured the ninth spot on Forbes' list of 10 highest-earning models in 2017, things are only going two ways for the It-girl, and it's onwards and upwards. As the ambassador for TAG Heuer, the supermodel made her first trip to Malaysia for one night only, and made her appearance at the Swiss watchmaker's store At The Gardens, before changing into a beautiful corset dress by Farah Khan (from the Maitres de l'Art collection) for the night event with KL's It-crowd. Arguably the sweetest star we've had the chance to speak to, we sat down with Bella to talk about on all things watches, and how she deals with pressure.
You've been the face of TAG Heuer for two years now. How has the experience been like for you?
The brand is unlike any contract or campaign that I've had. For me, it's not only about taking the picture—it's also about the experience. They really became my family, and for me, it's important to work with brands that I love—I respect the people who work at TAG Heuer and I've learned so much from them. I find comfort in familiarity, so seeing people like Annick (the brand's Director of Events and Ambassador) or any familiar faces when I'm overseas makes me feel at ease.
The Link Lady Bella Hadid watch is a beauty! Did you have a say in the design?
Yes, I wanted a black Mother-of-Pearl dial to complement the colour of the watch, and I love how it gives the diamond bezel and hour markers a pretty contrast. I usually dress very simple, so it's really the perfect watch for me—it's a versatile timepiece.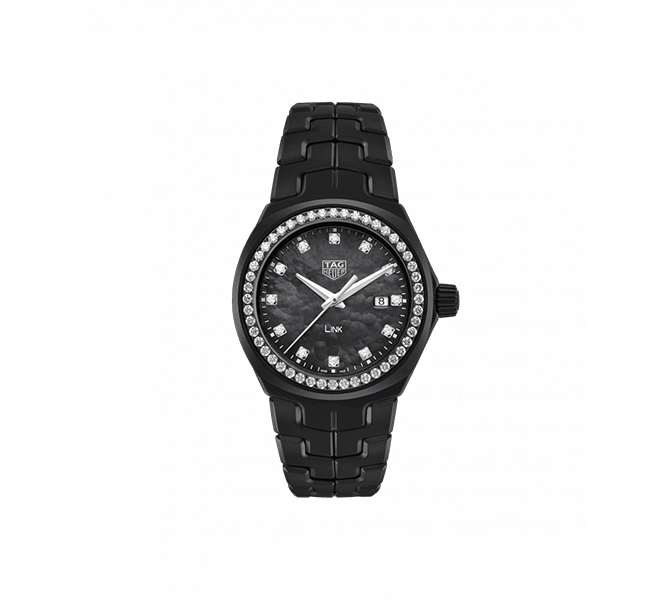 What's your favourite outfit to wear with that watch?
What's great about the watch is that you can pair it with different outfits. For example, my evening dress still goes so well with the timepiece. My go-to outfit would be a black T-shirt, Levi's jeans and a pair of heels!
TAG Heuer's tagline is "Don't crack under pressure". How do you deal with stressful situations?
First, I'll call my mum and ask her how to deal with it (laughs). I meditate a lot, and I think it's very important to take each day as it comes. My schedule is really scary—everything is planned six months ahead. If I look at next year's line-up without anything planned for myself I'll start stressing out, so I'm just taking it one day at a time. But of course, some pressure is always good.
Does anyone in your family collect watches?
My dad is the biggest watch collector. I remember he would have these big boxes—some were even locked—in his closet. Seeing the different timepiece, analysing the differences between the brands, and what each one meant to him was so fascinating to me. My mum is just like me-she's very simple with her jewellery.
If you could turn back time, where would you go?
I would go to my best friend Gabriella's house during my sophomore year of high school on a Saturday. Her house was recently destroyed by the Malibu fire, and we were looking at old pictures of us in her backyard, so I've been thinking about that time and wanting to go back. It's really sad but we're such a strong community so this is just going to make us stronger.
It's your first time in Malaysia. What's your first impression?
I loved the drive from the airport—the greenery was so beautiful! I'm only here for less than 24 hours, so I would have to come back to experience it, but seeing everybody, and the sweetest fans—that's my favourite part. I've seen a lot of pictures of the islands and beaches as well, so on my next trip here, I'll stop by the store and then head to the beach.
| | |
| --- | --- |
| SHARE THE STORY | |
| Explore More | |