Our friendly neighbour Singapore is no doubt a vibrant city. From the stunning S.E.A. Aquarium to cool neighbourhoods like the Katong area to Michelin-starred restaurants, attractions are aplenty. And among the poster children of Singapore is Marina Bay Sands, as shown in Crazy Rich Asians. An architectural beauty, inside and out, it's evident that much care and thought have (and continuously) been placed into its being. If you're looking for a quick weekend getaway, there's enough to do at Marina Bay Sands that you won't even need to step foot outside of the resort. And because there are new shows, restaurants and exhibitions every few months, this applies throughout the year, every year. Here's what we recently discovered on a 3D2N trip.
WHERE TO STAY
The hotel within the resort itself, of course. Luxurious in both size and comfort, the winning factor is the magnificent view beyond the floor-to-ceiling windows. Our Deluxe Room granted us a lush panoramic view of the gardens with the sea and its ships in the background. Staying at the Marina Bay Sands hotel also means automatic access to the Sands SkyPark Observation Deck and the famous Infinity Pool.
WHERE TO EAT
You'll be spoilt for choice, that's for sure; and so, here are some of our favourites from the trip.
1. Yardbird Singapore
Previously known as The Bird Southern Table & Bar for its Singapore outpost, the popular restaurant from the US relaunched with its original name back in December 2018. For those unfamiliar with the brand, Yardbird is all about soulful American cooking with a commitment to using farm-fresh ingredients. The star, however, is really their famous 100-year-old fried chicken recipe. Fun fact: They use Malaysian chickens here.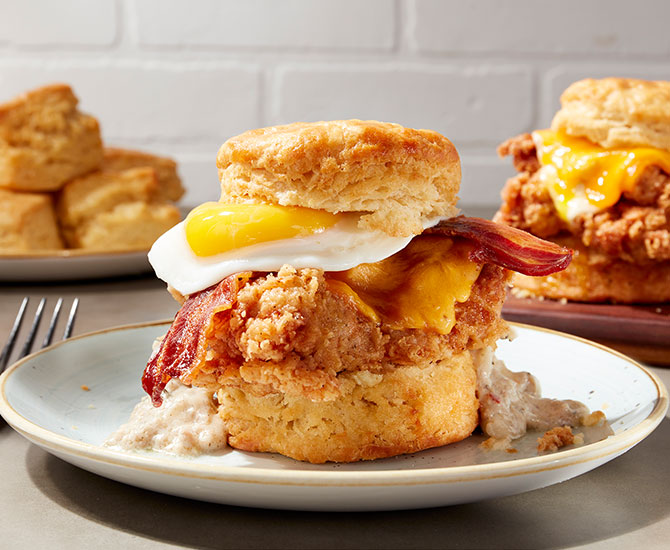 yardbird singapore brunch 1
The relaunch also marks the introduction of something they call a Great American Brunch, featuring classic favourites and dramatic desserts, all in the name of a fantastic family-friendly experience. Available on weekends, the menu will include popular items from their Miami and Los Angeles outlets as well as new creations by Yardbird's Corporate Pastry Chef Hedy Goldsmith. Think giant, fluffy Funfetti Pancakes and an Instagram-worthy Doughnut Tree adorned with six colourful treats in three flavours that change every week.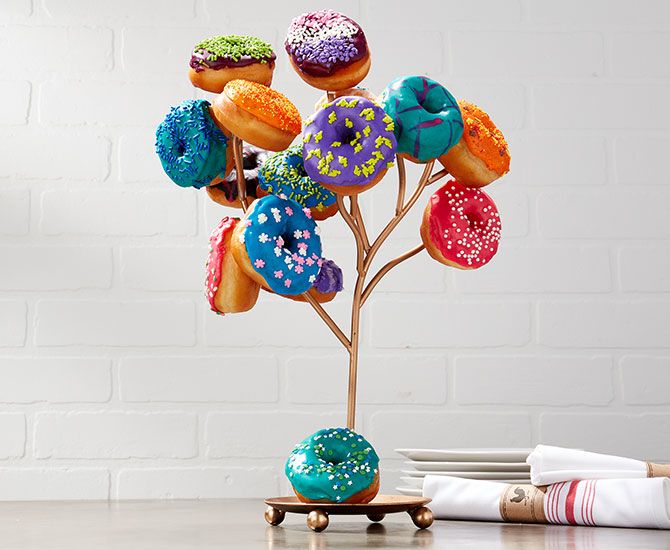 yardbird singapore brunch 2
While brunch is a huge deal for Yardbird, its lunch and dinner menus are also up to par. Founder and owner John Kunkel especially recommends their amazing ribs. "We serve them in this dome filled with smoke and it's absolutely delicious," he added. To complement, the restaurant also has an extensive bar programme serving unique handcrafted cocktails and a large selection of whiskeys.
2. Bloom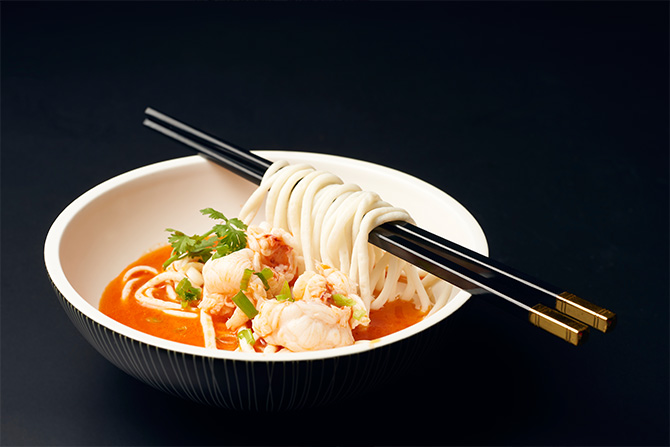 blossom mariana bay sands
One of Marina Bay Sands' newest addition, Bloom is a contemporary Chinese restaurant that takes the best of Canton, Sichuan and Shanghai cuisines and adapting it with a modern take. The result is a flawless balance of traditional and modern flavours and techniques. Among the dishes we tried, our ultimate favourite is the Poached Fish Noodles and Lobster in Lobster soup. The broth was heartwarming yet rich in flavour while the noodles—made from fish—were both silky and chewy. Another stunner was the Pan-fried Japanese Scallops and Edamame Beancurd with foie gras. A simple dish with a touch of indulgence, we certainly wanted second (and third) helpings.
3. Spago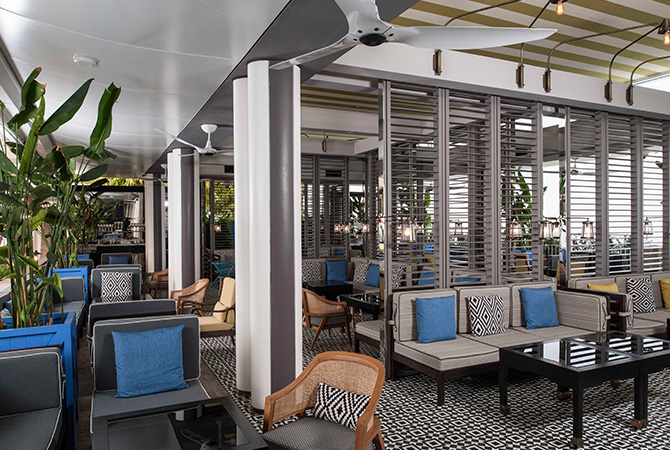 spago marina bay sands
Yes, the same one by Wolfgang Puck. The Singapore outpost marks Spago's first venture into Asia and if you opt for the Bed and Breakfast with your stay at Marina Bay Sands, the breakfast buffet is included (you can also choose to dine at Rise or Adrift) and it's quite a spread! Make sure to order your omelette with fried bacon bits—fluffy yet crunchy.
Side note: As you make your way to the restaurant, you'll pass by the popular (and crowded) Infinity Pool. Be there extra early if you wish to capture that Instagram-worthy shot.
Other notable mentions of the places we tried: Lavo Singapore (must-try: The signature one-pound meatball), Black Tap (for craft beers and crazy shakes) and DB Bistro & Oyster Bar (calling seafood lovers).
WHAT TO DO
1. Check out The Shoppes for shopping and more
The list of brands is almost endless and you can literally spend hours here. From international luxury brands to emerging labels, it is, however, more than just a shop till you drop experience. The interior is worth taking a moment to admire and that extends to installations such as The Rain Oculus that sits right above the mall's canal—where sampan rides are available should you wish—facing the new Hugo store.
Then, there's the Louis Vuitton Island Maison. An underwater tunnel connects the Maison with The Shoppes and it's decked with a theme for a few months to match the current season before changing to the next. Another must-visit stop is Penhaligon's, a luxury British perfume house with a story to tell for every fragrance. They even have a quiz for you to take to narrow down three to four fragrances that you might like. Another highlight at The Shoppes is the interactive Digital Light Canvas, which brings us to the next point.
2. Relish your inner child at the Digital Light Canvas
A first-of-its-kind multi-sensory digital installation by the award-winning Japanese art collective teamLab, the Digital Light Canvas is great to watch from a floor above as well as to 'play' on the 'canvas' itself. Located at the North Promenade, it features a combination of a 14-metre tall light sculpture suspended from the ceiling and an LED floor spanning 15 metres in diameter.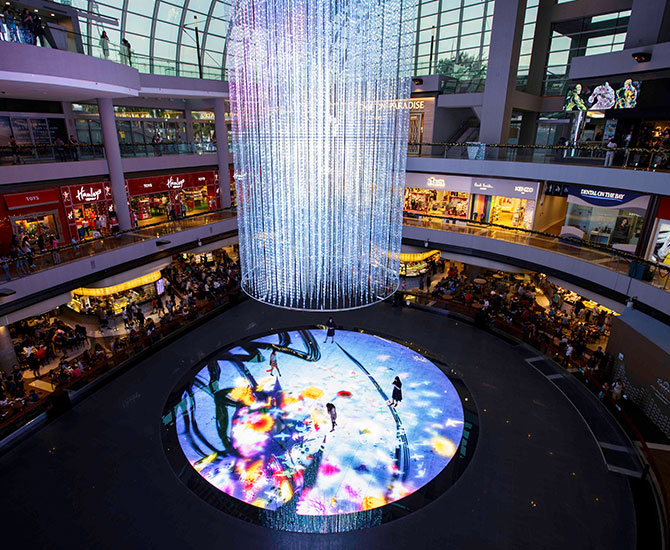 digital light canvas mbs singapore
The former is programmed to project 3D objects onto the installation via a smartphone (they offer personalised animations for special occasions such as wedding proposals, birthdays and anniversaries) while the latter produces graphics following people's movement on it (e.g trails of light will follow wherever you step on the floor).
3. Be inspired and intrigued at the ArtScience Museum
Last, but not least, the famed ArtScience Museum where many have had a taste via its Future World: Where Art Meets Science exhibition. There's currently one other interesting exhibition that is running till 14 April 2019—Minimalism: Space. Light. Object. Adrian George, Associate Director of the ArtScience Museum, who also curated it, said it's the first survey of minimalist art held in Southeast Asia. Minimalism is pretty much a buzz word these days but in the form of art, it could surprisingly extend to sound as well as a myriad of colours.
Interestingly, a Malaysian composer is also participating in the exhibition. The Sound Room explores the concept of minimalism in the form of audio and Adeline Kong's recent piece, Herringbone was selected to end the programme on a high note. During the tour, George also stressed that unlike other themes of art, there is no second meaning to a piece of minimalist art. "It is what it is," he said. And that's what it was.
Find out the latest happenings and more at Marina Bay Sands via their website, Facebook or Instagram.
| | |
| --- | --- |
| SHARE THE STORY | |
| Explore More | |