Since the new regulations for CMCO 2.0 allow interstate travel, why not take a trip out of KL for a quick getaway? Especially if staying at home has got you feeling rather stir-crazy and you're keen on a little adventure. Try one of these seven resorts within West Malaysia to make Christmas, New Year's and/or just the year-end holidays a little more special than usual.
1. Cameron Highlands Resort, Pahang
View this post on Instagram
If this time of the year is when you're usually off somewhere colder, we highly recommend the classic Cameron Highlands Resort as a local alternative. With the rolling highlands in the background and the crisp, cool air, it'll make for a great postcard-perfect holiday away from the hustle and bustle of the city. While there aren't any particular Christmas- or New Year's Eve-themed events, YTL Hotels is offering flexible date changes of up to seven times (until 20 December 2022), a complimentary New Yorker Afternoon Tea for two at The Alchemy, located at the newly-reopened The Starhill Dining in KL.
Current rate: RM650++ per room, per night (enjoy a complimentary night with every night of stay you book)
For more information or to book a stay, visit their website.
2. Club Med Cherating, Kuantan, Pahang
If you're looking for a city escape this Christmas and New Year's holiday, Club Med Cherating may be your go-to destination if you prefer the sun, sea and beach. Surrounded by 85 hectares of tropical rainforest, this safe haven is just a three-hour drive from Kuala Lumpur. You won't have to worry about social distancing with the resort's low-density compound. The resort takes pride in its Green Globe-certified nature playground which is the perfect place for visitors to either relax and rejuvenate or be adventurous and discover the lush beachfront jungle landscapes. Why not try your hand at rock climbing or the trapeze? The gorgeous sunset at the resort's Zen Pool is not to be missed.
Year-end activities: Club Med Cherating also brings the holiday cheer with some seaside, end-of-the-year celebrations which include the illumination of Christmas lights on the night of Christmas eve along with exciting shows and festive gourmet buffets.
Current rate: RM870++ per room, per night
For more information or to book a stay, visit this website. 
3. One&Only Desaru Coast, Johor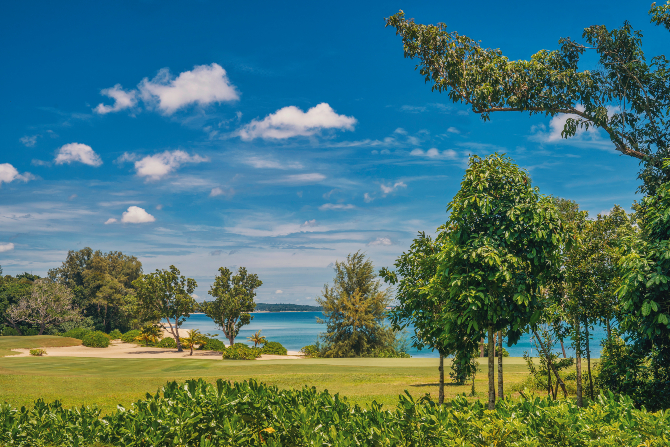 The reason why you should consider the One&Only Desaru Coast as the place to spend your holidays is because it combines the exclusive luxury experience of a chic resort with the picturesque shores of the South China Sea.
Year-end activities: Following up to Christmas, you'll be privy to a variety of Christmas-inspired festivities including the Festive Gourmet Masterclass and Christmas Day Brunch at Ember Beach Club. The kids won't be feeling left out either with a range of interactive activities which include storytelling with the Christmas Elf, Christmas Carolling and of course a visit from Santa Claus. The best part is, the activities and celebrations carry on after Christmas to New Year's with a Shaken & Stirred Masterclass on the 28th of December, a Padel Tournament on the 30th of December and a Festive Bonfire on New Year's Eve. So if you're looking for Christmas cocktails, canapés and whimsical night followed by a day filled with a plethora of watersports, One&Only Desaru Coast is the place to go.
Current rate: RM2,166++ per room, per night
For more information or to book a stay, visit this website.
4. Four Seasons Resort Langkawi, Kedah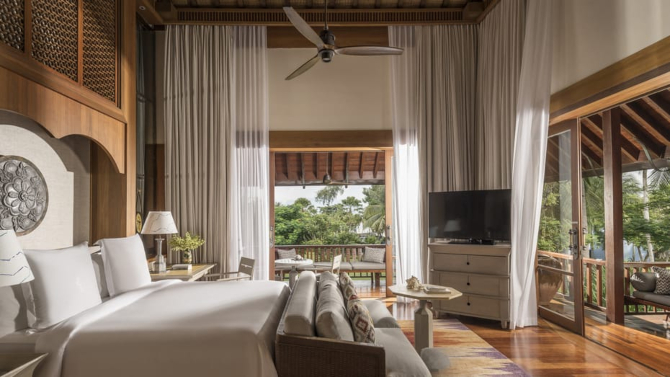 It's not often you can find a resort that boasts a UNESCO World Geopark and is surrounded by one of the most famed tropical rainforests in the nation as well as the calm, soothing waters of the Andaman coast. From exploring the island's fishing heritage at the Resort's private Rumah Ikan Fish House to discovering the mangroves at the Kilim Karst Geoforest Park, it's truly an opportunity to be one with nature. After all the time pent up indoors, a walk along the beach or a drink or two at the Rhu Bar may be just the relaxation your body needs. For all you adrenaline junkies, the resort also has a 125-meter long Sky Bridge that sits suspended 600 meters above sea level. If you want something a lot faster, the Umgawa Rainforest Zip Line features 12 multi-length zip lines that oversee the towering trees over the Seven Wells waterfall. The villas are large enough for a family and quietly spacious enough for a couple looking for a quick getaway.
Current rate: RM1,500++ per room, per night
For more information or to book a stay, visit this website.
5. Lexis Hibiscus Port Dickson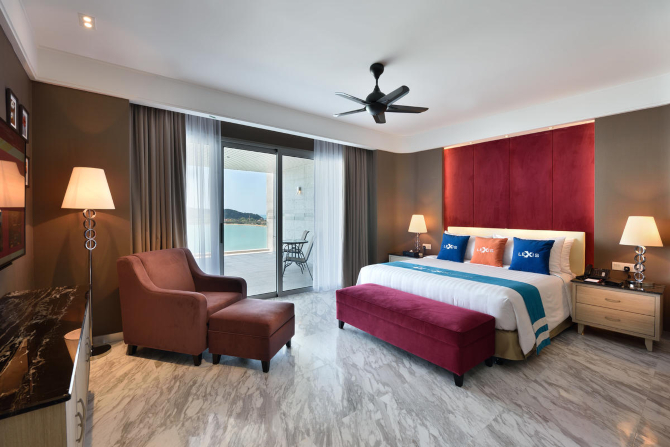 This five-star luxury beach resort will probably strike a chord with travelling millennials and Gen-Z-ers. The LexSpa offers a "timeout" experience unlike any other. You'll be able to enjoy a private, beach-front room where you can slip into a blissful oasis of tranquillity. The spa offers everything from beauty treatments that will leave you with a glow, to a range of massages guaranteed to release all those knots from your lower back and shoulder. You won't have to go far to enjoy the nightlife either. You can choose between the hotel's Pool Bar which serves a variety of cocktails; the Satellite Bar which holds stunning views of the night skyline and the straits of Malacca; or the Lighthouse Bar, which is aptly named because it sits on the highest floor of the Lighthouse Club. The best part is, if you just want a night with friends, try out the Starz Karaoke located on level 2 so you can IG-live your best Arianna Grande impressions.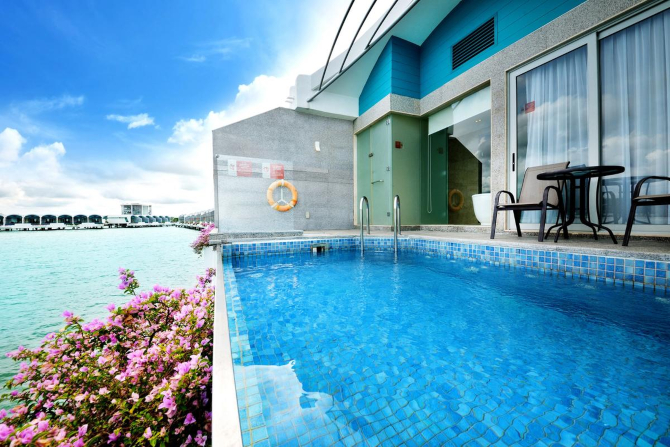 Food enthusiasts should definitely look into the Hibiscus Walk where guests can "food-hop" from one street stall offering authentic Malaysian cuisine to another. For those looking to visually encapsulate their stay, the hotel has a photo booth with different background images that are both random and delightful. The green screen background will instantly transport you from Port Dickson to a sky diving adventure in Dubai.
Current rate: RM760++ per room, per night
For more information or to book a stay, visit this website.
6. Eastern & Oriental Hotel, Georgetown, Penang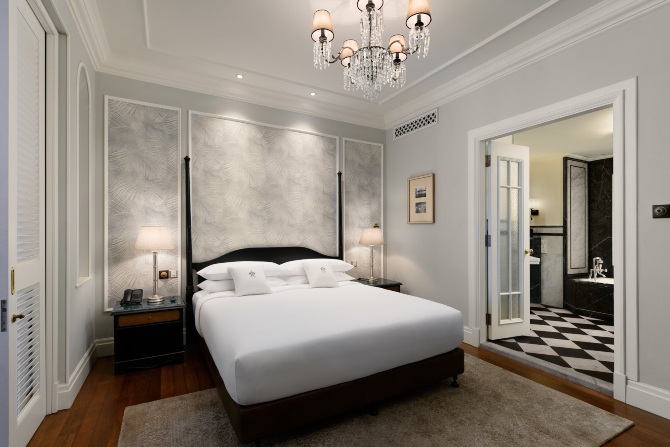 The charm of The Eastern & Oriental (E&O) Hotel harkens back to the grandeur of the British colonial era and combines it with an exotic Eastern twist. Once you look past the Victorian-era setup and gorgeous oak furnishings, you'll find that the hotel hosts a repertoire of unparalleled culinary experiences that have only been enhanced with the re-opening of the Heritage Wing. Head to the Java Tree for a combination of classic Straits Nyonya recipes with notable European dishes. If you're one to indulge in an afternoon tea session (a tradition that dates back to 1885), the Palm Court has the classic English three-tier afternoon tea as well as an array of Asian-fusion dishes. Cocktail lovers will enjoy a trip to the new Farquhar's Bar which serves up a view of Penang's waterfront with some signature house drinks. The location of the hotel is also an easy 15-minute walk to Georgetown's city centre.
Current rate: RM500++ per room, per night
For more information or to book a stay, visit this website. 
7. The Haven, Ipoh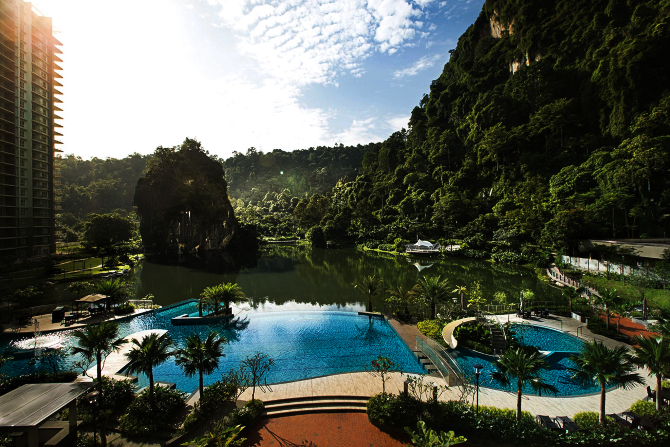 With beautiful limestone hills, lush forests and deep dreamy lakes, Ipoh's luxury The Haven All-Suite Resort offers a primary forest retreat hidden amidst the city. Swimming in the infinity pool will have you feeling closer to nature while the room's spectacular panoramic views offer a break from your gadgets and devices. Find your inner calm during the day at the meditation deck and then hop on the resort's shuttle service for an evening trip into town. Simply said, The Haven is truly a haven.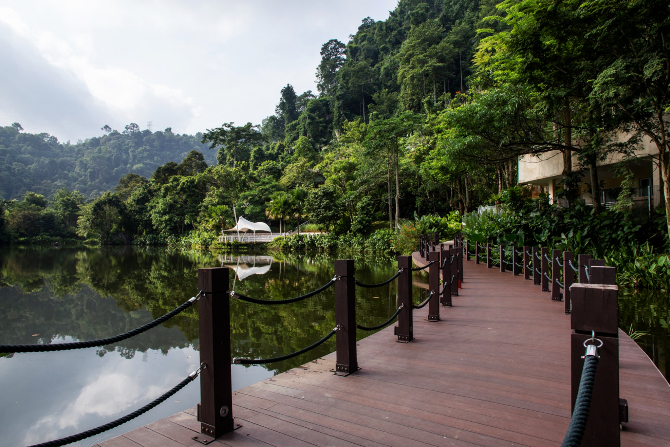 Current rate: RM610++ per room, per night (Guests who stay for 7 days or more get to enjoy the kitchenette for free)
For more information or to book a stay, visit this website.
8. Villa Samadhi Kuala Lumpur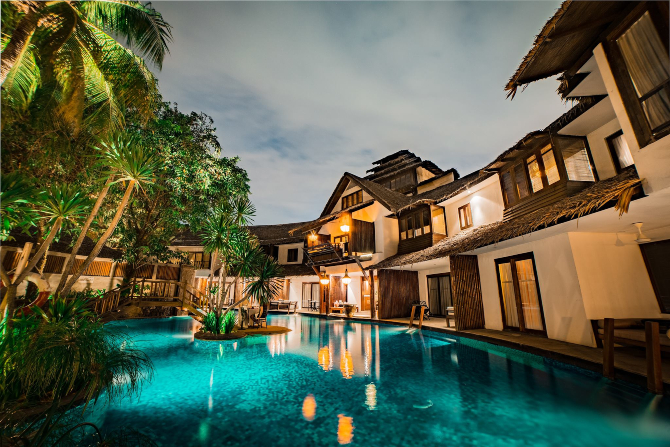 If you are a KL native who's looking for a quick getaway without having to travel too far out of town, why not try Villa Samadhi? Only minutes from the city centre, this five-star resort offers a hidden oasis for guests looking for an easy escape. Sustainability and eco-friendly visitors will breathe easy knowing the décor is created from repurposed timber salvaged from abandoned villages as well as by using materials crafted by the indigenous Orang Asli. Indulge yourself at Tamarind Springs where you'll find savoury Asian delights. Or try out the Thai and Burmese cuisine at Tamarind Hill. The Blue Lagoon sits front and centre of the villa while Bumbung offers a glamorous bar lounge, which is the best place on the villa to enjoy the sunset.
Current rate: RM810++ per room, per night
For more information or to book a stay, visit this website.
Disclaimer
Please keep in mind to follow the SOPs during these rather unstable times. Keep in mind that although interstate travel is currently allowed, it can all still be subject to change depending on the government. Do not forget to maintain social distancing, wear your face masks and carry your own hand sanitiser. The above details are correct at the time of publication.
| | |
| --- | --- |
| SHARE THE STORY | |
| Explore More | |