When the body is tired, and the mind needs to rest, escape to Hard Rock Hotel Desaru Coast, where everything you need is within reach.
Believe it or not, Hard Rock Hotel Desaru Coast will be celebrating its fifth anniversary this September. The hotel remains a popular getaway destination for both locals and our friendly neighbours from across the Causeway. It's not hard to see why. 
Tucked away in Bandar Penawar—and just a four-hour drive from KL—Desaru Coast offers a quiet retreat from the hustle and bustle of JB city. If you're looking for a holiday where you can truly disconnect from the "real world", this is the place. I spent three days and two nights at Hard Rock Hotel Desaru Coast for some much-needed unwinding and a little mother-daughter bonding time—and still, it wasn't enough. 
Here's everything you can do at Hard Rock Hotel Desaru Coast, though, for the most part, you really don't need to leave the hotel grounds.
STAY: ROCK SUITE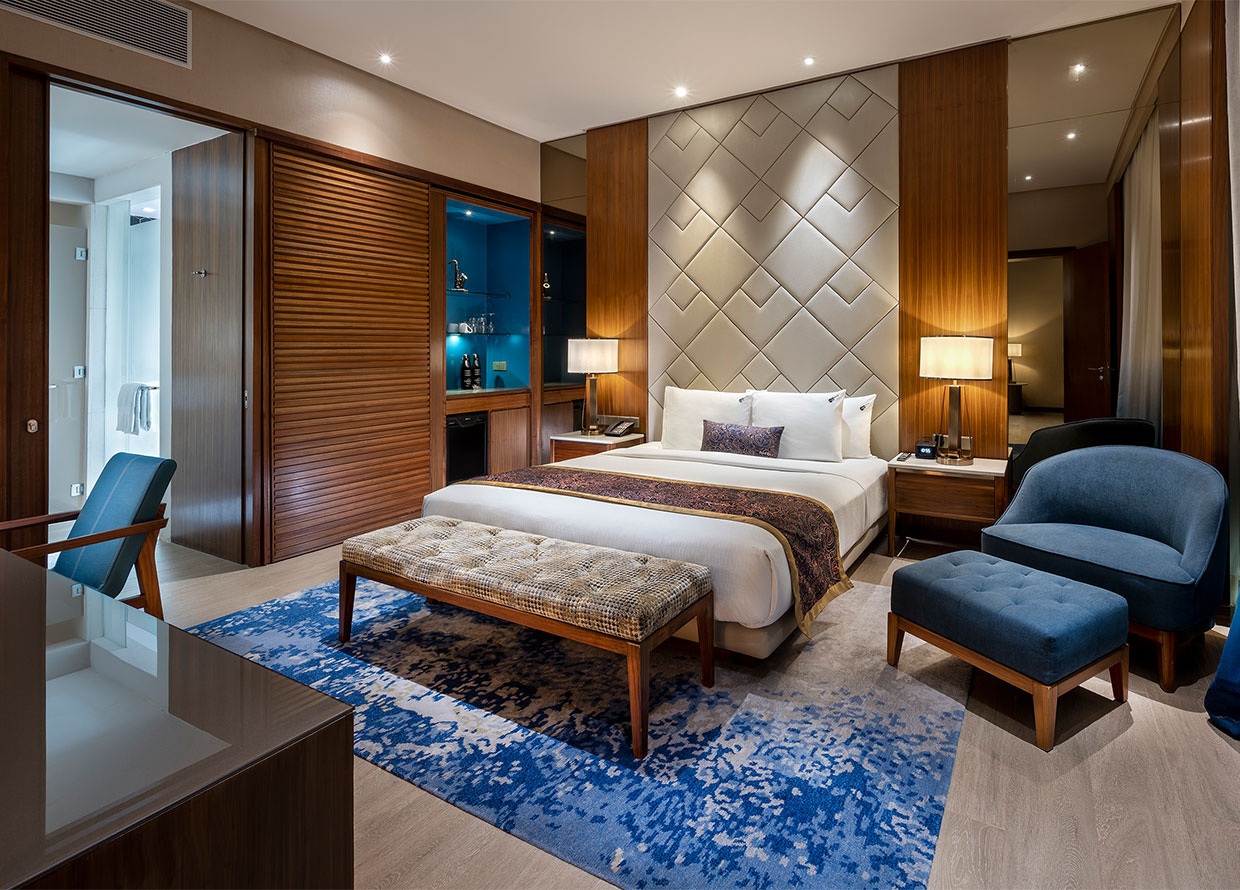 We stayed at the Rock Suite, which gives guests the ultimate VIP treatment, including access to the exclusive Rock Royalty Lounge. The suite—and the King-sized bed—was incredibly spacious for two. With two balconies, two washrooms, a bathroom with a huge bathtub and rain shower, a living room and a dining area, we certainly felt like royalty. The room's 55″ Smart TV included complimentary in-room blockbuster movies on demand, so there was no need for Netflix at all.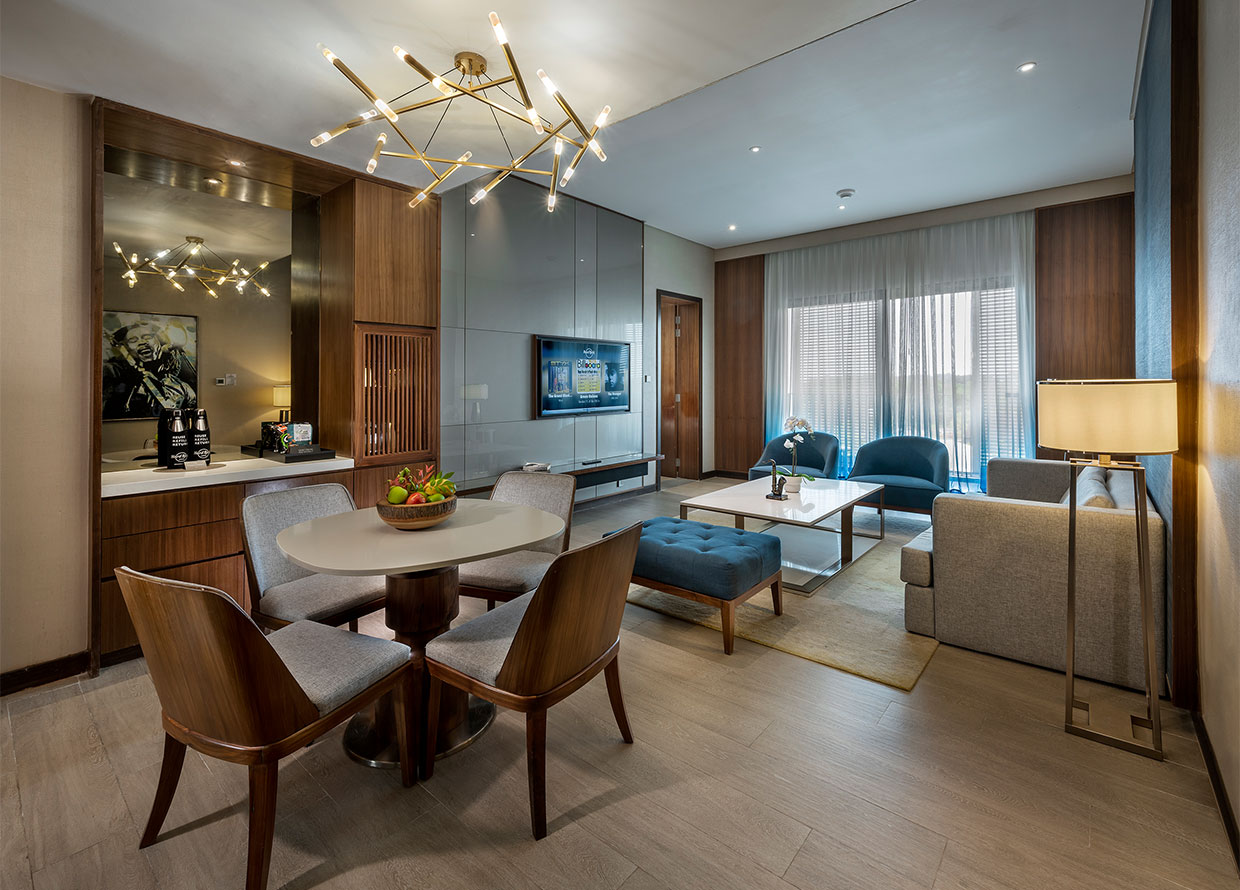 As part of the Rock Suite experience, guests are treated to the complimentary minibar and non-alcoholic drinks though it's one-time only. I noticed the hotel also practises some sustainability efforts such as exempting the use of plastic water bottles. Instead, we were given two stainless steel water bottles which can be refilled at the nearby water stations but, again, special to the Rock Suite, the bathroom is fitted with a drinkable filtered water tap so there was no need to leave the room at all. 
BONUS: ROCK ROYALTY LOUNGE
Rock Suite guests can easily enter the Rock Royalty Lounge with their key card, and here is where you can enjoy complimentary refreshments throughout the day, evening cocktails and a special continental breakfast. For those who need to get some work done (yes, we've all been there despite it being a holiday), the lounge has dedicated workstations with broadband internet access and their trusty coffee maker at your service.
DO: ADVENTURE WATERPARK
One of the biggest attractions at Hard Rock Hotel Desaru Coast is the next-door Adventure Waterpark. The entrance is literally next to the hotel's all-day dining restaurant, and the water park is massive, complete with a pirate ship. Currently, hotel guests can receive complimentary entrance tickets too. 
DO: MEMORABILIA TOUR
View this post on Instagram
Hard Rock Hotel Desaru Coast's free Memorabilia Tour is a must-do. I spent a lovely hour and a half chatting with Vibe Manager Aaron Barnabas as he took me around the property, sharing fun tidbits about all the on-site collectables. Hard Rock HQ holds almost 84,000 items gifted by artists and celebrities in The Vault in Florida. In Desaru, there are 27 of them, including Lady Gaga's Thomas Hanisch dress, Elvis Presley's tan suit, Brian Jones of The Rolling Stone's grey blazer, Madonna's rhinestone heels and Rihanna's lace wrap from the 'California King Bed' music video. 
In the same temperature-controlled glass case that houses the memorabilia from Madonna and Rihanna was a familiar long, blue cardigan with "Yuna" written on the info card. Aaron shared that when the renowned Malaysian singer performed at the hotel's opening, he had asked if she could share any memorabilia to display at the hotel. She happily agreed and donated the piece she had worn on stage when performing 'Crush' with Usher. I could go on and on about the tour but it's best that I don't give everything away and for you to hear it all from Aaron himself. Just be sure to book the tour at the concierge at least the day before.
DO: OUTDOOR MUSIC POOL & BODY ROCK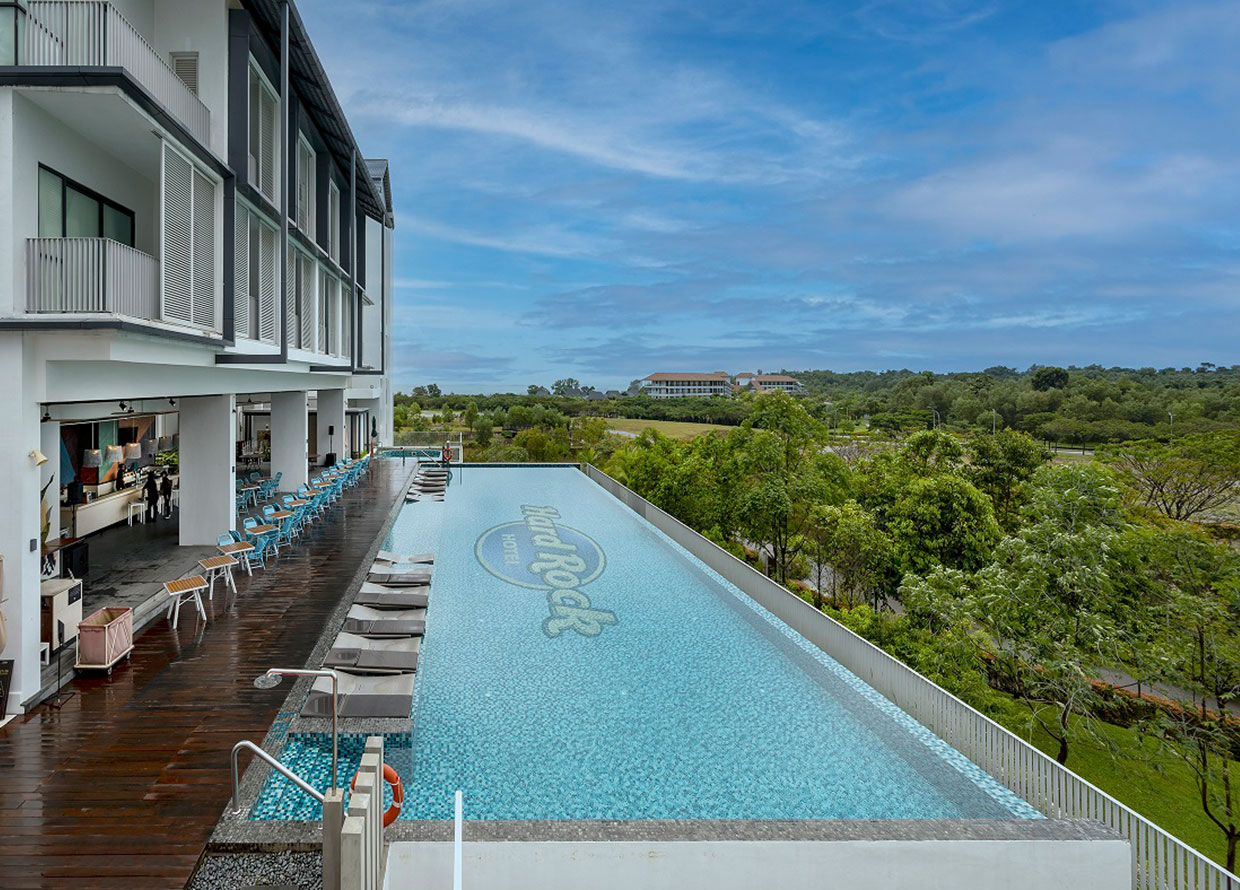 What's a staycation without a visit to the pool? Hard Rock Hotel Desaru Coast features an outdoor music pool fitted with underwater speakers. Adjacent to the pool is the hotel's Mexican restaurant, The Elephant & The Butterfly, so if you're ever feeling peckish or parched, they'll be ready to serve. Alternatively, the Body Rock gym is equipped with trusty TechnoGym machines to help work out a good sweat.
*Hard Rock Hotel Desaru Coast isn't located on Desaru Beach, but for those who are up for some relaxing walks on the beach, it's a mere 10-minute walk from the property.
DO: ROCK SPA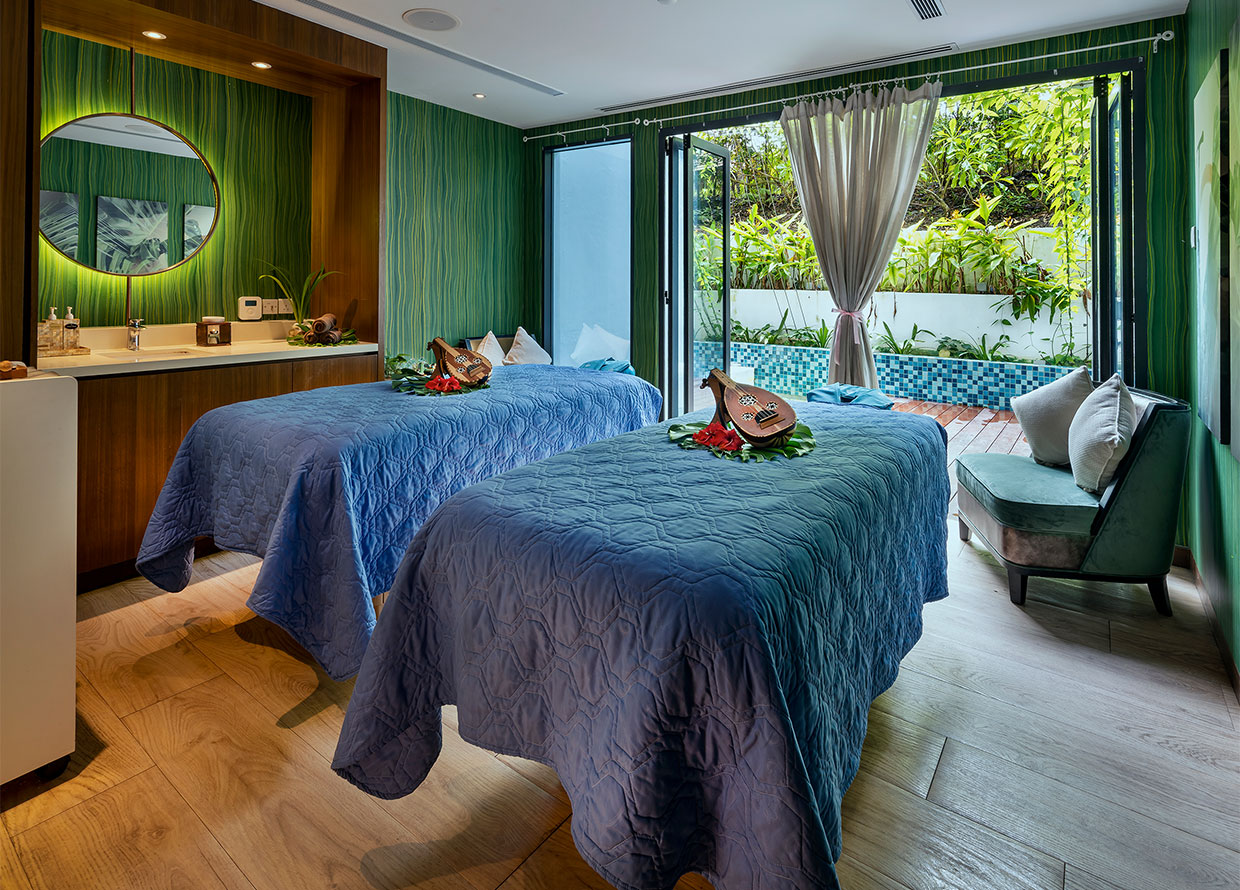 My favourite activity during any staycation is getting a spa treatment, and the Rock Spa did not disappoint. My mother and I opted for the couple's room for our massages, and it took a while to select one since the spa menu was extensive. From getting your nails done to waxing services to different massage techniques, you can be pampered from head to toe. I tried the Serenity massage, which originates from Hawaii and uses firm but gentle techniques for the ultimate relaxation of the mind and body.
DO: OTHER ATTRACTIONS
Hard Rock Hotel Desaru Coast has something for everyone. If you're the type who enjoys quiet time, catching up on your favourite book, the rooms are comfortable enough that you won't want to leave. There are activities for kids besides the water park. But if you or your companions are more on the adventurous side, there are plenty of tours and nearby attractions to seek. Some favourites include the fruit farm, ostrich farm, Fisherman Museum, Johor Premium Outlets, a firefly experience and more. In addition, there's a golf course nearby too! Finally, it's not Hard Rock if there isn't live music, and the resident live band is certainly a crowd-pleaser. After dinner, guests can order drinks and enjoy live performances at the GMT+8 bar. 
EAT, EAT AND EAT
All we did during our stay was eat. We wanted to try all the on-site dining options, and I'm proud to say we succeeded. On our first night, tired from the drive and seduced by the inviting suite, we opted for in-room dining where we were spoilt for choice. Ordering from the TV with the remote, it took us some time to decide between the local flavours, the Hard Rock signature burgers, western delights and desserts!
View this post on Instagram
We went to Sessions, the all-day dining restaurant, for the breakfast buffet and truth be told, there isn't much to comment on since it's your standard breakfast buffet. I highly recommend going to the Rock Royalty Lounge instead, even though there's less variety there, it's much more comfortable and peaceful. For lunch, we had some delicious artisanal sandwiches and coffee from Constant Grind since we were still full from breakfast.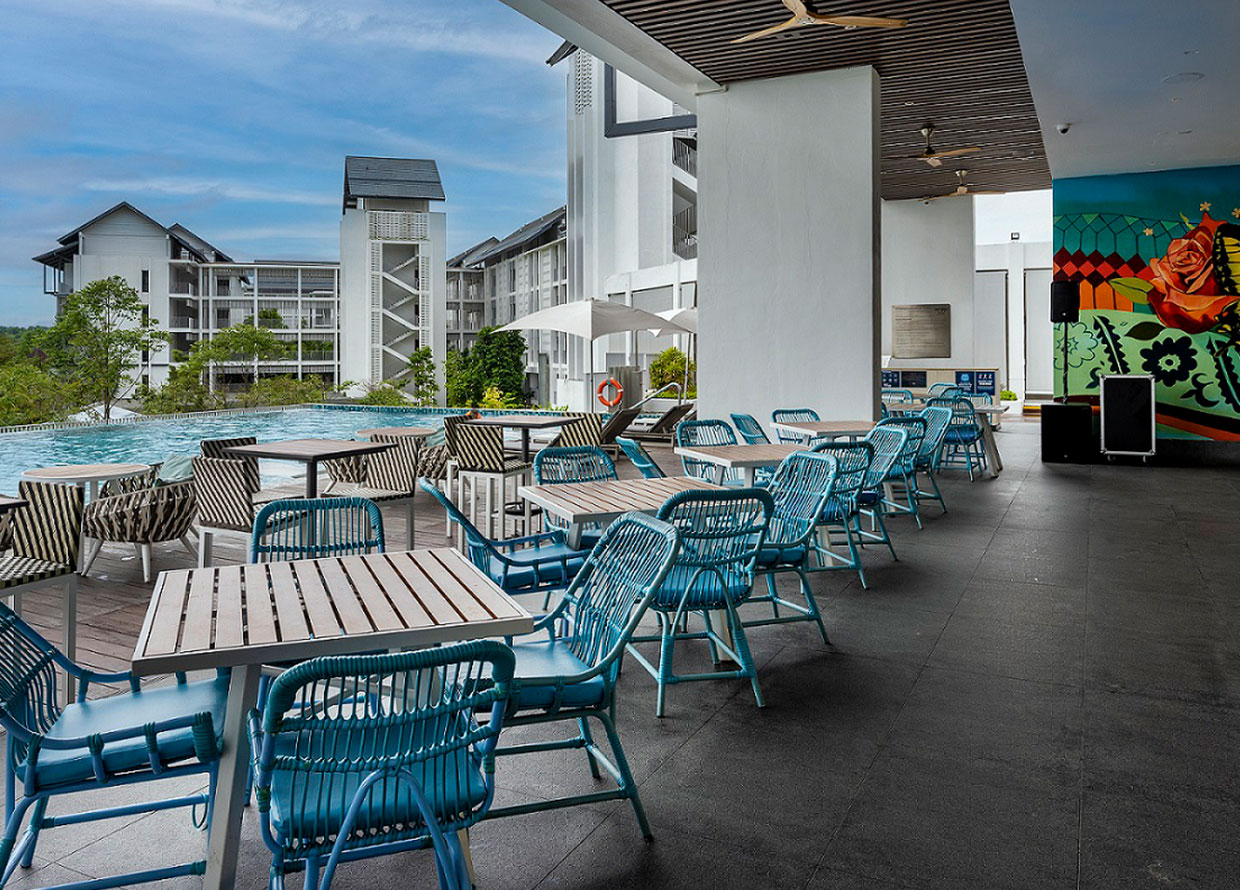 But my mother and I both agreed that, hands down, The Elephant & The Butterfly was our favourite restaurant there. The eclectic restaurant is inspired by the romance between artists Frida Kahlo and Diego Rivera, who were affectionately called "the elephant" and "the dove" by Kahlo's mother. The Elephant & The Butterfly serves Mexican fare with some classic Western dishes as additional options. As recommended by Aaron, we ordered the steak to share, and it was grilled to juicy perfection, served with Mexican-inspired sauces for that extra tangy bite. I also loved the Bacalao, which was pan-fried cod with chilli, lime, cumin and cilantro. It was crispy at the top, tender and sweet in the middle, and beautifully balanced with its myriad of accompaniments. Mmm, mmm, mmm!
FINAL WORDS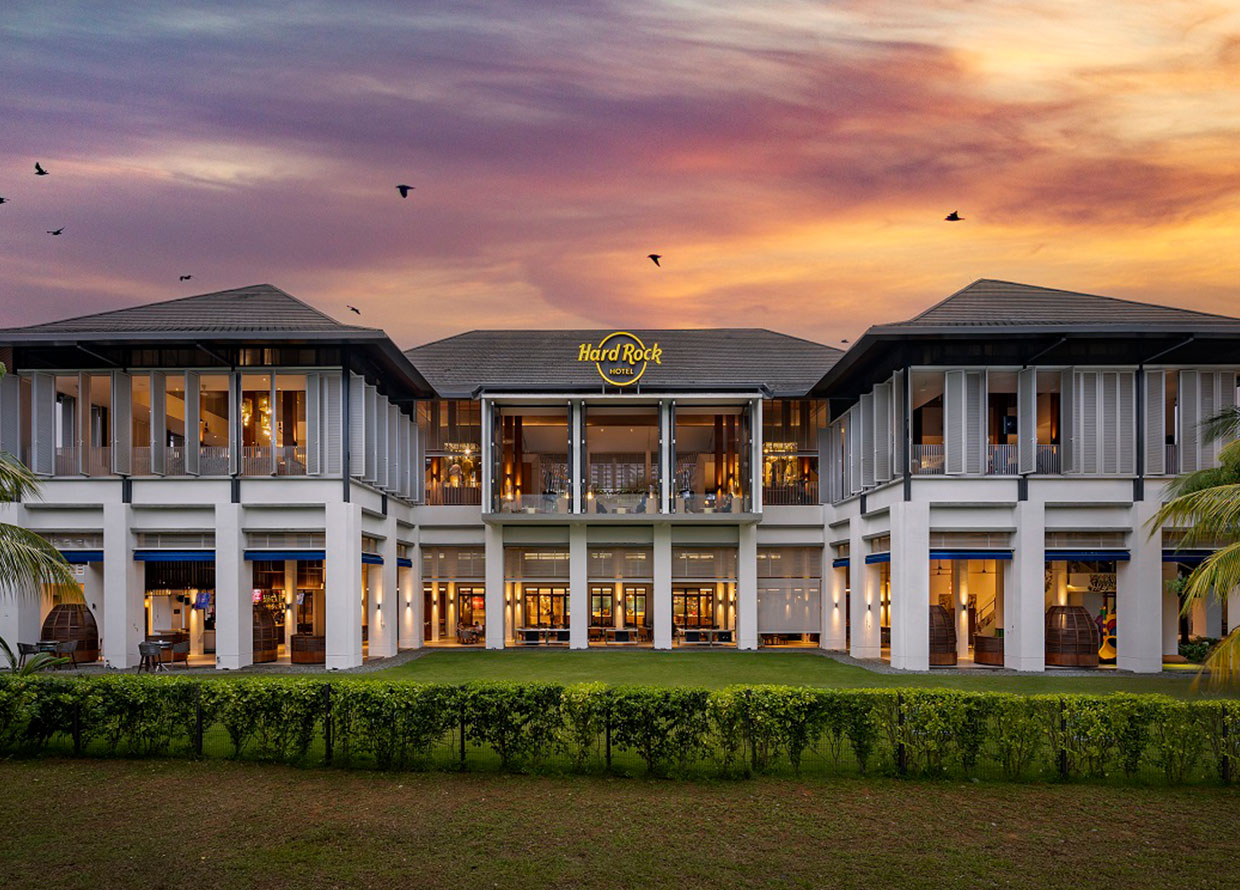 Overall, the 3D2N staycation at Hard Rock Hotel Desaru Coast was simply not enough to do everything. The bed was incredibly comfortable, and the sunrise and sunsets were beautiful. The quiet in those hours matched the sight of a sea of greenery from our room's balcony—it was a welcomed disconnect. The resort seems especially perfect for families, where everyone can do their desired activities separately or together, and then meet again at mealtimes. But for a four-hour drive from KL, I think staying an extra night would have been just nice.
For more information or to book your stay online, visit Hard Rock Hotel Desaru Coast's website.
| | |
| --- | --- |
| SHARE THE STORY | |
| Explore More | |