Consider yourself a music lover? Then chances are, you've booked a stay at one of the Hard Rock Hotel franchises across the region. And now, if your holiday (or business) trips are bringing you to Johor, there's a new Hard Rock Hotel that has arrived on the shores of Desaru Coast to fulfill your rest-and-relax needs.
Having officially opened its doors in September 2018, Hard Rock Hotel Desaru Coast—or HRHDC for short—is now in full swing and you can get there either by flight (50 minutes, followed by an hour drive from Senai International Airport) or car/bus (four hours) from Kuala Lumpur. If you're coming from Singapore, your road trip will only take an hour and a half.
In August, I spent two nights at the rock 'n' roll-themed hotel to check out its new space and surprisingly, it's a lot more relaxing than I thought it would be (except for one heart-racing activity). Sure, the décor and overall vibe may be quieter compared to other outlets, but if this is not your priority (don't worry, the place is still IG-worthy), you can trust HRHDC to tick all the right boxes for a fun-filled staycation when in Johor. Here's why:
1. The rooms: cosy, comfy and they come with super cool perks
HRHDC has 365 rooms in total and what makes it stand out from other resorts (the ones I've stayed at, at least) is its super cool in-room privileges—especially if you're into music. Why, you ask? Well, which other hotels actually place a premium Fender electric guitar in your room, complete with an amp and headphones so you can have a jam sesh (without bothering your neighbours)? Or vinyl records you can play on Corsley turntables for the ultimate #throwback vibe? You can even select and download curated playlists to listen to all day, thanks to its complimentary music programme.
Another thing I appreciated: the pillows. Most hotels can't rival our own pillows back home, but the ones at HRHDC—comprising soft- and medium-bodied ones that you can send back if you're not satisfied—are seriously tough competition.
2. The facilities: family- and environmentally-friendly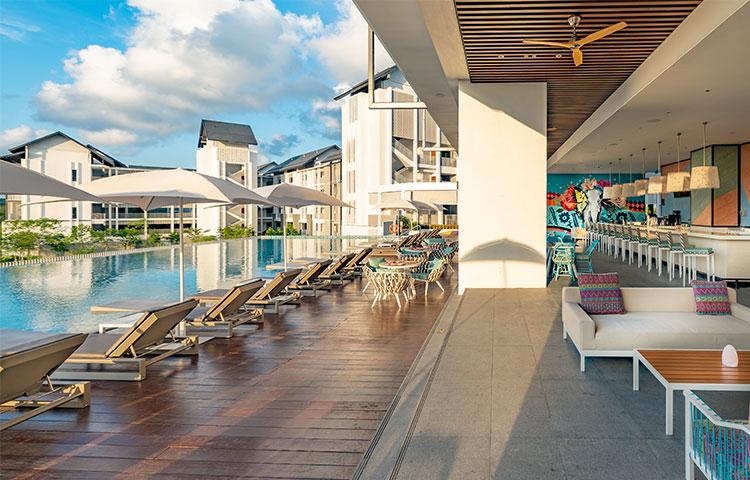 Infinity pool view from The Elephant & The Butterfly
Whether you're travelling with family, a group of friends, your other half, or even colleagues, there are tons of amenities to suit your lifestyle needs. For example, there are both indoor and outdoor venues that can accommodate 120 and 150 guests respectively. For the fitness enthusiast, you can either hit the 24-hour gym (Body Rock) or if you prefer working out in private, order a Rock Om yoga kit (mat included) to your room for free and turn on the 30-minute guide on your TV.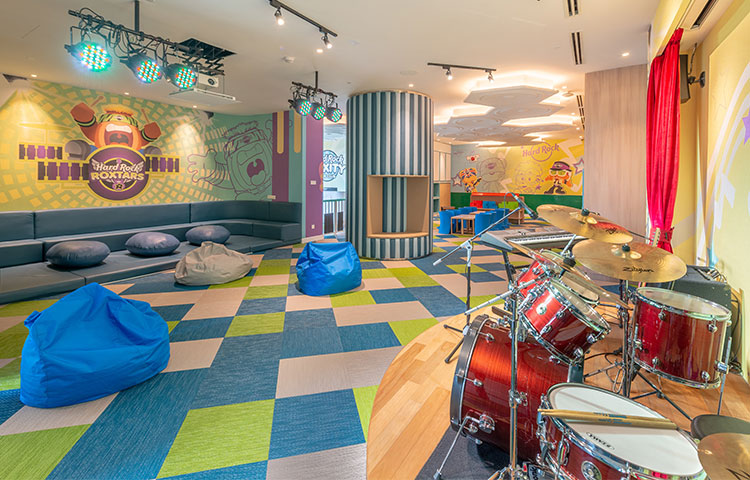 Roxity Kids Club
Need to unwind? Soothe your soul at Rock Spa, which offers next-level spa treatments with a musical twist (review coming up, so stay tuned!). Coming with kids? They're more than welcome at the spa (there's a menu for the little ones too) or drop them off at the Roxity Kids Club where they just might not want to leave, what with all the unlimited (and complimentary) games, art classes, and movie screenings to keep them busy 24/7. Got moolah to splurge? Experience the exclusivity of Rock Royalty, a premium VIP suite that comes with its own in-room memorabilia as well as a butler and concierge service.
HRHDC is also making an effort to go green—you'll be delighted to know that there are no plastic water bottles in the room. Instead, you get a flask to fill H2O from the dispenser outside your room. The machine even tells you how many plastic bottles have been saved as you're filling up (record when I was there: 1,100).
3. The food: so much variety, so little time (and stomach space)
Most hotels have one or two in-house restaurants, but at HRHDC, you'll be spoilt with four fantastic options.
Sessions: from generous breakfast and dinner buffet spreads, to an international a la carte menu for lunch, this is where there'll be food all day long.
The Elephant & The Butterfly: my personal fave of the lot, this Mexican bar and grill overlooks the hotel's humble infinity pool, which by the way, has music underwater. What I'd re-order: the signature lamb shank, the Mexican burger and the Smiling Señorita cocktail.
GMT +8: Sip on craft cocktails (the gin-based ones deserve a thumbs up) and snack on bar bites (wings are recommended) as you're serenaded by the daily live band at the lobby bar.
Constant Grind: here's where you can get your caffeine fix. Even if you're a non-coffee drinker like me, the barista might just add foam to your hot choc so you get pretty latte art (for the 'gram, duh) sans the caffeine.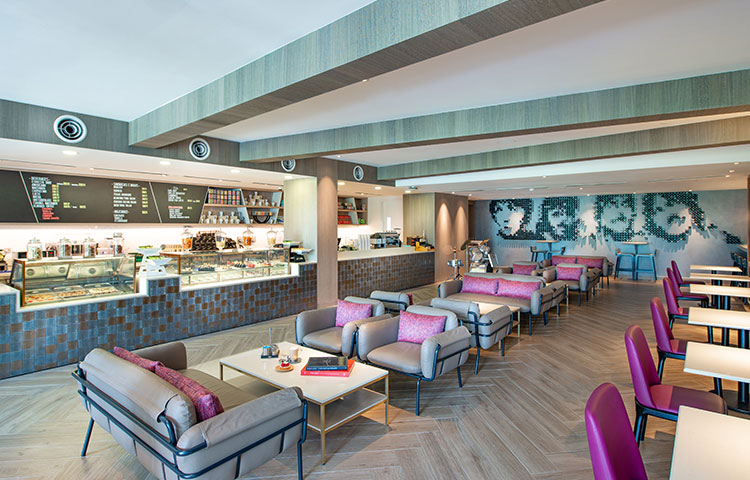 Constant Grind
My only regret: not having enough time (nor stomach space) to try more items from the menu. Maybe next time!
4. Entertainment: endless things to do from dusk to dawn
Of course, no Hard Rock Hotel is complete without its iconic memorabilia and at HRHDC, the spotlight seems to be on artists' clothing and costumes (as opposed to musical instruments). Daily tours are available from 11am to 4pm. Fun fact: all memorabilia are unique at each outlet and at HRHDC, you'll find a lace wrap worn by Rihanna in her 2010 hit California King Bed and a feathered gown worn by Christina Aguilera in her 2006 hit Ain't No Other Man.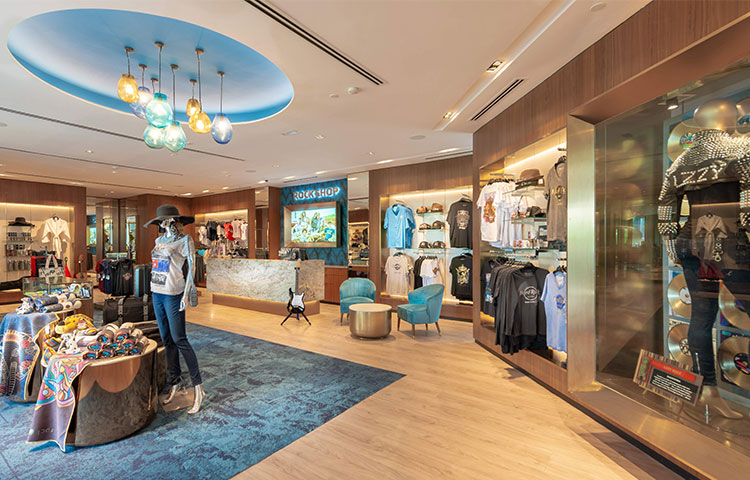 Rock Shop
As mentioned before, live bands will keep you entertained every night from 8.30pm onwards at GMT +8, with song covers ranging from rock to top 40 hits. If you're a collector of their signature tees and accessories, don't forget to check out Rock Shop before you leave.
5. The Adventure Waterpark next door: hotel guests get multiple entries in a day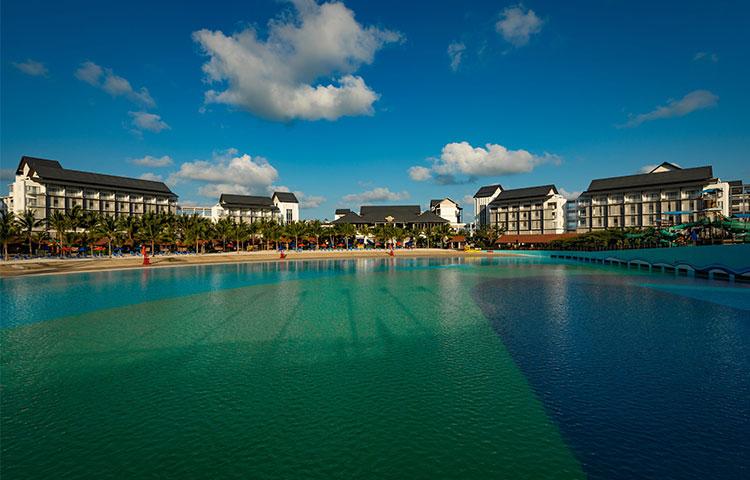 Most rooms are overlooking the waterpark and tidal wave pool
First things first, there's a misconception that tickets are included in the price of room rates. However, they are actually NOT. That said, as a HRHDC guest, you can enjoy a special (and very important) privilege: reentering the waterpark for as many times throughout the day via the hotel's dedicated entrance. Non-HRHDC guests unfortunately, only get a one-time entry into the park at the main entrance.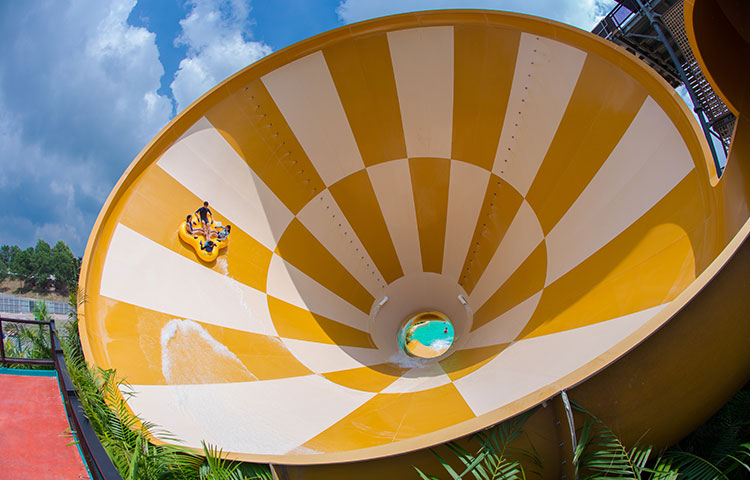 The Tempest
As for the rides at Adventure Waterpark, there are five zones consisting of over 20 wet and dry rides, slides and attractions that are now open and based on what I've seen (read: ample flat ground all around), it looks like this is just the appetizer of what's to come—aka more rides, which equal more fun! Most rooms are overlooking the waterpark and tidal wave beach (both said to be one of the biggest in the world); and whether you like it fast (try: The Tempest, Riptide, Kraken's Revenge) or slow (cruise along the 350m-long Penawar River), there's definitely something for everyone. A splashing good time, guaranteed.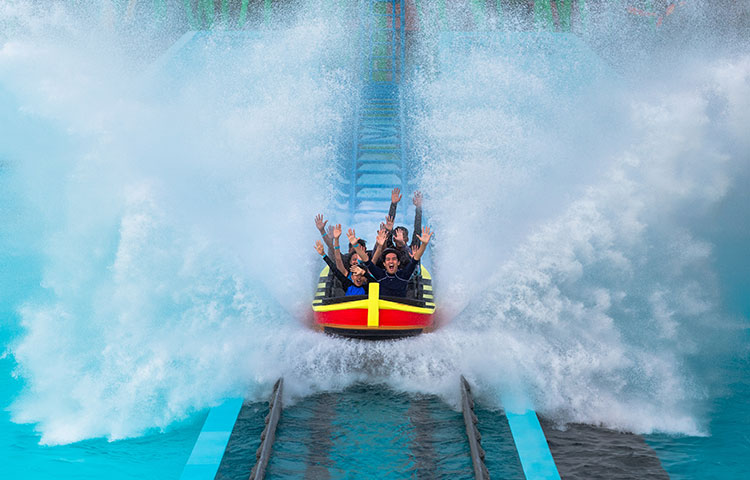 Kraken's Revenge
PS: there are five F&B outlets in the 25-acre area to feed your hungry tummies in between rides.
Operating hours: 10am to 6pm daily
Bonus: other things to do nearby
Desaru Coast beach is just a two-minute buggy ride away if you want to soak up the sun or take a dip in the ocean. If you love water/beach sports, good news: there's wind of over 20 knots, meaning you can kiteboard, windsurf and more!
Desaru Coast Riverside, a lifestyle village featuring retail and entertainment outlets as well as a plethora of dining options—only a short walk from HRHDC.
The Els Club is where golfers can stay put as the 45-hole course has three clubs in total to meet your every need.
For more info and bookings, get in touch with Hard Rock Hotel Desaru Coast on their website, Facebook or Instagram. You can also call them at 03 838 8888.
[GIVEAWAY]
Want to experience all the music-inspired fun, food and exhilarating rides this place has to offer? Lucky you—because Hard Rock Hotel Desaru Coast is giving away two sets of 3D2N accommodation vouchers (breakfast included) as well as three sets of Hard Rock Hotel merchandise worth RM250 from the Rock Shop! To stand a chance to win, follow these simple steps:
Click the "like" and "follow" buttons on Buro Malaysia's Facebook page
Like the Facebook and Instagram post
Tell us why you would like to win a staycation at Hard Rock Hotel Desaru Coast in the comment section with the hashtag #BuroGiveaway and tag two of your friends
And that's it! This giveaway runs from Monday, 28 October to Sunday, 10 November 2019. Winners will be announced on 13 November 2019 on this page. Good luck guys!
The giveaway is now closed. Congratulations to the following winners:
Azurin Abd Rahim – 1 x 3D12N Accomodation Vouchers inclusive of breakfast for 2 pax
Wong Mun Li – 1 x 3D12N Accomodation Vouchers inclusive of breakfast for 2 pax
Wong Sher Ling – 1 x Hard Rock Hotel Merchandise worth RM250
Idris Sue – 1 x Hard Rock Hotel Merchandise worth RM250
Weng Siong Cheng – 1 x Hard Rock Hotel Merchandise worth RM250
Terms & Conditions:
1. Employees of Buro 24/7 Malaysia and its related corporations ("Indochine Media Ventures") or Buro 24/7 Malaysia partners and/or sponsors for the giveaway (if applicable), and their immediate family members (including spouses, children, parents, brothers and sisters) are not eligible to participate in the giveaway.
2. Winners of this giveaway are chosen at random.
3. This giveaway is organised by Buro Malaysia (hereinafter referred to as the 'Organiser').
4. The prizes for this giveaway are neither exchangeable for cash nor transferable.
5. All persons ('Participants') taking part in this giveaway agree that these rules shall be binding on them, and that the entries in this giveaway, including their name and likeness, may be used without restriction in any future publicity material by the Organiser.
6. The Organiser reserves the right to amend these rules or terminate the giveaway at any time at its sole and absolute discretion. All decisions made by the Organiser under these rules shall be final and no discussion or correspondence will be entertained. The Organiser may, but is not required to, justify any decisions relating to this giveaway.
7. The Participant acknowledges that the interest and good reputation of the Organiser are of paramount importance. The Organiser reserves the right to disqualify a Participant from the giveaway, or to withdraw the prize if it is believed the Participant is in breach of its obligations under the rules. The Participants shall not by act or omission, directly or indirectly bring the Organiser into disrepute.
8. All entries are sent at the risk of the Participants and in the event that there are technical difficulties experienced arising out of the internet or from any associated equipment or internet security is compromised, the Organiser may at its sole and absolute discretion disqualify the entire entry and shall not accept any liability for doing so.
9. Giveaway entries may only be submitted via the stated medium of communication.
10. This giveaway is open to anyone above 18 years old.
11. Each entry must be completed in full. The Organiser reserves the right to disqualify any incomplete entries in its sole and absolute discretion.
12. Participants shall only submit one entry and multiple entries of the same shall be treated as 'spam' and shall be ignored.
13. Incomplete entries will be deemed void.
14. Winners will be notified by email.
15. Uses of 'aliases' shall be considered a form of deception and are prohibited.
16. The winner must produce their original IC / passport with legible IC / passport number in order to claim the prize. The winner may also be required to produce additional original proof of identity at the discretion of the Organiser.
17. All Prizes are accepted entirely at the risk of the winner, and the Organiser excludes all warranties in connection with the prize to the extent permitted by law.
18. All Participants release from, and indemnify the Organiser, its agencies, sponsors and representatives against all liability, cost, loss or expense arising out of acceptance of any prize or participation in the giveaway including (but not limited to) personal injury and damage to property and whether direct or consequential, foreseeable, due to some negligent act or omission or otherwise.
19. All personal particulars furnished are meant for identification purposes and will not be sold or given to any third parties. In the case of giveaways, our partners may wish to offer you services which require your personal particulars. These specific requests will be expressly stated within relevant giveaways, with a choice to opt out.
20. Inability to contact the winner by 18 November 2019 will result in disqualification and selection of an alternate winner.
21. Winners must collect their gifts from our office in Mont Kiara within 1 month of notification.
22. Prizes are final; no cash equivalent or alternative prize will be given. Prizes are non-transferable, non-exchangeable and strictly not for resale. If the winner is found to be selling the prize(s), the Organiser reserves the right to demand the return of the prize.
| | |
| --- | --- |
| SHARE THE STORY | |
| Explore More | |